Cha Am Beach Resorts
Cha Am beach resorts have locations not too far from Bangkok, that can make a long weekend really special. 
Cha Am is a popular beach resort town located in the Phetchaburi province of Thailand. It offers a range of activities and attractions for tourists to enjoy.
Leave the hectic atmosphere of Bangkok and after only a few hours drive, arrive and take some time to recharge your batteries, with a breath of fresh sea air.
If you only have a few days free, there are some great places to stay in Cha Am that will have you feeling refreshed and relaxed in no time at all.
Relax at Cha Am Beach Resorts
Siam Beach is one of the many Cha Am beach resorts on this section of coast and if you are looking for somewhere close to Bangkok to get away for a couple of days, then this location just outside the town of Cha-Am might be for you. 
You can take a car or bus to Hua Hin from Suvarnabhumi Airport or you can take the van from Mo Chit bus station in Bangkok.
---
Siam Beach Hua Hin Resort
Welcome to the Siam Beach Hua Hin Resort where you will find a place popular with upcoming Bangkok Instagram stars.
With a gourmet coffee shop, immaculate pool and easy eating restaurant. This beachfront property is just ideal for a romantic weekend away from Bangkok.
The hotel also has bicycles available for those that love getting out to explore. 
Pedal your way to the Ma Ruk Ha Thai Ya Wan Palace, that is a short 3.4 km from the property.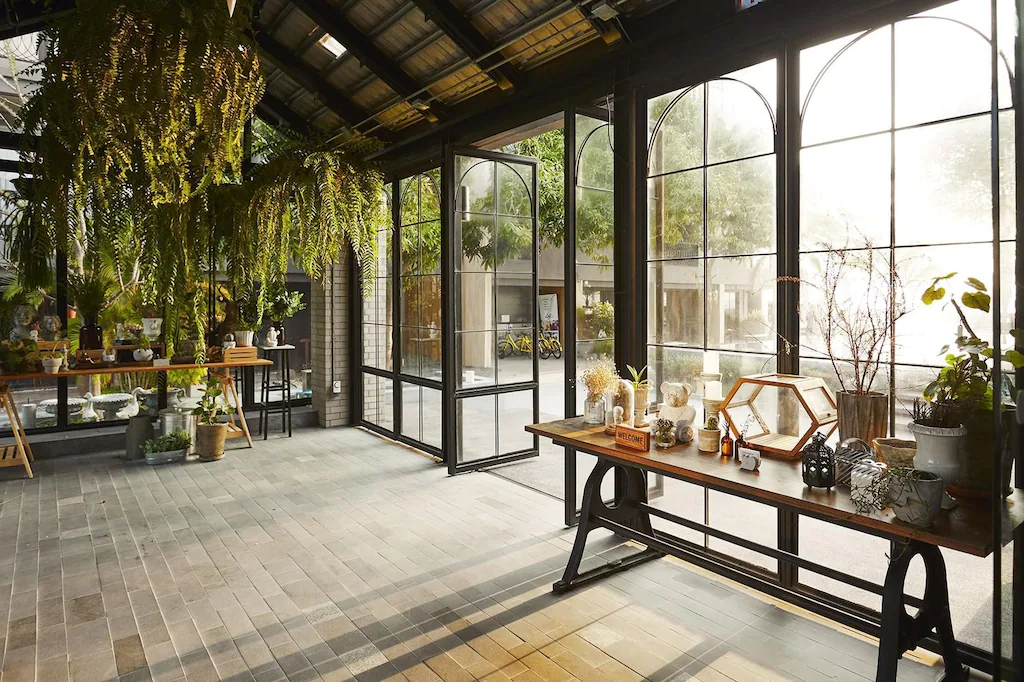 Reception and gift shop at Siam Beach Cha Am
Agoda Hotel rates from
USD $61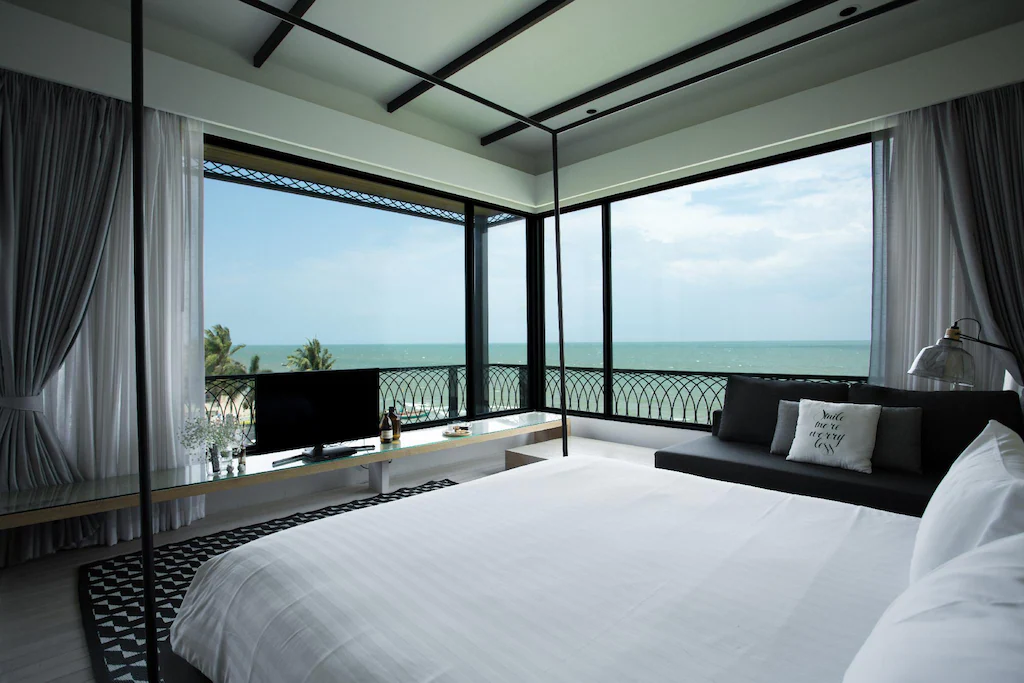 Seaview room at Siam Beach Cha Am
Things to do at Siam Beach Hua Hin Resort
As one of the upcoming Cha Am beach resorts, the Siambeach Hua Hin Resort offers a delicious in-house buffet breakfast to start the day right.
Make sure you checked out the onsite gym first.
A number of great dining options at the resort assures that you'll always have convenient and delicious choices on hand.
Make your omelette selection from the egg station and have the chef prepare an individual breakfast.
Select some bacon and sausage to compliment it. With a range of seasonal fruits, Asian and Western foods the breakfast choices are amazing.
Enjoy your morning breakfast, all whilst watching the amazing morning seaview from the open air restaurant.
Guests with dietary restrictions will appreciate a selection of cuisine types at Siambeach Hua Hin Resort, including halal options.
Day or night, you can serve yourself a snack at the resort's vending machines.
Are you a great cook?
Make your own meals in-house at the resort's BBQ facilities.
Instagram photographers pool at Siam Beach Hua Hin
A day in will be as fun as a day out with ranges of recreational activities offered at Siambeach Hua Hin Resort. A beach that's accessible right from the resort puts you close to the ocean during your stay.
A relaxing end to every day is possible with a visit to the massage, hot tub and salon.
Don't forget to make a visit or two to the resort's pool, where you can order food during the day and in the evening grab a couple of cocktails to drink, whilst enjoying the colourful sunset sky.
There are lounge chairs available on the seafront and also dotted around the pool area.
During the day, b eat the hot weather with cooling water activities like fishing, snorkeling, non-motorized water sports and diving.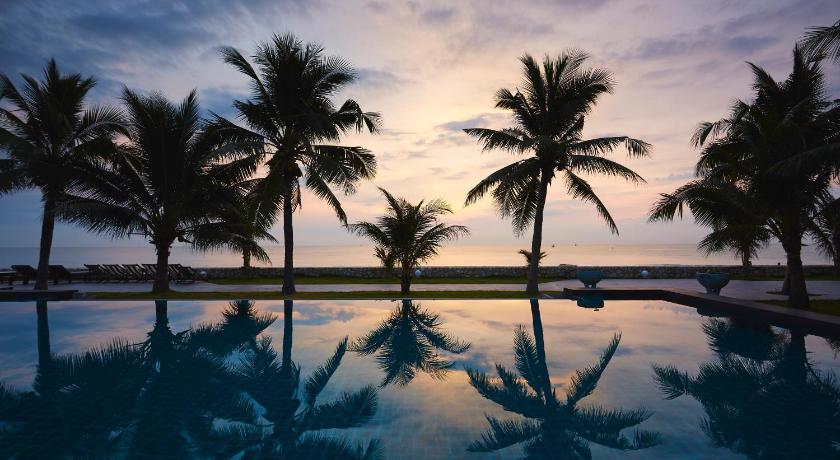 Swimming Pool at Siam Beach Hua Hin looking out to the Gulf of Thailand sunset
rates per night from
USD $61

Fun in the water is easy with aquatic activities available. Available in-house recreation activities include horse riding and bike riding.
Family time on relaxed evenings is easy with the resort's shared lounge and TV area.
Got someone special waiting for you back home? Then easily pick up a memorable gift at the shops and souvenir shops.
Near to Cha Am Beach
Cha Am, known for its lengthy sandy beaches along the warm waters of the Gulf of Thailand, offers the perfect opportunity to bask in the sun or take a swim.
Two of the most significant cultural landmarks in Cha Am are the Royal Palace and Wat Hua Hin, both of which give tourists a glimpse into Thailand's rich history and religion.
The town boasts several lively street markets that offer a diverse selection of items, from fresh produce to handmade crafts and souvenirs.
Adrenaline seekers can indulge in water sports like jet skiiing, windsurfing, and kite surfing in Cha Am.
Cha Am also has several temples and shrines, including Wat Khao Takiab, which provides breathtaking views of the town of Hua Hin and the Gulf of Thailand.
Golf enthusiasts will be delighted to know that Cha Am is a top destination for golf, boasting several highly-rated courses.
Food lovers can enjoy the local street food, including a variety of dishes such as traditional Thai curries and fresh seafood, that Thailand is famous for.

There are also beach chairs set out along the length of Cha Am Beach where you can savour fresh seafood, somtam and a glass of beer. Tables, chairs and sun umbrellas all make for a relaxing stay.
For those who wish to venture beyond Cha Am, the town makes an ideal base for day trips to nearby destinations, including the historic city of Phetchaburi, the Khao Sam Roi Yot National Park, and the Kaeng Krachan Elephant Sanctuary.
Golfing in Cha Am
Cha Am is a popular destination for golf enthusiasts due to its high-quality golf courses.
Golfers will find a range of courses to choose from, each offering a unique experience and challenging obstacles to tackle.
Some of the top-rated courses in the area include:
Springfield Royal Country Club: This challenging course is set amidst scenic rolling hills and is known for its well-manicured greens and fairways. (30 km from Cha Am)
Black Mountain Golf Club: This world-renowned course is set in a beautiful valley and offers stunning views of the surrounding hills and lakes. It is widely considered one of the best courses in Asia. (20 km from Cha Am)
Sea Pine Golf Course: This course is located on the beach and offers breathtaking views of the Gulf of Thailand. It is known for its challenging holes and lush vegetation.
Royal Hua Hin Golf Course: This historic course, which was established in 1924, is one of the oldest in Thailand and is widely considered a classic. (10 km from Cha Am)
Cha Am Beach Resort & Golf Course: This course is located near the beach and offers a mix of challenging holes and more relaxed fairways. It is open to the public and offers a range of amenities and facilities.
Golfers of all skill levels will find plenty of options to choose from in Cha Am, whether they're looking for a challenging course or a more relaxed round.
The region is also home to several golf schools, where visitors can receive professional instruction and improve their game.
So if golfing is your thing, then you are sure to find something to keep you occupied in Cha Am.