Bangkok Travel Ideas
and Best Bangkok Beaches
Are you looking for Bangkok travel ideas, where to stay in Bangkok or even the best Bangkok beaches?
Maybe you are planning on going to Thailand in the future, or thinking about visiting the islands near Bangkok?
About Bangkok Travel Ideas
If so, then you have come to the right place, because more people visit Bangkok, Thailand than any other destination in the world. 

Indeed Bangkok was the most visited city in the world, with over 22 million international overnight visitors per year passing through Suvarnabhumi Airport in the year up to September 2019.

In this most recent report Paris came second, with London in third place, but Bangkok is still also the number one destination city in the Asia / Pacific by visitor numbers.
Global passenger numbers are now only 7% below pre-covid levels and I would expect a new MasterCard Cities Index to be published in 2023.
Source: MasterCard Global Destination Cities Index 2019
Bangkok is an exciting, vibrant, modern city with a wealth of tourist attractions and it is known as the gateway to the Orient for good reason. 
So Why Should I go to Bangkok?
People come to Bangkok for all sorts of reasons.
Some come to escape the Northern winter, some come for a Thailand vacation, some plan a short Bangkok layover on the long journey to Australia or New Zealand, to break up the trip.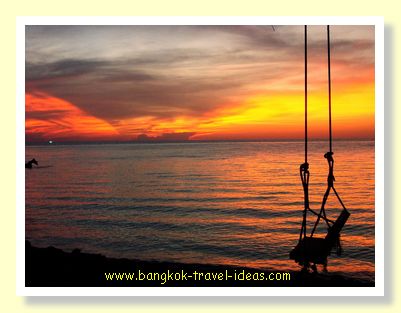 Then there are those that are heading for the beaches close to Bangkok, like the beaches at Hua Hin, or even to experience the crystal clear waters on the island of Koh Samet.
Koh Chang island just 5 hours from Bangkok has some of the best beaches near Bangkok and is part of the Mu Koh Chang National Park, with jungle treks, waterfalls and hidden bays.
Some tourists even come to explore the exciting inland regions of Thailand.
For example, there are the World War II relics and cemetery around Kanchanaburi, or the historic area of Chanthaburi, with its temples and fruit growing farms.
A few days at a one of the many Bangkok beaches or some retail therapy at a Bangkok shopping mall will do wonders for the soul and give you a new perspective on life.
Explore Bangkok Travel Ideas
Sure, there is plenty to do here and whether you intend to visit Bangkok for a few days or a few weeks some early planning will let you make the most of your trip.
Explore this site for some great Bangkok travel ideas and travel tips that will save you time and money and make the most of your vacation time.

The sights that you can see in Bangkok are just amazing.
Look at this picture of a Thai elephant just wandering the local streets.
Of course taking elephants into the city is no longer allowed by the local authorities.
But, it is still possible to see young elephants being taken around the streets of the smaller towns, or areas close to the elephant camps and being given food by tourists.
Don't be tempted to feed the elephant though, or you may be hit with a large 10,000 baht fine.
Over the passed few years I have travelled to Bangkok frequently and using the power of the internet have literally saved thousands of dollars in travel costs.
More time than I care to remember has been spent researching the very best Bangkok hotel deals and cheap flights to Bangkok.
You can do the same by just following my simple Bangkok travel guide.
Of course, when I came to Bangkok it wasn't all work.
Sometimes I would have a weekend spare between flights, where I would get a chance to see the sights, investigate the very best in Bangkok shopping, or visit one of the best Bangkok beaches, before I had to fly off again. 

As a frequent business traveller I look for good value in nice hotels, not just the cheapest.
I also value my health and personal safety so you are not going to find reviews of backpacker hostels or camping sites here.
Not that they are not safe, just I never used this type of budget travel.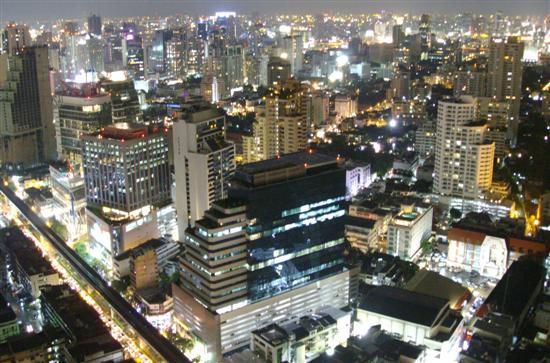 Bangkok at night
I am going to tell you how to avoid the scams, how to get cheap local travel, how to fly comfortably in economy class, and lots more.
It doesn't matter if you are a tourist or a businessman like I was.
If you are planning any Bangkok travel and you need to book some Bangkok accommodation for your stay here, then you are sure to find some of my Bangkok travel ideas useful.
There are lots of photographs and write-ups of various places around the city as well as pictures of beaches near Bangkok.
You can see and feel what each place is like, before you book.
This site is going to share many years experiences with you, where I went to, the things I did, both the good and the bad and reveal all the secrets that I learned during those years arranging my own Bangkok travel.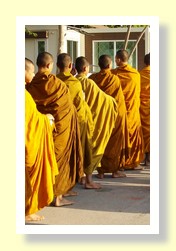 If you like what you read, then please link back to my site or give me a Facebook Like as you pass through.
There are constant updates to this site with new Bangkok travel ideas and reviews of Bangkok hotels and shopping malls, all building upon the Asian travel theme, so visit regularly and start to plan your Bangkok travel now
If you have any Bangkok Travel Ideas of your own or see any errors on these pages, please let me know.
I think I have it all covered, but I can always add more information.
Oh, by the way, there is a comprehensive Google Map developed by Bangkok Travel Ideas, showing all locations mentioned in this website.
It is a great resource to find your way around Bangkok and shows all the hotels that I have stayed in around Thailand.
Let's Go...
Bangkok Airport (BKK)
There are two main airports in Bangkok and so if you are flying internationally, then you will be landing at one of them.
Knowing what to expect and where things are will greatly smooth your arrival.
Don Mueang Airport (DMK) was the old airport, which now handles mainly regional and budget airlines and then there is the newer Suvarnabhumi International Airport (BKK) that is currently being expanded to double the size.
Bus tickets to Pattaya and Koh Kood
Most overseas visitors arrive in Suvarnabhumi Airport (BKK), so if you have already purchased your ticket, then I detail the everything that you need to know about the Bangkok Airport arrival procedure.

It covers:
immigration
transfers to internal airports eg. Phuket, Koh Samui
baggage collection
lost baggage
duty free purchase
customs processing
meet and greet areas
currency exchange
airport transport options
and more
Airport Transfers (BKK)
So, you are here… now what?
The usual airport transport options are available in Suvarnabhumi Airport, depending upon your destination. 
Bus
Train
Taxi
Van
Limousine
Hire Car
Transport choices that get you to Bangkok, Pattaya or Hua Hin as easily as possible, are all explained.
Bangkok Airport taxi
Weather in Bangkok
When planning a trip to Bangkok, one of the most important things is to consider is the season and what the weather is going to be like during that period and how to pick the right season to visit.
The most popular period for tourists from the Northern Hemisphere to visit Bangkok is in the November to March period. 
This coincides with the Thailand dry season, and it also means visitors can escape from the Northern winter.
Read more about the weather in Bangkok to help you plan your trip to Bangkok and the surrounding areas.
Insurance Guide
Sometimes things go wrong when travelling and whether it be lost luggage or twisting your ankle, it is wise to have the risk covered.
It is also important to understand what you are insured for and what you are not insured for.
Due to regulations, this site is no longer allowed to give recommendations on Travel Insurance, as it is a regulated Financial Product, so consider it to be informational and educational content only.
Thai Airways
Thai Airways is the national carrier for Thailand and as such this page would not be complete without mentioning some of the services available when flying with them.
Flying from Australia to Europe provides plenty of opportunity to have a layover in Bangkok.
Travel Money
After saving all year for your holiday, now is the time to spend up big.
Let's explore some tips and tricks to get the best exchange rate and make the most of the money you have.
Currency exchange booths, Travel Money cards and just plain old cash are explored in detail.
Travel Tips
An overview of what to pack, what to prepare, what to leave behind.
It is all here, in the list of Bangkok travel tips.
Where to Stay in Bangkok
For first time travellers to Bangkok, knowing where to stay is one of the main unknowns.
Click through to read my guide to the main Bangkok districts and get the low down on the best places to stay.
2 Bedroom Hotels

Travelling to Bangkok for families has its own challenges, as often more than one room is needed.
Finding affordable options for families that need additional space is all covered in this guide to 2/3 bedroom hotels in Bangkok.
Airport Hotels
Sometimes a hotel near the airport is required for the first or last night of your Bangkok trip.
I have even tried a few of them out to see what they are like.
Being near Suvarnabhumi Airport is convenient, but being under the flight path could ruin your last night's sleep. Choose your hotel carefully.
Bangkok Airport hotels with included airport transfer is most popular with readers and most are costing less than $50 per night.
Bangkok Hotels
If you have never been to Bangkok before, then you must come and visit because there is so much to see and do and it is all explained here, in Bangkok Travel Ideas.
Booking on the internet is convenient, but did you know that you can't always trust the hotel descriptions given on websites?
In fact, a lot of the information is just cut and pasted, and the same description is used for multiple hotels.
You won't find that on Bangkok Travel Ideas; I wrote and typed all this information myself, based upon my travel experiences and I'm adding details to my Bangkok Travel Diary as I go.
It is as real as it can be, and I try and keep it as up to date as possible.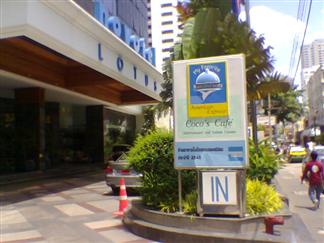 What if I was to tell you that one major travel website advertises a particular Bangkok hotel as being 5 minutes from Suvarnabhumi Airport when in fact it is two hours away by car.

Booking something like this, would cause serious disruption to your Bangkok holiday or your stopover.
If you have never been to Bangkok before, you just wouldn't know... until you arrived.
Bangkok Layover
When there is a connecting flight from Suvarnabhumi Airport within a 12-hour window, then this is classed as a layover.
If you remain airside, no visa is needed.
Depending on how long your Bangkok layover is, there are some ideas to make the time pass as fast as possible and you may even have time to leave the airport and explore Bangkok.
Looking for Beaches Near Bangkok?
If you like to mix up your holiday with some city time and some beach time, then these nearby beaches could be ideal.
For example, the photograph below, I took on Koh Samet
I call this photo my Bangkok Beach umbrella and it is one of my favourites.
This is one of many beaches near Bangkok and you can easily get there by bus from Bangkok in under three hours.
You can swim, eat seafood under the stars, listen to the waves lapping on the sand... and still be back to work for Monday.
Bangkok beach umbrella on a beach near Bangkok.
Beach Resorts
A curated list of beach resorts within striking distance of Bangkok.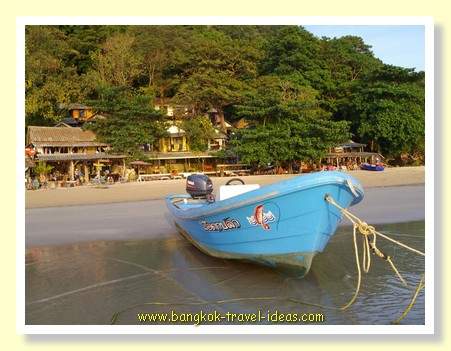 Beaches in Thailand
For those that like to travel the country there are beaches spread from Phuket to Bangkok. Let's see if there is anything interesting to go and explore.
Islands Near Bangkok
Every beach goer loves an island, and with this summary of islands near and far, there is sure to be something every Robinson Crusoe fan enjoys.
Bangkok Driving
Take your life in your hands and get behind the wheel.
Bangkok Map
All the visited destinations in the Bangkok Travel Ideas website have been collected over the years and are included in this Google Map that will open in a new window.
Find places of interest, hotels and generate Bangkok travel ideas of your very own.
Getting Around Bangkok
Public transport is a great way to get around Bangkok, but there are other options in the City of Angels, let's lay them all out.
The Bangkok MRT and the Bangkok BTS Skytrain are the two most well known public transport systems.
Bangkok Attractions
You didn't come to Bangkok to stay in your hotel room. The idea is to see the tourist attractions on your list and experience the different culture.
Bangkok Market
There is nothing more Thai, than going to the market daily to get fresh food.
If you have never visited a Bangkok market, then it is a great experience.
Perhaps book one of the famous Thai cooking classes, then visiting the local market and buying the ingredients is a foundational step in Thai cooking.
Bangkok Nightlife
For the night-owls there is lots to do in the evening, so put on your dancing shoes and head on out.
Buddhist Temples
Around 95% of Thais are Buddhist and there are many Temples and Shrines throughout the city of Bangkok
Temples are separated into classes identifying how important they are and many of them have something unique about them. 
Temples are not confined to Bangkok, they are spread across the country and the unique features include the obvious ones such as reclining Buddhas, but then you will also find that there temples with:
massive statues of well-known monks, 
hidden caves 
the 10-million-baht toilets
With more than 64 temples in Bangkok alone, consider this to be just a brief introduction.
Floating Markets
Thailand is famous for the spectacle of the floating market and no trip to Bangkok is complete without visiting one and taking a boat ride up a khlong. 
Now having said that, there are some floating markets that are traditional and have stood the test of time.
There are also those that have been developed for both local and overseas tourists as a commercial enterprise and over the course of the pandemic have closed.
Hopefully many of these may reopen.
Bangkok Shopping
Shopping malls spread throughout the city, so here is a guide to some of the more popular areas to shop.
Bangkok Thai Massage
It wouldn't be a trip to Bangkok without taking a Thai massage.
What to expect from a Traditional Thai massage or Bangkok Oil massage is all explained and why you need to get one before you leave Thailand.
Travel Out of Bangkok
My travels have now extended beyond the district of Bangkok and in recent times I have visited:
Sai Yok 
Kanchanaburi
Chao Lao Tosang Beach
Bang Sa Kao
Phang Nga
Khao Lak
Ao Manao
Koh Phayam
I am working on adding these trip reports and reviews as fast as I can.
Many tourists may not have heard of some of these interesting places in Thailand; some locations that I visit are off the beaten path for the package tourist, but they are well worth a visit.
The advantage of going to less touristy places, is that you experience a more natural and authentic feel to the country and have the chance to experience more of the traditional culture of the country.
Even though I have not written many of the articles, yet you can find the place holders marked on the Google map link.
Read more...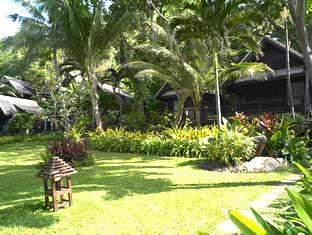 Future Bangkok Travel Ideas
Here are some ideas for future trips, that are currently in the early planning stages.
They are not fully researched yet, but the shortlist includes:
• Tong Pha Phum
• Chumphon
• Khanom
Most tourists will never get to these spots and all the more reason to showcase them on Bangkok Travel Ideas.
Koh Phayam is located on the Western coast of Thailand and the closest major town is Ranong, which is close to the Myanmar border.
Ao Manao is in the Prachuap Khiri Khan province of Thailand and is just South of Sam Roi Yot National Park.
The actual beach area is inside a working military base, and you could easily cycle there if you stay in the Prachuap Beach area.
Prachuap Khiri Khan is the province just below the ever-popular Hua Hin and it has some interesting places to visit.
Tong Pha Phum is close to the Myanmar border after you pass through Kanchanaburi.
This is a mountainous region with lots of National Parks and lakes and is great for exploring if you like nature and the outdoors.
I hope you enjoy your travels and that you found some inspiration from reading my Bangkok Travel Ideas.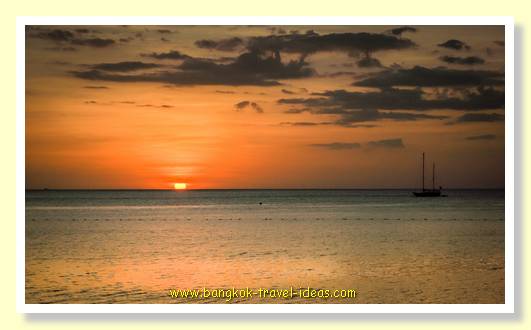 Phuket is known for its warm climate and breathtaking sunsets
Thai Culture
The culture of Thailand is predominantly based around the Buddhist religion, and this dictates how they live their lives.
Around 94.5% of Thais identify with the Buddhist faith, about 4.3% Muslim and Christianity 1.2%.
Learn Thai
No matter where you go in Thailand you will likely find someone that can speak English, particularly the younger Thais.
If you are going to spend any amount of time in Thailand, then it will be worth your while learning some Thai as it will make things easier.
Thai Cooking
Thai cuisine blends the four elements of sweet, sour, salty and spicy into some of the most delicious dishes in the world.
There can never be enough pans or bowls for the cooking of Thai food, and it is a feat that must be seen to be believed.
In 2017 Thailand had more dishes on the CNN list of the "World's 50 Best Foods", which is testament to the popularity of Thai cooking.
In fact, the Government of Thailand have promoted Thais to set up restaurants around the globe to popularise the cooking style.
Retire to Thailand
No one is expected to work for ever and there are worse things in the world than spending your retirement in Thailand.
Even if you are still in the retirement planning stages, there will be some useful information here.
Bangkok Travel Ideas Quick Links
Bangkok Travel Ideas and Guide
The links below will take you to other pages in Bangkok Travel ideas website.