Travel Money Options
You are going to need travel money when you visit Bangkok and the best advice I can give is "don't put all your eggs in one basket".
To minimise risk take different cash sources and payment methods:
cash
travellers cheques
credit cards / debit cards
pre-paid currency cards
and don't keep it all in the one place.
You should not be so dependent upon one source of travel money that it ruins your holiday if you lose it or worse still it gets stolen.
Bangkok Travel Money Currency Calculator
If you have a budget for your trip, then calculate how much foreign currency is needed.
If this is your first trip to Thailand it can be helpful to understand what the cost of daily expenses will be.
Check out the Numbeo website that provides comparisons of daily items and can help build a budget for your trip.
Thailand Currency
The currency of Thailand is the Thai baht (THB) with various denomination notes and coins and so the Bangkok currency is the baht.
Should I get Thai baht before my trip?
If you wish to be very cautious then get some Thai baht travel money before you leave home to cover you for a couple of days.
Personally I would wait until landing and change some immediately upon arrival at the airport, but again, just change sufficient to cover immediate needs.
Some of the foreign currency exchange booths in Bangkok Airport are open 24 hours, so you will have no problem on getting cash on arrival.
There are currency exchange booths before Immigration and also in the baggage hall, so there is plenty of opportunity to get some cash for the taxi ride.
Different banks are represented in the airport and they have different exchange rates, so pick the one most favourable to your currency.
The currency exchange rates in Bangkok Suvarnabhumi Airport are better than your home country bank, but better rates can be had.
If you are thinking of exchanging currency at Bangkok Airport then read about the best places to do it.
Discount currency exchange booths are now open in the airport land side, but these are not open 24 hours.
Is The Bangkok Currency Exchange Rate The Same Everywhere?
It has been said that Banks and currency exchange booths of the same Company all display the same exchange rate at the same time.
I am not so sure of this and tend to think that the airport is more expensive.
What I do know is that there can be up to a 5% difference between the cheapest and dearest quote between the various banks, but only a 1% difference between the best bank rate and Super Rich Thailand.
If you need to exchange money in the airport, just do enough for immediate needs.
Leave the rest in your home currency and you will be able to change it easily in Bangkok, as there are money changing booths all over the tourist areas.
Try to avoid changing money at your hotel or at a bank as you will get a poor rate of exchange.
If you intend to travel away from the main tourist areas or into the country you will find it more difficult to change money and even major banks may not handle these transactions, so plan ahead.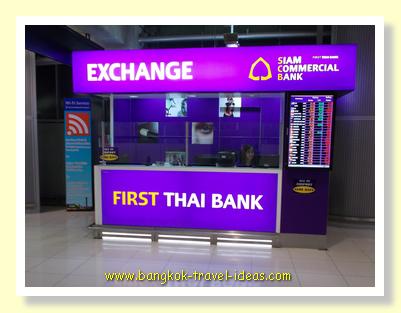 Most currency transactions in the tourist areas of Bangkok can be conducted at the little street booths without showing any identification, but be aware that banks will want to see your passport and take a copy.
With the introduction of money laundering rules and requirements for Know Your Customer, it is wise to always take your passport when going to a Bangkok currency exchange, as things could have tightened up.
Will Bangkok Currency Exchange Booths Take Coins?
In general, the currency exchange booths will not take coins and they are also very particular about the quality of the notes they will accept.
They will not take:
dirty notes
dog eared or damaged notes
torn or sticky taped notes
notes with writing on
Inspect any notes that you bring to Thailand and ensure that they are all perfect quality, otherwise it may be difficult to convert them into Thai baht.
Higher denomination notes also get a slightly better rate, so bring the largest notes your country issues.
Should I Buy Thai Baht at a Bank?
No, you should not do your currency exchange in Bangkok at a bank and here's why.
Poor exchange rate
The teller won't know what to do 
It will take 30 minutes to do what a currency exchange booth can do in 2 minutes.
How Much Cash Can I Take To Thailand?
A common question is, "how much cash can I take to Thailand?"
Most countries have a maximum amount of cash that you can take with you when you leave the country, so you need to be aware of your home country regulations.
There may be a maximum limit you can take out of the country and there may be an amount that has to be notified to Customs as you leave the country.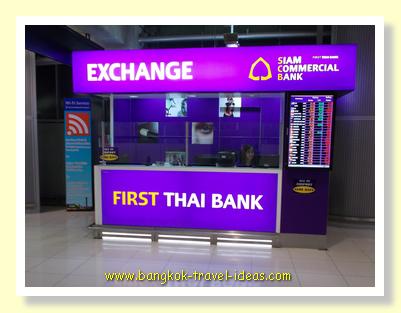 Thailand also has a maximum amount you can bring into the country without declaration.
If you exceed this limit you need to complete a declaration form or face a penalty if you are caught.
The information is collected as part of anti money laundering legislation and completing the form is just a part of the reporting mechanism.

How Much Cash Can I Take Out of India?
If you are leaving India then you need to visit the Indian Reserve Bank website as the rules are quite complex.
The amount of money you can take out of India depends upon the purpose of your trip and whether you are an Indian citizen or not.

How Much Cash Can I Take Out of Australia?
You can take as much cash as you like out of Australia, but you must declare AUD $10,000 or more on leaving Australia.
The declaration can be made to a Customs official.

How Much Cash Can I Take Out of the UK?
If you are leaving the UK then you need to declare 10,000 Euros or more.

How Much Cash Can I Take Out of the USA?
If you are leaving the US then you need to declare USD $10,000 or more.

How Much Cash Can I Bring Into Thailand?
If you have more than the equivalent of USD $20,000 when entering Thailand you should make a declaration to the relevant Customs staff.
Check the Customs website of your country to find out your specific travel money limits.

Best Thailand Exchange Rates
For the very best exchange rate then you need to go to Super Rich (Thailand) located at 45-45/1 Rajadamri 1, Rajadamri. Patumwan.

They have other locations now, but this is the one where you get the exchange rate listed on the Super Rich (Thailand) website.
In my experience this Bangkok currency exchange will give 1.8% better than at Phrom Phong BTS station and maybe 2% better than in the Nana area.
This exchange rate difference is really only significant if you are changing a larger amount of cash.
Take your passport.
Office Hours:

Monday – Friday 9.00 a.m. – 6.00 p.m.
Saturday 9.00 a.m. – 4.00 p.m.

They also close over the New Year period, approx Jan 1st - 4th, so check their website for details around this period.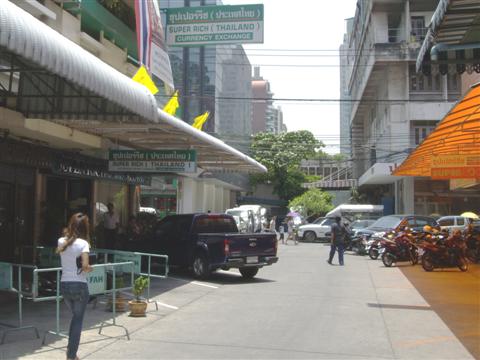 If you go to Superrich Thailand on a Sunday, like I did once and found them to be closed, then there is another place to change money on the next soi (The one with 7-11 on it towards the left-hand side, bottom of the map).
It is basically just a window in a wall and you pass your money inside and just wait on the street.
It is a little bit unnerving the first time you do it as it takes a great leap of faith to hand your money over.
Which Bangkok Currency Exchange is Best?
Which Bangkok currency exchange is best?
Well, the answer depends on which currency you wish to exchange and where you are located.
The best Bangkok currency exchange is the one located nearest to where you are and which gives an acceptable exchange rate.
In the photo above, the orange building on the right is Superrich (1965), which is almost directly opposite Superrich Thailand.

On a recent visit the exchange rate was the same between the two Super Rich businesses, but the queue was only 2 people inside the orange Super Rich (1965) instead of 20 people at the Super Rich (Thailand) shop.
Superrich Green and Superrich Orange is how the two businesses differentiate.
Check it out for yourself next time you go.
If you are only going to change $100 then it is hardly going to be worth you while travelling to Super Rich at all.
Just get your Thai baht from the local travel money exchange booth.
So firstly go and check out the foreign currency comparison rates of all the Bangkok Banks to work out how much you will save and check the travel times.
In most cases, just using the nearest exchange booth to additional travel money is going to be the best use of your time.
Read what happened to me when I spent half the day travelling to Pratunam to change the Australian dollar to Thai Baht.
Did I think it was worth it?

Map of Super Rich (Thailand) Location
Whilst it is well documented that the best currency exchange rates for Thai baht are given by Superrich Thailand at the city address:
45 Rajdamri 1 Rajdamri Rd.
Lumpini Patumwan
Bangkok 10330
If located in a different part of the city then check out the addresses of the other Superrich Thailand branches, opening hours and currency options after selecting Contact/Locations on this link to their website.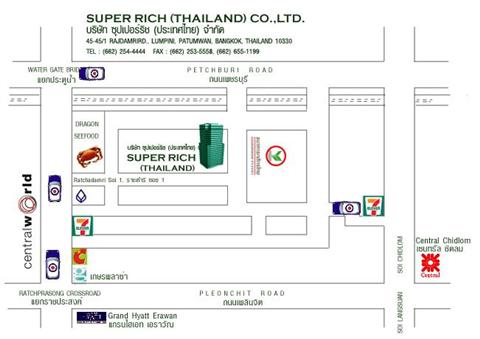 The place is usually very busy and you may not be able to sit down inside.
Traveller's Cheques
These are a secure way of taking large amounts of money and worth considering, but I would hardly think anyone uses this option any more.
In any case, the issue is not that you can't be issued traveller's cheques, but finding a bank that is prepared to cash them.
Credit/Debit Cards
American Express, MasterCard and Visa are taken at most large establishments in Bangkok and you can use the cards to access ATM's where the Maestro symbol is displayed.
You can withdraw travel money as a cash advance or as a debit from your debit card account.
The biggest risk with a credit card is of it being skimmed and copied and the second biggest risk is of the credit card company cancelling the card on you whilst you are overseas.
These are both likely events in Bangkok.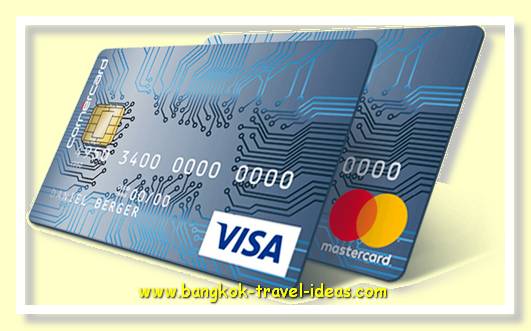 To minimise both of these eventualities you should never let your credit card out of your sight.

In restaurants you should get them to bring the card reader to the table, go with them and watch them swipe the card or pay cash.
I always pay cash in restaurants since the time my card was skimmed in Bangkok and the thieves racked up $9000 in charges about 2 months later.
Luckily for me I was able to prove that it was not me using the card and it was not a big drama to sort out.
But it could have been and I might have been up for thousands of dollars of charges if I hadn't been able to prove I was somewhere else at the time and still had possession of the original card.
Secondly, prior to your travel date call your credit card company and tell them you are going overseas.
Most credit card companies have sophisticated fraud detection programmes that detect unusual purchases and they will ring your contact number to confirm the purchases.

If you do not answer (because you are on holiday) then they will suspend your card, so make sure you advise them beforehand.
Something as simple as a transaction in London and then one in Bangkok, which seem to coincide will trigger a call.
Even a transaction at a high risk establishment in Bangkok will trigger a call.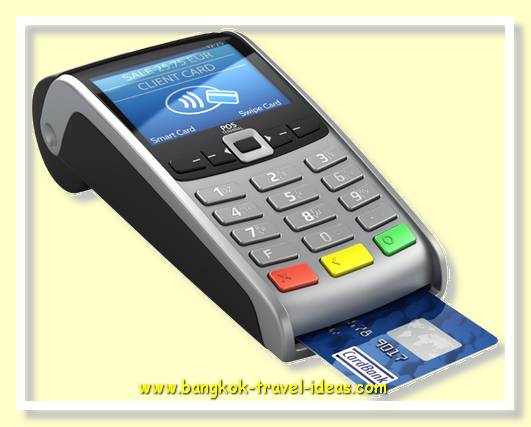 I have had several calls to my home at 4:00 am to confirm a transaction whilst I was overseas and if it hadn't been for my family confirming my whereabouts my card would have been cancelled.
Let the credit card company know you are travelling overseas before you go and the risk of cancellation will be reduced.
Personally I travel with two credit cards, a debit card and cash and I think this gives me enough breathing room should anything go wrong.
Depending on where I am going I will leave one or two cards in the hotel safe, so if I lose my wallet or it gets pick pocketed I still have a way of getting some more travel money.
Lastly keep the emergency phone numbers of your credit card company in a safe place, if you lose your cards you will need to report this quickly.

Usually there are toll free options for overseas calls.
I use the services of Secure Sentinel who can arrange $1000 in emergency cash and replacement of lost or stolen cards.
They will also cancel your mobile phone number in case of loss, this prevents anyone else using your phone and creating a large bill that you will be liable for.
The annual fee is less than AUD $90 so it is good value if you ever lose your wallet containing your travel money or your mobile phone.
Read more about the Secure Sentinel range of services for existing customers and the role of Equifax for new customers.
Pre-paid Currency Cards
Pre buy a card loaded up to your spending limit and use the card in the same way as a debit card.
Mastercard have a Cash Passport at this link.
It comes at a cost though and the rate is not as good as cash.
So check against your debit card transaction rates.