Two Bedroom Suites in Bangkok
Two bedroom suites in Bangkok are not easy to locate using the traditional internet search techniques, but they are high on many traveller's wish lists.
Those looking for two bedroom hotels or apartments in Bangkok should find this consolidated information useful as a starting point and from here you can continue to do your own research.
Apartments and two bedroom hotels in Bangkok are ideal if you are a family with children, or are travelling with extended family members and you don't want the family split across multiple rooms or floors.
Although less common, there are also some three bedroom suites in Bangkok available, but you need to book well ahead to be sure of availability.
5 Ways to Find Two Bedroom Suites in Bangkok
There are many hotels in Bangkok that offer two bedroom suites  for larger groups. Here are a few steps you can follow to find such hotels:
Search online: There are several online travel booking sites and hotel booking sites where you can search for two bedroom hotels in Bangkok. You can use keywords like "two bedroom hotel in Bangkok" or "2 bedroom hotel in Bangkok" to find suitable options.


Consider your location: Think about where you want to stay in Bangkok and search for hotels in that area. You can use maps and travel guides to help you decide on the best location for your needs.


Read reviews: Before booking a hotel, it's a good idea to read reviews from other travelers to get a sense of the quality of the hotel and the amenities it offers. This can help you make an informed decision.


Compare prices: Once you've narrowed down your options, compare the prices of different hotels to find the best deal. Keep in mind that prices can vary based on the season, so it's a good idea to book in advance to get the best rates.


Contact the hotel directly: If you have any specific requirements or questions about the hotel, it's a good idea to contact the hotel directly to get more information. Most hotels have a website or a phone number that you can use to get in touch with them.


Or you can save yourself a heap of time and grab my downloadable list of Bangkok hotels that have two and three bedroom apartments on offer.
Two Bedroom Suites in Bangkok
Hotels do not always show family rooms or options for larger groups and  usually the best you can do is request the hotel for an interconnecting room.
Often you really do not want interconnecting rooms, especially if you have younger children to care for.
So what is the solution?

After a significant amount of research, I located a great selection of two, three and four bedroom hotel rooms and serviced apartments in Bangkok that cost much less than you would think.
This information will save you a lot of time searching on the internet and even if the suggested hotels don't quite fit your needs, at least you will have ideas on the best pricing for two bedroom suites in Bangkok.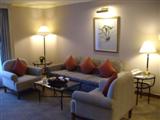 Actually, let's not overstate the matter, in fact it took me about four hours to find the information and get it laid out in professional manner.
There is a range of hotels and serviced apartments in Bangkok that might suit your purpose and the good thing is that they can all be booked on the internet, at a significant saving.
To me, this is what it is all about; seeking out data and cutting and dicing it into a useful format for my readers.
Hopefully, I have succeeded with this latest offering.
Two Bedroom Suite Bangkok ebook Offer
If you would like the list of two bedroom Bangkok hotels in the form of a pdf, then please enter your email details below.
I currently don't have a newsletter, but if I ever start one you will be sure to receive a copy.
Additionally you will receive a bonus.
3 Bedroom Hotel Suites in Bangkok
When searching for three bedroom suite Bangkok, there are some great options available.
A quick calculation shows me that on a per person basis, you can expect to pay $40 - $50 per person by booking two bedroom suites in Bangkok this way.

So if you can get together with some friends and book a 2 bedroom hotel Bangkok or a 3 bedroom hotel Bangkok then you are going to make a good saving over booking individual hotel rooms. 
Good deals are available everyday in Bangkok, but you need to know where to look.
The compiled document includes 4 and 5 star hotels in Bangkok Thailand or selected serviced apartments that have multiple rooms suitable for larger groups; typically 4-8 adults. 
This selection of Bangkok 2 bedroom hotel suites and 3 bedroom hotel suites is available at a range of high class hotels in various districts across the city and you are sure to find something that meets your needs.
There are even some nice serviced apartments included in the list, for those wanting to stay in Bangkok a little longer.
Bangkok Serviced Apartments
Once the document is provided, then open it in Adobe Acrobat, just select from the range of hotels and click on the hyperlink, enter your date of stay and then scroll down and look for the symbol with multiple people in the Bangkok area of your choice.
If you don't see the symbol with multiple people, it means the rooms are not available for your selected dates and so just make another date or hotel selection.
---
Ratchathewi Two Bedroom Suites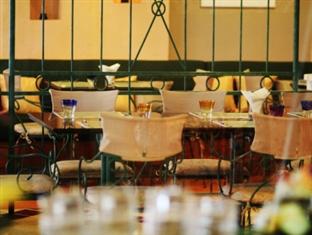 There are only a limited number of 2 bedroom hotels located in Ratchathewi, so you will need to be quick as this is a very popular area of Bangkok.
---
Sathorn Two Bedroom Suites
Sathorn is a very popular suburb of Bangkok as it is near the Chao Phraya River and close to the business district.
There are many hotel options in and around Sathorn and it is well serviced by the BTS Skytrain, so getting around is quite easy.
Here is the listing of two bedroom hotels in Sathorn.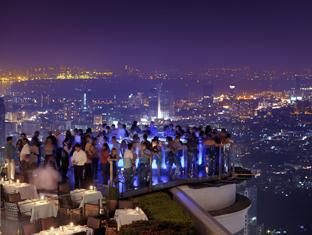 Has the two bedroom Signature Suite and the three bedroom Lebua Suite on offer.
Rated 8.8 out of 1381 visitor reviews
Rated 8.2 out of 4581 reviews
The Anantara Bangkok Sathorn Hotel has the Skyline Series two bedroom apartment on offer and the well appointed Executive Suite that can sleep four adults and two children.
Rated 8.3 out of 5832 visitor reviews


Rated 8.1 out of 2276 visitor reviews


Rated 8.4 out of 742 visitor reviews


Rated 8.3 out of 710 visitor reviews


Rated 8.3 out of 238 visitor reviews


Rated 7.8 out of 635 reviews
---
Silom - 2 Bedroom Suites
The Silom area has a couple of these two bedroom hotels to choose from.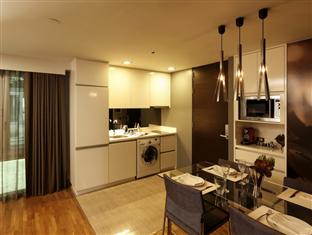 Two Bangkok hotels with two bedroom suites are linked here.
---
Ploenchit Two Bedroom Suites
The Ploenchit area has limited supply of two bedroom hotels.
When I investigated the Ploenchit area of Bangkok I was able to locate one hotel with two bedroom suites in this area.
---
Sukhumvit Two Bedroom Suites
Searching around the Sukhumvit area showed that there was an ample supply of two bedroom hotels.
Five more 2 bedroom suites in Sukhumvit
There are even more two bedroom suites in this part of Bangkok, including a selection of 3 bedroom suites.
---
Chinatown Two Bedroom Hotels
No two and three bedroom hotels were found in the Chinatown area of Bangkok.
---
Suvarnabhumi Airport
No two and three bedroom suites were found in this area, but if you just need a regular hotel near Bangkok Airport then try tdhe Agoda site here.
---
Riverside Two Bedroom Suites
If you come to the Bangkok Riverside then there is a limited supply of two bedroom hotels in this area.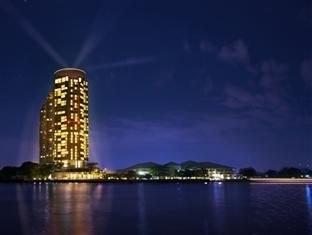 The highly acclaimed Chatrium Hotel Riverside in Bangkok has a selection of two bedroom suites available and it is located just minutes away from the famous Asiatique night market complex.
---
Siam Two Bedroom Suites
Unsurprisingly the Siam area of Bangkok has one upmarket two bedroom hotel.
But you won't be disappointed with this one.
If you like to travel in style and expense is no object then this could be one of the very best two bedroom suites in Bangkok.

The Siam Kempinski Hotel Bangkok has its very affordable Royal Suite on offer for those with discerning tastes.
Also available for travelling families are seven animal-themed suites, that offer luxurious accommodation and that you know the children will absolutely fall in love with.

These two bedroom family suites are ideally suited when having a family holiday in Bangkok and are very affordable and all the while enjoying the luxury that the Siam Kempinski is known for.
---
Khaosan Road / Grand Palace
No two bedroom suites were found around the Khaosan Road and Grand Palace area, but if you know of any then please send me a note via the Contact Form.
Two bedroom suites in Bangkok are very affordable and are located in most of the tourist areas of Bangkok and one good thing is that these hotels also offer regular rooms.
If you didn't see what you wanted, then try this collection of Bangkok hotels.
Choose Where to Stay in Bangkok
If you already know the area in which you wish to stay, then try these other Bangkok Travel Ideas pages showcasing two bedroom hotels in Bangkok, for each of the named districts.