Bangkok Weather
"What is Bangkok weather like in November" or "When is the best time to visit Bangkok?" I hear you ask.
Well, there are no certainties when trying to forecast the weather, but the climate in Bangkok is divided into three distinct seasons; Dry, Hot and Rainy.
BANGKOK WEATHER
Just depending upon what you want to do in Bangkok can help you decide the best time to come and make the most of the weather in Bangkok.
Whether you want to check the weather forecast in Bangkok in July or the Bangkok weather in December, I have compiled all the current weather for Bangkok into one place, so you can see at a glance which is the very best season to come on vacation.
The comparative rainfall graphs give a very good indication of the rainfall for all the main tourist regions of Thailand and mean that you can choose the correct season for your type of holiday and activities. 
Whether you are just lazing on the beach, visiting the shopping malls and temples or hiking in the National Parks, then it is important to consider the weather in Bangkok and other parts of Thailand before you book.
Bangkok Weather Forecast
Dry Season in Bangkok

(November - February)
The absolute best time to go to Bangkok is in the Dry Season, this is when the Bangkok weather is at its best.
Well, the dry season in Bangkok extends from November to February and as the name suggests, there is less rain in this period than other times of the year.
There are many fine days with sunshine and also the humidity is lower and the temperatures are not so extreme.
Often in December and January there are a couple of weeks of cold Northerly winds blowing from China bringing cooler air over Thailand and down to Bangkok.
The temperatures on the coldest days can be in the low to mid twenties and in the evening it can feel quite cool and you may need a light coat or sweater.
Even in the day it can feel cold if you have been swimming, but you will soon warm up in the sunshine.
Overall, the weather in Bangkok during the Dry Season is very pleasant with little or no rain or just the occasional thunderstorm.
Many tourists escape the Northern Hemisphere winter and come to visit Bangkok during this time and consequently high season rates apply, particularly in the post-Christmas period.
Hot Season in Bangkok

(March - June)
The Hot season in Bangkok is rightly named and this is an apt description with daily temperatures reaching around 40 degrees Celsius.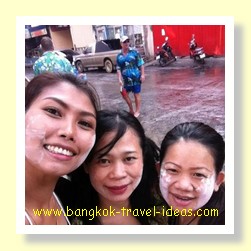 The Songkran water festival takes place at this time, where people engage in throwing water at each other to cool each other down.

Because of the heat, this is not the most comfortable season for sightseeing and walking around, although if you like the fun of Songkran and don't mind getting wet, it is a big Thai holiday period and there are many things going on in these months.
Generally, at this time Bangkok weather is dry with the occasional thunderstorm but it may be come cloudy and overcast as it gets towards the end of May or early June.
Rainy Season in Bangkok

(July - October)
The weather in Bangkok during the Rainy Season is surprising not as wet as you might think.
The rainy season starts in early July with thunderstorms in the the late afternoon or early evening.
These storms can be quite heavy and with gusty winds.
As the season progresses the rainfall can increase, but most commonly the storms are still occurring as brief periods of heavy rain with the rest of the day being fine or overcast.
October is usually the month that some areas of Bangkok experiences flooding.
This is a combination of the local rainfall and also flood-waters coming down the Chao Phraya River from up-country.
Usually any flooding is isolated to low lying areas and not a problem for the average tourist, although if you watch the news it will appear to be an absolute disaster, with low camera angle shots and pictures of fast flowing water.
In reality these events are not generally widespread and not something to be concerned with.
Many parts of Bangkok are low lying and sudden downpours of rain can cause flash flooding that significantly affects traffic.
Travel around the city by car is best avoided at these time as water across the road will significantly slow traffic speed, causing the infamous Bangkok traffic jams.
The BTS Skytrain and MRT continue to run irrespective of the weather and are the preferred method of traversing the city when this happens.
Because of the periodic rain and overcast skies the temperature is not so hot, but the humidity is extremely high and can be very tiring for those tourists who are not used to it and maybe already experiencing jet-lag.
Best Time to Visit Bangkok
All things considered, the very best weather in Bangkok is in the Dry Season from November to February.
The temperature and lack of rain makes it ideal for walking around the many tourist attractions and also for visiting some of the beaches near Bangkok.
The Rainy Season from July to October is also great for visiting the shopping malls as bad weather is limited to short bursts, most frequently in the late afternoon.
Now that you know a little about Bangkok weather patterns you might want to read more about Bangkok itself to get a feel for the city before you commit to making your travel arrangements.

Thailand Rainfall Graphs
Just look how variable the weather in Thailand is and how it changes by season.
You can scroll down to see the detailed patterns of rain across Thailand and gain a really good understanding about which is the best season to be visiting which area.
The left hand scale is the number of millimetres of rainfall measured and you can see that Bangkok and Chiang Mai weather are generally under 200 mm of rain per month, even in the wettest period.
Phuket on the other hand experiences over 1000 mm during August.
If you see excellent air ticket and hotel deals for Phuket in the month of August, now you know why.
Storms are normally very heavy and are over quite quickly, but of course a full week of showers and overcast weather could change your holiday experience.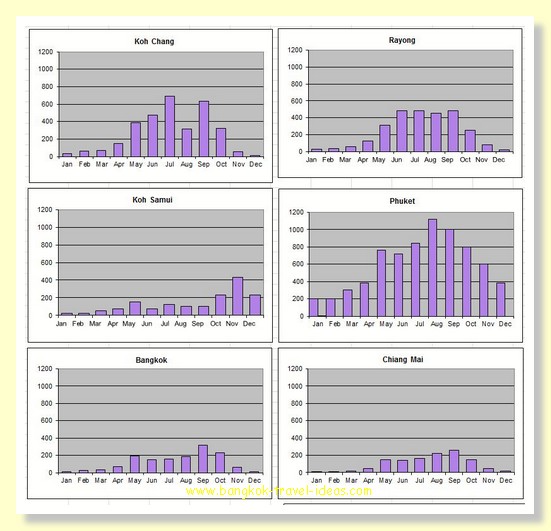 Rain in Bangkok
The monsoon season in Bangkok is in the months of May to October, with September being the wettest.
As you can see, May is wetter than either June or July and you will find that beach resorts are very quiet in May as there is an expectation of more rain. Which is not always the case.
I was really surprised about how quiet it was on a trip to Prachuap Khiri Khan in May, as I expected more people to be on holiday.
It was obviously the end of the season though, as there were literally no people there whatsoever and most of the restaurants were shut.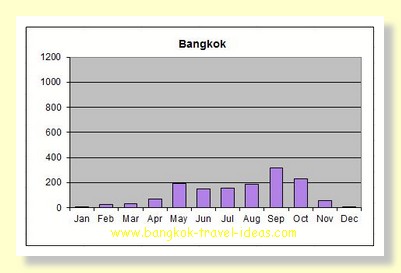 Rain in Rayong
Rayong includes places like Pattaya and Chonburi.
It has more rain than Bangkok which is why this Province is home to much of Thailand's fruit farming.
One thing to note is that Koh Samet weather is much drier than this average and is well worth a visit even in the June to September period.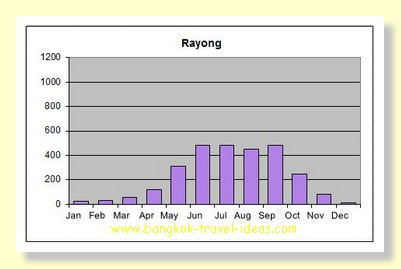 Rain in Koh Chang
Koh Chang is exposed to the South East Monsoon that catches the Philippines and Taiwan each year and the wetter weather does start in May and travels West across the country, towards Hua Hin and Prachuap Khiri Khan.
However you can see from the rainfall chart, that traditionally Koh Chang weather in August is a good month to visit during the rainy season.
One thing to be cautious of though, is that during this period the seas off Koh Chang can be particularly dangerous for swimming.
Unfortunately a number of people drown each year, caught in rips or strong currents.
When intending to swim in the ocean,ensure you heed any red flags that indicate that swimming is prohibited.
Don't take the chance even if you think you are a strong swimmer.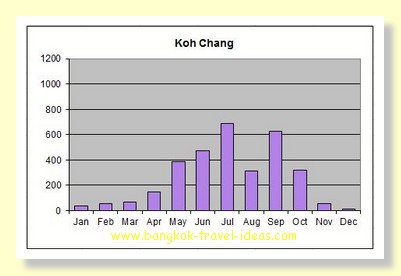 Rain in Koh Samui
Koh Samui is located to the South of Hua Hin and several hundred kilometres from Bangkok.
Although Koh Samui is thought to be very wet, the Koh Samui weather rainfall graph shows that apart from the month of November that is not the case.
In fact Koh Samui only has marginally more rain than Bangkok weather.
Overall the weather in Koh Samui is very good, but you can see that November has significantly more rain than the other months.
I once visited Koh Samui in November and found that the weather was overcast and stormy and the seas were so rough that you could not safely swim in them.
You really didn't need red flags to tell you it was not safe to swim, but they were up on the beach anyway.
From memory most of the rain was at night and so if you like to laze on the beach and swim in the hotel pool, it is a great month to go, because the hotel rates are not too high.
Rain in Phuket
Phuket is located in the South of Thailand closer to the Equator and there is no doubt about it, the island of Phuket is wetter than Bangkok weather.
However the weather in Phuket is made up of heavy showers interspersed by sunshine with July, August, September and October definitely having more rain than the other months in the year.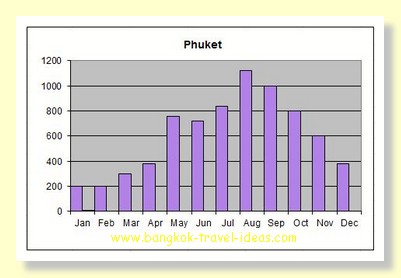 Rain in Chiang Mai
Chiang Mai has been added because it is a major destination for Bangkok tourists and it also gives some perspective to the other graphs.
Generally speaking the rainfall in Chiang Mai is broadly similar to the Bangkok weather.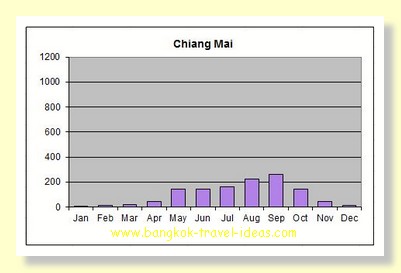 I hope you found these graphics of Bangkok weather useful as well as the levels of rainfall that can be found in some of the main Thailand tourist destinations.
The monsoon season in Bangkok is something that happens annually and is incredibly predictable, although in some years there is more rain than others.
---