Bangkok Skytrain
The Bangkok skytrain or BTS as it is known is an extremely convenient method to get around the city of Bangkok.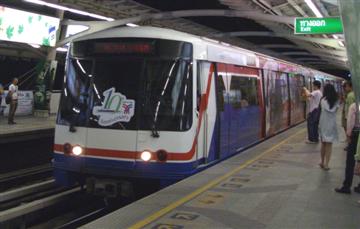 Located above the street level as its name suggests it avoids all of the unpleasant traffic jams that Bangkok is renowned for and it is extremely reliable and relatively cheap.
The BTS started operation with two basic lines; one line going South East to North (Bearing to Mo Chit), called the Sukhumvit line and another line going from West to Central Bangkok (Wongwian Yai to National Stadium) called the Silom line.
Take a look at the Bangkok skytrain routes and fares for more detail of where the skytrain now goes.
Buy Bangkok Skytrain Tickets
Visitors to Bangkok have many attractions on their list of things to see and do and so choosing a hotel near to the BTS is a very smart move as it allows you to traverse the city extremely easily and avoid the Bangkok traffic down below.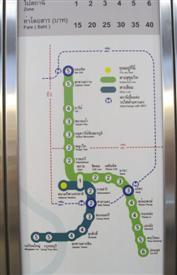 Bangkok BTS Price
The BTS uses an electronic ticketing system and there are a few different types of tickets that are great bargains for the visitor or tourist.
Single Journey Card - 16 - 44 baht depending on distance (current Covid Discount rate)
One Day Pass - This allows unlimited rides on the day of issue for 140 baht
BTS Skytrain SmartPass (Rabbit Card) - This allows Full-time Students and Thai Seniors to pre-purchase a set number of trips, to be used within a month.
Depending on how many trips you purchase at the one time, the cost per trip is 25 - 35 baht.
Each of these tickets can be purchased at the ticket office located at each BTS station.
If you choose to purchase a single journey ticket, instead of the multi-trip tickets above, then the price ranges from 25 baht for one stop, up to a maximum of 55 baht, from the beginning of the line to the end of the line.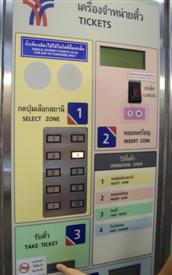 Purchase of single journey tickets is from the Ticket Issuing Machine (TIM), which takes 5 or 10 baht coins, or from the Integrated Ticketing Machine (ITM), which takes banknotes as well.
If you need change to operate the machines then you can go to the manned booth that dispenses change.
The Integrated Ticketing Machine is currently being installed in stations and so is not available everywhere.
The BTS operates from 06.00 am to 12.00 pm each day, so if you head on out, make sure you don't miss the last train home.
The trains are very frequent so there is not really any need to consult a timetable.
Just go to the station and wait a few minutes, but if you do want that extra bit of detail about when trains first leave each station, then you can find the BTS timetable here at the Bangkok BTS website.
For those people coming to live in Bangkok for a longer period it might seem expensive to rent a condominium near to your office.

But once you add in the additional travelling time and weekly BTS fare cost, you may decide differently.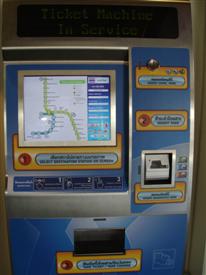 The other major public transport system in Bangkok is the underground train or MRT (Mass Rapid Transit). so make sure you check out this other public transport system before you arrive in Bangkok.
Each of the BTS stations have a number of shops, nothing surprising there.
Currency Exchange Booth Locations
If you want to exchange foreign currency for travel purposes then head over to BTS Phrom Phong, which is located right at the Emporium Shopping Centre.

On the Phrom Phong BTS station they have five currency exchange booths all located together and you can quickly walk between them and compare which will give you the best rate.
Of course if you are wanting to exchange foreign currency of $5,000 and up, you should go to Super Rich (Thailand) in Pratunam, because they will generally be 0.5 baht better on the currency exchange rate.
As an example, for $10,000 you will be 5000 baht better off by taking the time to wander down to Pratunam.
It is quite easy to get to, just take the Bangkok Skytrain to Siam Station and walk down to Pratunam, it is not far.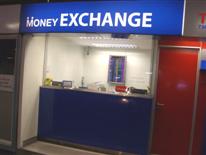 Many of the Bangkok skytrain stations have currency exchange booths on the premises and the exchange rates are better than you will get in a hotel or bank.
Whilst there is normally a requirement to have a valid ID, such as a passport, I have never been asked for this at one of these booths and the whole transaction can be conducted in a couple of minutes.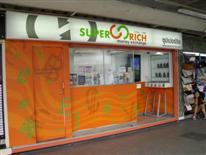 Hotels Near BTS
If you are looking for a nice hotel to stay in Bangkok that is close to the BTS, then these inexpensive Agoda hotels are located within 300 metres of Bangkok skytrain stations:
Centara Grand Central World at BTS Siam

Landmark Hotel at BTS Nana

Emporium Suites at BTS Phrom Phong
Tourist Attractions Near BTS Stations
One large part of your Bangkok vacation is to plan your sightseeing activities and the BTS makes it really easy to navigate the Bangkok traffic. 
The free BTS travel planner link below can sort tourist attractions according to the following categories and provides instruction on which Bangkok skytrain service to take.
Bangkok Palaces
Bangkok Temples
Bangkok Religious Places
Bangkok Educational Interest
Bangkok Family Fun
Bangkok Shopping
Bangkok Parks
Bangkok Tours and Travels
If you are unsure about which train to take for your days' sightseeing, then this official BTS link will indicate which trains you need to take to go to the most frequently visited Bangkok tourist attractions.