Bangkok Airport Layover
Plan a Bangkok Airport layover when you next travel to Europe, China or Australia via Asia, to break up the long journey. 
If you care to layover in Bangkok Suvarnabhumi Airport you will find that it makes the whole flight experience so much more comfortable, if you can take some time out to re-hydrate and sleep in a proper bed.

Although it is not always possible to break your trip and have a rest, it is something to consider the next time you fly via Bangkok.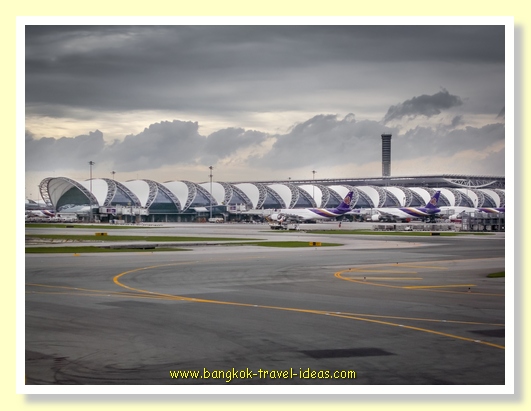 Suvarnabhumi Airport Bangkok
Even if you don't plan to break your long trip, then your flight itinerary may require you to change planes in Bangkok and depending on your destination, you may find that there is some delay until your next flight.
It is at times like these that you need to be creative and there are various options available, depending upon the length of time between connecting flights.
Bangkok Airport Layover Guide
What to do in Bangkok Airport?

Here are six things to do on a Bangkok Airport layover:
take the time to wander around the airport
do some shopping in the brand name shops
pick up some gifts for family and friends
have a Thai massage
retire to a paid lounge
have a shower
If you are not into shopping, then why not take a massage or treat yourself to a spa treatment at Sensib Thai Massage on the departure floor. (Under new ownership and branding as of July 2022 and previously called Express Spa Body and Foot Massage)
You can get a great Thai Massage here.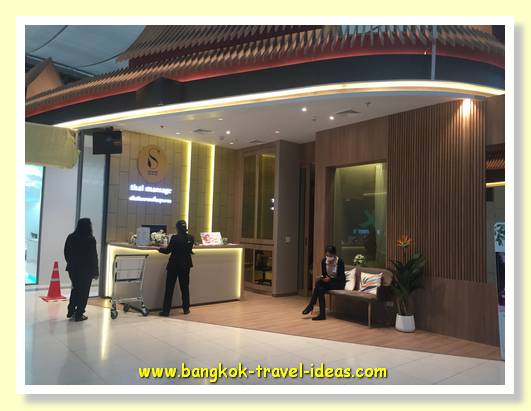 Sensib Thai Massage at Bangkok Airport Concourse C
There are other things to do in Bangkok Airport, that can fill in the time and make you more relaxed for the onward journey.
Young children's interests are catered for in the small play area at the start of Concourse C and your trip will be so much easier if you know where to go in the airport complex.
Read through the following suggestions of things to do during a Bangkok Airport layover and you will be so much more prepared.
Bangkok Airport 5 Hour Layover
Can I leave Bangkok Airport during transit?
With a Bangkok Airport layover of 2 hours to 5 hours between your flights, there is not enough time to leave the airport and be back in time, to comfortably catch the connecting flight.
So here are some additional suggestions how you can make the most of your time in the airport.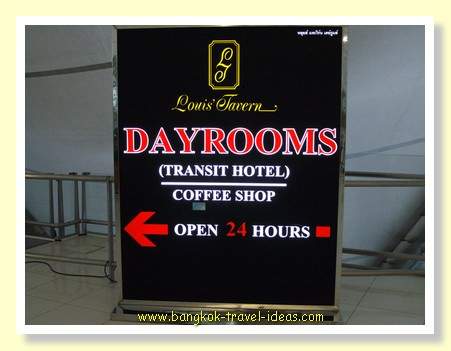 Miracle Transit Hotel for sleeping and showering inside Bangkok Suvarnabhumi Airport
When travelling Business Class then you should have access to the Bangkok Airport lounge of your airline.
Here you can freshen up, have something to eat or catch up on your emails and reports.
Airline lounges close at night, typically between about midnight and 5:00 am, so plan ahead as most retail shops also close during this period.
Even though the airport is open, there is not much going on in the early morning period.
The Thai Airways lounge opens at 5:15 am for those early starters heading off to Australia or Philippines.
However if you don't have access to an airline lounge and you want a place to sleep or shower in Bangkok Airport, then there are a few other lounges that you can use.
A compilation of Bangkok Airport lounge facilities and locations is linked, if you need more details of your airline lounge options.
The more popular ones are the Miracle CIP Lounges and the Miracle Transit Hotel day rooms, (formerly known as Louis' Tavern Transit Lounge). 
Miracle is the only Bangkok Airport Transit Hotel in the Airport, although they are in several locations around the airport, that you can use.
Is there any hotel inside Bangkok Airport?
There is no hotel inside Bangkok Suvarnabhumi Airport, but Miracle Transit Hotel Dayrooms are airside on Level 4 and are a great option if you need a bed and get a few hours proper sleep.
The paid CIP lounges are a good choice if you just want to have a shower in Bangkok Airport, freshen up between flights or to catch up on your emails.
For landside passengers, the Novotel Suvarnabhumi Airport Hotel is a few minutes walk away and is the closest hotel to Bangkok Airport.
When walking is not an option, there is also a free shuttle service available as you exit the Arrivals Hall, that takes you directly to the front door of the Novotel.
---
Miracle Transit Hotel Dayrooms
The Miracle Transit Hotel has day rooms at Suvarnabhumi Airport that are available for 4 and 6 hours blocks and can be booked directly through Agoda.
Here you can have a shower inside Bangkok Airport, take a good sleep in private and be fully rested before continuing your travels.
You don't have to be a member of Miracle Tavern to book the Day Rooms in Suvarnabhumi Airport and the price is very affordable.
If your selected travel dates are not available on Agoda, then the next best available option for transit passengers is pre-booking the Miracle Lounge package from GetYourGuide.
Read more about the 2.5 hour Miracle Lounge Package
2.5 Hour Miracle Lounge Package
Whether you are transitting Suvarnabhumi Airport or getting ready to make your next flight connection, having access to a full-service airport lounge can make all the difference to your comfort.
Paid access to the comfortable Miracle Lounge is available from GetYourGuide.
Enjoy 2.5 hour lounge access while waiting to take-off
Savor hot and cold dishes from The Miracle Group Hotel chef served 24/7
Choose from several lounges throughout the International Departures terminal
Access the shower room, prayer room, and other facilities
Make your selection to find out more.

---
If you do have additional time on your Bangkok Airport layover and plan to leave the airport, it makes good sense to book ahead to be assured of accommodation and take advantage of the discount rates available.
Transit passenger do not automatically have the Bangkok Airport departure tax automatically added to their onward International ticket, because if the length of time between connecting flights is less than 12 hours, you are considered to be in transit.
So once you factor in that you do not have to pay the departure tax of 700 baht on re-entry to the airport, it makes these rooms in the Miracle Transit Hotel all the more attractive.
With a bit of planning your Bangkok Airport Layover can be much less stressful.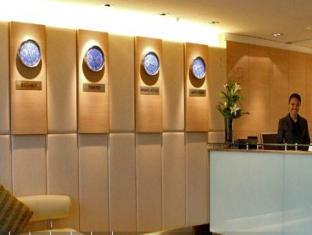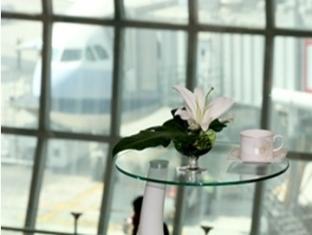 Bangkok Airport CIP Lounge
If you are a frequent traveller and often get stuck with a short Bangkok Airport layover during your travels through Suvaranabhumi Airport, then there are paid lounges in that can be used for the duration of your layover.
The Miracle Group also have a total of nine lounges in the airport, spread around the different concourses.
These lounges are very popular with travellers and come with showers and internet and some of them are open 24 hours.
So, if you need a shower in Bangkok Airport and are someone who travels regularly for business, then access to an lounge to rest and grab a Bangkok Airport shower, is going to make the rest of your journey much more comfortable.
Miracle Lounge Location Map
Concourse A (below left) is where the Domestic flights depart and Concourses B, C, D, E, F and G are where International flights depart.
The Miracle Lounge map marks the location of all the Miracle Lounges in Suvarnabhumi Airport.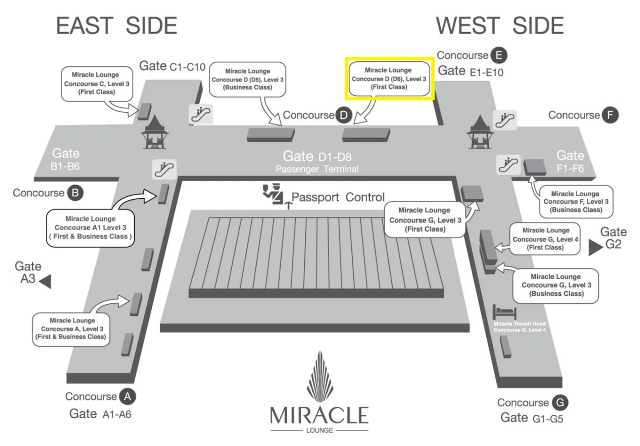 Map of Miracle Lounge locations in Suvarnabhumi Airport
Miracle Lounge Access
A pre-purchased access pass to the Miracle Lounge from GetYourGuide will provide a comfortable wait, prior to boarding your onward flight from Bangkok Suvaranabhumi Airport.
Click the link to learn more.

Tip: Be aware of the various locations for Miracle Lounges and ensure to select one close to the planned departure gate, so that your final walk to the departure gate is reduced.
A full list of all the Bangkok Airport lounge locations facilities and opening times is at this link.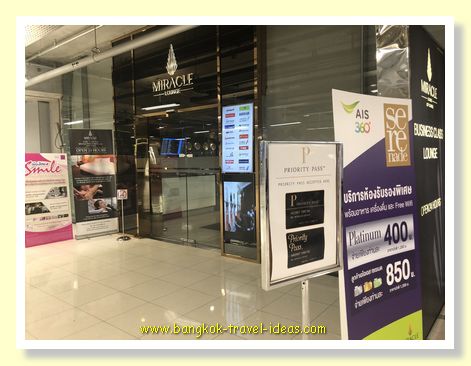 If a paid airport lounge is not what you want, then check out some different places for sleeping in Bangkok Airport if you are short of cash and need somewhere quiet to crash.
Bangkok Airport 6 Hour Layover
Can I leave Bangkok Airport during transit?
Yes, you can leave Bangkok Airport during transit if you have a layover of at least 6 hours and a visa or visa exemption. Citizens requiring a Visa on Arrival need to allow extra time and cost in the calculations.
As a general guide, if you have a medium length layover in Bangkok of 6 hours and up to 10 hours during the daytime, then it is worth considering leaving the airport to go and have a look around Bangkok.
You can read my travel diary of a 6 hour Bangkok layover here to see what is involved if you decide to leave Bangkok Airport.
Does Bangkok Airport have tours for transit passengers?
There are no tours for transit passengers, any longer.
Suvarnabhumi Airport used to run its own range of transfer passenger tours, for people just like you with long periods between connecting flights.
These tours have been discontinued and the desks are no longer in the airport as of 2015.
The transfer passenger tours range from visiting temples, going shopping to playing a round of golf.
Feel free to read what used to be available as it looked an interesting option.
Sadly this service is no more.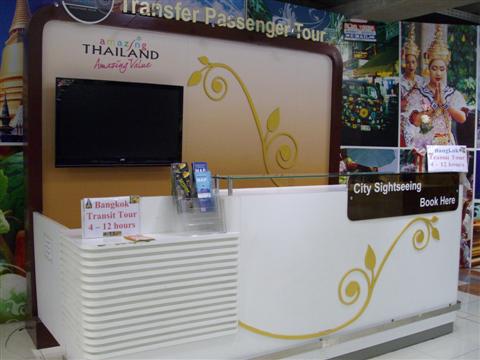 The old transfer passenger tour desk
Can I have a massage in Bangkok Airport?
Yes, you can treat yourself to a massage in Bangkok Airport if you don't have the inclination to leave the premises.
There are a number of choices available for those of you stuck air-side, that will make the time go a little more quickly.
Bangkok Airport Layover 11 Hours
Often people find that travelling in excess of 12 hours or so can be very tiring.
Travellers can suffer dehydration, boredom and fatigue during periods of extended flying.
One option available to the international traveller is to plan a break between flights; the so called "Bangkok Airport long layover" or "stopover". 
So for your next long haul flight via Asia, consider taking a connecting flight on the following day and either sleep in Bangkok Airport or stay in one of the many nearby Bangkok Airport Hotels.
Not only will you arrive in a much better frame of mind, but you will have had the chance to experience some of the interesting sights in and around Bangkok.
Whether your flight is from Europe via Bangkok, or from Sydney via Bangkok, consider taking a Bangkok layover.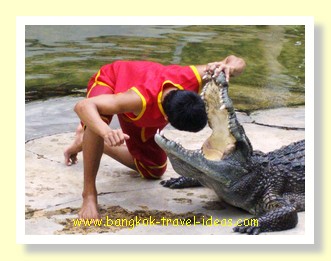 In general, when the time between flights is this long, then you really do have time to leave the airport.
You can go and stay in a hotel and have a good night's sleep or take the time to see some of the sights of Bangkok.
How to Handle a Long Layover in Bangkok Airport
Whether you have a 6 hour Bangkok layover or an 11 hour Bangkok layover here are some further suggestions to consider and how to plan your time to make the most of things.

First and most importantly is to plan your time, as you don't want to miss that connecting flight or cause yourself undue stress, by leaving the airport.
The whole idea of having a break is to refresh and relax yourself and to make the most of your Bangkok Airport layover.
Tip: for long-distance travellers, the airline may include free hotel accommodation and transfers if your flight continues to eligible destinations.
You can check with your airline if they currently include hotel accommodation as part of your long layover in Bangkok.
Does Thai Airways Provide Hotel for Layover?
Tip: for long-distance travellers, Thai Airways may include free hotel accommodation and transfers if you continue your flight with them.
You can check with the airline if they include hotel accommodation as part of your long layover in Bangkok, particularly if you have an enforced long wait between connecting flights.
I have seen Thai Airways advertise and make this offer periodically, so perhaps it is not a routine part of the ticket.

If you have a layover between flights of 6-12 hours or more, then do check with your airline, as you may be entitled to something extra.
Explore Bangkok
After making the decision to explore, then upon arrival at Bangkok Airport allow yourself 45 minutes to pass immigration, collect your bag and get out of the airport, another hour to get to your hotel in the city and check in.
The rest of the time on your Bangkok Airport layover is yours to use as you see fit.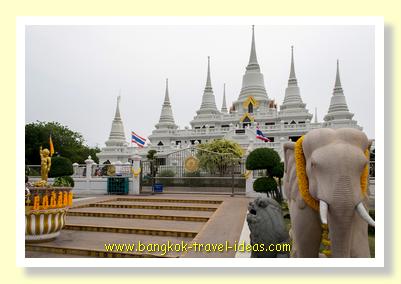 On the flight return leg, then as a guide if you check out of your hotel 3 hours before your flight departure, that should be plenty of time to allow you to fight your way through the Bangkok traffic and get back to Suvarnabhumi Airport to catch your onward flight.

If you are flying economy, if it has been raining or if it is a peak traffic time, then do leave your hotel in plenty of time, because there can be very heavy traffic on the motorway from Bangkok to Suvarnabhumi Airport and this has caused some people to miss their flight.
Bangkok Airport Layover Hotels
Perhaps you don't want to stray too far from Bangkok Airport, then you can review this listing of Agoda Hotels near Bangkok Suvarnabhumi Airport. 
I have reviewed all Hotels based upon the posted traveller reviews and have whittled the list down to six.
In fact I have tried a few of them and written a short review.
My favourite is the Cottage Suvarnabhumi Airport Hotel, they have an aiport transfer service and rooms with a swimming pool entrance. Check price and availability with Agoda here.
If you need more detail, then head on over to my page Bangkok Airport layover to read more, and follow up on the progress of the Hotel reviews.
The visits are a few years old now, so make a check on the Agoda guest reviews for each hotel.
If you decide to stay close to Bangkok Suvarnabhumi Airport on your Bangkok Airport layover, then you will be very close to these Bangkok tourist attractions that are well worth visiting.
Whatever you decide to do, make sure you use your Bangkok Airport layover in Suvarnabhumi Airport to your advantage, so that you are refreshed for the second leg of your journey.
Avagard Capsule Hotel in Suvarnabhumi
If you only have a short stop at Suvarnabhumi Airport and have to pass through Immigration, then you might consider a  Bangkok Airport layover hotel,  then try out this Agoda booking link to the Avagard Capsule Hotel.
These sleeping pods are located in the basement of Suvarnabhumi Airport along the walkway connecting the Airport to the Novotel Suvarnabhumi Hotel.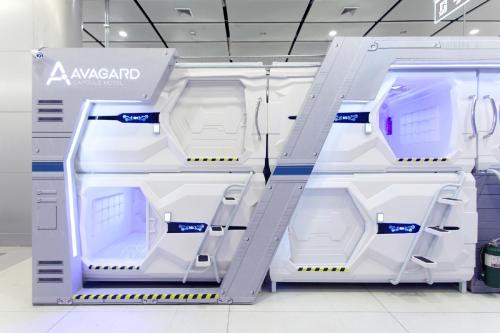 Avagard Capsule Hotel at Bangkok Suvarnabhumi Airport
If you are not sure where the underground walkway is, then you can watch this video to orientate yourself. 

The Avagard sleeping pods are ideal if you are landside and just need a few hours to have a rest, before booking in for your connecting flight.
The Avagard sleeping pods are in hot demand and so if your travel dates are not available at Agoda, then check Boxtel@Suvarnabhumi as they may have some vacancies.
The Boxtel offering were the first sleeping pods in the basement area of Suvarnabhumi Airport and then along came Avagard.
It is the same concept; to provide a short-term sleeping solution for weary travellers and they are both in the same location.
Whether choosing Boxtel@Suvarnabhumi or Avagard Capsule Hotel this sleeping choice is ideal accommodation for people that:
transit from Phuket Airport
who have a Bangkok Airport 5 hour layover
those travelling from other airports inside Thailand
as both the Boxtel and Avagard sleeping pods are located before the Immigration checkpoint.
These types of Bangkok sleeping boxes are more comfortable than they sound and it certainly beats sleeping on a bench somewhere in Suvarnabhumi Airport and running the risk of someone making off with your luggage.
If you are truly in International transit then you should book and stay at the Miracle Transit Hotel located inside the airport, as this is the only Bangkok Airport Transit hotel. 
For International transit passengers, the most comfortable option when there are no available rooms at the Miracle Transit Hotel is the Miracle Lounge packages from GetYourGuide.
Read more about the 2.5 hour Miracle Lounge Package
Bangkok Airport Layover Flights
Here are some current examples of flights that have longer layovers in Bangkok.
Sydney to London via Bangkok
SYDLHR TG476 TG910 has 8h 50m layover in Bangkok
Sydney to Zurich via Bangkok
SYDZRH TG476 TG970 has 9h 10m layover in Bangkok
Sydney to Munich via Bangkok
SYDMUC TG476 TG924 has 9h 25m layover in Bangkok
Sydney to Delhi via Bangkok
SYDDEL TG476 TG323 has 15h 35m layover in Bangkok
Sydney to Paris via Bangkok
SYDDEL TG476 TG930 has 8h 40m layover in Bangkok
If you are booked onto any of these flights then leaving Bangkok Airport for a number of hours is possible.
Alternatively explore the options of the paid lounge or even the Miracle Tavern dayrooms.
As exciting as a Bangkok Airport layover may seem, there is really nothing worse than hanging around an airport for hours on end.
To be honest a 4 hour layover is routine and a 6 hour layover is about the most that is manageable, without being completely bored out of your head.
After years of travelling, my preferred choice was always to take the connecting flight the following day and that way end up with around 32 hours in Bangkok.
Check availability and pricing for Bangkok hotels at Agoda.
Last Updated October 2022
You might also be interested in...