Bangkok Airport Arrival Procedure
All the major commercial airlines now land at the new Bangkok airport (BKK), since its relocation from Don Mueang airport in 2006.
The Don Mueang (DMK) airport is now being used for all the low-cost carriers like Air Asia, Nok Air and Orient Thai.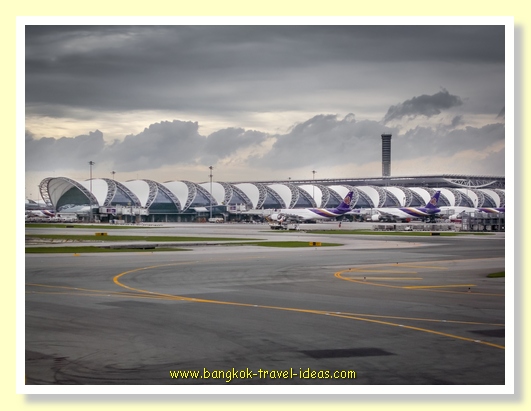 If you are still in the planning stages for your trip to Bangkok, then check out my page of helpful tips for getting cheap flights to Thailand.
Bangkok Suvarnabhumi Airport (BKK)
Learn about the Bangkok Airport arrival procedure and just what is involved after landing at Suvarnabhumi Airport.
This article will cover:

Bangkok International Airport Codes (IATA)
Suvarnabhumi Airport History
Bangkok Airport Arrival Procedure
Domestic Transfers
International Transfers
Visa Status
FastTrack and APEC lane locations
VIP Meet and Greet Services (Paid)
Currency Exchange Booth and ATM location
Baggage Collection and Customs clearance
Bangkok Airport Transfer Options, Bangkok, Pattaya, Hua Hin
Shuttle Bus Transfer to Don Mueang Airport
Car Rental
Mobile Phone Packages
Bangkok Tour packages
Bangkok Airport Meeting point
Bangkok Airport Arrivals Today
If you are flying into Bangkok and will be changing airlines to a low-cost carrier, ensure you check which airport they fly out of and allow sufficient transfer time between the two airports. 
A free shuttle runs between the two airports for transferring passengers, but you will need to allow additional time for this airport transfer.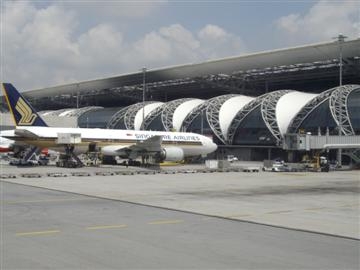 What is the Bangkok Airport Code (IATA)?
As indicated above, there are two airports in Bangkok, and it pays to know which one your flight is landing at.
All airports around the world are given a three letter IATA code to identify them and you will find this code printed on your e-ticket or travel itinerary alongside the departure time and flight number.
IATA Codes
BKK - Suvarnabhumi Airport Code
DMK - Don Mueang Airport Code
HKT - Phuket
USM - Koh Samui
KBV - Krabi
CEI - Chiang Mai
Other IATA Codes
LHR - London Heathrow Airport
SYD - Sydney Kingsford Smith Airport
SIN - Singapore Airport
LAX - Los Angeles Airport
NRT - Narita Airport
If you do a lot of travelling and need access to IATA codes for other airports, then I have always used this free tool from Theodora.
---
Use the Power of Agoda to find Great Deals on Bangkok Airport Hotels
Whether you are arriving or departing from Suvarnabhumi Airport you are bound to need an Airport Hotel.
Use the powerful search function to identify the best choice and make a booking TODAY.
---
Suvarnabhumi Airport History
Bangkok International Airport is called Suvarnabhumi Airport (pronounced Soo-wanna-poom Airport).
The new Suvarnabhumi Airport received its name from His Majesty the King and means the "Golden Land" and its logo comprehensively represent the physicality of the Suvarnabhumi as an airport with the 3 blue strips representing the airport's runways while the 2 golden strips represent the parked aircrafts.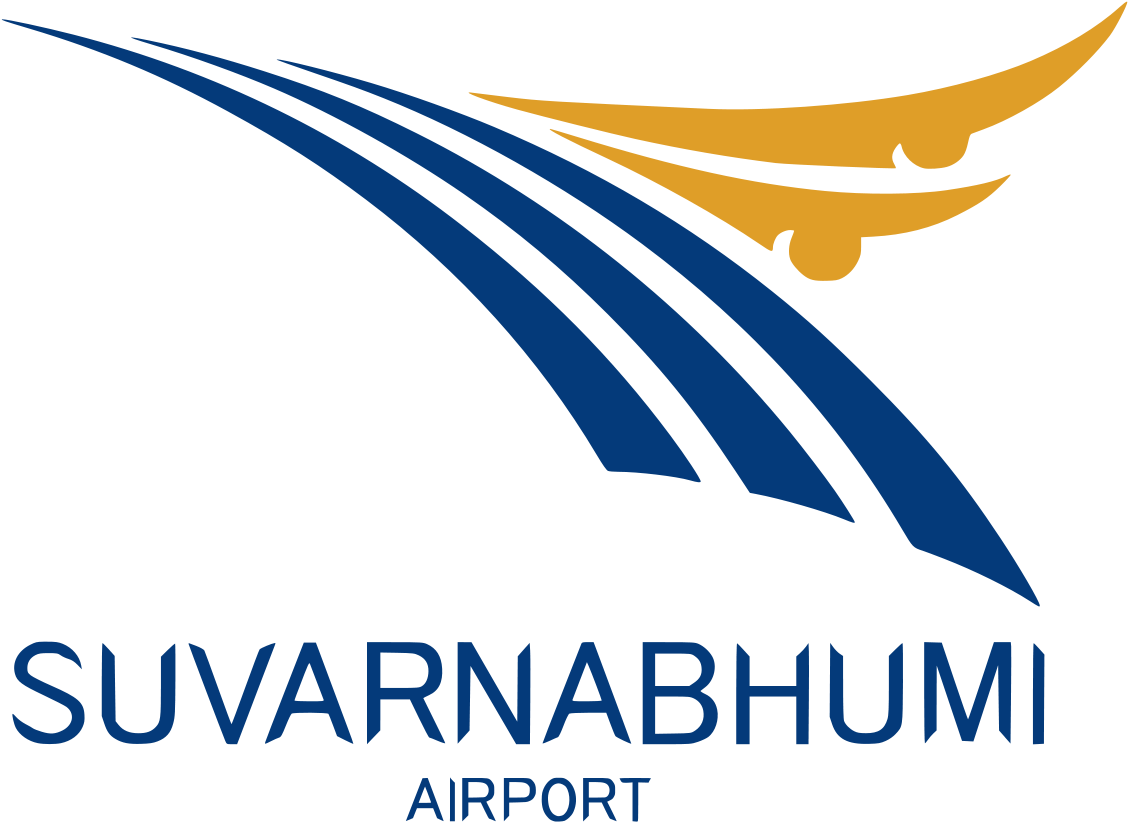 The Suvarnabhumi Airport Logo is a trademark of Airports of Thailand Public Company Limited (AOT).
From a different perspective, the three blue strips could also be seen to represent the arching top of Suvarnabhumi's Passenger Terminal Building.
The logo was selected from the 635 entries in the Suvarnabhumi Airport Logo Design Contest, held from 20th July – 20th August 2009.
The winner of the 1st prize was Mr. Taotai Suksirithada, a graduate student from Chulalongkorn University, who received 100,000 baht and an award from HRH Princess Soamsavali.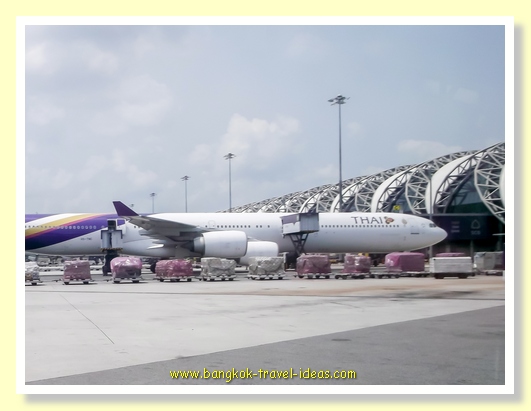 The foundation stone for the new Bangkok Airport was laid in January 2002 and the construction continued to completion and the facility opened for service on 28th September 2006. Work has already commenced to double the number of runways and terminals.
Bangkok Suvarnabhumi Airport is located about 25 Km from the centre of town, and it is only a 40-minute car ride to get to one of the many Bangkok city hotels.
This journey may take as long as 60 minutes, if you travel during rush hour periods, or you have a more distant Bangkok Riverside hotel.
Bangkok Airport Landing and Arrival Procedure
When your plane first lands at Bangkok Suvarnabhumi Airport it can taxi and stop at any of the arrival gates and even if you frequently take the same flight, you can still never be sure of the final gate number.
If you are unlucky on arrival at Bangkok Airport and all the gates are full, you may have to disembark from the airplane onto a bus in the middle of the tarmac.
The bus will then drive to an entrance way where you can get off, under the watchful eyes of staff. 
Upon arrival in the main Bangkok Airport building, have your passport in hand, ready to start the Bangkok Airport arrival procedure in the Immigration Hall.
Follow the signs and proceed directly to the immigration officials at the passport control booths to get your entry stamp.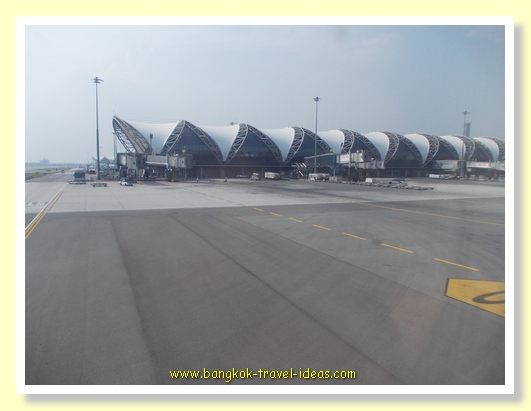 Don't dawdle after leaving the aircraft as each person that passes you will be in front of you in the immigration queues and it will all delay your arrival at your destination.

It may be the case that Bangkok is not your final destination.
If you are transiting to another airport and have up to 12 hours to spare, then you can explore some things to do on your short Bangkok layover.
Perhaps you have a delayed connecting flight, so you may like to read about the attractions available to you inside the Suvarnabhumi Airport building, whilst you while away the next few hours.
Depending upon which gate your plane docks at, you may have a long walk or a very long walk to the Bangkok immigration area.
Fortunately, Bangkok Suvarnabhumi Airport is fitted with moving walkways that make this a journey a little less tedious.
It is quite a distance indeed.
Looks quiet, doesn't it?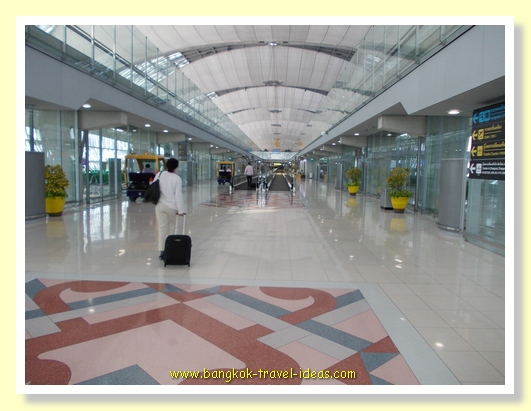 Well, it is not always like this, sometimes it is packed with people all rushing to the immigration desks.

How Many Terminals Does Bangkok Airport Have?
Suvarnabhumi Airport (BKK) has only two terminals, even though you may read differently elsewhere. 
There is a Domestic Terminal and an International Terminal, which are both housed within the same building.
The airport is not like Zurich or London, where you may have to catch a train or bus to transfer terminals.
Suvarnabhumi Airport is all under one roof and both Domestic and International passengers arrive through separate doors, but into the same large hall.
Both departing International and Domestic passenger are dropped off at the same level and the Check-in desks are all together.
So whether you are meeting someone or dropping them off, it is not necessary to know which Terminal their flight is using.
To make sure there is no confusion about the number of Terminals, there is a second International terminal currently under construction and when that is finished, there will indeed be two International Terminals.
Further down the page is the Bangkok Airport Arrivals map, so look at that and bear in mind the Concourses B, C, E, F extend beyond the page and are longer than actually drawn.
It is possible to walk anywhere in the International Terminal, once inside.
Currency Exchange Booths & ATM Locations
At the end of the concourse for International Arrivals, you can exchange British Pounds or US Dollars to Thai Baht at any of the Banks currency exchange booths.

Here you will find the Siam Commercial Bank currency exchange booths and the TMB Money Exchange booth.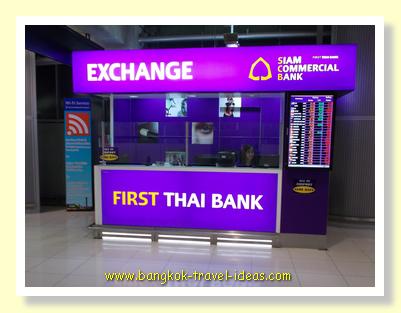 Currency exchange booth in Bangkok Suvaranabhumi Airport
Currency exchange booth in Bangkok Suvaranabhumi Airport
But if you really want to get the best exchange rate at Bangkok Airport then you need to go to the same level as the Airport Rail link (ARL) and use Happy Rich or Super Rich currency exchange booths.
These are located just off the AOT property and have lower rents and hence lower overheads.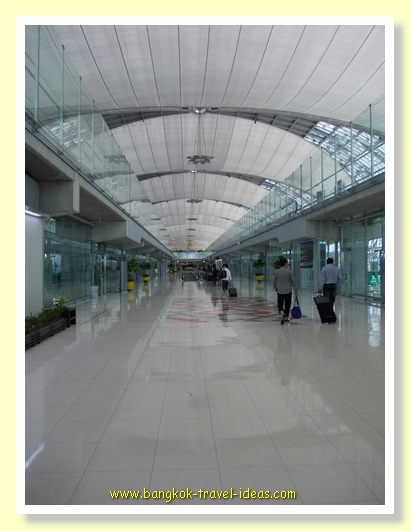 Suvarnabhumi Airport Domestic Transfers
At the end of Concourse C, is the entrance for people with connecting flights to Chiang Mai, Chiang Rai, Phuket, Krabi, Samui and Hat Yai.

For these people, Immigration procedures take place here and Customs Control is at the destination.
If arriving as Visa on Arrival, see Visa Status section below as you will need to conduct this task first.
Suvarnabhumi Airport International Transfers
At the end of Concourse C is where people with an onward connecting flight (and whose baggage has been checked through to the final destination) clear immigration.
There is a transfer desk in this location if you need to be issued a boarding card for your next flight.
In this case, just present your documents to the staff on duty and you will be allowed to go up the escalator to the Departures level.
Baggage that has not been checked through to your final destination will need to be collected from the baggage carousel after clearing immigration and check-in conducted on Level 4 before re-entering the departure area.
So, you basically have to go out and then back in again.
Thailand Visa Status
Before discussing the Bangkok Airport immigration process for foreign passport holders, it is worthwhile briefly summarising the various visa categories of entry.
Establishing the exact Bangkok entry requirements for each personal situation should be started well before beginning your trip, as this is integral to your trip planning.
Visa Exempt
The Visa Exemption Rule allows tourists from 64 countries to enter Thailand without a visa. They are granted to stay a maximum of 30 days if they are entering Thailand via an international airport or entering through a land border checkpoint from neighbouring countries.

Upon arrival at Suvarnabhumi Airport, proceed directly to Passport Control
Thai Visa on Arrival
If you are a citizen of India, China or one of 19 other countries eligible for Thailand Visa on Arrival and flying directly to Bangkok, you can get your Visa on Arrival at Suvarnabhumi International Airport (BKK)

People arriving under the Visa on Arrival category must proceed to the VOA processing area with necessary documentation and financial proof and obtain the necessary tourist visa before proceeding to passport control.
There are paid services that reduce waiting time and guide you through the procedure, you will be:
met at the airbridge by your host
assisted with the Visa-on-Arrival process
allowed access to the Premium Immigration Lane
assigned a baggage porter to arrange collection of your bags
escorted through Customs to your onward transportation

If you are interested in the paid GetMyGuide Visa on Arrival and Fast Track Assistance Service, click the link to learn more.
Thai Visa Holder
Obtained based on being a student, tourist, married to a Thai or being retired etc

Upon arrival at Suvarnabhumi Airport, proceed directly to Passport Control
APEC Business Travel Card Holder
You can apply for an ABTC if you: travel frequently to an APEC economy (other than Australia or your place of residence) for business purposes and have not been convicted of a criminal offence.

Upon arrival at Suvarnabhumi Airport, proceed directly to Passport Control where there are specific APEC lanes.
Bangkok Airport Immigration
The Bangkok Airport immigration hall is extremely large, stretching the length of the building and is split into three sections, each with its own entrance.
Very often, if one section has long queues then it is worth wandering further down a little further as the other sections may have no people waiting.
How Long Does it Take to Clear Immigration at Bangkok Airport?
As each plane lands, passengers disembark and go to the first immigration hall that they encounter, so it just depends on the plane arrivals as to how busy a particular immigration section is.
In high season if you see people spilling out of the immigration entrance way you can expect the processing time to be 45-60 minutes, but mostly you can anticipate a wait of around 15-20 minutes.
Most passengers don't know there are two separate Bangkok Airport immigration halls and so if you see that the immigration hall is congested, then definitely you should take the time to investigate the other immigration points. 
I have visited Bangkok Airport many times and most times I have waited in a line of eight or less people and if I see a line longer than that I head to the next immigration hall.
Paid GetMyGuide Fast Track services are in high demand and booking early is suggested, if you want to avoid getting stuck in a queue.
These paid services reduce waiting time and guide you through the procedure, you will be:
met at the airbridge by your hostess
allowed access to the Premium Immigration Lane
assigned a baggage porter to arrange collection of your bags
escorted through Customs to your onward transportation

If you are interested in the paid GetMyGuide Fast Track Assistance Service, click the link to learn more.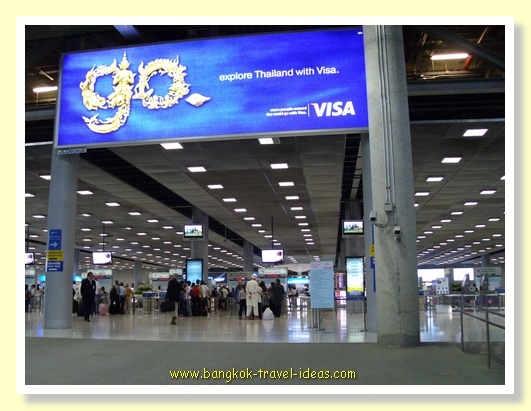 Quiet at the immigration line in BKK Airport
Like many airports the Bangkok immigration desks have separate sections for Thai passport holders and foreign passport holders, so once you enter the immigration hall make sure to select the correct line.
As of June 2022, all passengers no longer have to complete a TM6 Passenger Arrival and Departure card.
This requirement has been suspended temporarily to allow for faster processing of passengers.
Many airlines provide these forms before landing, so checking with the cabin crew is advised, as it is best to complete this form before landing.
Bangkok Airport Fast Track Business Class
If you have a First or Business Class boarding card or have an APEC card, then you are entitled to use the Thai Airways Fast Track Business Class booths.
The one opposite gate D4 is offset to the left as you walk up the slope but leads you off to the left behind some barriers.
There is a small sign pointing to the Fast Track lane on one of the pillars, but you will need to look carefully, or you will miss it.
Sometimes there will be Airport staff there ensuring that you are entitled to use that lane and the immigration staff may ask to see your boarding pass to confirm that you are eligible to use that lane before they let you proceed.
If you have a paid Fast Track service, then use the dedicated lanes set aside for those customers and as directed by your guide.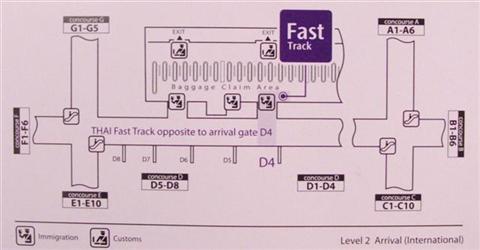 Bangkok Suvarnabhumi Airport: Meet and Greet Service
For economy class passengers there is still the opportunity to speed your way through the immigration line by using the paid VIP Meet and Greet Service with a personal assistant to meet, help navigate the airport and expedite your immigration clearance step.
For many travellers it is a welcome relief after a long flight to have this personal attention.
Learn more about the VIP Meet and Greet Service.

Between the two immigration halls opposite Gate D6 is an area marked as Priority Lanes, that is dedicated for persons that fall into the following categories:
Diplomats
Officials
Air Crew
BOI
Thailand Privilege
Buddhist Monks
Senior Citizens and over 70's
Pregnant
Infants
Disabled
Use these lanes if you fall within the categories.
Tips for Navigating the Immigration Queue
Not everyone is fortunate enough to be able to use the Fast Track services, so here are some tips to make your wait as short as possible. 
Select the shortest line of people to stand in and by counting the number of heads.
If the line is long, then count 10 heads and use that distance to estimate the remainder.
Small children take twice as long to process as adults, so multiply them by two to take this into account.
At the immigration desk, provide your passport, arrival card and boarding card for fastest processing.
The immigration officer will check your passport, take your photograph and collect your fingerprints before stamping your passport.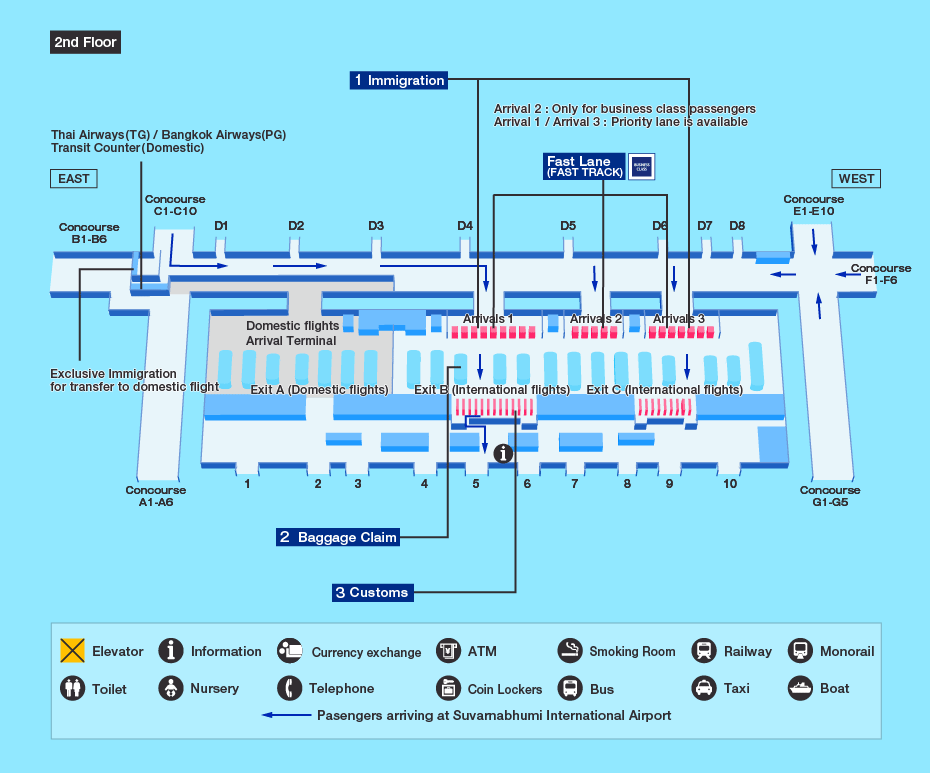 Bangkok Airport terminal map Copyright ANA Airways
As you will most likely have some checked baggage, then it is often a little academic how long the immigration line is, as you will still have to wait at the baggage carousel for your checked baggage to appear.

Currently it is thought that the fingerprint and facial recognition database is used solely by the Immigration Dept. 
So, whilst they could verify if you arrived previously under a different name, the system is unlikely to flag you as someone with a criminal record. Of course, it is only a matter of time before data sharing allows this to be done.
Before leaving the checkpoint, ensure that the stamp in your passport is correctly applied for 14 days, 30 days or 3 months in alignment with your permission to stay dates. 
Sometimes with human error an incorrect stamp is used and if you are stamped in for two weeks instead of 30 days it is a nuisance to have it corrected afterwards.
Bangkok Airport Baggage Claim Hall
After emerging from passport control, go and check the electronic arrivals board, locate your flight number to identify the correct baggage carousel.
There are 24 baggage carousels, with number 7 being on your right and number 23 being on the left-hand side as you come out of the immigration desks.
If you are wondering where carousels 1-6 are located, well they are in the Domestic Terminal on the other side of the wall.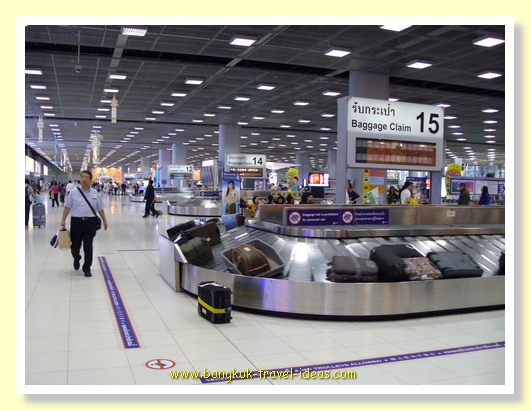 By now your luggage will have appeared on the carousel, but if it hasn't then you can still make a last-minute purchase of duty-free goods or get some currency exchanged.
The currency exchange rate in the airport will not be as good as in town, so just change enough for your first night.
(If your suitcase does not appear on the luggage carousel then read the following account of how to handle lost baggage by going to the Lost Luggage office and filing a report.)
Customs Inspection at Bangkok Airport
After collecting your baggage, the next step is to collect your bags and pass-through Customs Control, choose either the Red or Green channel.
The Red Channel is for those that have something to declare, and the Green Channel is for those that have nothing to declare.
There are two Customs gates, B and C that you can use.
I would recommend that if you are being met by a hotel driver then you should always go out by Gate B as this is where the hotel drivers wait, but this is something that you should check if organising a pick-up. 
If you take the Green Channel, the Customs inspection process involves pulling random people up and having them put their bag through the x-ray machine.
In my experience you will have to be very unlucky to be selected if you go through this Green channel.
Immediately after passing through Customs Control and entering the airport arrival hall you will see another AOT Limousine booth.
(This applies if you leave by Gate B or C.)
Bangkok Airport Arrivals Hall
This is still a restricted area for international passengers, but there are some services available in this area that you may wish to use before you leave. 
AOT Airport Transfer Booking Desk – this provides a limousine transfer service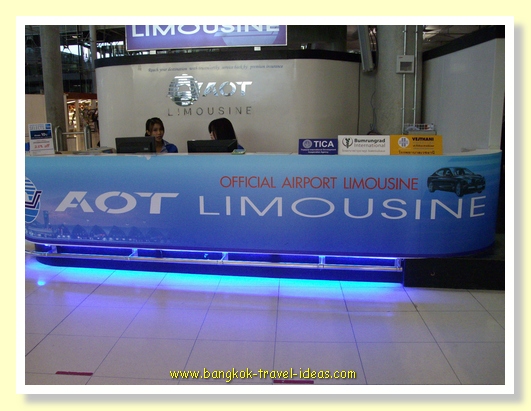 Hotel Greeting Staff – on the right side are staff holding the hotel board in case you made a transfer booking directly with the hotel. If you have booked a hotel car to collect you then they wait in this general area with your name on a sign board.

You may find that it is written as 'Mr John, Mr Alex or Ms Sarah', as people are referred to by their first names in Thailand.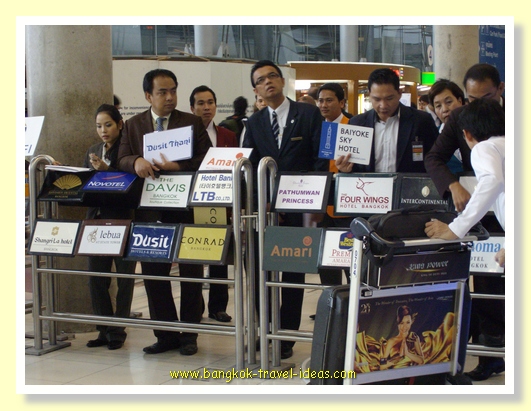 Inside the Arrival Hall there are various outlets providing tourist services.
If you need to make further arrangements, then do that before you leave this area.
The Suvarnabhumi Airport Arrival Hall area is just for arriving passengers and although it may not be obvious, there are Security staff in attendance.
So be prepared to show your boarding pass to the Security official to re-enter, in case you left accidentally.
Tour Agency – as the name states

Rental Cars – as the name states
Mobile Phone – data plans and phones for Thailand
Bangkok Airport Tourist Services
Mobile Data at Suvarnabhumi Airport
If you are from Australia or Europe where the phone system is the same, you don't need to rent a mobile phone, you can purchase a local SIM card that you can top up at any 7-Eleven store.

Ensure that your phone is unlocked before departing your home country.
If your phone is locked to your carrier you can even pick up a second hand mobile phone from MBK or Pantip Plaza for less than 1000 baht.
No matter what country you come from, you need to be aware that even though your home country mobile phone works, you may have to pay very high "roaming" charges from your service provider.
Be especially aware of devices such as tablet PCs and smartphones that can automatically connect to the internet and turn off the roaming function if you have not purchased a special roaming package.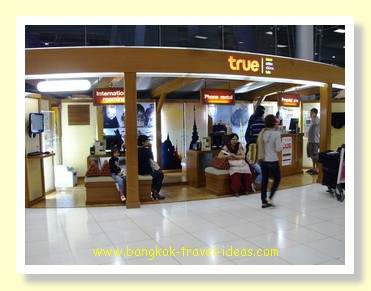 Mobile Phone Wi-fi Package
The option of a mobile phone wi-fi package is now available in Suvarnabhumi Airport, provided by GetYourGuide.
Telstra Australia customers may not know that the provision of International roaming is no longer available on a number of plans.
The service has temporarily been discontinued, whilst they work on some system upgrades and to be honest, it was incredibly inconvenient to find out after the travel had commenced and I couldn't call to arrange a pick-up from the airport.
It seems the only option that Telstra offers, is the $10/day package, which can work out quite expensive, particularly if the phone is just to receive messages and two-factor authentication code texts.
The mobile phone wi-fi package from GetYourGuide gets around the problem of needing to subscribe for a costly package and is a fraction of the cost.
It also means that you get to keep your mobile phone number, which may not be the case if you get a replacement SIM.
The mobile device can be used by upto five people for five days, or less people for more days and is available in both Don Mueang and Suvarnabhumi Airports.
Pick-up and return is to the same Airport.

Next time, I fly then I will surely be getting one of these.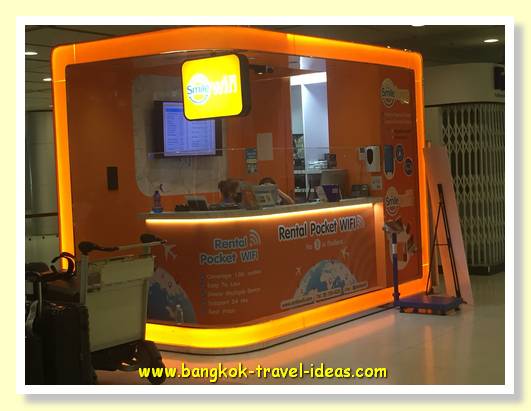 Rental pocket wi-fi in Suvarnabhumi Airport
Bangkok Airport Wi-Fi
Does BKK have free Wi-fi?
Inside Bangkok Airport there is access to free wi-fi in the public areas. Access is for one hour and is gained upon provision of an email address. It is really that simple.
This is extremely useful, if on arrival you realise that your mobile phone has no signal and can't connect to a carrier.
The one hour access is long enough to get you out of trouble and make further travel arrangements.
Car Rental at Bangkok Airport
As you exit the Customs area, there are Car Rental agencies on the opposite side of the wall.
If you are thinking about driving in Thailand, then ensure that you have an International Driving Permit (IDP) before leaving your home country.
If you want to know how to get an IDP before arrival then read this page describing the process.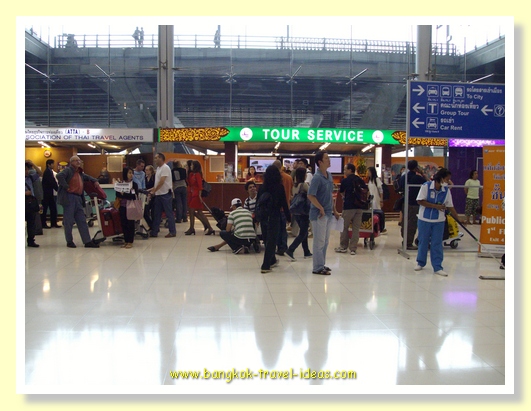 Suvarnabhumi Airport Arrival Hall
The following car rental agencies are represented:
Bangkok Airport Meeting Point
The Meeting Point in Suvarnabhumi Airport is located by following the foot traffic to the right.
So, if you have someone meeting you in their private car then they will be located a little further along the walkway, waving and shouting to you, hopefully anyway.
If you keep on walking you will get to the point where the escalators are and around this point is the overhead sign labelled "Meeting Point".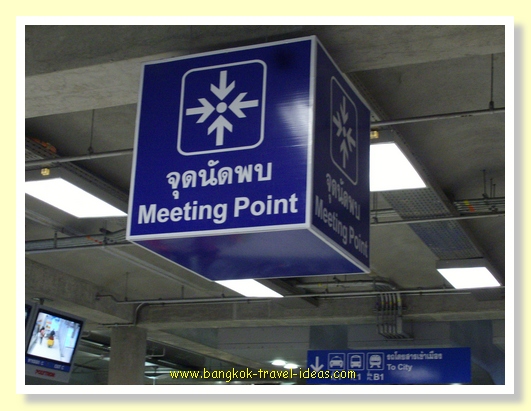 Surprisingly, it is where most people arrange to meet family and friends; there is a Boots the Chemist and 7-11 just at this place, so if your hotel greeter is not here, pop in and do a bit of shopping, perhaps get a bottle of water to start the rehydration process.
Just to the right of Boots the Chemist is one of the baggage storage locations. 
Let's look at this next.
Baggage Storage in Bangkok Airport
It may be necessary to either store your baggage in Suvarnabhumi Airport.
Why might that be?
Imagine the businessman who is travelling from Australia to Europe, but has to do a quick Sales training session in Bangkok on the way.
There is no point in carting the baggage to the meeting and back again, so options for Airport storage and luggage transfer are discussed here.
Or perhaps you have managed to snag a Bangkok layover.
If either of these two scenarios affect your travel plans, then consider using the baggage storage office located nearby the Meeting point sign. They do have some restrictions on valuables being stored and so also consider the alternative Lock Box stations that has the following benefits.
Travel light without having to carry your luggage around
Save time on luggage planning to explore the city to the fullest
Looking at the options of baggage storage in Suvarnabhumi Airport then there are a number of solutions provided by these Lock Box stations. (Just go down to the ARL level)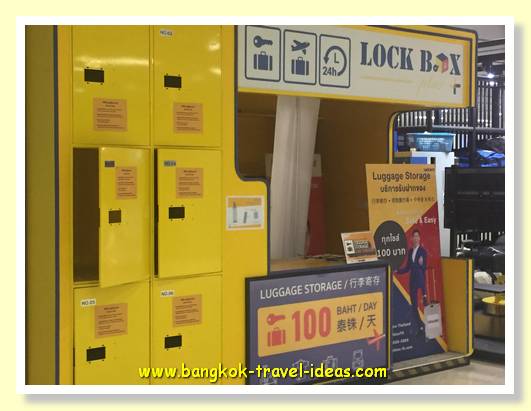 Smoking in Bangkok Airport
Can I smoke in Bangkok Airport?
There used to be smoking rooms in the Arrival Concourse in Bangkok Airport, but these rooms have been closed for several years.
And even quite recently, after exiting Immigration and Customs you used to be able to smoke between doors three and four on the Arrivals level (upto February 2020).
Not anymore though.

There is now no smoking allowed anywhere on the Bangkok Suvarnabhumi Airport property.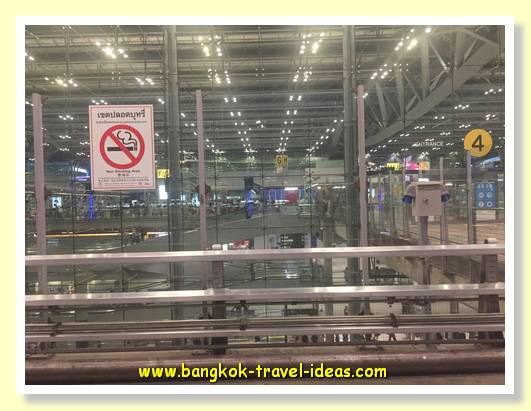 This is where you could smoke previously
Bangkok Airport Transfers
Transfer to Bangkok
One common question is, "should I pre-book my airport transfer", I would say that it is not necessary to pre-book a car to your hotel.
There are plenty of cars at the airport and this is something you can do when you arrive, whilst waiting for your baggage to come off the carousel.
You can read more about Bangkok Airport to Bangkok transfers as there are several options available to get from Bangkok Airport to Bangkok city.
Click the image below to learn more about the various paid Bangkok Airport transfer services available through GetYourGuide, if you need to book a van or limousine transfer.

Transfer to Pattaya
If you are planning to go to Pattaya directly from Bangkok Airport, instead of going to Bangkok then you may be interested in reading my page on where to catch the bus to Pattaya.

Transfer to Hua Hin
If you are planning to go to Hua Hin directly from the airport instead of going to Bangkok then you may be interested in reading my page on where to catch the bus to Hua Hin.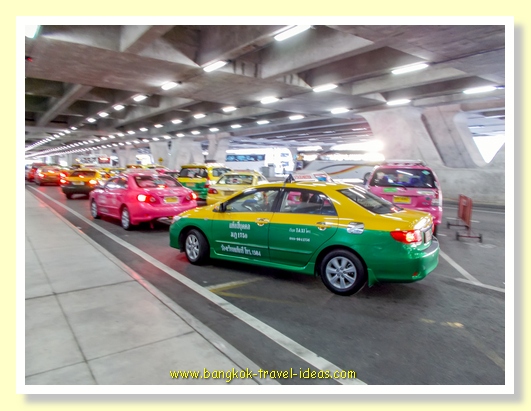 Shuttle Bus Transfer to Don Mueang Airport
The shuttle bus to Don Mueang Airport (DMK) departs from the 2nd floor of Bangkok Suvarnabhumi Airport (arrivals) outside Door 3. 
The shuttle bus service is clearly sign-posted from the arrival's hall and just outside Door 3 there is a despatch desk.
Contact the staff and present your boarding pass / proof of travel. 
Buses run from 5:00 am to midnight, about 15 – 30 minutes apart, depending upon the time of day and take approximately 50 minutes to arrive at Don Mueang Airport.
AOT Limousine Transfer
Along the back wall of the baggage hall are various booths for AOT Limousines where you can pre-purchase your limousine transfer, whilst waiting for your luggage to arrive.
Tell them your destination hotel and select a car from the photograph.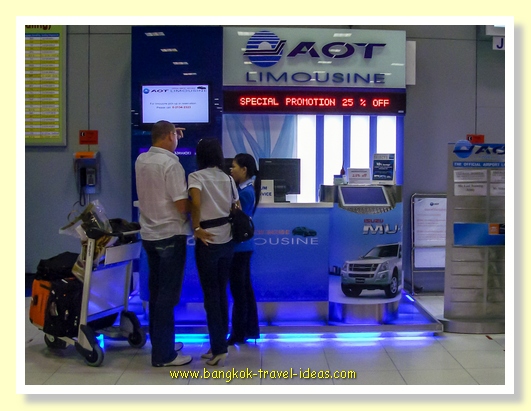 Depending upon your budget. 1100-1400 baht will get you to most hotels in Bangkok in a well maintained and clean vehicle.

Put the receipt away in your wallet and keep the duplicate in your hand until after you have passed through Customs Control.
The list below is now outdated because of fuel price rises and general inflation and they no longer have a board with the price listed, as it is all computerised now.

(The 1-15km Sedan price was 800-850 baht in 2013)
I checked the prices again in June 2022 and they have increased recently.
In fact 1100 - 1400 baht for a standard limousine to a Central Bangkok hotel seems about standard.
So as a rough guide, if you add 30% to these prices below, that should be quite close.

As an estimate, a Camry to Hua Hin should cost around 5500 baht, but you can check the actual price for this longer trip by going to the AOT Bangkok limousine reservation site and sending them an email to book an AOT taxi.

Contact Details for AOT Limousine
• AOT Limousine Call Center +662 134 2323
• Mobile +6686 342 1445, +6686 342 1446
• Email: callcenter@aot-limousine.com
Anyway, I hope you find this brief overview of arrival at Bangkok Airport helpful.
If you are coming to Bangkok on vacation or for a short layover and not sure where to stay. Check this list of hotels in the various Bangkok districts.
Perhaps even staying closer to Bangkok airport at one of these Agoda Bangkok Airport Hotel.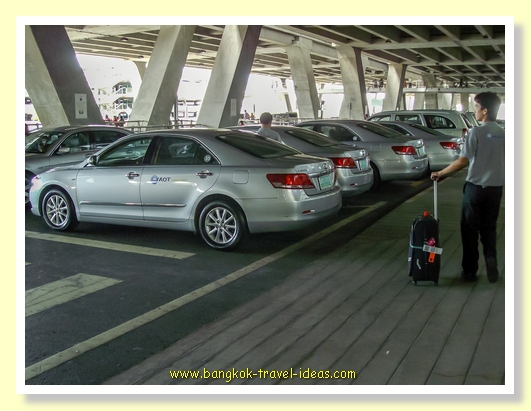 AOT Limousines on hand at Bangkok Airport
Bangkok Airport Arrivals Today
If you are following the Bangkok Suvarnabhumi Airport Arrivals today, so you can go to meet your guest, then the tracker below shows all the flights arriving in Bangkok Airport.
There is paid parking at Bangkok Airport and the higher floors seem to have more vacant spaces. 
Sometimes it is necessary to double-park, in which case, don't forget to leave the vehicle hand brake off, so that people can move your car if necessary.
The car park is connected directly to the airport building by a walkway bridge. Once across that, take the escalator down to the Arrivals Hall. 
The best place to meet any arriving passengers is by waiting under the Meeting Point sign, opposite Boots the Chemist retail shop.
People also ask:
There are two places to store luggage in Suvarnabhumi Airport.

The first is adjacent to the Meeting Point and to the right-hand side of Boots the Chemist.

The second place to store luggage is in the basement area, to the right-hand side of the ARL and next to the currency exchange booths.
The closest hotel is the Novotel Suvarnabhumi Airport hotel, that can be reached by taking the underground walkway or catching the free shuttle at Door 3.

There are many other hotels near Bangkok Airport, listed by Agoda from less than $50 and usually including a free airport transfer.
Smoking is no longer allowed on the Bangkok Suvarnabhumi Airport property.

Bangkok Immigration clearance typically takes 45 - 60 minutes, but in most cases 15 - 20 minutes is a usual timeframe to have your passport stamped.
Allow at least two hours between connecting flights at Bangkok Airport, if you are travelling with checked baggage and your baggage is checked through to your final destination.

If you need to clear Immigration and Customs and collect your baggage before checking into the next flight, then allow at least 3 hours.
Business Class ticket holders are entitled to use the Fast Track lanes; Economy Class ticket holder can use the paid Fast Track services from GetYourGuide, to speed up the immigration process.
Australian passport holders are allowed 30-days visa exempt entry for tourism purposes, when arriving by air.
The baht exchange rate is always more favourable to purchase in Thailand on any given day. Suvarnabhumi Airport has many currency exchange booths that can be used to get sufficient baht to cover your transportation to your hotel.
Bangkok Airport Departure
At some point your stay in Bangkok will end and you have to leave.
Bangkok Airport Departure Level 4 is where the check-in desks are located. 
It is also where there are several ATM's near to Door 2.
When you finally depart from Bangkok Suvarnabhumi Airport, there are some luxury goods duty free shopping options inside the Duty Free area available for you.
The linked page also has an explanation of how to reclaim VAT on eligible purchases made during your trip.
If you are planning on spending up big during your Bangkok vacation, read this before you come, so you can keep the relevant paperwork and claim the maximum rebate.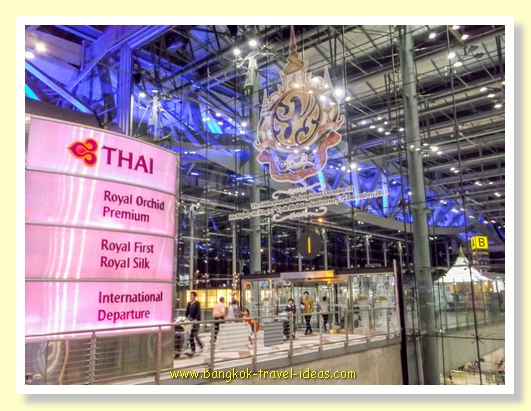 Revised May-2023