Bangkok Airport
All of the major commercial Bangkok airlines now land at the new Bangkok airport (BKK), since its relocation from Don Muang airport in 2006.
The Don Muang (DMK) airport is now being used for all the low cost carriers like Air Asia, Nok Air and Orient Thai.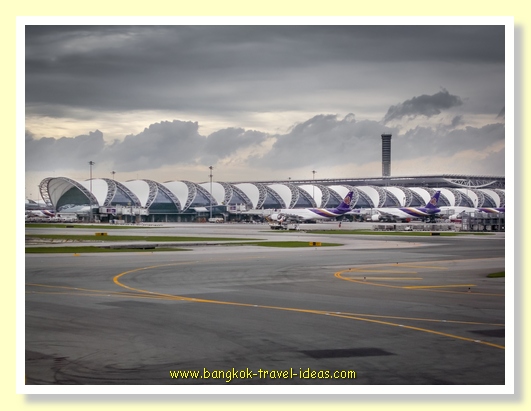 If you are flying into Bangkok and will be changing airlines to a low cost carrier, ensure you check which airport they fly out of and allow sufficient transfer time between the two airports.

Bangkok Airport IATA Codes
As indicated above, there are two Bangkok Airports and it pays to know which one your flight is landing at.
All airports around the world are give a three letter IATA code to identify them and you will find this code printed on your e-ticket or travel itinerary alongside the departure time and flight number.
IATA Codes

BKK - Suvarnabhumi Airport
DMK - Don Mueang Airport
Other IATA Codes

LHR - London Heathrow Airport
SYD - Sydney Kingsford Smith Airport
SIN - Singapore Airport
LAX - Los Angeles Airport
NRT- Narita Airport
If you need access to IATA codes for other airports, then I have always used this free tool from Theodora.
Landing at Bangkok Airport
Bangkok International Airport is called Suvarnabhumi Airport (pronounced Soo-wanna-poom Airport).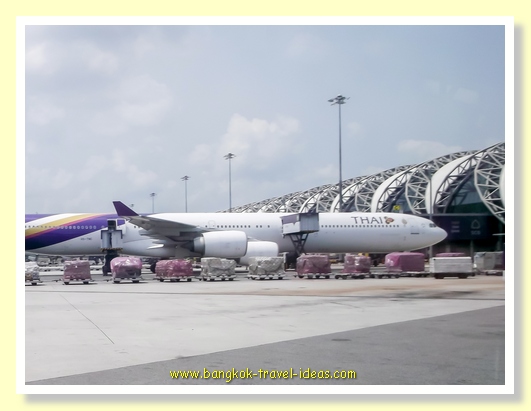 It received its name from His Majesty the King and means the "Golden Land".

The foundation stone was laid in January 2002 and the new airport was opened for service on 28th September 2006 and work has already commenced to double the number of runways and terminals.
Bangkok Suvarnabhumi Airport is located about 25 Km from the centre of town and it is only a 40 minute car ride to get to one of the many Bangkok city hotels.
This journey may take as long as 60 minutes, if you travel during rush hour periods, or you have a Bangkok Riverside hotel.
Bangkok Airport Arrivals
When your plane first lands at Bangkok Suvarnabhumi Airport it can stop at any of the arrival gates and even if you frequently take the same flight you can never be sure of the final gate number.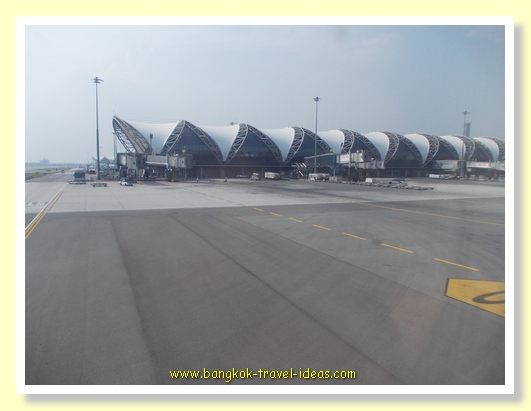 If you are unlucky and all of the gates are full, you may have to disembark from the airplane onto a bus in the middle of the tarmac.
The bus will then drive to the entrance way where you can get off, under the watchful eyes of staff.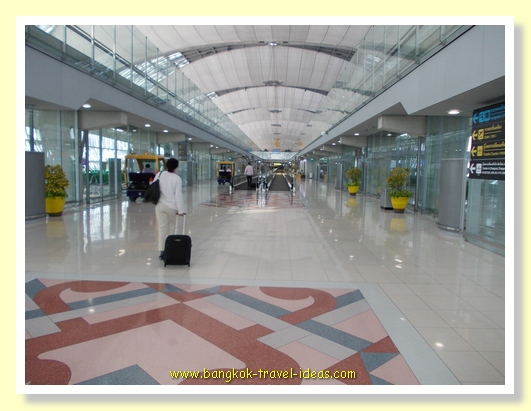 Either way, once in the main building have your back-pack firmly in place and passport in hand and you should head directly to the immigration hall to go through passport control.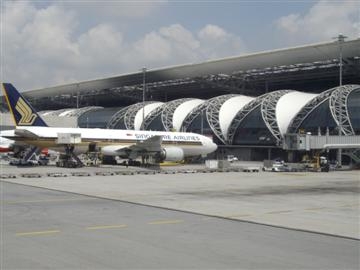 Don't dawdle as each person that passes you will be in front of you in the immigration queues.
If you are changing planes and have a few hours to spare then you can explore more things to do on your short Bangkok layover or if you have a delayed connecting flight you may like to read about the attractions available to you inside the airport building, whilst you while away the next few hours.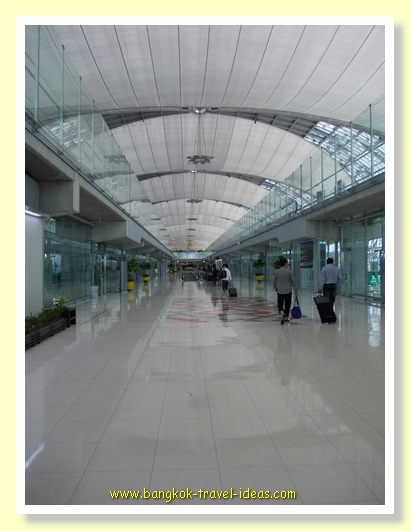 Depending upon which gate your plane docks at, you may have a long walk or a very long walk to the Bangkok immigration area.
Fortunately Bangkok Suvarnabhumi Airport is fitted with moving walkways that make this a journey a little less tedious.
Looks pretty quiet doesn't it?
Well it is not always like this, sometimes it is packed with people all rushing to the immigration desks.
At the end of the concourse you can exchange British Pounds to Thai Baht at any of the Banks currency exchange booths. 
But if you really want to get the best exchange rate at Bangkok Airport then you need to go to the same level as the Rail link and use Renjit or Super Rich.
At the end of the concourse, whether it be C or E, you will see the entrance way for people with connecting flights.
For these people immigration procedures take place here and Customs Control is at the final destination.
Bangkok Airport Immigration
The Bangkok Airport immigration hall is extremely large, stretching the length of the building and is split into three sections, each with its own entrance.
Very often, if one section has long queues then it is worth wandering further down a little further as the other sections may have no people waiting.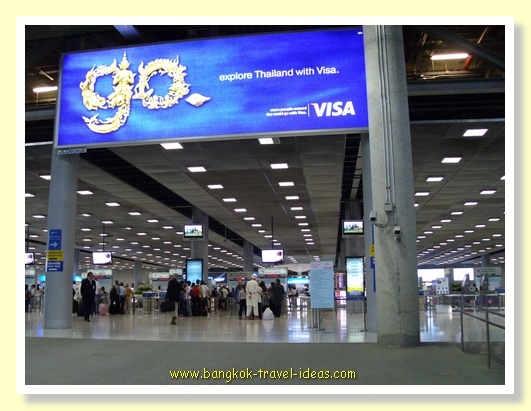 As each plane lands, passengers disembark and go to the first immigration hall that they encounter, so it just depends on the plane arrivals as to how busy a particular immigration section is.
I have visited Bangkok airport many times and the majority of times I have waited in a line of four or less people and if I see a line longer than that I head to the next immigration hall.
In high season or if you see people spilling out of this entrance way you can expect the processing time to be 45-60 minutes.
If you do see that the immigration hall is congested, then definitely you should take the time to investigate the other immigration points.
Bangkok Airport Fast Track
Most times the immigration staff are just sitting waiting for me and I have to admit it is a little disappointing when they are not.
If you travel First or Business Class or have an APEC card then you are entitled to use the Fast Track booth.
The one opposite gate D4 is offset to the left  as you walk up the slope but leads you off to the left behind some barriers.
There is a small sign on one of the pillars, but you will need to look carefully or you will miss it.
Sometimes there will be Airport staff there ensuring that you are entitled to use that lane.
The immigration staff may ask to see your boarding pass to confirm that you travelled Business Class.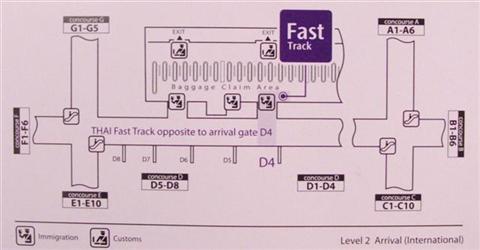 Opposite Gate D6 the fast track is on the right hand side of the hall, but check when you go as this can easily be moved.
There is also another gate used by crew as marked on the map below.
When you are choosing a lane to stand in, count the number of heads and choose the shortest line.
Small children take twice as long to process as adults, so multiply them by two to take this into account.
Baggage Collection Hall
As you will most likely have some checked baggage, then it is often a little academic how long the immigration line is, as you will still have to wait at the baggage carousel for your checked baggage to appear.
At the other side of the immigration staff are 24 baggage carousels, with number 6 being on your right and number 24 being on the left hand side as you come out of the immigration desks.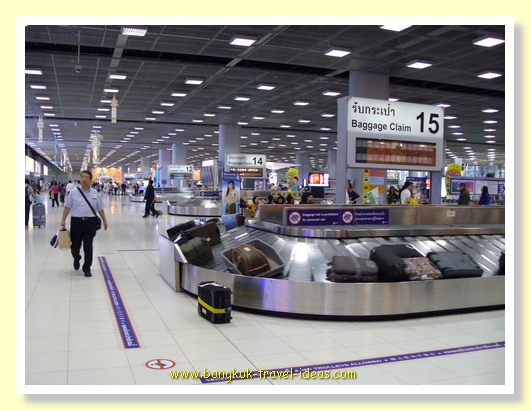 After emerging from passport control, go and check the arrivals board with your flight number to find the correct baggage carousel and head off to await your luggage.
If you are wondering where carousels 1-7 are located, well they are in the domestic terminal on the other side of the wall.
Whilst you are waiting for your bag to appear on the carousel, use the time to book your car from the airport to your hotel.
Using the AOT Limousines service is a safe and inexpensive option.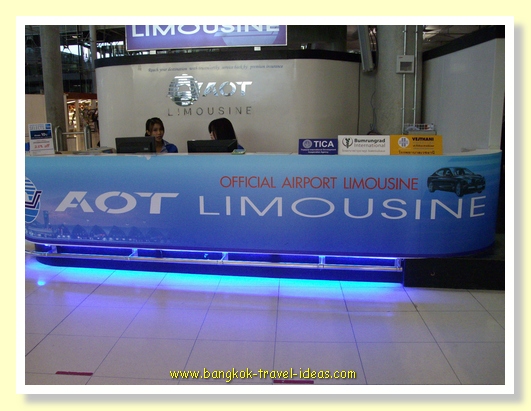 I don't recommend taking a taxi from the airport, particularly if this is your first trip to Thailand.

Transfer to Bangkok
One common question is, "should I pre-book my airport transfer", I would say that it is not necessary to pre-book a car to your hotel.
There are plenty of cars at the airport and this is something you can do when you arrive, whilst waiting for your baggage to come off the carousel.
You can read more about Bangkok Airport to Bangkok transfers as there are a number of options available to get from Bangkok Airport to Bangkok city.
If you are planning to go to Pattaya directly from the airport instead of going to Bangkok then you may be interested in reading my page on where to catch the bus to Pattaya.

Along the back wall of the baggage hall are various booths for AOT Limousines where you can pre-purchase your limousine transfer, whilst waiting for your luggage to arrive.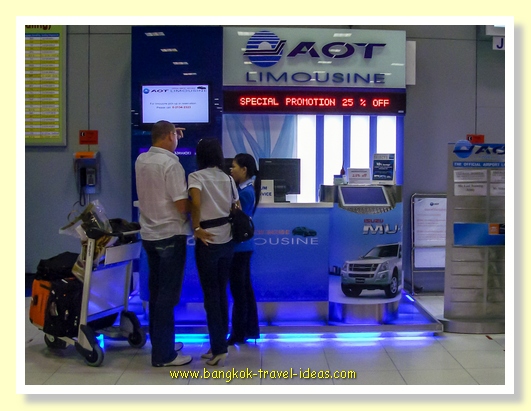 Tell them your destination hotel and select a car from the photograph.
Depending upon your budget. 1100-1400 baht will get you to most hotels in Bangkok in a well maintained and clean vehicle.
Put the receipt away in your wallet and keep the duplicate in your hand until after you have passed through Customs Control.
The list below is now outdated because of fuel price rises and general inflation and they no longer have a board with the price listed, as it is all computerised now.
(The 1-15km Sedan price was 800-850 baht in 2013)
I checked the prices again in July 2020 and they really have not gone up much at all.
In fact 1100 - 1200 baht for a standard limousine to a Central Bangkok hotel seems about standard.
So as a rough guide, if you add 100 baht to these prices below, that should be quite close.

As an estimate, a Camry to Hua Hin should cost around 5500 baht, but you can check the actual price for this longer trip by going to the AOT website and sending them an email.
By now your luggage will have appeared on the carousel, but if it hasn't then you can still make a last minute purchase of duty free goods or get some currency exchanged.
The exchange rate in the airport will not be as good as in town, so just change enough for your first night.
(If your suitcase does not appear on the luggage carousel then read the following account of how to handle lost baggage by going to the Lost Luggage office and filing a report.)
Customs at Bangkok Airport
Collect your bags and pass through Customs Control, choose either the Red or Green channel.
The Red Channel is for those that have something to declare and the Green Channel is for those that have nothing to declare.

There are two Customs gates, A and B that you can use.
I would recommend that if you are being met by a hotel driver then you should always go out by Gate B as this is where the hotel drivers wait.
This is something that you should check if organising a pick-up. 
If you take the Green Channel, the Customs inspection process involves pulling random people up and having them put their bag through the x-ray machine.
In my experience you would have to be very unlucky to be selected if you go through this Green channel.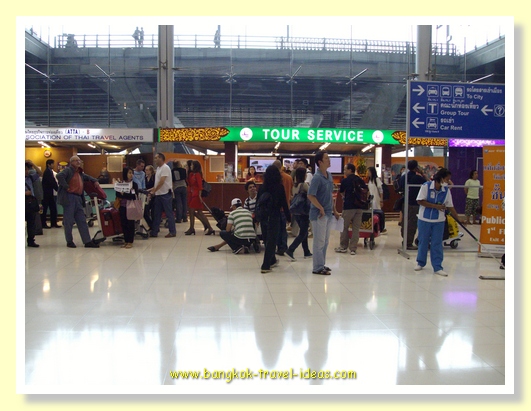 Immediately after passing through Customs Control and entering the airport arrival hall you will see another AOT Limousine booth.
(This applies if you leave by Gate A or B.)
Give the duplicate copy of your booking to a staff member and they will whisk you outside to one of the waiting cars.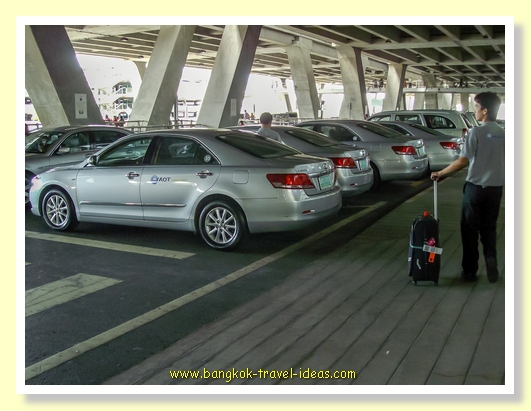 If you have booked a hotel car to collect you then they also wait in this general area with your name on a sign board.

You may find that it is written as 'Mr John, Mr Alex or Ms Sarah', as people are referred to by their first names in Thailand.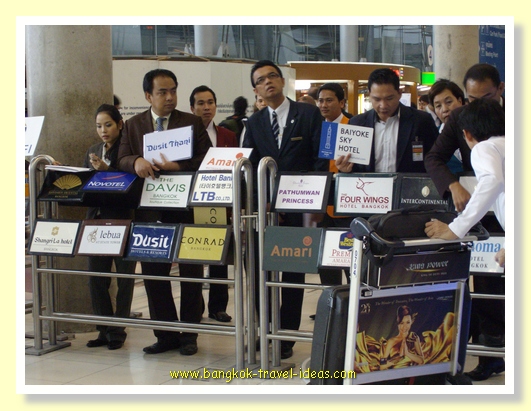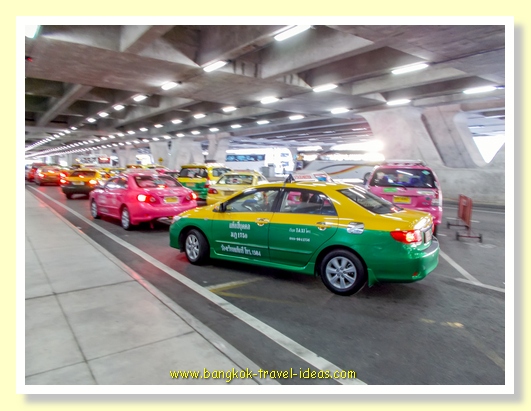 Bangkok Airport Meeting Point
Perhaps you have someone meeting you in their private car; if so then they will be located a little further along the walkway, waving and shouting to you, hopefully anyway.
If you keep on walking you will get to the point where the escalators are and around this point is the overhead sign labelled "Meeting Point".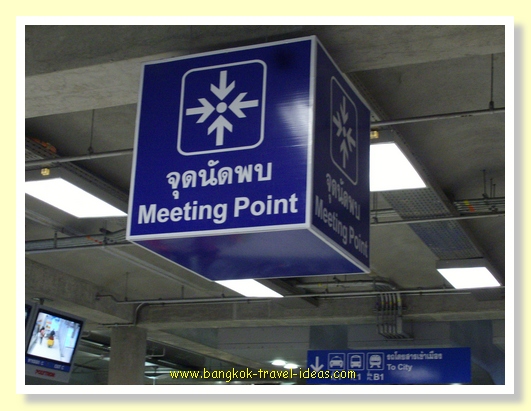 Surprisingly it is where most people arrange to meet family and friends; there is a Boots the Chemist and 7-11 just at this place, so if your greeter is not here, pop in and do a bit of shopping.

As you walk to the exit there are other places that you can book rental cars, mobile phone rental or buy sim cards etc.
I have never used any of these services so can't comment on what is available, but they always have a lot of customers.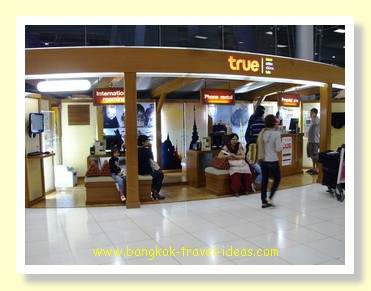 If you are from Australia or Europe where the phone system is the same, you don't need to rent a mobile phone, you can purchase a local SIM card that you can top up at any 7-Eleven store.
If your phone is locked to your carrier you can even pick up a secondhand mobile phone from MBK or Pantip Plaza for less than 1000 baht.
No matter what country you come from, you need to be aware that even though your home country mobile phone works, you may have to pay very high "roaming" charges from your service provider.
Be especially aware of devices such as tablet PCs and smartphones that can automatically connect to the internet and turn off the roaming function if you have not purchased a special roaming package.
Anyway I hope you find this brief overview of arrival at Bangkok Airport helpful.
If you are coming to Bangkok on vacation or for a short layover then you may be interested in browsing a list of hotels in the various Bangkok districts or perhaps even staying closer to Bangkok airport at a Bangkok Airport Hotel.
Bangkok Airport Departure
Bangkok Airport Departure level 4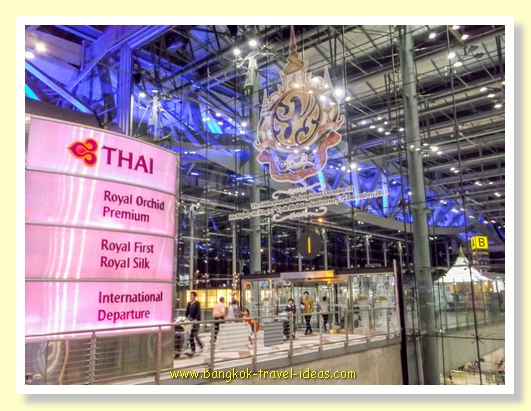 When you depart from Bangkok Suvarnabhumi Airport then there are some luxury goods duty free shopping options available for you.
Choose where to stay in Bangkok
| | | |
| --- | --- | --- |
| Ploenchit Hotels | | Khaosan Hotels |
Apr 28, 22 06:04 PM

10 Best Bangkok Beaches And Islands Near Bangkok Bangkok Suvarnabhumi Massage Tips

Apr 22, 22 03:39 AM

Bangkok Airport Bus to Pattaya From 130 Baht Suvarnabhumi Airport to Pattaya Bus Timetab

Feb 28, 22 05:52 PM

Thai Massage in Bangkok With Half Price Bangkok Oil Massage In This Thailand Massage Shop In Bangkok Massage Street

---

---