Islands Near Bangkok
Explore these secluded Thailand islands near Bangkok and find some amazing Thailand beaches and great places to stay. 
I have visited all of these Bangkok Islands over the past few years and hope this information helps to create your own travel plan.
Thailand is a great place to visit for its beaches, but the further away from Bangkok, the clearer the water becomes.
Go to Islands Near Bangkok
These islands have a choice of beaches are not only ideal for swimming, but they are also popular among people who want to relax or have fun.
The islands near Bangkok attract many tourists and are mainly found in the Gulf of Thailand.
There are plenty of ways you can get to the one of these islands directly from Bangkok, depending on your needs and preferences.
If you plan on staying at any of these beaches for an extended period, then you might want to explore your travel options before you depart.
Koh Chang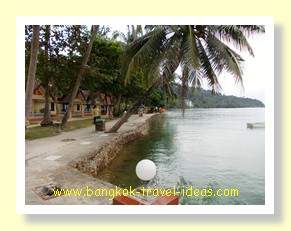 Chang Island is about 5 hours from Bangkok and if you want to go from Bangkok to Koh Chang it is simple to drive yourself, or take a bus or van.
Koh Chang is the second largest island in Thailand and is still relatively undeveloped.
Some of the best beaches in Thailand are located on Koh Chang and the accommodation is relatively inexpensive and the place is not over developed.
Koh Kut (Koh Kood)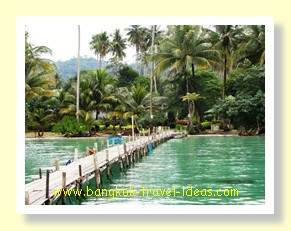 The island of Ko Kut or Koh Kood as it is often known is located to the South East of Bangkok, down towards the Cambodian border.
For many years it was a disputed territory between the two nations and consequently Ko Kut has very limited development but if you like to get back to nature then this is one of the best of Thailand's islands.

Koh Lan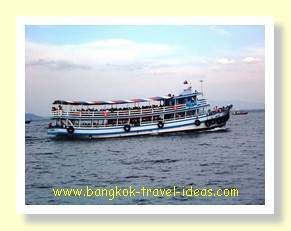 Surprisingly Ko Lan is one of the nearest islands to Bangkok and is just off the coast of Pattaya.
You can visit Ko Lan for a day trip from Bangkok, if you start early enough and there are a range of different beaches to head for on the island.
Being just a few kilometres off shore of Pattaya the water around Ko Lan is surprisingly clear and this is often referred to as Coral Island. Explore Koh Lan now.

Koh Phi Phi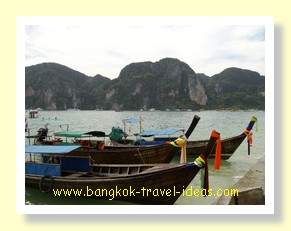 Ko Phi Phi is the furthest of the Thailand islands from Bangkok and you first need to take a plane to Krabi Airport and then a ferry boat from Ao Nang.
Phi Phi Island is extremely popular with tourists and rightly so as it has some the best beaches in Thailand. But if you want somewhere quiet it may not be for you.
Ko Phi Phi is one of the most popular of the Thailand islands.
Koh Samet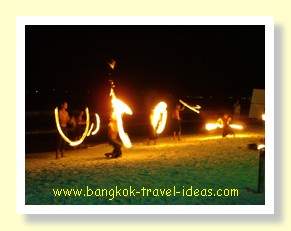 Koh Samet is a short 3 hour bus ride from the Bangkok Eastern Bus Terminal and sports the magnificent Had Sai Kaew beach that hosts the crispest finest sand you can imagine.
Just feel it between your toes.
If you have a long weekend then Koh Samet is worth the visit as it is only three hours by bus from Bangkok and even less by car.
Koh Samui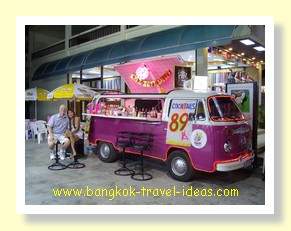 Located south of Hua Hin along the Eastern coastline and a short plane flight from Bangkok to Koh Samui Airport is the well developed island of Koh Samui.
Koh Samui is a destination in itself, but for many it is a stopping off point to the Full Moon Parties on the neighbouring island of Koh Pha Ngan.
I hope you have enjoyed this summary of Thailand's Islands and if you choose to go to the islands near Bangkok, or venture further afield you are sure to have a great time.
When going to the beach make sure you are aware of the jet ski scam and if you liked this, then you may also like to find out more about other beaches near Bangkok.
Ao Manao Beach