Go to Jomtien
To go to Jomtien Beach is quite easy and there are a number of cheap alternatives. 
Just getting out of Bangkok for the weekend is not that difficult or expensive and there are a range of options to travel to Jomtien Beach for a few days.
Go to Jomtien Beach from Bangkok Eastern Bus Terminal (Ekkamai)
From any part of Bangkok just take the Bangkok Skytrain to the Ekkamai station and walk down stairs to the Ekkamai bus station.
To make sure you exit on the correct side of Sukhumvit Road just look over the balcony first for the traffic lights down below and you will see the buses coming out of the bus station on the left hand side.

Approximately, every 40 minutes air-conditioned buses depart to Jomtien via the Pattaya bus terminal and then you can take the songtaew over to Jomtien Beach.
The buses run from 6:00 am to 9.00 pm.
For detailed information tel: +66 (0) 2391 9829.
Non air-conditioned buses depart to Jomtien every 30 minutes from 05:00 am to 9:00 pm.
A single ticket will cost approximately 119 - 135 baht.
Buses to Bangkok Eastern Bus Terminal from Jomtien
Make your way to the Pattaya bus terminal and approximately every hour air-conditioned buses depart to Ekkamai.
A single ticket will cost approximately 119 - 135 baht.
Hotel Car to Jomtien from Bangkok
Expect to pay upwards of 3500 baht to travel in air-conditioned comfort and the same for the return journey.
This should include tolls.
Car to Jomtien from Bangkok
Expect to pay 2000 - 2500 baht, but you should enquire as to whether this includes tolls or not.
Now if you think you can be clever and negotiate the price down to not include the tolls, then think again.
The driver will not use the motorway and they will use the road down below, which does not make for a comfortable ride and it will take longer. 
Car to Bangkok from Jomtien
There are plenty of kiosks in Jomtien offering return travel to Bangkok.
Expect to pay 1300 baht plus your tolls.
There are lots of drivers looking for a return fare, that is why it is cheaper.
Mini Van to Jomtien from Bangkok
You can take a mini van to Jomtien from the Eastern Bus Terminal at Ekkamai.
Vans are no longer located at the Victory Monument as they have now moved to Mochit Bus station.
You will see that there are dozens of vans like this one, so you will need to ask someone, pay your money and the van will leave when full.
The price of the van to Jomtien should be about 200 baht, but the price could vary, depending upon your attitude and how much luggage you have.
If you have a large suitcase then expect the price to increase.
The van will be quicker than the bus and is a good mid-priced option if you only have carry on luggage.
Drive from Bangkok to Jomtien
If you want to drive yourself from Bangkok to Jomtien beach then this map will help you.
Hotels in Jomtien Beach
If you prefer a wider selection, then this Agoda link will take you to all the Jomtien Beach hotels and you can then filter by price and location to make your choice.
The beach in Jomtien is quieter than Pattaya and some would say cleaner also.

If you are not sure which hotel to stay in Jomtien then may I suggest a reasonable hotel with a great swimming pool, that is just across from the beach.
Read more details and traveller reviews from Agoda about the Jomtien Palm Beach Hotel. 
What To Do in Jomtien
Nong Nooch Gardens
Nong Nooch Botanic Gardens are in close proximity to Jomtien beach. 
As well as having some spectacular birds, there are also shows and attractions to view.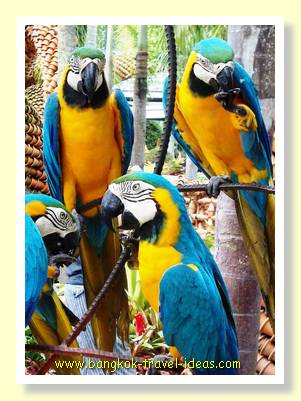 Macaws in Nong Nooch gardens
Warning: it can be very hot and humid in the gardens, so wear comfortable clothes, drink plenty of water and rest frequently.
Read more about Nong Nooch gardens here.