Thai Food and Bangkok Restaurants
Thai food has been called the eighth wonder of the world and with good reason.
The mix of spices and fragrances are amazing and the flavours are so different from traditional western food that even a simple meal at a Bangkok restaurant can be a dining experience to remember.
Spicy Thai Food
Thai food isn't just of the spicy variety so overloaded with chilli that your eyelids sweat.
Most Bangkok restaurants that cater to the tourist will have a whole range of dishes that mildly spiced or not spiced at all.
If you buy from a street stall then you can advise how many or how few chillies you want.
One of my favourite Thai dishes is somtam bought from the roadside stalls.
It is a papaya salad made by grating papaya, adding cherry tomatoes, chillies, dried shrimp, lime juice, garlic, peanuts and palm sugar.
It often comes with snake beans and cabbage and you should order some sticky rice to go with it.
I have found that five chillies is enough for me and doesn't cause any ill effects, so I have to ask for 5 chillies otherwise 12-15 chillies is the normal serving for Thais.
If that doesn't blow your head off I don't know what will.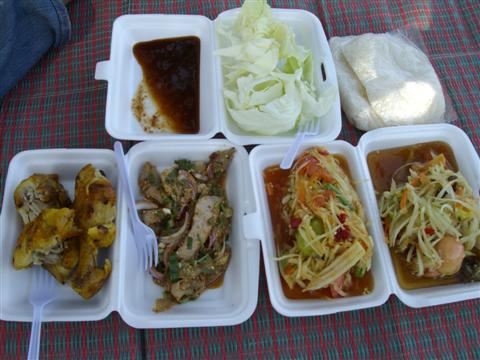 There are many Thai restaurants that you can visit in Bangkok.
If you get a bit fed up with the local Bangkok food and fancy a plate of fish and chips or a roast dinner then I have included some excellent places that will cater to your needs under the Western Restaurant or Pub section below.
Thai Restaurants
Western Restaurant or Pub
Buffet Lunch
Thai Food Hall
Large shopping centres like MBK, Platinum, Emporium and Seacon Square all have large food halls.
If you would like to try a selection of food from around Thailand then this is the place to go for cheap eating.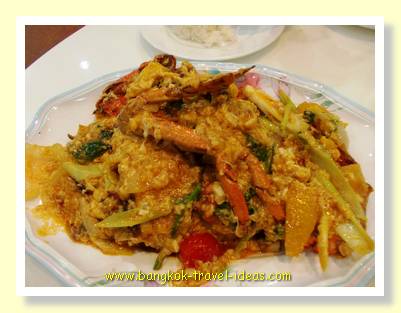 The food hall in these big shopping centres have a great selection of dishes.
They use the ticket or credit card system which you need to pre-purchase form the kiosk before you order your food.
If you budget 300 baht for two people then you should be able to get a main course, dessert and a drink each.
Go and buy the ticket before you select your Thai food.
You can reclaim any of the unspent money at the refunds desk before you leave.
Eating in a food hall like this is a really great way to try many different types of Thai dishes without breaking the bank.
Don't worry if you can't speak Thai, just point and smile.
---