Travel Links
I am always on the look out for PR3 or higher travel links and websites that are related to the general theme of travel.
If your site has a unique feel and you think that you can add value by linking, then please contact me.
If your website, blog or newsletter is related to the overall theme of travel and is family friendly, then consider creating a link by copying the code below.
<a href="https://www.bangkok-travel-ideas.com"><b>Bangkok Travel Ideas</b> </a>suggests Bangkok hotels in great locations. Find where to stay in Bangkok, the nearest Bangkok beaches and where to go shopping.
This will look like the text below on your website:

Bangkok Travel Ideas suggests Bangkok hotels in great city locations.
Find where to stay in Bangkok, the nearest Bangkok beaches and where to go shopping.
Once you have placed the link on your website, complete the form below and submit.
You will receive a confirmation email once a reciprocal link has been placed on my website.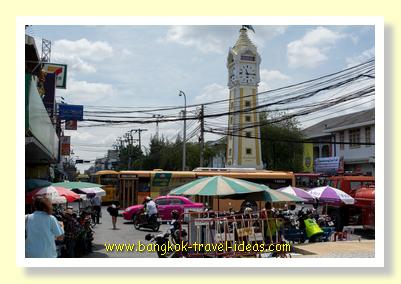 Travel Links Beyond Bangkok
Happyland Treks
One of the top ten trekking agencies in Nepal, organizing trekking, hiking, tours, and outdoor adventure.
Everest Base Camp trek is the best trekking destination to explore and has magnificent scenery.
The Adventure People
We make exploring the world easy and bring adventure and touring holidays around the world to the people of the world through a huge choice of tours.
The Adventure People are a member of the Association of British Travel Agents (ABTA).
Lek's Fishing Park Udon Thani Thailand
In a private and secluded North Eastern Thailand setting the mixed specimen coarse lake boasts well over 45 different fish species ranging from huge Mekong Catfish (350lb) to Giant Siamese Carp (up to 100 lb +), with vicious predators such as the Arapaima (up to 300 lb), Alligator Gar, Chao Phraya Catfish, Amazon Redtail and many more…. the unpressured water produces very exciting catch rates leaving the angler in suspense as to what might be landed next!
Jing's Guesthouse, Hua Hin
Guesthouse in Hua Hin, 5 minutes to beach, shops and nightlife. Only 599 -1100 baht a night, air-conditioned rooms and free wi-fi. Friendly, relaxed Guesthouse, run by an English husband and Thai wife, located just off Soi 80 with its own bar and restaurant. 
Kenya Safari
OdysseySafaris.com, Kenya safari, East African Safari and Tanzania safari tours; over 20 years safari experience! 

Bookmark Travel
A curated directory of useful travel sites, travel videos, photos, and news.

Island Guide for Koh Phangan
Koh Phangan is famously known for hosting one of the world's biggest parties every month over full moon, but is finally being recognised as one of the most magical, stunning islands in the Gulf of Thailand. We Love Koh Phangan is the most comprehensive travel and tour guide packed with information about the island where you can also book accommodation, daily tours, activities and so much more.
nomadicnotes.com - travel guides
Listing the best travel websites for popular cities around the world.
Bringing Your Travel Destinations Closer to You
Uncharted 101 is an online travel resource where you will find everything you need to know about smart and safe traveling. From safety tips to stunning vacation paradise, we have it all! Our mission is to inform all travelers important information about the designed location you would like to visit.
Not only will you receive great content and beautiful pictures, you will also find out about the attractions and best spots of that location. We want to make sure you choose the right place to stay, or even pick out the best place to eat. If you are interested in traveling, look no further. Make Uncharted 101 your number one spot for information regarding traveling.

First Choice 
As the biggest All-Inclusive holiday company in the UK, our getaways include flights, accommodation, transfers, three meals a day and local drinks as standard.
---
---