Thailand Buddhist Temples
Thailand Buddhist temples are an integral part of Thai society.
There are many thousands of Thailand Buddhist temples spread across the country and there are 400 to 500 Buddhist temples in Bangkok alone.
Royal Buddhist Temples
A visit to Bangkok would not be complete unless you take some time to visit a Buddhist Temple or two, so let me make some suggestions that will make your selection easier.
Temples in Thailand are called Wat in Thai and are classifed into two main categories: Royal Temples and Common Temples.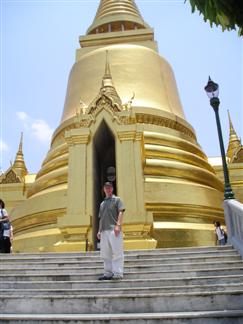 ---
Use the Power of Agoda to find Great Deals on Bangkok Airport Hotels
Whether you are arriving or departing from Suvarnabhumi Airport you are bound to need an Airport Hotel.
Use the powerful search function to identify the best choice and make a booking TODAY.
---
Altogether there are about 200 Royal Temples, the following six are categorised as being of the highest grade.

These six Buddhist temples were either built by, or sponsored by, the Royal Family and are located either in Bangkok, or within a relatively short driving distance outside of Bangkok and so are quite easy to visit.
If you are interested in seeing the cultural side of Thailand then these are the Buddhist Temples to add to your itinerary.
Wat Phra Chetuphon, Bangkok
Wat Mahathat, Bangkok
Wat Suthat, Bangkok
Wat Arun, Bangkok
Wat Phra Pathom Chedi, Nakhon Pathom Province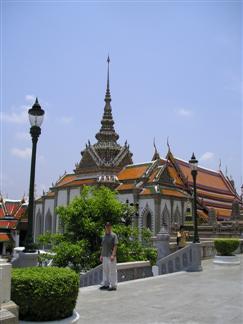 When you visit a temple in Thailand you will notice that the Wat is usually in enclosed grounds and is a place of peace and calm away from the madness of the city.
It is just surprising how calm they can be even thought they can be so close to all the mayhem outside.
Inside the grounds there is a hall where the Buddha image is kept which is called the Bot and inside the Bot is where people go to pay respects to the Buddha image.
You will see people lighting candles and incense sticks and praying before the Buddha image.
This prayer is conducted on an individual basis unlike in a Western church and you will see people coming and going all the time from the Bot and many people will be taking photographs inside the temple.
Here are some of the Thailand Buddhist temples that I have visited during my time in Thailand.
So if you think you would enjoy spending some time looking at the history of Thailand Buddhist Temples then this list is a good place to start.
Wat Phra Kaew, Bangkok
Wat Arun, Bangkok
Wat Pho, Bangkok
Wat Hua Lamphong, Bangkok


Wat Bang Phli Yai Klang, Samutprakarn Province
Wat Phra Pathom Chedi, Nakhon Pathom Province


Wat Phra Phutthabat, Saraburi Province


Wat Bang Phli Yai Nai, Samut Prakarn Province


Wat Asokaram

, Samut

 Prakarn Province


Wat Pasi, Bangkok
What to Wear When Visiting a Thailand Buddhist Temple?
Are you wondering what to wear when visiting a Thailand Buddhist temple or what are the rules when visiting somewhere like the Grand Palace?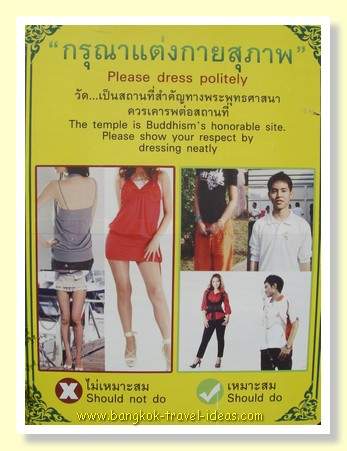 Well actually you are not alone, because this is a very frequent question and one that shows that many people wish to be culturally aware when visiting these sacred places.

Before you go and visit any of Thailand's Buddhist Temples you should read the following important do's and don'ts, to become familiar with what is expected.
For the temples that have an entrance charge, you may be refused entry to the whole temple or to certain parts of it, if you are not dressed conservatively.
This rule particularly applies to the major tourist attractions in Bangkok; Wat Pho, Wat Arun, Wat Phra Kaew.
This principle of dressing appropriately specifically applies to those Buddhist temples that are popular with tourists, as they usually have sufficient staff on hand to keep a watch out.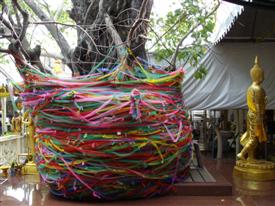 Most of the other Buddhist temples outside Bangkok, do not have an entrance charge or have staff monitoring dress standards, but even so, you are still expected to dress respectfully.
If you are not dressed conservatively then some temples in Thailand may lend or sell you a wrap or shawl to cover up the exposed parts of your body, or you may have to buy one off a vendor outside before entry is allowed to the temple.
Just because it is hot is no excuse not to dress properly when visiting a Buddhist temple.
Whilst some leeway is given for foreign visitors in terms of acceptable behaviour, any rude or inappropriate behaviour disrespecting what Thais consider sacred, could land you in very serious trouble.
But if you take note of the following rules when visiting Thailand Buddhist temples you should have an uneventful visit.
11 Buddhist Temple Rules
Don't climb on Buddha images or let your children climb on them or you may be arrested.
There may be a Bo tree recognisable by the saffron robe around its trunk in the grounds of the temple. Don't let your children climb on it.
Ladies should wear a dress, skirt or preferably trousers, and a top with sleeves that cover at least the shoulders. Shorts or revealing tops are not acceptable dress.
Men should wear long trousers and a collared shirt or collared sports shirt. Shorts or singlet tops are not acceptable.
Bare feet are not allowed so wear enclosed shoes (males and females), or socks with flip flops, Jandals or thongs.
Don't touch the Monks; in particular females are forbidden to touch a Monk. Request permission before photographing a Monk.
Remove your shoes and hat before entering a Bot, (the central hall of any Wat where the Buddha image is kept). You will see the shoe racks outside the door.
When entering the Bot step over the threshold, it is bad luck to step on it.
When inside the Bot, sit with your feet behind you, do not sit with your legs in front of you pointing towards the Buddha image. It is a good idea to copy how the others are sitting on the floor if unsure.
Inside the Bot you should sit on the floor, there may be a raised platform which is where the Monks will sit, don't sit on here.
Some areas do not allow photography and these will be signposted, you should heed these rules. Don't try and sneak a picture.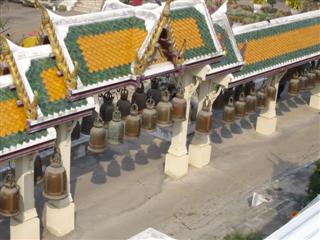 These dress rules are for general guidance when visiting Thailand Buddhist temples.
They are interpreted quite strictly at Wat Phra Kaew.
Other temples may apply the dress rules inconsistently and you may observe some visitors that don't comply with the rules.
Even some Thai people are not aware of the how to dress appropriately, the same as some Westerners don't know that men should not to wear a hat in Church.
Notwithstanding that there is going to be some variation in what people wear.
To be on the safe side, if you always dress conservatively when visiting a temple you will not encounter any problems or delays to your tour.