Central World
The hotels around Central World Plaza Bangkok are so convenient if you want to be in the thick of the action around New Year.
Bangkok is fabulous at any time, but especially so around the Christmas and New Year period and I reckon that it is right up there with New York and London for glitz and glamour.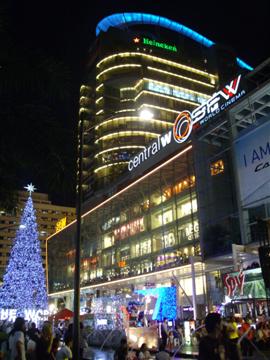 If you fancy the idea of going Bangkok shopping and at the same time getting to enjoy a New Year experience, but without the snow, then you should consider coming to central Bangkok at this time for an absolutely fabulous shopping experience.
One of the really great places in Bangkok to locate yourself is in the area adjacent to Central World Plaza right between Chidlom and Siam.
This is where many of the up-market department stores are located and they all compete to put on the very best display of festival lights and decorations.
At this time of year the whole Central World shopping area is transformed into a sea of neon lights that create an amazing feel around the place.
It is not only full of tourists, but also people from all over Bangkok come to see the various displays of reindeers pulling sleighs, 3 metre high rabbits, fabulous sculptures and other whimsical characters.
The theme changes year by year and it all creates some fabulous photo opportunities.
Everywhere you look there are groups of young people striking there favourite poses and being digitally immortalised.
Take a walk along the sky walk that hangs under the BTS line between Chidlom and Siam stations to catch a birds eye view of the shopfronts in all of their splendour.
Even the sky walk is decked out with its own style of Christmas decorations.
Not with holly and red berries but with holly and red chillies.
How amazing is that?
Even though Thailand is a Buddhist country, they have no problem putting on a huge display to celebrate Christmas in a Western fashion, but transformed with its own Asian flavour.
Immediately adjacent to the Central World Plaza shopping complex is an evening entertainment area suitable for the whole family.
There is sufficient room to set out three stages and have three different live bands performing. Each of the major beer brands is represented, having its own performance stage and dining area.
Take your pick of the different live bands playing each evening and treat yourself to a few of the local dishes and a big glass of beer under the moonlit sky.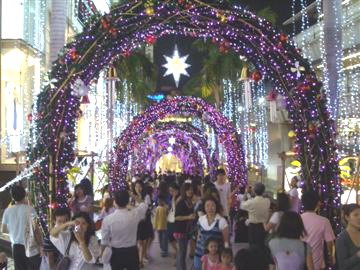 December and January are the cool season months in Bangkok and it makes it very pleasant to be dining outside listening to one of the resident bands.
Just in front of the shopping mall and all along the roadway are vendors selling balloons, soft toys and tee shirts.
You name it and they have it on display. Browse through the stalls and get yourself a bargain.
Central World Hotels
There are a number of great hotels in the area, but the only one I have stayed at is the Centara Grand Central World right next to the large shopping mall and it was just amazing.
At around 6:00 pm, go to the roof top bar for cocktails and watch the sunset over the city buildings.
As night begins to fall the lights of the large rooftop arc will illuminate the whole restaurant area and cycle through shades of blue and magenta.
Even if you are not staying at the hotel you can pop on up to the 55th floor to savour the view, they don't mind visitors just popping up to the bar area.
Visit the Agoda website to check out the guest reviews and availability at the Centara Grand Central World hotel.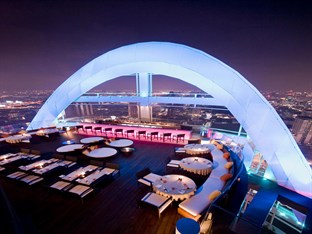 If you are staying in Bangkok for a few days over the holiday period then this is in a very convenient location for getting out and about and enjoying the many festivities.
It is close to Siam BTS station and you can easily walk to the Pratunam shopping area.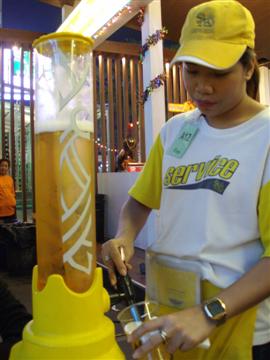 You can read more about my stay in Thailand over Christmas as described in my travel diary.
This the trip had three parts;
At this time of year there is lots going on around Bangkok but locating yourself close to Central World means that you are really going to be spoilt for choice and will be in the thick of the action.
It is never too early to start planning your Bangkok vacation and perhaps you will find something you like around the Central World location in Bangkok.