Beach Resorts Near Bangkok
Beach resorts near Bangkok make a welcome break from the city atmosphere and if you only have a few days free, there are some great places to stay in Hua Hin, Cha-Am or even Pattaya.
Best Beach Resorts Near Bangkok
If you are looking for somewhere close to Bangkok to get away for a couple of days, then there are a number of towns within easy driving distance.
Choose from:
Hua Hin
Cha-Am
Pattaya
Jomtien
Koh Samet
Chao Lao
You can take a car or the airport bus from Suvarnabhumi Airport to some of the best beach resorts near Bangkok, or you can take the van from Mo Chit bus station.
Hua Hin Beach Resorts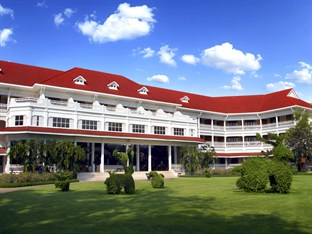 Centara Grand Hua Hin
Hua Hin is a laid back Royal town, full of interesting things to do and places to see.
On a short weekend taster you won't get to do everything but be sure to bring your camera along as there is plenty to keep you occupied.
There are also many mid-range and high end resorts in Hua Hin to cater for all budgets.
On the following page these two resorts are highlighted as well as an Agoda link to many more Hua Hin hotels.
Cape Nidra Hotel Hua Hin
Centara Grand Beach Resort Hua Hin
Cha-Am Beach Resorts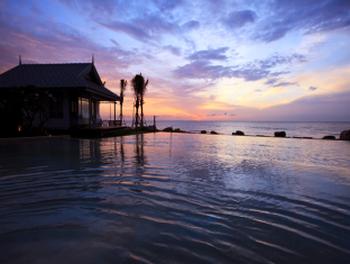 Cha-Am sunset
Cha-Am is closer than Hua Hin, but it is also for more laid back breaks. If you like lounging around the pool with a good book then you are sure to find some peace and relaxation here.
Read more...
Pattaya Beach Resorts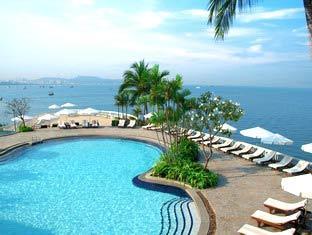 Dusit Thani swimming pool in Pattaya
Pattaya is more then sea and sand; there is everything here and more.
Explore a Pattaya beach resort on your next trip to Bangkok or Bangkok layover. 
On the following page these two resorts are highlighted as well as an Agoda link to many more Pattaya hotels.
Centara Grand Mirage Beach Pattaya
Dusit Thani Pattaya
Jomtien Beach Resorts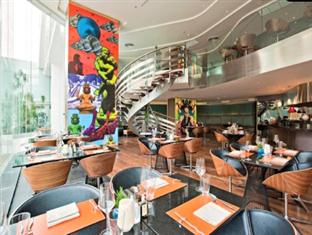 Here in Jomtien you can be steps away from the beach.
Less hectic than Pattaya but still with water activities and beach food. Jomtien makes a great weekend break from the city of Bangkok.
On the following page one resort is highlighted, as well as an Agoda link to many more Pattaya hotels.
Jomtien Palm Beach Hotel
Koh Samet Resorts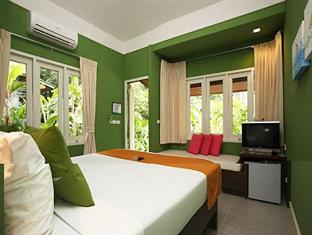 Sai Kaew beach resort on Koh Samed
A couple of hours away from Bangkok is the popular island of Koh Samet.
This beach resort near Bangkok is blessed with powdery white sand, turquoise waters and a great choice of small hotel accommodation it makes the ideal getaway location if time is short. 
On the following page these five beachside resorts are showcased, as well as an Agoda link to many more Koh Samet hotels.
Paradee
Ao Prao Resort
Le Vimarn Cottages and Spa
Sai Kaew Beach Resort
Baan Ploy Sea
---
Chao Lao Beach Resorts
Next on the list of Bangkok beach resorts covers off the Eastern seaboard of Thailand.
The write up on Chao Lao beach resorts will follow shortly, but I have stayed at the Chao Lao Tosang Beach Hotel in Chao Lao a couple of times.
It is a 3-star hotel in an interesting part of the coastline and is worth a visit if you have transport, as there are a few things to see within a short driving distance.
When I suggest beach resorts near Bangkok, then this is probably on the upper end of the driving distance, when you define "near", but it takes the same time in a car as it would take on the bus to some of the other places.
The very cheapest rooms are in a 4 floor block at the rear, with sea views, the bathroom is quite small and the rooms get a lot of sun in the day.
If you can afford a little more then the beach front rooms are great value, some are absolute beach front and others just behind them. 
Some of these are family rooms, ie they come with two bedrooms and to my mind are absolutely great value.
I booked one of these once when staying with another couple.
You can find out more about pricing and availability of the Chao Lao Tosang Beach Hotel at this Agoda link.
---
If you plan your trip carefully you can easily escape Bangkok and spend a couple of days at one of these Bangkok beach resorts.
If you like wild partying, then Pattaya could be for you, but for a more laid back family style location, Hua Hin has something for everyone and there are even Bangkok Beach hotels down in Chonburi that are worth visiting for a few days.
Jomtien is close to Suvarnabhumi Airport and is on the beach, whilst Cha-Am is a great place to take a book to have a romantic getaway. 
Check out more Bangkok Beach images here.