Beach Resorts Near Bangkok
Beach resorts near Bangkok make a welcome break from the crazy city atmosphere and if you only have a few days free, there are some great places to stay in Hua Hin, Cha-Am or even Pattaya.
Even though these are the most popular places to visit for a few days, there is no need to limit your itinerary to these beachside suburbs.
Let's get started and explore beach resorts near Bangkok.
Best Beach Resorts Near Bangkok for a Luxurious Getaway
If you are looking for somewhere reasonably close to Bangkok to get away for a few of days, then there are a number of seaside towns within easy driving distance of Bangkok, that are worthy of consideration.
Choose from:
Hua Hin
Cha-Am
Pattaya
Jomtien
Koh Samet
Rayong
Chao Lao
You can take a car or the airport bus from Suvarnabhumi Airport to some of the best beach resorts near Bangkok, or you can take the van from Mo Chit bus station.
Luxury Hua Hin Beach Resorts
Hua Hin is a laid back Royal town, full of interesting things to do and places to see and is also a well known destination for golfers.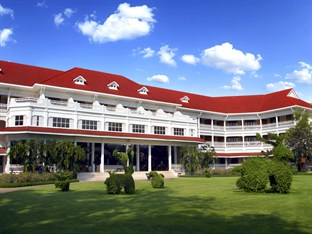 Centara Grand Hua Hin
In fact there are several high-quality golf courses in Hua Hin that offer a challenge to any avid golfer.

Some of the most popular Hua Hin golf courses include:
Black Mountain Golf Club
Banyan Golf Club
Palm Hills Golf Club
There are also local Golf Courses including
Majestic Creek Golf & Country Club
Royal Hua Hin Golf Course,
Sea Pines Golf Course
Springfield Royal Country Club
These courses can still be quite challenging and they generally have the availability of club and shoe rentals, carts and caddies, so no need to bring your gear.
Whether you are a seasoned golfer or just play for fun, the Hua Hin area offers a great golf experience for visitors with different skill levels and with many international standard golf courses to choose from, it is the ideal location to get some serious practice.
On a short weekend taster you won't get to do everything in Hua Hin, but be sure to bring your camera along as there is plenty to keep you occupied.
When you need somewhere to stay in Hua Hin then there are also many mid-range and high end resorts to cater for all budgets, whether you be photographer, golfer or beach lover.
On the following page these two resorts are highlighted as well as an Agoda link to many more Hua Hin hotels.
Cape Nidra Hotel Hua Hin
Centara Grand Beach Resort Hua Hin
Driving Time - 3 hours
Distance - 220 km
Cha-Am Beach Resorts

Cha-Am is slightly closer than Hua Hin if driving from Bangkok, but it is also for more laid back breaks.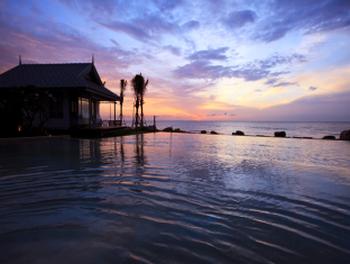 Cha-Am sunset
If you like lounging around the pool with a good book, then you are sure to find some peace and relaxation here.
On the following page this resort is highlighted as well as an Agoda link to many more Cha Am hotels.
Siam Beach Resort
Driving Time - 2.25 hours
Distance - 173 km
Pattaya Beach Resorts
Pattaya is more then sea and sand; there is everything here for the family and more.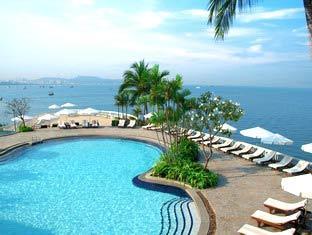 Dusit Thani swimming pool in Pattaya
Explore a Pattaya beach resort on your next trip to Bangkok or Bangkok layover. 

On the following page these two resorts are highlighted as well as an Agoda link to many more Pattaya hotels.
Centara Grand Mirage Beach Pattaya
Dusit Thani Pattaya
Driving Time - 1.75 hours
Distance - 149 km
Jomtien Beach Resorts
Here in Jomtien you can be steps away from the beach with a great selection of good hotels.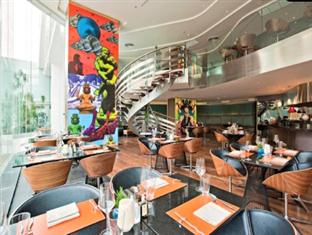 Less hectic than Pattaya but still with water activities and beach food. Jomtien makes a great weekend break from the city of Bangkok.

On the following page one resort is highlighted, as well as an Agoda link to many more Pattaya hotels.
Jomtien Palm Beach Hotel
Driving Time - 2.0 hours
Distance - 152 km
Koh Samet Resorts
A couple of hours away from Bangkok is the popular island of Koh Samet.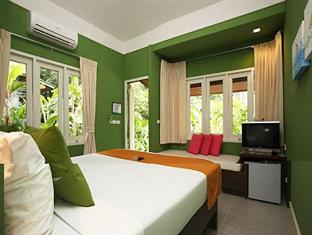 Sai Kaew beach resort on Koh Samed
This beach resort near Bangkok is blessed with powdery white sand, turquoise waters and a great choice of small hotel accommodation it makes the ideal getaway location if time is short. 

On the following page these five beachside resorts are showcased, as well as an Agoda link to many more Koh Samet hotels.
Paradee
Ao Prao Resort
Le Vimarn Cottages and Spa
Sai Kaew Beach Resort
Baan Ploy Sea
Driving Time - 2.25 hours + ferry journey, total 4-5 hours
Distance - 220 km
Rayong Beach Resorts
Situated to the East of Bangkok is the town of Rayong. Easy to drive yourself or inexpensive to organise a driver from Bangkok or directly from Suvarnabhumi Airport.
Write up of the visit to the Centara Q Resort Rayong is still in progress, but it is a nice little hotel, directly on the beach and has a great buffet breakfast and good swimming pool.
If this sounds interesting, then check out this Agoda link to the Centara Q Resort Rayong.
Current pricing is from USD $83.
Drive Time 2.5 hours
Distance - 182 km
---
Chao Lao Beach Resorts
Next on the list of Bangkok beach resorts covers off the Eastern seaboard of Thailand.
The write up on Chao Lao beach resorts will follow shortly, but I have stayed at the Chao Lao Tosang Beach Hotel in Chao Lao a couple of times.
It is a 3-star hotel in an interesting part of the coastline and is worth a visit if you have transport, as there are a few things to see within a short driving distance.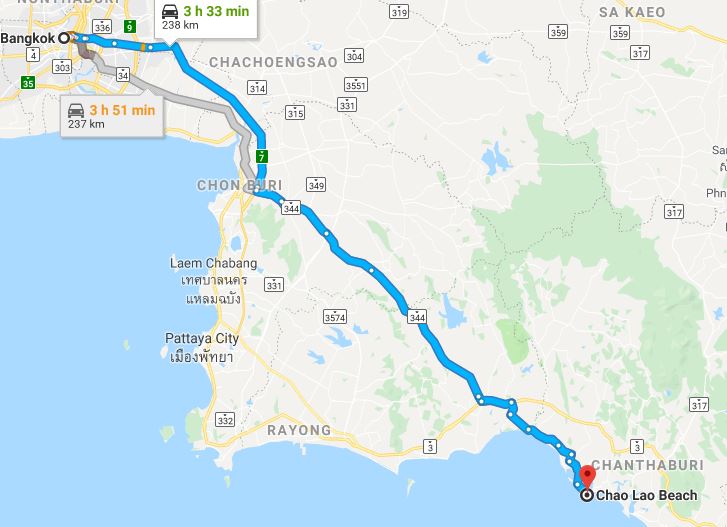 Chao Lao driving directions
When I suggest beach resorts near Bangkok, then this is probably on the upper end of the driving distance, when you define "near", but it takes the same time in a car as it would take on the bus to some of the other places.

At Chao Lao Tosang Beach Hotel the very cheapest rooms are in a 4 floor block at the rear, with sea views, the bathroom is quite small and the rooms get a lot of sun in the day.
If you can afford a little more then the beach-front rooms are great value, some are absolute beach front and others just behind them. 
Some of these are family rooms, ie they come with two bedrooms with a living space inbetween and to my mind are absolutely great value.
I booked one of these once when staying with another couple.
You can find out more about pricing and availability of the Chao Lao Tosang Beach Hotel at this Agoda link.
Current pricing is from USD $117.
Drive Time 3.5 hours
Distance - 237 km
---
More Beach Resorts Near Bangkok
If you plan your trip carefully you can easily escape Bangkok and spend a couple of days at one of these Bangkok beach resorts.
If you like wild partying, then Pattaya could be for you, but for a more laid back family style location, Hua Hin has something for everyone.
Jomtien is close to Suvarnabhumi Airport and is on the beach and less hectic than Pattaya, whilst Cha-Am is a great place to take a book and have a romantic getaway. 
There are even Bangkok Beach hotels down in Rayong that are worth visiting for a few days.
Check out more Bangkok Beach images here.
People also ask:
The nearest beach to Bangkok Airport is Bang Saen beach, but the most popular beach for overseas tourists is Pattaya Beach.

With regular taxis and buses from Bangkok Airport it makes the ideal destination for International travellers.

Read more about transportation to Pattaya from Suvarnabhumi Airport.
Bang Saen is the closest beach town to Bangkok and with its foreshore scattered with umbrellas and eating places, it is the ideal destination for a day of gorging on fresh seafood.

Frequented by Thais on the weekends and Public Holidays can make it very busy at these times.
I think that the beaches on Koh Samet are the best powdery white sand that you will find anywhere, together with the crystal clear water and choice of hotels makes this destination difficult to beat.

Koh Lan would come a close second for crystal clear water, which is surprising considering its proximity to the mouth of the Chao Phraya River. It has easy access from the Bali Hai pier in Pattaya, with regular ferries and speedboats in operation.
Beach Resorts Near Bangkok Summary
The website  provides information about beach resorts near Bangkok and serves as a guide for individuals seeking beach getaways within a short distance from the city, offering insights into various beach destinations and resorts for a short trip away from the city.

The article begins by highlighting the appeal of beach resorts near Bangkok, providing a convenient escape from the bustling city life.
It emphasizes the allure of pristine beaches, clear waters, and picturesque scenery, offering a tranquil and relaxing environment for travellers.
The website introduces several beach destinations located within a short driving distance from Bangkok.
It provides information about popular options such as:
Pattaya
Hua Hin
Cha-Am
Koh Samet
Chao Lao
Rayong
The page describes each destination's unique features, including their respective beaches, attractions, and activities available for visitors and furthermore, the website offers details about beach resorts in these destinations and it highlights various accommodation options, ranging from luxurious beachfront resorts to budget-friendly hotels.
It shares information about the amenities, services, and facilities offered by each resort, allowing travelers to make informed decisions based on their preferences and budgets, as well as providing insights into activities and attractions near the beach resorts, such as water sports, spa treatments, golf courses, and local cultural experiences available in the surrounding areas.
This information allows visitors to plan their itineraries and make the most of their beach resort stay.
In conclusion, this page serves as a valuable resource for individuals seeking beach resorts near Bangkok and by offering a comprehensive guide, the website enables travelers to plan memorable beach getaways and enjoy a refreshing break from the city, without being overly expensive.
Revised 26-July-2023