Bangkok Airport Hotel
Are you looking for a Bangkok Airport Hotel for a short layover around Suvarnabhumi Airport or do you need one of the Bangkok Airport hotels inside the airport?
Bangkok Airport Hotel Options
Only one Bangkok Airport hotel inside terminal and places to sleep in the airport are limited.
The Miracle Transit Hotel is situated inside Suvarnabhumi Airport, Airside, 4th floor, International Departures Hall, Concourse G.
I can point you in the right direction to make a final hotel selection, as there are many boutique hotels around Bangkok Airport, but there is only one Bangkok Airport transit hotel inside the International Terminal.
With limited availability and transit rooms in high demand, it makes sense to get your booking completed as early as possible.

Miracle Transit Hotel
Don't waste hours of your time searching through internet sites looking for a Bangkok Suvarnabhumi Airport Hotel when you have no intention of visiting the city of Bangkok.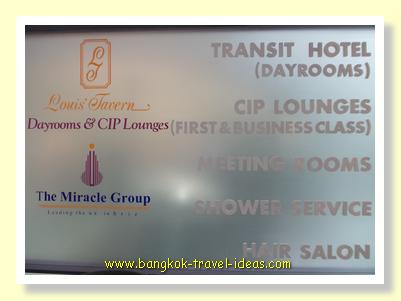 If you are on a short layover in Bangkok and have to spend 4 to 6 hours at Suvarnabhumi Airport and you are just looking for somewhere to shower and rest before taking your connecting flight, then consider the Miracle Transit Hotel located inside the International terminal of Bangkok Suvarnabhumi Airport.

Rooms start at around $126 including taxes for 4 hours and can be extended up to 6 hours for two people, with a complimentary meal.
If you are in transit for less than 12 hours, then you will also save the departure tax of 700 baht each by not leaving the airport.
This departure tax is not automatically included in your ticket if your connecting flight leaves within 12 hours of arrival, but should you leave the airport, the fee will be payable upon checking back in.
Leaving the airport is not as simple and cheap as people make it out to be.
Miracle Transit hotel rooms are extremely convenient, they are well proportioned and are really quite affordable; especially if you are a couple travelling together.
The Miracle Transit Hotel was formerly known as Louis' Tavern Transit Hotel but has now been rebranded and refurbished.
Learn more about pricing and availability now on the Agoda website.
Book the Miracle Transit Hotel now
Other Bangkok Airport Hotel Options
Bangkok Airport was opened in September 1996 and since that time many small hotels have opened around the Suvarnabhumi Airport area and there is intense competition for your business.
There are also a number of 4 and 5 star Bangkok hotels located within 20 minutes of Suvarnabhumi Airport, that may be more suited to the business traveller.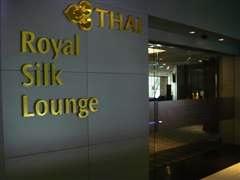 If you have a short layover between connecting flights, then you are probably looking for a Bangkok hotel near to the airport to make the most of your available time.
In fact what most people want in an Airport hotel, is somewhere cheap, clean and within a short distance of Bangkok Airport so that they can have a shower, get a some sleep or just relax for a few hours and get back to the airport with the minimum of fuss and delay.
If the hotel has a free shuttle service thrown in then that is a bonus.
Of course you may want a 4 or 5 star hotel near the airport, so I have covered that also.
The Novotel Suvarnabhumi Airport hotel is covered later and is joined to the airport by a short walkway, so it is really convenient to get to.
It costs a little more than the budget options but it has all the facilities that you would expect of a 5 star hotel.
In case you are in transit then there are also paid lounges in Bangkok Airport that can be booked for several hours between flights.
Cheap Bangkok Airport Hotels
If your Bangkok layover is forced upon you by having many hours between connecting flights, then consider staying in one of the small hotels which are all located within 15 minutes of the airport.
I have evaluated the Agoda website and created my top three picks based upon customer reviews. and have used the following criteria to assess the hotels; noise, price, cleanliness and travel time.
Prices ranges (excluding taxes) are for Superior and Deluxe rooms (where possible) with breakfast, and are likely to change, but are currently around USD $30.
The following hotels are also popular amongst Bangkok travellers and there were many positive comments from patrons and you may wish to check these also.
Cheap Bangkok Airport Hotel Review
The first review of The Ivory Suvarnabhumi Hotel was conducted and there was also a follow up visit.
The second review was conducted on the Regent Suvarnabhumi Hotel.
This Bangkok Airport hotel was reviewed and whilst not part of the original top three it was convenient to check it out.
If you want  to stay in an hotel near the airport that is cheap and clean then the Ivory or Regent are both good, but for different reasons.
I have also stayed at the Cottage Suvarnabhumi Airport Hotel and wrote up my experience.
It was pretty good, I have to say and I stayed there twice, but didn't have anything to add to my first review.
It was still professional and a good experience and is a purpose built hotel with a swimming pool.
Over the years I stayed several times at the Novotel Bangkok Suvarnabhumi Airport Hotel and have been impressed each visit.
You can read the review of these Bangkok Airport Hotels at the linked text and make up your own mind whether you prefer the Cottage Suvarnabhumi Airport Hotel or the Novotel Bangkok Airport Hotel for your short term stay around Suvarnabhumi Airport.
4 Star Hotels Near to Bangkok Airport
Dusit Princess  Srinakarin Hotel
Another great Bangkok Airport hotel, located 20 minutes from Bangkok Airport, is the Dusit Princess Srinakarin Hotel.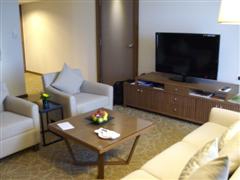 This one ticks all the boxes, with a shopping centre and restaurants next door it is an ideal choice if you are travelling with family or you are just on business and want to have a wander around.

Check out a more detailed review of the Dusit Princess Hotel here or hop onto the Agoda website to read reviews and check room availability.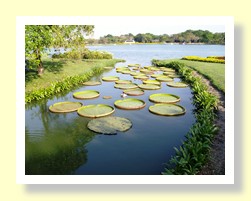 King Rama IX Park near to Dusit Princess Hotel
If you want good value for money and a little extra space then take a look at the images of the Suite room.
These rooms were upgraded since I last stayed there and you will have a very nice experience staying in this part of Bangkok. 
Nearby is the very large King Rama IX Park, with an impressive lake as the centrepiece.
Just take a left turn out of the hotel onto the main road.
Keep walking until you reach the Paradise Park shopping mall and then turn left.
Follow the road all the way to the end and you will be at the park gates.
The total walking distance to the park gate is 2.1 km.
Inside there is a small cafe, or you can buy some food at the stalls nearby the park entrance.
The Dusit Princess would be my preferred location near the airport if you are staying more than one night, because it is reasonably priced, has plenty to do nearby and is easy to get back to Suvarnabhumi Airport for the next leg of the journey.
5 Star Hotels Near to Bangkok Airport
Hotel Novotel Suvarnabhumi Airport
Take the 24-hour complimentary shuttle bus and the hotel is located just 5-minutes drive away or there is an underground walkway directly to the Novotel Suvarnabhumi Airport Hotel, which stays open permanently.
The walkway is much quicker than taking the shuttle bus and is good exercise after sitting on the plane and the walk takes just a few minutes in an air-conditioned environment.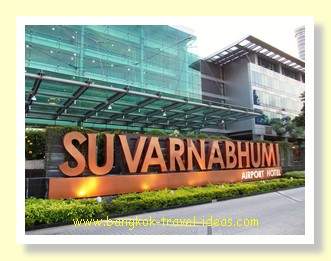 If you are feeling lazy or if you have too many bags to pull along then the complimentary shuttle bus is located at Gate 4 on the arrival level.

The Novotel Bangkok Suvarnabhumi Airport hotel has no set check-in time, so you just arrive and check-out 24-hours later.
Expect to pay about $160- $230 (inc taxes) depending on your selection of cancellation conditions or inclusion of breakfast.
This price may vary depending upon the season so just take it as a general guide, but you can often get the upgrade to the Club room that includes free breakfast and cocktails and snacks in the evening.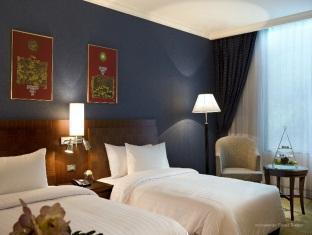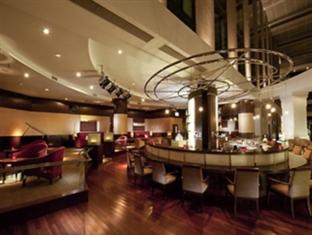 The Novotel Bangkok Suvarnabhumi Airport Hotel does offer a best price guarantee, which basically means they will match any other price you find.
I believe that you could get a better rate for this hotel than advertised on their website by booking at Agoda Bangkok.
Do take time to read my hotel review as it is a great option when you need a higher end hotel close to the airport and it is surprisingly good value especially if you can get the Executive package.

Certainly this hotel ticks all the right boxes:
Located within 5-minutes of Bangkok Airport (Suvarnabhumi)
There is a free shuttle service between the hotel and the airport
There is no fixed check-in time
If price is not a concern (like when your Company is paying), when selecting a Bangkok Airport hotel then this is a great choice if you have a Bangkok Airport layover.
Book the Novotel Suvarnabhumi Airport Hotel now at Agoda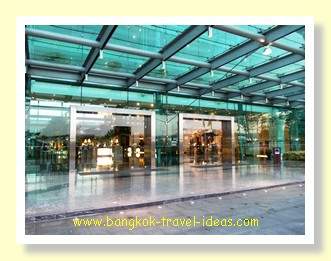 Main entrance to the Novotel Suvarnabhumi Airport Hotel
People also ask:
There is only one hotel inside Suvarnabhumi Airport for transit passengers and that is the Miracle Transit Hotel.
There are numerous cheap hotels near Bangkok Airport and there is also the Miracle Transit Hotel inside the airport for those passengers in transit.
You can book a nearby hotel with free transfer, there are also sleeping pods available on the Suvarnabhumi Airport property, or you can stay at the Bangkok Suvarnabhumi Airport Hotel which is within walking distance of the terminal.