Bangkok Map
Need a Bangkok map?
With the Google Maps application you can generate any map of Bangkok that you need.
Bangkok Map Directions
This includes a Bangkok street map or a city map of Bangkok showing main freeways and motorways.

The maps can include the driving directions to get to your destination in Bangkok or anywhere in Thailand.

Every tourist needs a Bangkok street map to be able to orientate themselves when visiting this wonderful city.
Whether it be for a Bangkok shopping experience or to find budget Bangkok hotels then a customised map is essential.
So don't be without your street map of Bangkok.
Bangkok Tourist Map
Planning the itinerary of your Bangkok vacation is part of the fun.
Where to go, what to see and what to do.
This map is going to help you do just that.
Using this Bangkok Travel Ideas map you will be able to check the location of all the important tourist locations, as it makes sense to group locations together to get the most out of your time in Bangkok.
Check out the logistics of your planned itinerary before you come.

You will even be able to generate Bangkok driving directions to any place you need to visit.
Visiting Wat Pho and Wat Arun on the same day makes sense, whereas visiting Wat Arun and Wat Bang Phli Yai Nai on the same day would not, because they are so far apart.
You can generate a map of how to get to the Amphawa Floating markets or if you are someone that likes sitting on the beach then the map will allow you to navigate to one of the many beaches close to Bangkok.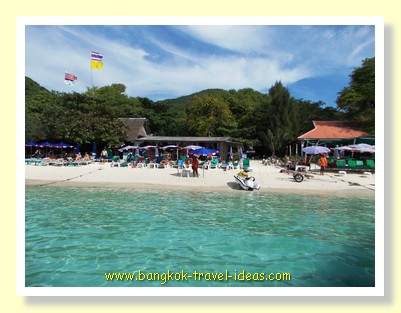 In fact I did just that and found my way with no trouble. I also drove to Ubon Ratchatani using a Google Map and nothing else.
The format of the Google Maps application on this website is still under development, but if you click on the "View Larger Map" tab you will be able to generate a road map and driving directions to each of the tagged locations in Bangkok.
Use the search field to generate a Bangkok street map and then zoom and scroll to find the Bangkok shopping places you want.
Do you have a school project to complete?
Well, if you do then you can generate a map of Thailand or a map of Bangkok for that all important deadline.
Customise it how you want.
Look out for new sights and locations being added as I update this map of Bangkok with important places and things to see.
When you visit Bangkok then there are two other important Bangkok maps that you will need .
These cover the BTS Skytrain and the MRT Underground.
Hotels in Bangkok
Not sure where to stay in Bangkok?
The map of Bangkok is marked with little red beds to indicate hotels in that area of Bangkok.
So if you want to stay in Sukhumvit or Siam for example, just click on the red bed in the map, to be taken to a list of hotels in the area.
Read more about Bangkok Travel Ideas best areas to stay in Bangkok and what attractions are in that location before finalising your hotel booking.
Bangkok Google Map
No brief overview could ever do justice to the diversity and variety that each area of Bangkok exhibits, but a few words of description of the key features around town, may help you make a decision about where to stay in Bangkok.
To assist in finding all the good stuff, Bangkok Travel Ideas have created a unique Bangkok Google Map that will open in its own window.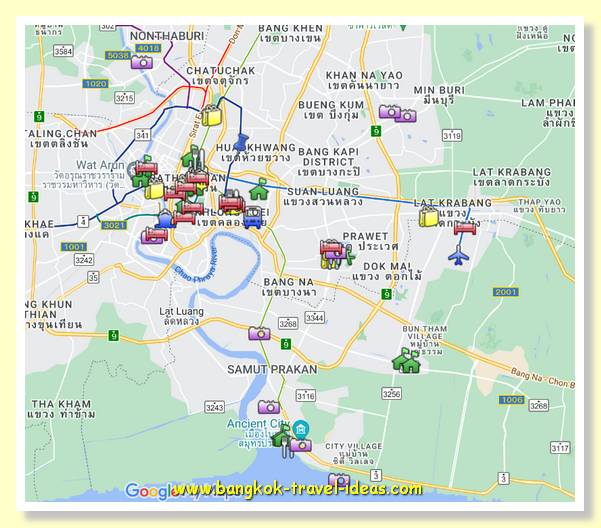 Bangkok Travel Ideas Google Map of Bangkok
The BTI map opens with Bangkok as a centre, but expands to cover all regions of Thailand that are covered in this website.
There are links to places of interest and recommended hotels in that area.
When planning your next Thailand trip, explore each of the regions and select from one of these many areas to stay as shown described in my Bangkok Google Map.