Agoda Hotels
Ever thought of exploring the Agoda hotels website?
Well if you are not sure what it is all about, let me recount my own experience, because booking your own accommodation on the internet is one of the best ways to save money on your Agoda Bangkok hotels.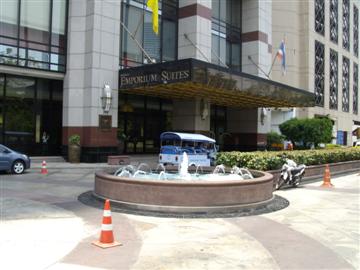 Several years ago when I first started to travel, I was surfing around the internet looking for Bangkok hotel deals and I found a website called Precision Reservations.
After some brief research I was convinced that there were significant savings to be made by booking directly on the internet.
It was also a lot more convenient to handle the bookings myself than to let someone else do it.
Because I was such a frequent user of the Agoda Bangkok site (Precision Reservations as it was then) I was requested to provide feedback on the website design and useability.
I feel that the comments I made at the time went a long way to improving the search functionality and to give us the great site that we have today.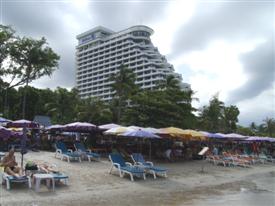 In the course of time Precision Reservations was taken over by the US company Priceline and became part of the Agoda group.
Using the Agoda hotels website is still my preferred method for booking rooms for both personal and business purposes and I still make frequent bookings.
Over a five year period I accumulated over 130 hotel bookings using their online hotel booking service and I can honestly say that I am extremely satisfied with the website functionality and the level of customer service.
Since that time I have made even more bookings, but they no longer keep a running total and I have lost track of how many I have made.
They have some great Bangkok hotel deals listed every day.
The Agoda hotels team have constantly been updating the website and there is new functionality to reclaim those booking forms and receipts that go astray.
Something that used to be a problem in the early days.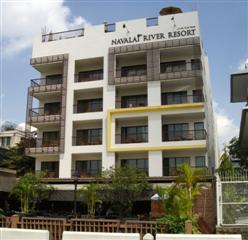 Just the very nature of the internet and spam filters etc. mean that sometimes confirmation emails do go missing and it is great to know that they can be retrieved with the click of a button.
The Agoda team are right on the ball here.
In fact no sooner have I created snapshots of the Agoda Bangkok website search functionality and the team will have updated it and changed the design.
So don't worry if the snapshots below are different to the website, the general idea of filtering searches is what is important.
The Agoda hotel reservation process is now fully automated and is simple and easy to use, but should you experience any problem then they still have a 24 hour call centre that can resolve your query.
Booking Agoda Hotels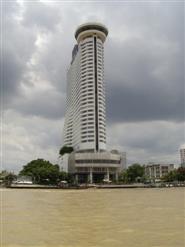 When booking your Agoda Bangkok accommodation always check the terms and conditions of cancellation.
These conditions are imposed by the hotel and not by Agoda and whilst you can sometimes get a better price by accepting a "no cancellation" option it is not always a good choice for the business traveller, where travel plans can change at the last minute.
Even so, many times I do opt for the last minute booking, as there are cheap Bangkok hotel prices that often appear at the last minute.
Have a look at the range of Agoda hotels below, I am sure that you will find the prices extremely competitive and if you hop on the Agoda website you are sure to find the very latest Bangkok hotel deals.
But there is no need to listen to me because like many others who use the Bangkok Travel Ideas website you are probably a self-directed person who likes to check things out for themselves.
Maybe my suggestions are not in the right area or are not in your price range. Right?
You really want to look for yourself.
Here are some tips to help you find the right Agoda hotel, in the right area of Bangkok at the right price.
First, open up a new window by going to the Agoda Bangkok website.
Put the windows side by side so you can follow along with the instructions.
Do you want to look for Bangkok hotel deals near to the airport? Just apply the filter Stars 1...5 and select Airport Suvarnabhumi in the drop down boxes and the page will automatically refresh.
Don't worry of the website looks slightly different to the images, just look around the page and you will find the search functions, they may be radio buttons or in drop down boxes.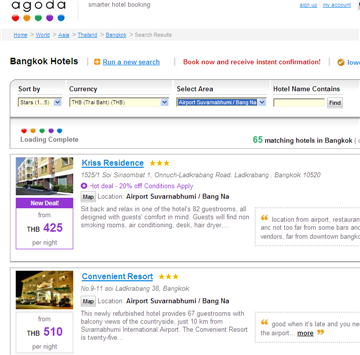 If you wish to find Agoda Bangkok hotels in the 1000-2000 Baht price range, just scroll down the page and you will see them listed.
Use of these two simple filters can make Bangkok hotel selection so much easier.
You can also change the filter to look for hotels in Pratunam, for example.
Spend a few minutes playing around with the settings and become familiar with what they do before making your final hotel selection.
Agoda Hotels Guest Reviews
Make a point of reading the other guest reviews and take more notice of those hotels which have a higher rating.
Generally I would ignore someone commenting about the lack of porters to carry the bags, but I would take notice if there was "duff duff" music coming from the nearby beer bar until 5:00am.
Service levels can change depending upon the staff, but structural issues cannot be solved easily.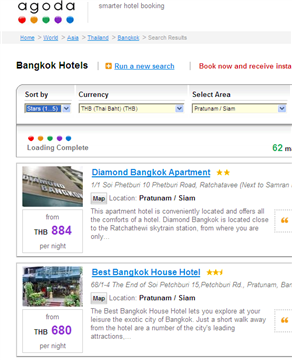 Use some common sense and realise that some people just have ridiculous expectations and complain because the room maid forgot the facewasher one day, on the other hand multiple complaints about the same topic would draw my interest.
What I look for in a hotel when I stay for pleasure is different to what I look for if I stay on business.
When I stay in an any of the Agoda hotels for business purposes, I want it to be near to the office, I want it to be clean, I want a good internet connection irrespective of cost and I want a mobile phone signal.
When I stay for leisure, I want it to be clean, quiet and near attractions and restaurants.
I hope this brief overview about how to use the Agoda hotels search function for was helpful and that you can use the same process when making other Agoda Thailand bookings.
Now go out and find your self some great Bangkok hotel deals and save yourself some money.
If you are not sure which area of Bangkok to stay in, then check out this page on Bangkok tourist areas first and it will give you a good idea.
---
Bangkok
› agoda hotels
---