Emporium Suites by Chatrium
The Emporium Suites by Chatrium serviced apartments are an old favourite of mine and if you are on assignment to Bangkok it is a great place to stay long-term with your family.
This hotel is located about 30 kms from Suvarnabhumi Airport right in the heart of Sukhumvit.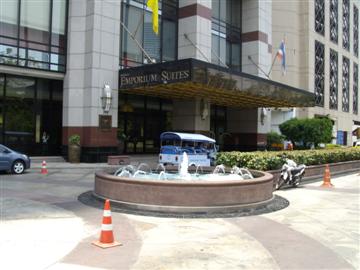 I don't really think of it as a budget Bangkok hotel, but it is certainly a good value Bangkok hotel because of its location and all the features that it offers.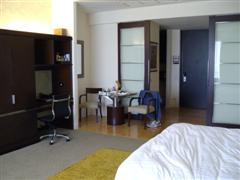 Here you will find rooms from the same size as a medium sized hotel room, right up to a 2 bedroom apartment size.
As these are essentially serviced apartments they all come with a kitchen fitted with hob, fridge, microwave and sink.
For little more cost than a standard Bangkok hotel room you can stay in a fully functional serviced apartment, have more space and somewhere to prepare your own food.
The rooms are clean, of a reasonable size and with over 40 floors the Emporium Suites by Chatrium has the added bonus of great views over the city of Bangkok.
This hotel caters for tourists and business people, having its fair share of Japanese amongst its clientele.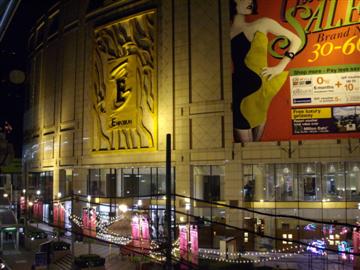 Many of the residents are staying for the long term, so there is not a lot of coming and going.
Swimming Pool
The Emporium Suites hotel has a gym and a large swimming pool that gives you plenty of space to splash about in and relax.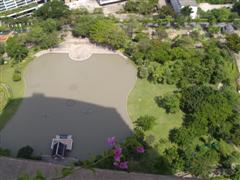 The pool gets sunshine in the morning but after lunch it is in the shade of the Emporium Tower so it becomes a lot more pleasant if you don't want to be in direct sunlight. 
There is nothing better than ordering a couple of fresh young coconuts from the pool bar in the late afternoon and digging into it  with a spoon to extract that young coconut flesh, before slurping up the cool coconut milk through the simple straw. 
Location
The location is extremely convenient. You will be located in Sukhumvit and there is more than enough to do within a short walking distance of the Emporium Suites.
As an example there is Benjasiri park located right next door, with its own free fitness classes and swimming pool.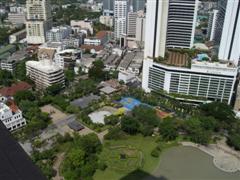 Of course there is the Emporium Shopping centre located in the same building, but more of that later. 
A great choice of restaurants exists in the nearby sois, some of these even feature in the Thai Airways in-flight magazine.
But if you fancy well prepared Thai food, there is Oam Thong restaurant and Livingstones in Soi 33, just over the road.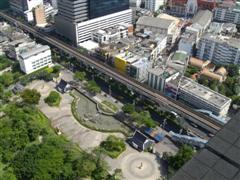 Both of these are Thai restaurants with their own unique style.
If you feel like a Steak and some good Australian wine then check out Tenderloins Sports Bar and Steakhouse which is just a little further into Soi 33.
Tenderloins has a great atmosphere and if you like watching the sport whilst eating you should be able to see one of the many TV's.
As well as being a great hotel in Bangkok, these serviced apartments comes inclusive of breakfast.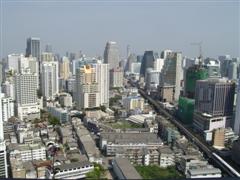 One downside I have found from staying here many times, is that the mobile phone reception can be very poor, however that is made up for by the great location and fantastic sized rooms.

Of course let's not forget the fantastic views over the city and Benjasiri Park.
Go to the Emporium Suites by Chatrium
To get here from Suvarnabhumi Airport will cost you  about 1400 baht in an AOT limousine, depending upon the promotion they have going.
If you take the hotel limousine back to the airport the fare is around 2000 baht.
Expect to pay 350 baht in a regular taxi for the trip if you go on the meter and most taxi drivers will know the way to get to this hotel.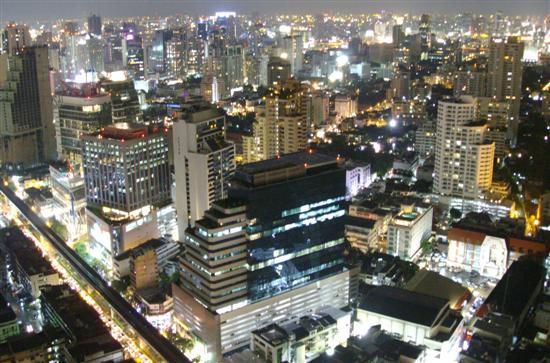 I have found that the quickest way to the Emporium Suites by Chatrium from the airport, is to take the expressway from Suvarnabhumi Airport, then come off onto Petchaburi Road, turn right at Soi 33 and then onto Sukhumvit Road and do a U turn at the Emporium traffic lights.
Some drivers don't know this way and take you all the way down past Nana, to where the expressway joins Sukhumvit Road, and then they come back through the Asoke intersection.
I have posted a map below for this route as you may miss 30 minutes of drinking time if there is heavy traffic at Asoke.
The attached map is the best that Googlemaps can do as it wants to go via Asoke; the worst possible choice because of the heavy traffic.
If you expand the map I think that you can see that you will go via Soi 33 next and do a U-turn at the Emporium, to get you there in record time.
If you are interested in booking and staying at the Emporium Suites by Chatrium serviced apartments there are more details and customer reviews at this Agoda link.
Instead, you may like to investigate my listing of Bangkok two and three bedroom suites and Executive Serviced Apartments and where they can be found.