About Bangkok
Do you have some questions about Bangkok?
Many people do, in fact literally millions of Bangkok vacations are taken annually by American or European travellers.
Indeed a great proportion of these people have never been to Asia before, let alone Bangkok and they have heaps of questions.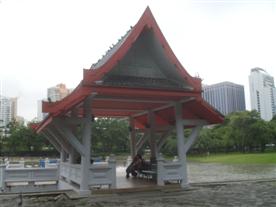 In fact people don't know what to expect when they first visit Asia, they don't know where to start and many of them have very similar questions about Bangkok and they are all looking for the answers.
Are you are one of the many people planning to take a Bangkok vacation?
Do you want to research it and book it yourself?
Well if so, let me give you some suggestions on how to go about it.
But before that lets get into some fun facts about Bangkok.
Fun Facts about Bangkok
First off, do some research, just to get an idea of what Bangkok is like and what there is to do there.
Bangkok Travel Ideas is a great place to start to learn about Bangkok.
Think about the places you might like to visit and whether you will just stay in Bangkok, or maybe you will take a break and go to one of the nearby Bangkok beaches.
Jot some ideas down on a piece of paper about what you want to do in Bangkok.
Then have a read through the most common questions about Bangkok and follow the page links given and develop your Bangkok vacation plans from there.
Question 1. How Long Should I Stay in Bangkok?
Question 2. How Much Will It Cost to Stay in Bangkok?
Question 3. Should I Obtain Thai Baht Before Leaving Home?
Question 4. What is the Weather Like in Bangkok?
Question 5. How Far is Suvarnabhumi Airport from Bangkok?
Question 6. Can I Drink the Water in Bangkok?
Question 7. Which Are the Best Bangkok beaches?
Question 8. Which Are the Closest Beaches to Bangkok?
Question 9. Where Can I Get My Shoes Repaired in Bangkok?
Question 10. Where Can I Get Garment Alterations Done?
Question 11. Where Can I Get a New Watch Battery?
Question 12. Are There Any Islands Close to Bangkok?
Question 13. Can I Sleep in Bangkok Airport?
Question 14. Do I Have to Pay Departure Tax at Bangkok Airport
---
Do You Know These Answers to Questions About Bangkok
Question 1. How Long Should I Stay in Bangkok?
This is entirely up to you 7 - 10 days is a good start, if you are not intending to travel extensively.
With an 18 day vacation you can probably spend 5 days in each of three different locations and get to see more of Thailand itself.
Take a look at my Thailand Travel Diary to see how to add additional Thailand beach locations and cities to your itinerary.
If you need more information about Bangkok then check out the places to stay in Bangkok.
---
Question 2. How Much Will It Cost to Stay in Bangkok?
Thailand is still a relatively inexpensive country in which to take a vacation and there is heaps of information about Bangkok to help you decide.
The costs of transport, food and accommodation are amongst the cheapest anywhere.
For many people though, Thailand is not as cheap as it once was because of the deterioration of the US or European currency exchange rate.
Do take the exchange rate into account when calculating how much money you need to bring with you?
The following prices can be used as a guide:
Room with fan 650 baht
Homestay or 2 star hotel 900 - 1400 baht (per room)
Hotel 4 -5 star - 3500 baht up (per room)
Movie ticket - 140 baht (per person)
Taxi - Airport to Bangkok - 550 baht
Noodle shop meal for two - 90 baht
McDonalds meal for two - 250 baht (Pattaya 300 baht)
McDonalds ice cream cone - 8 baht
Pizza Hut takeaway meal set for two - 650 baht
Thai restaurant meal for two  is 800 - 1200 baht
Thai Massage - 450 baht per hour (most places)
Thai Massage - 250 Baht per hour (On Nut)
Taxi from Bangkok Airport to the City - 380 baht
If your accommodation is already paid and all you have to outlay is meals and trips out, then a good guide is to allow a minimum of 1700 baht for two persons per day.
This will cover street food for lunch and a mid priced restaurant in the evening as well as fuel to get around or tours plus a couple of beers.
If you like to visit more expensive restaurants or consume more alcohol then allow more.
---
Question 3. Should I Obtain Thai Baht Before Leaving Home?
You will get a much better exchange rate in Thailand at Bangkok Airport than you will in your home country.
If you have large amount of cash to change then Super Rich Thailand at Pratunam is the place to go.
Most tourist areas have currency exchange booths, the rates will differ between different ones, so it pays to shop around.
One of the reasons that it is cheaper to buy Thai Baht in Bangkok rather than your home country is that to reduce the amount of currency speculation, the goverment has both a local exchange rate and an overseas exchange rate.
It is one of the few countries to have such a dual rate.
You can find out more about Bangkok and exchanging foreign currency in Bangkok.
---
Question 4. What is the Weather Like in Bangkok?
You want to know about Bangkok Weather?
The weather in Bangkok is hot and humid with three distinct seasons; Dry, Hot and Rainy.
Expect the temperature range to be 24 - 32 degrees Celsius but up to 40 degrees Celsius in the Hot Season.
Refer to the Bangkok weather page for a more detailed description of the current weather conditions and which is the best season to come.
The weather is one of the most important factors when thinking about Bangkok and especially if you are thinking of heading for one of the nearby Bangkok beaches.
---
Question 5. How Far is Suvarnabhumi Airport from Bangkok?
The popular Pratunam and Sukhumvit areas are both 32 kms from Bangkok Airport.
In a car this journey takes about 35 mins on the expressway.
Sathorn is 38 kms from Suvarnabhumi Airport and takes about 40 minutes on the expressway.
Times are approximate and out of normal peak travel periods.
You should consult with your hotel prior to check out, as to the required time to travel to the airport.
---
Question 6. Can I Drink the Water in Bangkok?
If you are on a Bangkok vacation you really cannot afford any time out to be sick or even mildly uncomfortable.
To be cautious, drink only bottled water and avoid salads that have been washed with water or appear wet.
Brush your teeth and rinse using bottled water.
All hotels will provide bottled water for drinking as they know their water supply is not suitable for drinking.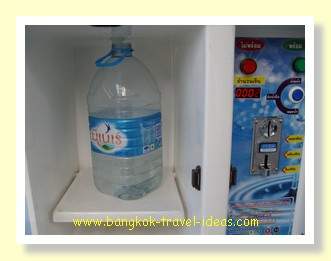 Perhaps this advice seems excessive and it may be for most people, but better to be safe than sorry.
One thing that many people do not know about Bangkok is that the water is purified to world standards.
Government testing has shown that samples taken at hydrants around the city are still within world safety standards.
However, once the water enters a building there are pumps and pipes and roof storage tanks over which the metropolitan water authority has no control. 
Gecko's  lizards and other fauna can enter these tanks to create a point of contamination which can vary from building to building.
Most buildings have point of use filtration or UV treatment.
This relies on the filters being changed regularly and the UV lamps being operational.
I don't know of any Thais that drink the tap water, they all purchase bulk water from the machine above or else they have a filtration system under their control.
It only costs one baht per Litre from a machine like this.
Having said that, I have eaten out at many noodle shops around and about Bangkok where I have been served water in a cup.
I have also had many drinks containing ice and suffered no ill effects.
I have been around about Bangkok for many years and can honestly say that I only ever had one bout of mild food poisoning and I don't think I have ever had an issue with ice in drinks or wet salads.
So whilst hygiene is something to consider, I don't think you need to go overboard unless you are elderly or have a compromised immune system.

---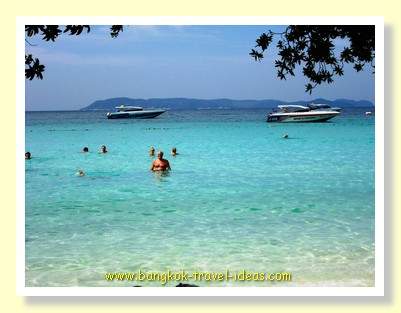 However if you travel just a short way out of the city then there are some really nice Bangkok beaches.
These places are close enough to spend the weekend or even just visit for the day for a trip out.
Want to find out more about Bangkok beaches?
---
Question 8. Which Are the Closest Beaches to Bangkok?
If you are around and about Bangkok then you should know that Bangkok is located slightly inland on the Chaophraya River and there are no actual Bangkok beaches in the capital of Thailand.
Bad news eh?
To find a nice beach you need to travel about 2 hours out of the city.
The most popular beaches can be found at Bang Saen, Pattaya, Jomtien and then Koh Samet and you could easily take the bus or van to any of these places.
Koh Samet has one of the best beaches near Bangkok and it is well worth a visit to Sai Kaew beach. 
---
Question 9. Where Can I Get My Shoes Repaired in Bangkok?
If you have that special pair of shoes that just requires a new heel or to have the sole re-applied, then why not throw them in your suitcase and get them repaired in Bangkok at a fraction of the price you would normally expect to pay in your own country.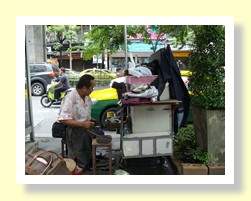 Located just 100 metres away from the Soi 33 junction with Sukhumvit Road, you will find three enterprising guys set up by the side of the road.
The first stall is for shoe repairs.
Here you can have your heels replaced or new soles glued on to those expensive business or ladies shoes.
Expect to pay around 140 baht for the heel replacement.
I have even seen him repair a piece of leather hand luggage for a businessman whose bag zip split whilst he was packing for the airport.
He obviously couldn't travel with his broken bag, but within 10 minutes the problem was fixed.
Little treadle type sewing machines are all about Bangkok, these are the ones I have seen in recent times.
But there are others near Seacon Square and around the Pratunam area.
---
Question 10. Where Can I Get Garment Alterations Done?
Right next to him is another stall that is set up with a treadle sewing machine and he specializes in hemming and clothing repairs.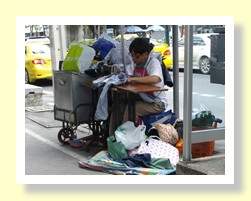 You probably haven't seen a treadle sewing machine since your grandmother's day, so take your chance to see one still in use.
If you find that the hem has come undone on your trousers or you have bought a pair of pants down at the Bangkok markets that are a little too long in the leg, then let him take a look.
Men's and women's clothes are handled equally expertly.
I can't really give a price, as it depends upon the work needed but prices are typically in the range 100 – 200 baht.
If you are around and about Bangkok then look out for these guys.
---
Question 11. Where Can I Get a New Watch Battery?
Believe it or not there is a watch repair stall in the same location also just close to Sukhumvit Soi 33.
Get yourself a new battery or have links taken out of the wristwatch strap on the spot.
He usually has a range of wristwatch straps available, so if your existing strap is past its best, then it can easily be changed.
We all know how much wristwatch straps can cost and so this is a great opportunity to save some cash.
All three stalls are available every day except Mondays and they will let you know there and then if they can do the work.
You can either wait for your job or come back later in the day.
This is another great money saving tip from Bangkok Travel Ideas.
---
Question 12. Are There Any Islands Close to Bangkok?
Actually there are a number of islands close to Bangkok.
The closest is Koh Lan just off the coast of Pattaya, but then you can travel further to Koh Samet, Koh Chang and right at the tip of the border with Cambodia is Koh Kood.
On the Western side of Thailand in the Gulf of Thailand are Koh Samui, Koh Nang Yuan and Koh Phangan.
If you like a bit of adventure when you travel, then on the  Western side of Thailand in the Andaman Sea just above Khao Lak, are places like Koh Phayam and Koh Ko Khao.
Electricity is generated locally, so it may not be available all day.
There is also another Koh Chang, just above Koh Phayam which is less well known.
So if you are ever discussing Koh Chang then it is more than likely to be the one to the East of Chantaburi as this is more popular with tourists.
---
Question 13. Can I Sleep in Bangkok Airport?
There are a number of places that you can sleep in Bangkok Suvarnabhumi Airport, some of them more comfortable than others.
If you have an interconnecting international flight then you can book in the Miracle Tavern Transit Hotel that is located in the international departures area.
Prices range from 2400 - 3400 baht.
For a very short delay between flights, you will find Lazee Boy reclining chairs at various points in the international departure areas.
These chairs may move location, but at the present time, there is a group at the beginning of Concourse C and Concourse E on level 3.

There is also another group outside the JAL and Emirates Lounge.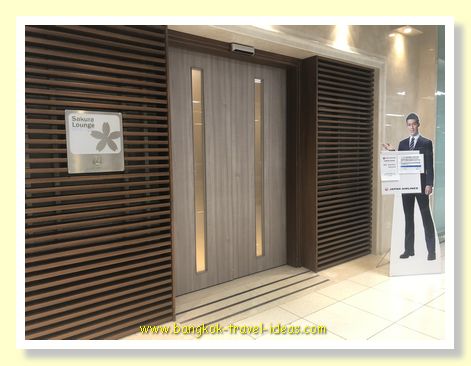 Another option for passengers that have to exit immigration and are waiting for a domestic connection or for their bus to arrive is to go to Gate 8 near the Magic Food Point food hall on the lower level.

Take the escalator down one more floor from where the bus to Hua Hin desk is located, to the level where the train to the City departs. Here is how to find Gate 8.
Underneath the escalator to the lower level, is a great place to set up camp.
There is even a power point in the wall to recharge your devices.
If you just want somewhere to sleep in relative peace and quiet and don't mind sleeping on the floor then this is a great choice.
Read about some more great places to sleep in Bangkok Airport.
---
Question 14. Do I Have to Pay Departure Tax at Bangkok Airport
Previously it was the practice to have to purchase a Departure Tax ticket when leaving the old Don Muang airport.
When the new Suvarnabhumi Airport was opened the departure tax was included in the ticket price and so for most travellers it is no longer necessary to purchase the departure tax any longer as they depart Bangkok. 
However there are a group of travelers who still need to purchase a Departure Tax ticket, which currently costs 700 baht.
This will increase to 800 baht in September 2019, but will still be included in your overall ticket cost.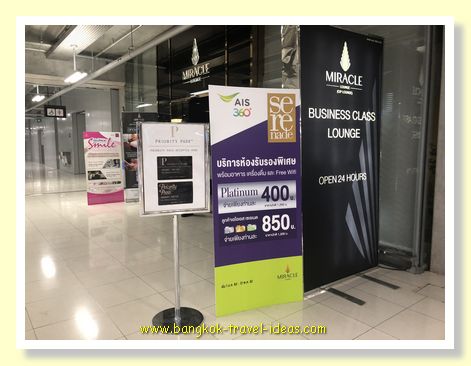 Those travellers who are transiting through Bangkok will not have the Departure Tax added to their ticket if the transit time is less than 12 hours.

But anyone that decides to leave Bangkok airport and then come back to pick up their connecting flight will have to pay the Departure Tax at the time of check-in.
The Departure Tax tickets can be purchased at the check-in level at the large office at the back of the building beyond the Thai Airways check-in desks.
If you are in Business Class then they will send a member of staff to get the ticket for you.
For those who just transfer to another plane and continue their journey then there is not a problem.
So briefly:
If you transit in Bangkok and go directly to your next flight then the tax is not included in your ticket as you are technically not departing Bangkok as you are in transit.
If you are in transit for less than 12 hours the tax is not included in your ticket, so if you leave the airport and return then you will have to pay the 700 baht.
If you have any more questions about Bangkok then please shoot them off to me and I will do my best to answer.
Eight More Things You Didn't Know About Bangkok
Here are some fun facts about Bangkok that can make you shine in front of your travel colleagues.
1. The Thai National Anthem is played at the beginning of movies along with a movie trailer of the King's life and good works for the Thai community.
Everyone will stand for the few minutes that the Thai National Anthem is broadcast prior to the start of the movie.
As well as the National Anthem being played prior to the movie being shown, it is also broadcast in the Royal Parks and Government buildings in Bangkok.
If you are walking in one of these parks, you need to stand still and be quiet whilst the Anthem plays. 
The Thai National Anthem plays twice daily at 08:00 hours and again at 18:00 hours.
If you have never been to Bangkok then it is unlikely that you will know this about Bangkok and Thailand generally.
---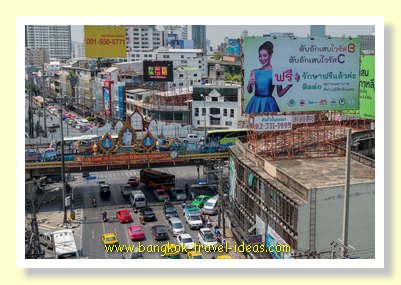 2. Bangkok is not the city's correct name.
In fact Bangkok's real name is actually the longest city name in the world, which is why it is not used in daily conversation and is abbreviated to just Krungthep.
If you want to be fun at a party and show that you know everything about Bangkok, then you should learn the full name for Bangkok.
It is: 
Krungthepmahanakhon Amonrattanakosin Mahintharayutthaya Mahadilokphop Noppharatratchathaniburirom Udomratchaniwetmahasathan Amonphimanawatansathit Sakkathattiyawitsanukamprasit.
Of course when I say it is the longest city name in the world, it has spaces. 
If you want to know the place with the largest amount of letters and no spaces, then it is this location in New Zealand:
Taumatawhakatangihangakoauauotamateaturipukakapikimaungahoronukupokaiwhenuakitanatahu, with 85 letters. 
The length of this town name in New Zealand is followed closely by the town in Wales on the island of Anglesey:
Llanfairpwllgwyngyllgogerychwyrndrobwllllantysiliogogogoch that has 58 letters.
Try saying these longest city names after a good night out.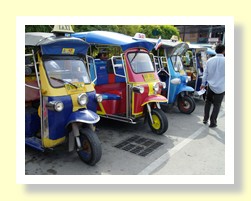 3. Bangkok Has the Tallest Air Traffic Control Tower
Due to the friendly rivalry between Thailand and Malaysia when both countries were building new international airports, both competed to have the tallest air traffic control tower in the world.
It was an intense battle.
Air traffic control towers are the tall buildings where the air traffic controller's sit and direct the movement of the in-bound aircraft.
Their job is to ensure sufficient space between each aircraft, so that they do not collide mid-air and they also direct the aircraft on the runway as they taxi to the air bridge location.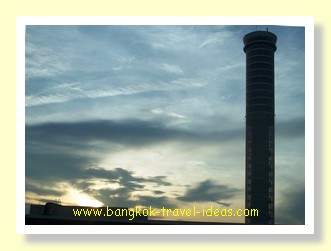 ---
Thailand's Suvarnabhumi Airport held the title of the world's tallest air traffic control tower from 2006 to 2014 at 132.2 m (434 feet).
However in 2014, the Kuala Lumpur International Airport in Malaysia was recognised by the Book of Guinness World Records as having the tallest air traffic control tower in the world, at 141.9 m.
Thailand now has the second highest ATCT, which is still no mean feat and an added safety feature to the busiest airport in Asia.
I bet you didn't know that about Bangkok.