Sleeping in Bangkok Airport
Sleeping in Bangkok Airport
Sleeping in Bangkok Airport is something you may need to do if your flight is delayed or has a large delay between connecting flights; sometimes it just cannot be avoided.

If you do find yourself in this situation then here are some tips to locate the best places to sleep in Bangkok Airport.
Avagard Capsule Hotel
Best Places for Sleeping in Bangkok Airport
This page covers:
Miracle Transit Hotel Bangkok Airport for International transit passengers
Miracle Lounge pass and airport lounge locations
Avagard Capsule Hotel for Domestic to International transfers
Boxtel@Suvarnabhumi sleeping pods for Domestic to International transfers
Nearby Bangkok Airport Hotels for Domestic and International travelers
Free places to sleep in Suvarnabhumi Airport
Bangkok Airport Transit Hotel Inside Terminal
Is there a hotel inside Bangkok Suvarnabhumi Airport?
If looking for a transit hotel inside the airport terminal, then in simple terms, the only Bangkok transit hotel inside Suvarnabhumi Airport for sleeping is the Miracle Transit Hotel.
The entrance to the BKK Transit Hotel is located on the 4th floor of the International departures terminal after going through Passport Control.
Importantly, this is the only Bangkok Airport Hotel inside terminal and it is for International passengers only.
Travelers with an International connecting flight can pre-book the only airside accommodation for transit passengers and know that they will have somewhere to shower and sleep inside the airport in relative comfort.
Find current pricing and availability by visiting this Agoda link to the Bangkok Airport transit lounge operated as the Miracle Transit Hotel Bangkok with prices starting from around $126.
If you have just checked-in to Suvarnabhumi Airport after spending the day shopping in Bangkok, then there are also showers in the Miracle Transit Hotel that you can use to freshen up.
The last time I checked, the shower facilties were priced at 500 baht.
So, if you are looking for showers in Suvarnabhumi Airport then this is one place they are available and at reasonable cost.
You will probably feel a lot more comfortable on your flight if you take the opportunity to freshen up.
The Miracle Transit Hotel Bangkok Airport is located on the 4th floor in:
The various other Miracle Lounges are marked on the map below on the 3rd floor, which is the level below the main Duty Free shopping area.
Sleeping in Bangkok Airport has never been more comfortable when you book the Miracle Transit Hotel.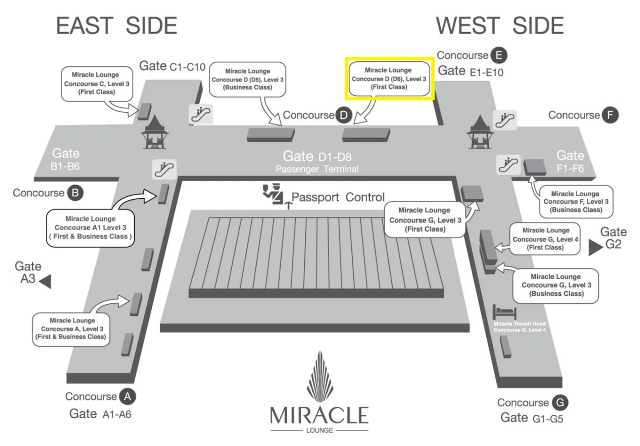 Sleeping in Bangkok Airport Lounges
If you don't wish to stay in the Miracle Transit Hotel Suvarnabhumi Airport or it is fully booked, then the other option is to find a quiet part of the airport to literally hide away or use one of the paid lounges.
Paid Miracle Lounge tickets are available from GetYourGuide by clicking the link or entering your details below.
Enjoy 3 hour lounge access while waiting to take-off
Savor hot and cold dishes from The Miracle Group Hotel chef served 24/7
Choose from several lounges throughout the International Departures terminal
Access the shower room, prayer room, and other facilities
Enter your information below to get more details on availability, pricing and services.
5 Tips for Sleeping in Bangkok Airport
As noisy and busy as the airport is, there are a number of other places that you can relax for a few hours and get some sleep if needed.

The choices of Bangkok Airport sleeping facilities will depend upon what your ongoing travel arrangements are and how much comfort is required.
Here are my thoughts and suggestions for where to sleep in BKK Airport arranged by the Suvarnabhumi Airport floor level.
Bangkok Airport Level Four
Can I stay overnight in Bangkok Airport?
If you are already in Thailand and can't avoid an early arrival at Suvarnabhumi Airport, then I have written about several options for small Bangkok Airport hotels near to Bangkok Airport, where you can sleep for a few hours. 

These are cheap options, that in most cases have an airport shuttle service to take you to and from the airport.
Many small hotels around Bangkok Airport include this airport transfer service in their room rate.

In the case that you do arrive early at Suvarnabhumi Airport, then Level Four is where all the check-in desks are located.
It is going to be busy all the time in this location and so it is not a good place to sleep overnight, as it is just too noisy.
However once you have checked in and passed through Immigration, then there are some areas available in Bangkok Airport.
Getting a few hours sleep in one of these places is an option to use if your flight is delayed.
Don't forget that you can only check-in 3 hours before your flight.
So if you arrive early then either opt for a nearby hotel or use the basement capsule hotel options, described below.

Miracle Transit Hotel Bangkok Suvarnabhumi Airport
All the facilities you require are available at Bangkok Airport and if you are looking for where to sleep in Suvarnabhumi Airport then the Bangkok Airport Miracle Transit Hotel is a great choice.
Miracle Lounge Booking Desk
Well in actual fact, this is the only Suvarnabhumi Airport transit hotel for those people transferring directly from one International flight to another.

Miracle Transit Hotel rooms
The Miracle Transit Hotel rooms are specifically for International transit passengers connecting to another flight.
They provide beds and shower facilities in comfortable rooms for sleeping in Bangkok Airport.
If you are looking for the Bangkok Airport Transit Hotel in Suvarnabhumi Airport, then this is where to stay.
Bookings from Agoda are available in 4 and 6-hour slots and rooms are located in Concourse A and G on the Departure Level. 
The Miracle Transit Hotel rooms are in high demand and so if rooms are not available for your chosen dates, consider booking a 3 Hour Miracle Lounge Pass from GetYourGuide.
Bangkok Airport Sleeping Pods
Just note, that there is now a sleeping capsule hotel located in Bangkok Airport called the Avagard Capsule Hotel, which is in addition to the Boxtel@Suvarnabhumi.
Boxtel were the first sleeping pods in Bangkok Airport, developed in recognition that many travellers wanted somewhere to sleep in Suvarnabhumi Airport.

These two options though, are for people not in International transit or that have not yet passed through Immigration.
For example, if you have taken an internal flight to Bangkok and then are waiting to check in to your International flight, then the Avagard option may be suitable for those travellers requiring a quick rest.
The Avagard rooms are located in the basement of the Suvarnabhumi Airport and these sleeping pods are an alternative to more expensive options nearby, particularly if you have to be at the airport early in the morning.
You can visit this Agoda link to the Avagard sleeping capsules to book one of the Suvarnabhumi Airport sleeping pods if thinking of sleeping in Bangkok Airport.
Avagard Capsule Hotel - Suvarnabhumi Airport
If you don't fancy sleeping in Bangkok Airport on the bench seats or lying on the floor, then there is some good news as the second mini-sized hotel has now been launched on this level.
These BKK sleeping pods are constructed in addition to the previous Boxtel@Suvarnabhumi Airport and are branded as the Avagard Capsule Hotel Suvarnabhumi Airport.
These Suvarnabhumi Airport sleeping pods come with a full sized bed, wi-fi, USB charging ports, as well as air-conditioning and can be rented for short periods.
They are suitable for one adult, but a child up to the age of 12 is permitted to stay with a parent.
The Avagard Capsule Hotel has shared toilet facilities and no showers, so not exactly luxury, but they are just fit for their purpose of allowing you to get some sleep in Bangkok Airport before moving on.
Check the Avagard Capsule Hotel availability at Agoda now.
Two Bangkok Airport sleeping pod booking options:
10:00 - 17:00 (7hrs) daytime cost approx USD $20
18:00 - 09:00 (15hrs) overnight cost approx USD $50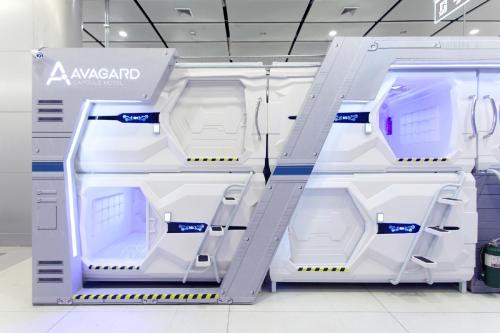 Avagard Sleeping Box Suvarnabhumi Airport
As the sleeping boxes are located land-side these rooms are not suitable for International transit passengers.
I bet it is a heck of lot more comfortable sleeping in Bangkok Airport in one of these sleeping pods, than it is sleeping under the escalator, but I suppose it all depends upon your budget and how long you need to sleep.
It is likely that these Bangkok sleeping capsules would appeal to singles transferring flights, either on Domestic to International or International to Domestic.
For example, this option seems suitable for those people flying up from Phuket and connecting to an International flight or arriving at Bangkok and needing to transfer to a Domestic flight and who just need a few hours rest or a bit of a freshen up.
If the Avagard Capsule Hotel is not available for your selected travel dates then also check Boxtel@Suvarnabhumi availability at Agoda.
Both the Boxtel@Suvarnabhumi and the Avagard Capsule Hotel are located in the basement of Suvarnabhumi Airport in the underground walkway that leads to the Novotel Suvarnabhumi Airport Hotel.
These Bangkok Airport sleeping pods are in strong demand, so make sure to book early as I have noticed that they are not always available.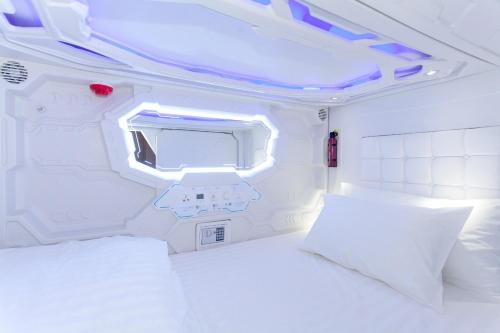 Avagard Capsule Hotel Suvarnabhumi Airport
Location of Avagard Capsule Hotel
Read further down the page to find the location of the Avagard Capsule Hotel and watch a short video of the BKK sleeping pod experience.
For those of you planning on sleeping in Bangkok Airport, this could be just what you are looking for.
Thai Airways First Class Lounge
The Thai Airways First Class lounge located in the International Departures area has some small rooms available with canvas beds in them, where you can catch up on your sleep.
You will need to have a valid ticket from Thai Airways to make use of these facilities.
The Thai Airways First Class Lounge has now relocated and the old lounge is now occupied by the Coral First Class Lounge which probably has the original sleeping facilities.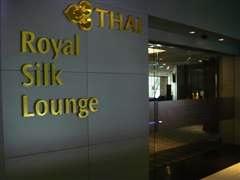 Royal Silk Lounge of Thai Airways
I wouldn't really describe these rooms as an airport sleeping box, but they are fit for the purpose and there are showers in the same area.
The sleeping area is an option if you have access to the First Class lounge.
The Thai Airways Business Class lounge has a range of reclining chairs and quiet areas where you can get some sleep.
Can you pay to use airport lounges?
The Thai Airways Business Class now allows paid access to their lounges for people flying with Thai Airways; tickets available on the Thai Airways website or through your travel agent. 
Cost approx $50 for 2.5 hours.
Additionally I have created another page discussing all Bangkok Airport lounge locations and at this link there is information on which airline lounges have showers and sleeping facilities and also their locations in Bangkok Suvarnabhumi Airport.
Bangkok Airport Level Three
For those travellers that are landsided, then the third floor of Suvarnabhumi Airport is described as the Meeting and Greeting Gallery and so obviously it is quite busy.
Either end of this level is quieter than in the middle, where the up and down escalators carry a lot of traffic to the other floors.

Passengers sleeping in Bangkok Airport
At either end of the third floor of Suvarnabhumi Airport there is long bench seating located very close to the toilet facilities and it is not so noisy.

This Level Three area of Bangkok Airport is suitable for travellers who are land-side and have yet to check in at Bangkok Airport for either a Domestic or International connection.
You should be able to relax here and catch some shut-eye for a few hours.
If you are travelling alone take the usual precautions and make sure you secure your possessions, as there are occasional reports of thefts from sleeping passengers.
Sleeping in Bangkok Airport Level Two
The area outside of the Domestic Arrivals on Level Two of Suvarnabhumi Airport has lots of long bench seats where you can lay down to sleep for a good rest.  
The benches don't have armrests and are long enough to lie down on.
This area is reasonably quiet during the night and early morning.
In fact many weary travellers make this a resting spot.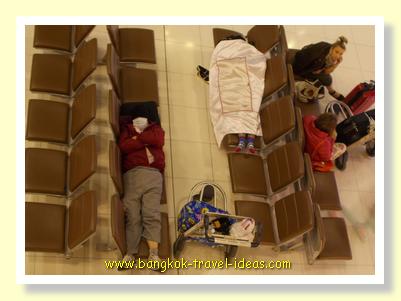 People sleeping in Suvarnabhumi Airport
If you are looking for a place to sleep in Bangkok Airport then these two floors can be considered, whilst waiting for a Domestic connection or if you arrived too early for your International check-in.
Sleeping in Bangkok Airport Level One
Level One is where the taxis and buses depart from and although there are a lot of long bench seats, hordes of arriving passengers come down the escalators to get their onward transport and it can be really noisy in here.
In terms of facilities there are toilets located in the centre and next to Gate 8.
At the far end, is the Magic Food Point food hall that is open 24 hours per day, so you can easily grab yourself something to eat.
It is cash only, as you need to purchase vouchers at the booth and redeem the unused portion when finished eating.
Very often I see a lot of ladies dressing in traditional Thai dress waiting in the centre of Level One, like they are putting on a show in the Airport.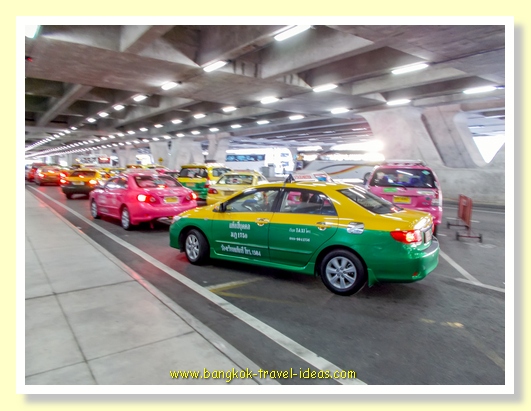 I have never seen traditional Thai dance performances in Bangkok Airport, but it seems like it may happen. 
This area is not really suitable to sleep at Bangkok Airport, when all you really need to do is go down one more level to find some peace and quiet.

I suspect sleeping in Suvarnabhumi Airport on this level would be quite difficult, just because of the noise and constant stream of passengers.
Bangkok Airport Ground Level
The next level down is called the Ground Level, but feels like the basement.
This level is where the Airport Rail Link (ARL) train to Bangkok arrives and departs.
As the ARL train stops operation at midnight, it is usually very quiet in this part of the building during this period.
Even during the day, parts of this area of Suvarnabhumi Airport are relatively quiet.
One of the best places for sleeping in Bangkok Airport is directly under either of the two down-escalators as you come down from Level One, where the taxi rank is located.
These two guys managed to get a spot near to the power point and plugged in their computers and are having some down time.
No matter where you select for sleeping in Bangkok Airport you will sleep a whole lot better if you get yourself an eye mask and neck pillow for your trip.
In any case, if you are travelling in Economy class, you really should have an eye mask and neck pillow for your comfort as the seat spacing is quite restricted and it will ease your journey.
Down on the Ground Level of Suvarnabhumi Airport it is reasonably dark under the moving walkways.
This out of the way location is reasonably quiet and there are power outlets nearby so you can recharge your phone or laptop.
Bring your sleeping mat for a little more comfort, as you will be on the hard floor.
If you are thinking of sleeping in Bangkok Airport, then depending on the time of day you are sure to find somewhere to rest your weary head.
Bangkok Airport Services
Whether arriving or departing from Suvarnabhumi Airport additional guest services are available and can be pre-booked from GetYourGuide.
3 Hour Miracle Lounge Access Pass
Whether you are transitting or getting ready to make your next flight connection, having access to a full-service airport lounge can make all the difference to your comfort.
Paid access to the comfortable Miracle Lounge is available from GetYourGuide.
Enter your details below for more information on pricing and availability.
VIP Meet and Greet Service
For economy class passengers there is still the option to speed your way through the Immigration line by using the pre-paid VIP Meet and Greet Service.
This includes a personal assistant to meet at the airbridge, help to navigate the airport and expedite your immigration clearance step.

For travellers it removes a lot of stress, after a long flight to have this dedicated attention and it is a lot more rewarding when you can just skip the line.
If your company won't allow you to travel Business Class for short haul flights, then at least you can ease the pain of long immigration queues by getting escorted through the priority channel.
Enter details below for pricing and availability.
Private Transfer to/from Suvarnabhumi Airport

Enter details below to learn more about the various paid Bangkok Airport transfer services available through GetYourGuide, if you need to book a van or limousine transfer to get whisked away and arrive in style at your hotel.
How to Get to Boxtel@Suvarnabhumi
Boxtel@Suvarnabhumi and Avagard Capsule hotel are located in the same basement area of the airport and are in high demand.
If you find that the Avagard Capsule hotel is fully booked.
Try booking on Agoda with Boxtel@Suvarnabhumi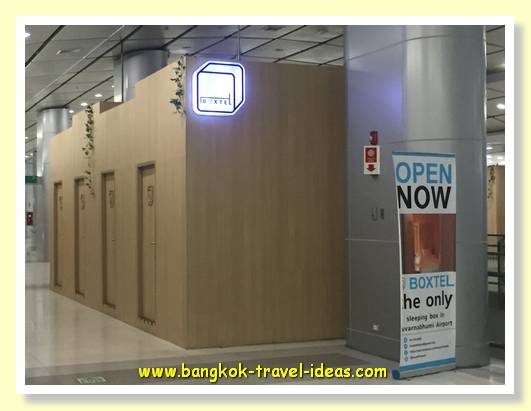 Boxtel sleeping pods in Bangkok Airport
How to Get to the Avagard Capsule Hotel
Watch the video to see how to get to the Bangkok Suvarnabhumi Airport walkway.
You will find the Avagard Capsule Hotel located on the left hand side, before reaching the Novotel Suvarnabhumi Airport hotel sign.
If you plan on sleeping in Bangkok Airport then you can quite easily walk to the Avagard Capsule Hotel with your baggage, once you clear Immigration and Customs formalities.

And for those that have to transit Bangkok Airport, then the overnight traveller is well catered for.
There are are many conventional options for those wanting to sleep in Suvarnabhumi Airport, including:
Miracle transit hotel sleeping rooms
Miracle paid lounges
Avagard sleeping pods Bangkok Airport
Boxtel@Suvarnabhumi sleeping capsules
Regular hotel rooms
which are all available, either on the Suvarnabhumi Airport property or just a short drive away.
Hopefully this guide gives you some ideas and inspiration for your trip to Thailand, but don't just listen to me.
Watch well known YouTubers Kara and Nate, showcase the Bangkok Airport sleep pods in this in-depth video, highlighting the most recent option for sleeping in Bangkok Airport. 
If the sleeping pod fits your budget and travel requirements then check price and availability at Agoda here.
In the case that there is nothing available for your travel dates, then you might consider nearby airport hotels, which are inexpensive and plentiful; some even have shuttle services to and from Suvarnabhumi Airport.
Hotels Near Suvarnabhumi Intl Airport
If you can avoid sleeping in Bangkok Airport, then all well and good.
Indeed there are many hotels near Suvarnabhumi Intl Airport that offer reasonable sleeping facilities at a fair price.
These range from the nearby Novotel Suvarnabhumi Airport hotel, that is within walking distance, via the underground walkway, or you can take a free shuttle bus from their desk location.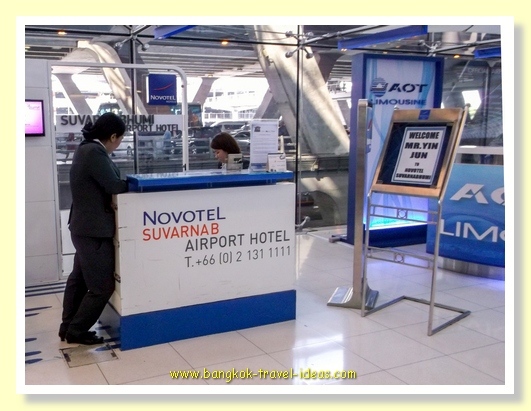 Novotel Suvarnabhumi Airport Hotel shuttle transfer desk
Then there is the budget friendly The Cottage Suvarnabhumi Hotel that is a short 15-minute drive away with a complimentary transfer.
If you don't have time to waste and want a more upmarket Bangkok Airport hotel, then just proceed to check pricing and availability at the Novotel Suvarnabhumi Airport Hotel at this Agoda link.
But if you have more time to do some research then there is a short summary of all these Bangkok Airport hotels written up previously as part of my travel experiences.
If you know of a better place for sleeping in Bangkok Airport or a better Bangkok Airport Hotel that should be featured on this page, make a comment in the Feedback Form.
Sleeping in Bangkok Airport Summary
This article provides information about sleeping at Bangkok Airport and serves as a guide for travellers who may need to spend the night or take a nap at the airport, offering insights, tips, and facilities available for a comfortable rest.

The article begins by acknowledging that circumstances such as flight delays or long layovers may require travellers to sleep at the airport and it emphasizes the importance of finding suitable areas and facilities within Bangkok Airport to ensure a restful experience.
It continues and provides details about the various sleeping options and facilities at Bangkok Airport and it mentions the availability of designated sleep zones, rest areas, or VIP lounges designed specifically for travellers seeking a place to sleep or relax.
Also it highlights amenities provided in these areas, such as reclining chairs, comfortable seating, and access to power outlets, which are all necessary for the transiting passenger.
Furthermore, it offers practical tips for sleeping at Bangkok Suvarnabhumi Airport and suggests bringing essential travel items like a travel pillow, blanket, or eye mask for added comfort.
The article also advises travelers to locate quiet corners or designated sleep areas within the airport, away from high-traffic zones or noise and suggest several suitable areas within the complex.
Additionally, it provides information on nearby airport hotels for travellers who prefer a more private and comfortable sleeping environment and for those on extended layovers or overnight stays.
It specifically suggests the Novotel Suvarnabhumi Airport Hotel or the Cottage Suvarnabhumi Hotel as being good choices for prudent travellers.
The webpage also offers guidance on safety and security considerations while sleeping at the airport and advises travellers to keep personal belongings secure, be aware of their surroundings, and follow airport regulations and procedures.
In conclusion, this exclusive article serves as a valuable resource for travellers seeking information about sleeping at Bangkok Airport.
By utilizing the information provided, travellers can make informed sleeping choices and ensure a restful experience while exploring the sleeping options at Bangkok Airport.
People also ask:
Bangkok Airport has comfortable sleeping pods on site or there are nearby airport hotels, some of which include a free transfer. International passengers can book a 3 Hour Miracle Lounge.

International transit passengers can sleep inside Bangkok Suvarnabhumi Airport in a real bed inside the terminal by booking a Bangkok Airport Transit hotel under the Miracle brand.
It is relatively safe to sleep in Suvarnabhumi Airport, however you need to take care of your belongings as there have been reports of thefts from sleeping passengers. Nearby hotels offers safe sleeping places and can be relatively inexpensive.

Booking a Boxtel or Avagard Sleeping Pod is another secure way to sleep in Bangkok Airport without having the worry of losing your possessions.
Sleeping in Bangkok Airport is possible in both airline lounges and paid lounges, which are located on International Departure Level 4 of Suvarnabhumi Airport.

Please read the accompanying article about the facilities available in Bangkok Airport lounges.
Revised 13-September-2023