Sleeping in Bangkok Airport
Sleeping in Bangkok Airport is something you may need to do if your flight is delayed or has a large delay between connecting flights; sometimes it just cannot be avoided, so here are some tips about where to sleep in Bangkok Airport.
Passengers with an international connecting flight can pre-book the Bangkok Airport transit lounge operated as the Miracle Transit Hotel or choose to find a a quiet part of Bangkok Airport to literally hide away.
The choices of places to sleep in Suvarnabhumi Airport will depend upon what your ongoing travel arrangements are and how much comfort is required.
Here are my suggestions arranged by the Airport floor Level.
Sleeping in Bangkok Airport
Bangkok Airport Level Four
This floor is the where all the check-in desks are located and it is going to be busy all the time and so it is not a good place to sleep overnight.
If you can't avoid an early arrival at the airport then there are many small Bangkok Airport hotels situated nearby where you can sleep for a few hours. 
However once you have checked in and passed through immigration then there are some sleeping rooms available in Bangkok Airport.
Miracle Tavern Dayrooms
Bangkok Airport Transit Lounge
The Miracle Tavern Dayrooms are specifically for international transit passengers connecting to another flight. They provide beds and shower facilities in comfortable rooms.

If you are looking for the Bangkok Airport Transit Lounge in Suvarnabhumi Airport then this is where to stay.

Bookings are via the Agoda website and are available in 6-hour slots.

Rooms are located in Concourse A and G on the Departure Level although there is now a new area opened opposite Concourse D.

USD $126

All the facilities you require are available in the Bangkok Airport Transit lounge and if you are looking for where to sleep in Suvarnabhumi Airport then the Bangkok Airport Transit lounge is a great choice.
Just note that there is now a capsule hotel located in Bangkok Airport called the Boxotel. This is for people that are not in transit or have passed through immigration. More on this here (still to come)
Thai Airways First Class Lounge
The First Class lounge located in the International Departures area has some small rooms available with canvas beds in them, where you can catch up on your sleep.
I wouldn't really describe these as an airport sleeping box, but they are fit for the purpose and there are showers in the same area.
The Business Class lounge has a range of reclining chairs and quiet areas where you can get some sleep.
Bangkok Airport Level Three
This floor is described as the Meeting and Greeting Gallery.
Either end of this level is quieter than in the middle, where the up and down escalators carry a lot of traffic to the other floors.

Here you will find long bench seating located very close to the toilet facilities.

This area of Bangkok Airport is suitable for travellers who are land-side and have to check in at Bangkok Airport for either a Domestic or International connection. 
Bangkok Airport Level Two
The area outside of the Domestic Arrivals on Level 2 area has lots of long bench seats where you can lay down and have a good rest.  This area is reasonably quiet during the night and early morning.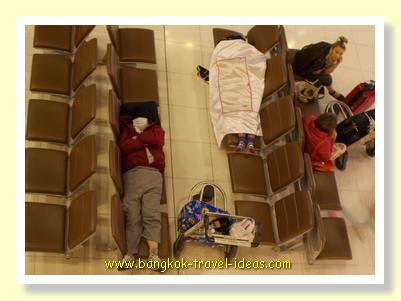 If you are looking for a place to sleep in Bangkok Airport then these two floors can be considered, whilst waiting for a Domestic connection or if you arrived too early for your International check-in.
Bangkok Airport Level One
Level One is where the taxis and buses depart from and although there are a lot of long bench seats, hordes of arriving passengers come down the escalators to get their onward transport and it can be really noisy in here.
There are toilets located in the centre and next to Gate 8  At the far end, is the Magic Food Point food hall that is open 24 hours per day, so you can easily grab yourself something to eat.
This area is not really suitable to sleep at Bangkok Airport, when all you really need to do is go down one more level to find some peace and quiet.
Bangkok Airport Ground Level
The next level down is the Ground Level really but feels like the basement. This is where the Airport Link train to Bangkok arrives and departs.
As the Airport Link train stops operation at midnight, it is usually very quiet in this part of the building during this period. Even during the day parts of this area are relatively quiet.
One of the best places for sleeping in Bangkok Airport is directly under either of the two down-escalators as you come down from Level One where the taxis rank is located. These two guys managed to get a spot near to the power point and plugged in their computers.
No matter where you select for sleeping in Bangkok Airport you will sleep a whole lot better if you get your self an eye mask and neck pillow for your trip.
3D Sleep Mask (New Design by PrettyCare with 2 Pack) Eye Mask for Sleeping - Contoured Eyemask Silk - Blindfold Airplane with Ear Plugs,Travel Pouch - Best Night Blinder Eyeshade for Men Women Kids
It is reasonably dark under the moving walkways, it is quiet and there are power outlets nearby so you can recharge your phone or laptop.
Bring your sleeping mat for a little more comfort, as you will be on the hard floor.
If you are thinking of sleeping in Bangkok Airport, then depending on the time of day you are sure to find somewhere to rest your weary head.
Boxtel@Suvarnabhumi Airport
The first mini-sized hotel has now been launched on this level of Suvarnabhumi Airport. These sleeping boxes come with a full sized bed, wi fi and air-conditioning and can be rented by the hour.
They are suitable for one adult, but a child up to the age of 12 is permitted to stay with a parent. There are shared toilet facilities and no showers.
Prices are starting around $38 for four hours.
Book a Boxtel Sleeping box now.
As the sleeping boxes are located land side these rooms are not really suitable for transit passengers.
I bet it is a heck of lot more comfortable sleeping in Bangkok Airport in one of these sleeping boxes than it is sleeping under the escalator, but I suppose it all depends upon your budget.
It is likely that these sleeping boxes would appeal to singles transferring, domestic to international or international to domestic.
For example those people flying up from Phuket and connecting to an international flight or going the other way.
Boxtel Location
Watch the video to see how to get to the Bangkok Suvarnabhumi Airport walkway and you will find it located on the left before reaching the Novotel Suvarnabhumi Airport hotel sign.

Return from Sleeping in Bangkok Airport to Bangkok Airport Layover
---
---