Bangkok Beaches
Bangkok beaches are closer than you may realise, but there are no beaches in Bangkok, even though many people think there are.
There are plenty of ways you can get to the beach from Bangkok depending on your needs and preferences.
If you plan on staying at any of these beaches for an extended period, then you might want to explore your options before you depart.
On your next visit to Thailand you should travel to one of the many beaches near Bangkok, to enjoy some famous Thai seafood and just relax on the waterfront.
Most of the nice beaches near Bangkok can be reached in 2-3 hours in a car.
Bangkok is located near the mouth of the Chao Phraya River, which is one of the main rivers feeding into the Gulf of Thailand and this river brings a lot of sediment with it.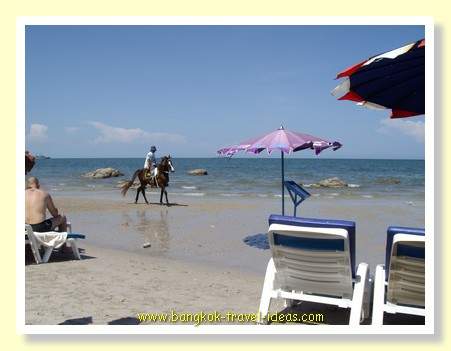 Because of this sediment, the reality is that there are no nice Bangkok beaches near the mouth of the Chao Phraya River, in fact when you arrive by air at Suvarnabhumi Airport  then you can see that all the land adjoining the sea area to the south of the airport is all mangroves and mudflats.
About 75 km from Bangkok is where you start to find the first beaches close to Bangkok, that are even worth considering visiting.

Even within 75 km of Bangkok the beaches are actually not that great, as these beaches close to Bangkok are mainly made up of coarse sand with shells and the sea is not at all clear, because of the sediment I mentioned.
6 Best Bangkok Beaches
All these Bangkok beaches are great just to sit on and relax.
If you like to swim in clear water though, then Koh Lan, Koh Samet and Chao Lao Tosang beach are cleaner.
Bang Saen Beach
Pattaya Beach
Jomtien Beach
Koh Larn
Koh Samet
Chao Lao Tosang Beach
You can bring a picnic lunch of your own, or if that is not possible then order some great seafood when you arrive and just sit and enjoy the sea breeze that comes off the Gulf of Thailand.
Some of the larger hotels will make a picnic basket lunch if you request them to.

Year round, but particularly after the rainy season, the water coming from the Chao Phraya River carries a lot of suspended sediment and it is this sediment that makes the water cloudy and not so appealing.
I don't know about you, but I always like to swim in clear water, as it looks cleaner and indeed it is cleaner.
Along with looking cleaner there is much less chance of getting strange ear infections or other irritations.
But as you get further away from the city of Bangkok, the sand quality starts to improve and the clarity of the water also vastly improves.
So if you want to swim in the water, then it is worth the journey to go that little bit further or visit one of the islands off the coast eg. Koh Lan or Koh Samet.
Hotels can be booked at Agoda website.
Bang Saen Beach
Having only limited time to spare means you may only be able to manage a Bangkok beach day trip.
If that is the case, head on over to Bang Saen beach, which is the closest beach to Bangkok.
At Bang Saen there is a large promenade and the beach area is set out with umbrellas and tables.
It only takes about 50 minutes from Bangkok to Bang Saen beach and once there you can sit in the shade and order some of that amazing Thai seafood that Bangkok is renowned for.
Bang Saen has a good family atmosphere and is convenient to get to.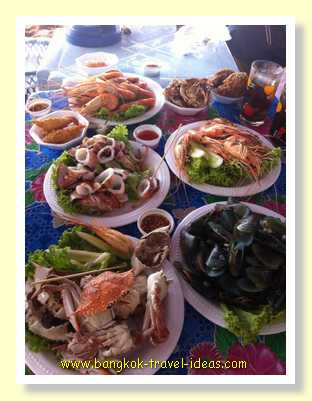 Upon first arriving at the beach, just choose to sit anywhere and the table service will come to you.
On the opposite side of the road to the beach are a few shops.
Also there are toilet and shower facilities, where you can change or shower after having been in the water.
Bring your own beer and spirits or order your drinks on the beach and relax and look out over the Gulf of Thailand. 
Thai food is amazing and you can order tom yam goong (spicy soup with prawn), khao pad bpoo (fried rice with crab), and somtam (papaya salad).
Perhaps you fancy doing something on the water.
If so, then you can rent a jet ski and go and ride the waves, or for the young at heart then there are Banana Boat rides.
If you are not familiar with this ride, it involves sitting on an inflatable tube and being pulled along by a jet ski.
Part of the experience is that all the riders get dunked into the water, when the boat makes a sharp turn at the end of the ride.
If you want a beach close to Bangkok then Bang Saen beach is a good choice and it is very popular with the Thais, so weekends can be very busy, which gives the place a real atmosphere.
Don't worry if Bang Saen doesn't appeal to you, there are other Bangkok beaches that you can try on your next trip to Bangkok.
If you are interested in this Bangkok beach, then you can read more about the day I went to Bang Saen beach here.
Pattaya Beaches
The next place along the coast as you head towards Pattaya, is Wong Amat beach at Naklua, followed quite quickly by Pattaya Beach.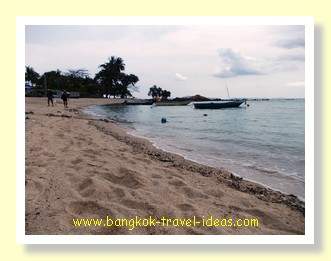 If you stay somewhere like the Centara Grand Mirage Beach Hotel at Wong Amat, then you will find that on their private beach they have replaced the original coarse sand with a better grade of sand to give you the best beach near Bangkok.
If you fancy booking the Centara Grand Mirage Beach at Wong Amat then you can make a discount booking at this Agoda link or you can read this additional article about my experience when I stayed for a few days at the Centara Grand.
The Centara Grand Mirage Beach Hotel has chairs set out on the waterfront and has the normal hotel services for food available.

The advantage of staying in this area is that there are so many Pattaya tourist spots to visit during the day and you really don't have to restrict yourself to the beach area.
So if you have a rainy day, or have had enough of lounging by the beach, then you can head off to the Pattaya Floating Market or Nong Nooch Gardens for a walk around.
Maybe just chill out in one of the many roadside bars that Pattaya is well known for.
If you are interested to learn more about Pattaya Beach and staying in Pattaya generally, then read this article about my trip to Pattaya.
Getting to Pattaya by bus from Suvarnabhumi Airport is cheap and easy.
Jomtien Beach
Located on the other side of the hill to Pattaya is Jomtien which is well worth a visit if you ever go to Pattaya. 
Jomtien beach is about 6 km long and is one of the more laid back Bangkok beaches.
In fact Jomtien beach is much more sedate than Pattaya and even though the sand quality is similar to Pattaya Beach, the water clarity can be slightly better.
Similar to Pattaya, Jomtien Beach has the usual range of jetski and banana boat rides as well paragliding for those feeling adventurous.
Before visiting Thailand ensure you read up on the "jetski scam" before taking a trip out onto the water.
Most people don't have a problem but from time to time the issue surfaces again.
Just across the road from the beach are numerous hotels at very reasonable prices. 
Read more about how to get to Jomtien.
Koh Lan Beaches
Bang Saen, Wong Amat and Pattaya are beaches close to Bangkok and they are okay, but if you are looking for clear water and finer sand then head on over to Koh Lan just off the coast of Pattaya.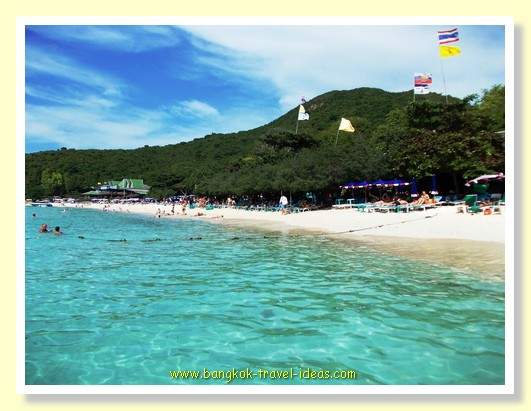 I had heard so much about Koh Lan but I always assumed it was a little island off Pattaya just suitable for day trips.
Until my recent visit, I did not realise that Koh Lan had some of the best beaches near Bangkok and you can even stay overnight at accommodation close to some beaches.
Not only does Koh Lan have a selection of the most beautiful Bangkok beaches, but the water clarity has to be seen to be believed.
Koh Lan is not the closest beach to Bangkok but most definitely it is the one of the best Bangkok beaches that I have come across.
If if you are staying in Pattaya it is well worth the ferry or speedboat ride to take a day trip over to this island.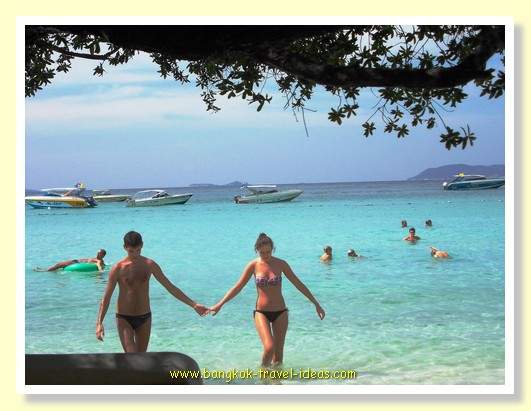 It seems the further you go off the coast of Pattaya, the clearer the water becomes.
I was just amazed by what I saw on Koh Lan, particularly when compared to the water in Pattaya.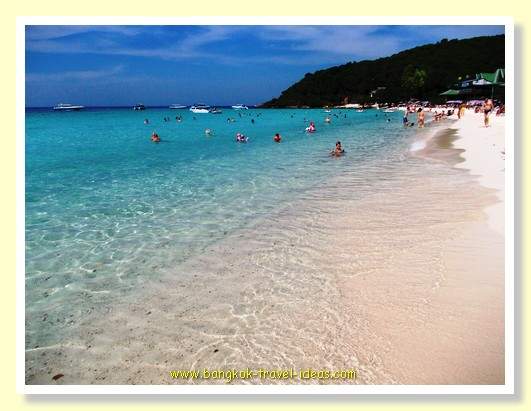 You can read more about good beaches close to Bangkok when I visited Koh Lan on a day trip from Pattaya's Bali Hai ferry pier.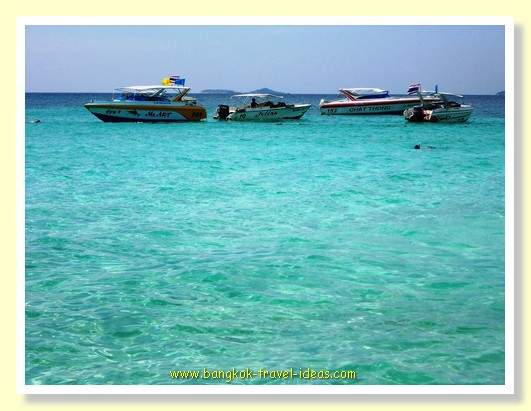 I think that you can see from the photos above that the water quality and clarity at Koh Lan is the best of the Bangkok Beaches so far.
Koh Samet
My story about nice Bangkok beaches would not be complete if I did not include the island of Koh Samet.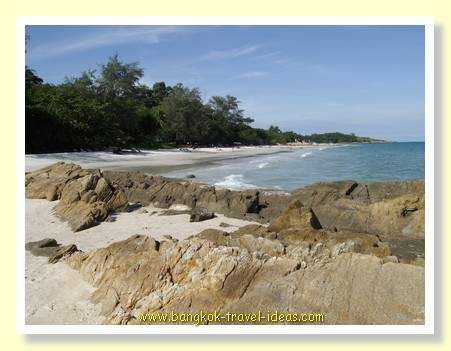 Located 185 km from Bangkok you can easily reach here in about 2.5 hours by car or three hours by bus from the Ekkamai bus terminus.
Over the past few years, the island of Koh Samet has really increased in popularity and hotel prices have gone up accordingly and and so it is not as cheap as it once was, but there as still some budget places to be found on the island

Now, as good as the beaches are on Koh Lan, the beach and water quality is just that bit better on Sai Kaew beach, Koh Samet.
The main beach has sand so powder fine, that it will literally squeak under your feet as you walk along it.
You can read more about how to get to Koh Samet and what there is to do and see some amazing photographs of the amazing Bangkok beaches.
Chao Lao Tosang Beach
Now I am really stretching things to suggest that Chao Lao Tosang beach could be considered one of the great Bangkok Beaches, but I think it is worthy of inclusion as it is a typical Thai beach and the prices are very reasonable when compared to the major tourist areas like Koh Samet.
Chao Lao beach is 240 km from Bangkok heading East towards Laos.
If you are driving by car then the anticipated driving time is around 3.5 hours.
You can see how easy it is to drive to Chao Lao and if you already know the way to Koh Chang, then it will be a breeze finding this place, as it is literally on the way.
Click on the More Options tag to create your own driving directions in Google Maps.
I stumbled upon this place when I tried to book a hotel on Koh Samet in peak season and found the price for Sai Kaew Beach Resort was around the $450 price range.
When I have stayed there previously then it seemed to be around $250 per night and as I would usually pay half with Agoda rewards points, then my actual out of pocket expense was about $125.
Koh Samet has always been a little more expensive because it is an island and there are additional transportation costs to cover, but this was really too much to pay and I set out to find a cheaper option.
When I made enquiries from people that travel to many different Bangkok beaches, then Chao Lao Tosang Beach was suggested.
The room prices started at $85 and I ended up paying $100 per night at a great little three star hotel called the Chao Lao Tosang Beach Hotel.
So if you are looking for more suggestions for nice Bangkok Beaches, you can read more about my trip to Chao Lao Beach here. (not written it yet, but I will put it together shortly)
I will provide an Agoda link to the Chao Lao Tosang Beach Hotel so you can get further pricing information whilst I get myself together.