Nong Nooch
To get to Nong Nooch Garden and Resort follow the main Sukhumvit Road out of Pattaya for about 23 km and you will find that it is located on the left side of the road.
Entering the long driveway was a bit of a surprise as it was at least a couple of kilometres long.
Along the way there are the odd little noodle restaurant located on the roadside.
We stopped at one and ordered a couple of bowls of noodles.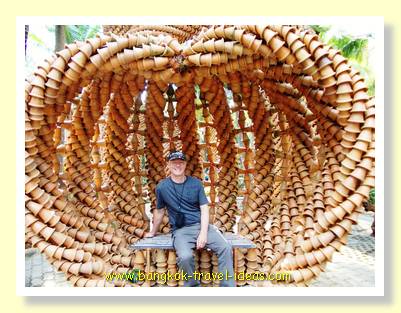 It was mid week and the place was very quiet, although it looked like some of these small Thai noodle stalls could be coach stops for tourists during the busy period. 
Next to us there were a few street dogs getting into a bit of a scrap on the adjacent parking lot, but they did not bother us as we walked back to the car. 
Even though I have had the Rabies vaccine I always have a fear of being bitten by a dog and do my best to avoid them.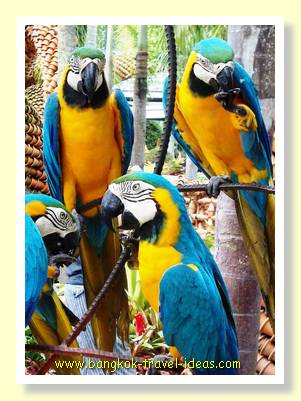 After getting in the car and driving a few hundred metres, we came to the entrance to Nong Nooch.
Arriving at Nong Nooch Gardens
It cost 400 baht to enter and although we arrived around lunchtime the place was very busy and all the inner car parks had been filled up.

We were directed to park on an embankment next to the flower pot creations, just near the entrance.
There is plenty of opportunity to take photographs in places like this and some time was spent taking photographs around the flower pots.
As we did so I noticed that there were some large Macaws sitting on a tree.
You can have your photograph taken with the birds for a small fee, if you like, just keep your fingers away from their strong beaks.
The birds were actually very beautiful and a very vivid blue and it was lovely to see them up close like this.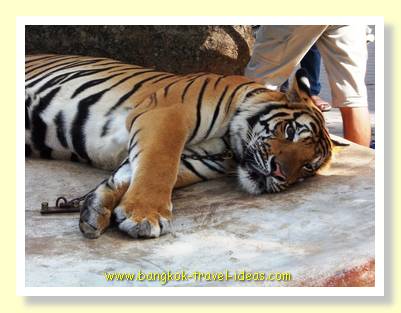 Not far away was a very large Bengal Tiger sitting on a concrete step, the tiger was chained up so there was no chance of it getting up and it looked pretty sleepy to me. 
It is only when you are right next to one of these animals you realise how large they are. A few people were having their photographs taken alongside the tiger, but I kept my distance and just took a few snaps.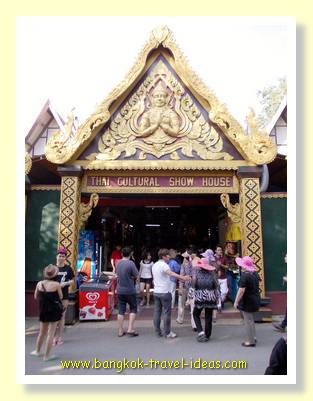 As part of the entrance fee we had been given a map of the grounds and wanted to head over to the Cultural Hall.
The garden is comprised of large ponds, water features and of course different plants, trees and shrubs. 
Nong Nooch gardens is spread over 200 Rai and only when you come and visit do you appreciate just how large it is.
Following the map, we headed towards the Cultural Hall. This is the place they have dancing shows etc. 
However when we got there we decided not to go in because you had to pay a separate charge and it was also very hot and we didn't fancy being stuck inside, so we walked a little further on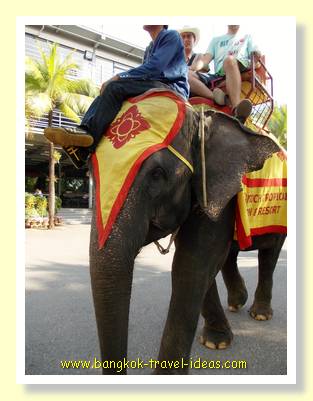 On the other side of the buildings were elephant rides. 
One thing I have never done in Thailand is go for a ride on an elephant, but when I do it will be through the jungle with a bit of river swimming involved.
Somehow walking around the car park on the back of an elephant didn't really appeal, so we kept on walking.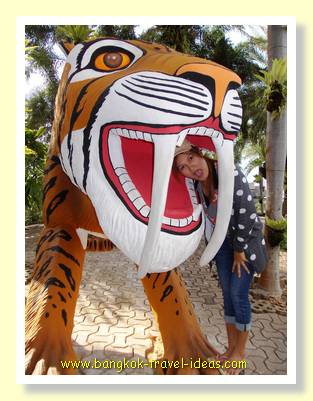 There were some cages of exotic birds and little stalls selling different foods.
Walking through some of the gardens there was a large hill with a Sabre Tooth tiger and a good view of the gardens.
On the top of the hill there was a nice breeze which was very refreshing.
After a bit of a rest and cool down we kept moving and  left the top of the hill following the sky-walk, where you get to walk through the tree tops.
Below us was an area with a prehistoric theme and large Woolly Mammoths dotted the park? This is just great for young children to run around and explore.
Nearby I went in an interesting building, more because it had electric fans than anything else and spent a little time looking around.
It seemed to be some sort of museum.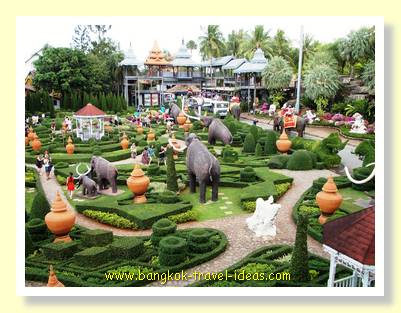 Outside we grabbed a couple of fresh coconuts from one of the stalls and then went over to check out the Arapaima fish that are kept in a large lagoon.
If you have never seen one of these large fish close up, then do take the time to go and have a look.
They are native to the rivers in Thailand and would give you a struggle if you caught one on your rod and reel.
Unfortunately they did not photograph well because they blend into the colour of the water.
There are a range of fish ponds with different fish inside and you can purchase fish food to attract the fish.
Overall it was a great day out and the grounds have lots of places to explore.
But of course it is a tourist trap and there are still fees to pay once inside, depending upon what you want to do.
There were all sorts of other attractions to wander around, but if you go to Nong Nooch gardens then make sure you are wearing very light clothes or shorts as the humidity from the vegetation is almost unbearable.
Continue reading to be taken to the surprise at Koh Lan, because that is where we are going tomorrow.