Pattaya Floating Market -
Day 2
A visit to the Pattaya Floating Market should be on every tourist's itinerary and by the time we arrived there at 11:00am it seemed like it was.
Previously I have written about the Amphawa floating markets and the Hua Hin Floating Markets and I wondered if the Pattaya Floating Market was going to be equally as good.
Well, the place was literally teeming with tourists coming off the tour coaches and wending their way inside the floating market.

Go to the Pattaya Floating Market
It was mid-week and the place was extremely busy.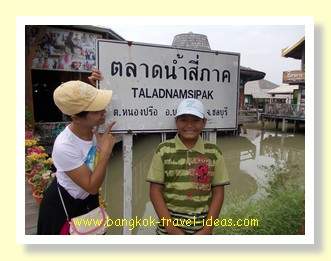 At the entrance I was given a yellow sticker to place on my shirt and I was allowed free entry, but other people were being charged an entry fee at the kiosk.

If you go to Pattaya then you must visit the Pattaya Floating Market as this is touted to be the largest floating market in the world.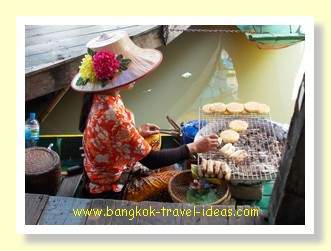 A lot of websites indicate that there is no admission charge, but I have also seen forum posts from people who did pay when they visited, so the policy is not clear.
The market is split into four sections that represent the North, South, East and West of Thailand, but to be honest we didn't pay much attention to that.
So we set off and just wandered around the market crossing bridges, walking on the shaded walkways and just generally wandering around.
At the back of the floating market is a small section that has some buffalo, some peacocks and a few other birds in cages, there were a lot less visitors here.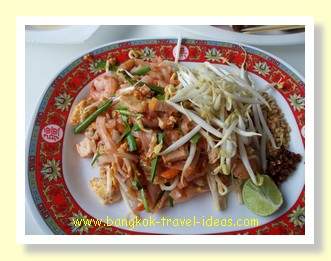 In this area there are also some earth style houses set out with furniture and cookware; presumably to depict some former lifestyle in a part of the country.
In the same location is a haunted house which is good for younger children to go and be scared in.
We just sat down outside and waited for the younger ones to do their thing.
All around the Pattaya Floating Market are little places to eat or buy some snack to take away.
We stopped at one little place and ordered some Thai food.
As this Thai restaurant didn't have any desserts we also brought along some plates of mango and sticky rice.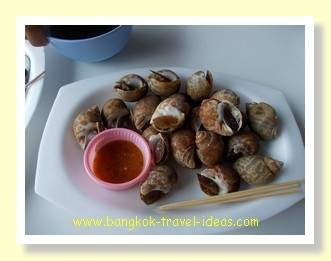 They didn't seem to mind that we had brought food from outside their restaurant, or at least nothing was said.
We sat down at the restaurant looking out over the water way.
There was a large jungle swing erected that went from one side of the lake to the other and every so often we would see some hapless individual go flying through the air on the suspended steel cable.
Every so often loud shouts would alert us to the next combatant on a fantasy combat mission.
Further on from the restaurant was a little enclosure full of small goats and we purchased milk, in baby bottles, to feed them.
If you like to feed milk to goats then this is good for the adults and children alike.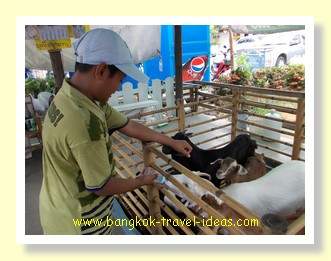 It is also good for the goats because I can tell you that they were absolutely ravenous and were literally clambering over one another to get to the baby bottle.
Anyway we bought about 3-4 bottles to feed them and did our bit but no way could we have satisfied them; that was left to the other Floating Market patrons to all do their share.
If you are so inclined you can take a boat ride and be paddled around the canals and take in the market's perspective from the water.
If you like the idea of going out on the water, you can be paddled around the maze of waterways by a native Thai in one of the small sam pans.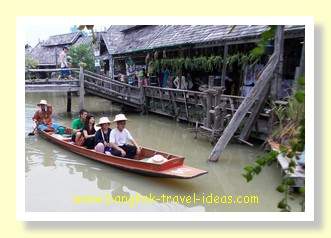 You will even find the obligatory coolie hat is thrown in to wear and keep the sun off your head and to give the experience some real authenticity and if it is a hot day you will probably need it.
Whilst you get paddled around the Talad Nam Si Phak floating market a photographer will take your photograph and mount it in a frame ready to collect when you finally depart for the day.
As you leave the Pattaya floating market someone will match you to the photograph and see if you want to buy it.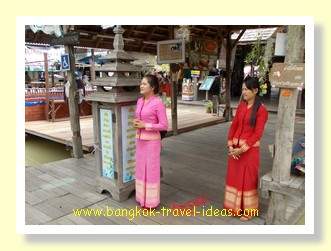 If the photo is at all nice, then be prepared to make and offer and take it home.
They are not that expensive and they make a great memento of your trip to Pattaya.
The whole floating market complex is great for the whole family and you are probably going to have hours of fun exploring the maze of little alley and walkways.
At certain times of the day there are cultural shows in a central arena of the Pattaya Floating Markets, although on our visit we did not see anything.
Some of the many shows include Thai boxing, Thai dancing or even a display of Thai rice farming.
Pattaya Floating Market Afterparty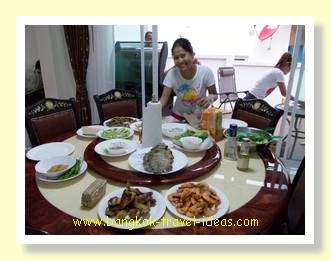 Our day was finally rounded out by going for a barbecue and we left the floating markets in the early afternoon to go shopping for the ingredients and then the remainder of the afternoon was spent preparing everything.
This preparation was then followed by making some Thai food dishes and cooking seafood and steaks on the barbecue hotplate, before all sitting down to eat.
Just as we finished cooking the steaks an early evening thunderstorm rolled in and passed us by, but fortunately there was no rain.
Much later in the evening, and after we had returned to the hotel, we found out that the whole district had lost power and so they spent a very uncomfortably hot night.
Although the Bangkok rainy season usually starts in June, it was now the end of May and there were signs that the rainy season was on its way.
Fortunately, so far the rain had always come in the late evening and had not disrupted any of our activities in the daytime and I think that we were lucky not to have rain during our visit to the Pattaya floating market.
Continue reading my Thailand Travel Diary to find out what happened on my brief visit to the Sanctuary of Truth or just continue reading about my visit to Pattaya, Thailand in my Thailand Travel Diary, by following the links below.

Pattaya Beachfront Restaurant Rim Talay - Day 3
North of Pattaya is where Wong Amat beach is located and here you can go dine on Thai food at Rim Talay restaurant, overlooking the ocean.
You can go lunch time or evening time and sit under the stars; take your pick.

Pattaya to Bangkok Airport - Day 4
My Bangkok vacation has come to an end and it is now time to travel back from Pattaya to Bangkok Airport and take the return flight home.