Thai Airways
Thai Airways is the national carrier in Thailand and has developed into one of the foremost airlines in the world.
Being part of the Star Alliance group it ranks alongside airlines such as Lufthansa, Continental Airlines, United Airlines, Scandinavian Airlines and Air New Zealand.
Thai Airways First Class Lounge
In fact Thai Airways formed one of the very first alliances way back in 1959 when they joined forces with SAS.
The Star Alliance group has over 27 member airlines carrying over 600 million passenger per year and Thai Airways carries 20 million of those passengers around the world; many of them directly from Bangkok Airport which is without doubt the aviation hub of Asia.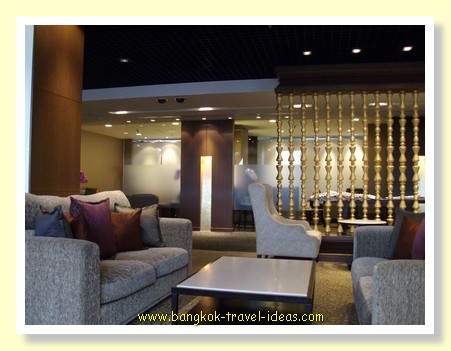 In the last couple of years they have invested heavily in new aircraft so not only will you experience flying in the latest aircraft but you will also experience the traditional hospitality of the Thai people and for frequent fliers, the benefits of the Royal Orchid Plus service for which they are renowned.

See what flying First Class with Thai Airways looks like when you become a frequent flier.
As a member of the Star Alliance group you can acquire frequent flier miles that accrue the further you travel.
In no time at all you can rise through the Silver level all the way up to the Gold level and take advantage of the special privileges afforded to you. 
If you fly more frequently you can join the limited number of Platinum Frequent Fliers, reserved for those that travel exclusively with Thai Airways.
Next time you fly to Bangkok Airport for that long awaited Thailand vacation or Bangkok business trip, choose to fly Thai.
You are sure to enjoy the experience.
Thai Airways First Class Menu
One of the advantages of flying with Thai Airways is that you can accumulate frequent flyer miles, either directly or from one of the other Star Alliance partners.
Even with only a small amount of travel these miles can quickly accumulate and entitle the holder to various awards depending upon the points attained.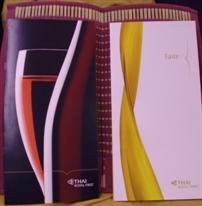 One of the nice awards made available to Gold Card members is a free upgrade from the current paid class.
If the booking is in a paid Economy fare then you are able to upgrade to Business Class for no cost and likewise if the booking is a paid fare in Business Class then you can get an upgrade to First Class.

The upgrade is applicable to all legs of your journey and is only dependent upon seats being available. There is no cost for this upgrade and you will be treated just the same as if you paid full price for the seat.
As an example of how this works for those that are entitled to the upgrade.
When you fly from London to Sydney via Bangkok on a return ticket then all four legs of the journey can be upgraded to the higher class.
This is amazing value and is appreciated by many frequent travelers.
So if you have some Bangkok travel planned think about booking on Thai Airways.
Thai First Class Food
Here are just some examples of the food served in Thai Airways First Class cabin.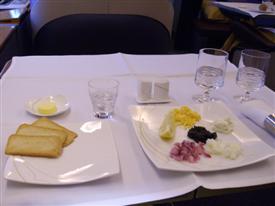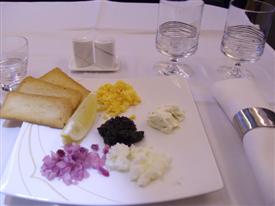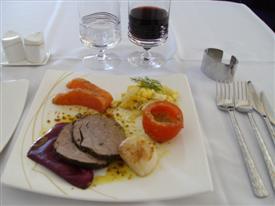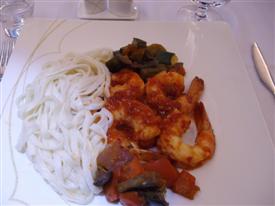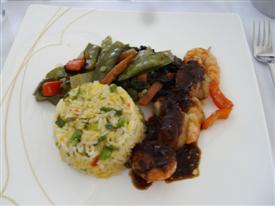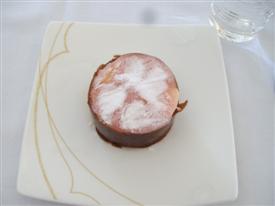 ---