Travel Insurance Guide
If you need a guide to travel insurance then read through this travel insurance guide to find out what can be covered in a typical travel insurance policy.
What is Travel Insurance?
When you arrange to travel overseas then the last thing on your mind is that something could go wrong, but the reality is that whilst most people take an overseas vacation without incident, there are a number of people who are impacted in a negative way.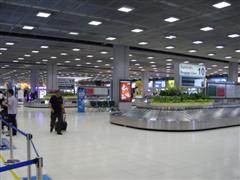 So what is travel insurance?
Let me try and explain this simply and use the example of lost baggage.
Whenever you travel there is the chance that the airline can lose your baggage.
You can foresee that the airline may lose your baggage, but you know you can't afford to replace the contents of the suitcase if it were lost (probably $2000 upwards).*
So you pay a premium to the insurer, knowing that the value of the baggage will be repaid to you if it is lost and the insurer who thinks the baggage won't be lost hopes to keep all of the premium.
By paying a premium to the insurer you have transferred the risk to the insurer.
You should no longer worry about being out of pocket if certain events happen and the insurer hopes that on average there will be less claims than the premium collected and will have a profitable business.
If the insurer gets more claims than the premiums collected then they just raise next years premium.
Seems like they cannot lose, but it keeps them in business.
*My suitcase was lost once between Bangkok and Shanghai and there was more than $2000 of clothes, shoes, glasses in there.
Get my simple free valuation spreadsheet before you travel to guide you in your insurance needs and it is really handy in case your ever need to claim for a lost suitcase.
My favourite Australian travel insurer is 1Cover and I have been insuring with them for over 15 years.
If you want an independent summary of travel insurance requirements then you can read this Choice article commissioned by DFAT.
If you are not located in Australia then you can try World Nomads for your travel insurance. 
Why Do I Need Travel Insurance?
If you are traveling in a foreign country you will be away from the support of your family and friends and there are some associated risks that need consideration.
Depending upon the cover you take and the premium you pay, then travel and medical insurance can offset the financial impact of these risks.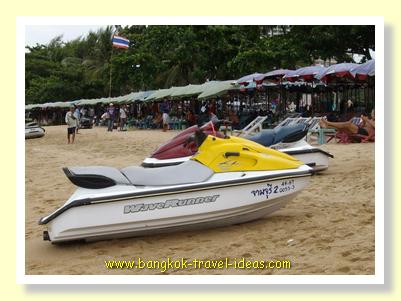 In fact it is not only you that can have something happen.
What if a loved one back home was suddenly hospitalised and you had to be with them?
Unless you have purchased a fully flexible airline ticket which allows you a date change, you will need to purchase new ticket at short notice and forego the rest of your holiday.
It can work out to be quite expensive and more than that, travel insurance gives you peace of mind, so you can focus on enjoying your holiday.
Just to get you thinking about some of the things that can happen, then here are some other risks that travellers are exposed to.
There is the risk that:
You may become sick or injured
You may cause damage to someone else or their property
Your travel may be disrupted due to weather, natural disaster, civil commotion etc
You may suffer loss or theft of your property
Here is a list of some of the commonly covered items in a travel insurance policy, the level of cover depends upon your age, any pre-existing medical conditions, the geographical region that you will visit and the length of your trip.
Travel Insurance Coverage
MEDICAL ASSISTANCE
Cover for emergency medical assistance such as ambulance, medical evacuation, funeral arrangements.
MEDICAL EXPENSES
Cover if you become injured or sick such as Hospital treatment or emergency dental treatment.
ADDITIONAL ACCOMODATION AND TRAVEL EXPENSES
Cover for additional travel and accomodation expenses if you cannot travel because of sickness or injury.
FAMILY EMERGENCY
Cover for additional travel expenses if a travelling companion or a relative is disabled by an injury or requires hospitalisation.
EMERGENCY COMPANION COVER
Cover for additional travel and accomodation expenses if your traveling companion cannot continue their journey because of sickness or injury.
RESUMPTION OF JOURNEY
Cover for the cost of airfares for you to resume your journey if you have to return home because of the unexpected death or hospitalisation of a relative.
HOSPITAL CASH ALLOWANCE
A cash allowance if you are hospitalised, to pay for incidental expenses.
ACCIDENTAL DEATH
A death benefit payable if you die as a result of injury during your vacation.
PERMANENT DISABILTIY
A permanent disability benefit payable if you lose your sight or the loss of the use of a hand or foot.
LOSS of INCOME
If any of the above happens to you and you cannot work for a period of time then a loss of income benefit is payable.
CREDIT CARD FRAUD and REPLACEMENT
Cover for the replacement cost of lost or stolen credit cards and loss resulting from fraudulent use.
TRAVELERS CHEQUES and TRAVEL DOCUMENTS
Cover for the replacement of your travel documents such as passport, visas and APEC card etc, as well as for travelers cheques lost or stolen from you.
THEFT OF CASH
Cover upto a certain amount for theft of cash from your person.
LUGGAGE and PERSONAL EFFECTS
Cover for replacing stolen luggage or personal effects as well as accidental damage for things such as spectacles, cameras, computer and items of luggage.
LUGGAGE and PERSONAL EFFECTS DELAY
Cover to purchase essential items of clothing, toiletries etc if your luggage is delayed or misplaced by your airline by more than 12 hours.
CANCELLATION FEES and LOST DEPOSITS
Cover for the cancellation fees and lost deposits for pre-paid travel arrangements due to unforeseen circumstances, such as sickness, accidents, strikes, collisions, retrenchments, natural disasters.
ALTERNATIVE TRANSPORT EXPENSES
Cover for additional travel expenses following transport delays. For example to get to a wedding or funeral.
REPATRIATION
The policy covers the cost of being returned to your home country after your medical treatment. This also covers the transport of your remains if you die while overseas.
PERSONAL LIABILITY
Cover for legal liability, including legal expenses for bodily injuries or damage to someone else's property if they make a claim against you.
DOMESTIC PETS
Cover for additional boarding of your pet if your return home is delayed.
DOMESTIC SERVICES
Cover for housekeeping services following injury/disablement continuing upon your return home.
RENTAL VEHICLE EXCESS
Cover for car excess payable on Motor Vehicle Insurance resulting from your rental vehicle being stolen, crashed or damaged and the cost of returning the vehicle due to you being unfit to do so.
Travel Insurance Guide Tips
Now that you have browsed this travel insurance guide are you now convinced that you should organise some travel insurance?
If you are, and you live in Australia, then go to 1 Cover to get yourself a quote.
This is where I buy all my travel insurance and I select the multi-trip policy because I take more than two trips a year and so it works out more economical.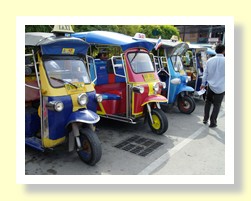 If you live in another part of the world then you can try Insure My Trip.
As a general rule you should buy travel insurance in the country that you want to be repatriated to.
If you want to do other than this then check with the insurance company first that they cover citizens from your country.
This travel insurance guide is general information and is not meant to replace the Product Disclosure Statement that comes with each policy.
Read the PDS before selecting your travel insurance policy.
Travel Insurance Guide Tip #1
This wouldn't be a good travel insurance guide without giving you some tips.
Many people go to Bangkok or down to the islands like Koh Chang and decide to rent a motorcycle to get around the beaches.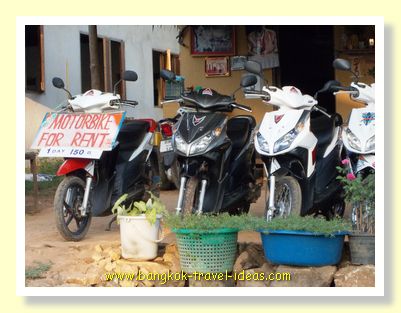 Unless you hold a motorcycle licence you are not entitled to ride one in Thailand, even though they will rent one to you.
If you have never ridden a motorcycle before then Koh Chang, Koh Samui or Koh Samet is not the place to learn.
Never mind that you are breaking the local law.
In the event of an accident and subsequent claim your insurance company will want to see evidence that you are qualified to drive a motorcycle.
No licence. No payout.
If you are thinking of driving a vehicle in Bangkok then get yourself an International Drivers Permit before you leave home and make sure that your licence covers the class of vehicle you intend to hire.
Watch this video for more information on the risks of riding in Thailand.
Travel Insurance Guide Tip #2
Record what you put into your suitcase before you leave home.
Use this handy travel insurance guide lost baggage spreadsheet.
There is more information about the topic of lost baggage here.
Travel Insurance Guide Tip #3
Read the exclusions in the Product Disclosure statement.
Dangerous sports
Acts of God
Civil Unrest
are usually excluded so don't go putting yourself in harms way.