International Drivers Licence
International Drivers Licence
It is widely called an international drivers licence when in fact it is an international drivers permit. There is no such thing as an international driver's licence and the websites that sell them are scamming you as you can only obtain the permit from the Motoring Organisation in your country.
Anyway it is quite a useful thing to have if you are planning to drive in Thailand and it is not difficult or expensive to obtain.
If you are only staying in Bangkok for a few days then don't even think you of driving yourself. The traffic is hectic and there a many motorbikes that you have to avoid hitting. But if you are planning to stay a little longer, or go to some of the beach resorts where it is a bit quieter, you may be tempted to hire a motorcycle, quad bike or even a car. Remember you can only legally drive a vehicle that you hold a license for, the same as in your own country.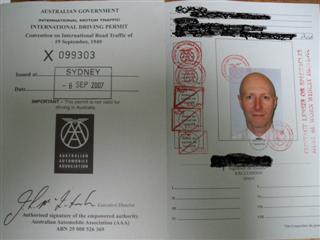 Are you wondering, "How do I get an international drivers licence"?
Well, I obtained an international drivers licence through my motoring organisation by taking a passport sized photograph, my current drivers licence and filling out a simple form.
The cost was AUD$25 for members and AUD$50 for non-members and it lasts a year. Update 2012: The cost for an international driver's licence is now $39 for members and $70 for non-members.
It took about 30 minutes to glue the photograph and put all the red stamps all over it and I was away.
This is what it looks like and I carry it with me in case of an accident.
The other use for an international drivers licence is if you have to visit someone in a housing compound. The normal practice is that visitors have to leave their driver's licence with the security at the gate.
You will be able to give them the international driver's licence and gain entry. I was stopped at a security gate once and didn't know what the guard was asking for until I twigged that he wanted some form of identification.
Driving in Thailand
I have driven many times in Bangkok and the first few times were pretty scary. As a young man I rode a motorcycle and learned to become a defensive driver and this has helped me a lot. It is absolutely essential that you drive defensively in Thailand as you cannot assume the other driver has any knowledge or skill whatsoever.
Drivers in Thailand, drive on the left hand side of the road, but don't be surprised to see vehicles using both sides of the road and oncoming vehicles passing you on your left. There are many divided roads in Thailand so it is much quicker to drive on the wrong side than to drive on the correct side and have to do a U-turn.
Traffic lights are another wonder. In a three-lane road the left most lane can have a green light and the centre and right lanes can have a red light and must stop. If this is the case you will see traffic entering from the right side and joining your road.
If you are stopped at an intersection with a red traffic light then vehicles may proceed to make a left hand turn against the red light; sometimes. However there is no green arrow to tell you that you can go.
So how do you know?
I asked, "how do I know if I can make a left hand turn at this set of lights?"
It seems that you just follow the other vehicles, if they go, then you go. If your vehicle is first, then you should stop at the red light and if the driver behind you honks the horn then off you go.
Be aware that you have to give way to vehicles already crossing the intersection from your right. If you hit one it will be your fault.
If you ever approach a set of traffic lights that have just changed to amber or red then you must STOP. Not because it is the law, but because you will hit someone. Motorcycles will always jump the green light and will collide with you as you pass through the intersection.
In the rush hour many of the big roads like Petchaburi Road run a contra-flow traffic system. Depending upon the time of day the lanes in the middle of the road will either have a green arrow above them or a red cross. Sometimes there is a hiccup with the electronics and lanes that should have a green arrow have a red cross.
Don't worry, that doesn't stop the drivers using the lane.
Thailand does not have many roundabouts and in fact the only one I can recall is located outside the Dusit Thani Hotel as you enter Pattaya. My friend who had been driving for about a year had never seen a roundabout before and it obviously was not a part of the driving test as she had no idea of how to negotiate it.
Anyway with a quick bit of on the fly tuition we crossed the roundabout safely.
So if after reading this account you still wish to do some driving in Thailand, then do go and get your international drivers licence, or should I say, international drivers permit.
---
Return from International Drivers Licence to Travel Tips

Return from Bangkok Airport to Bangkok Travel Ideas
---