Paseo Mall
The Paseo Mall is located on the continuation of On Nut road that later becomes Lat Krabang road.
You will find that it is conveniently located close to Bangkok Airport and on the right hand side as you head towards the airport from Bangkok.
You can easily get a taxi from the Bangkok Airport to the Paseo Shopping Mall or stop here on your way to the airport, if you have some time to kill.
Paseo Mall Opening Hours: 10:00 am to 10:00 pm daily
The Paseo Shopping Mall has a range of indoor shops and outdoor stalls and there is ample parking in the multi level car park, if you come in your own car.

สุขชีวาสม Thai Massage in Paseo Mall
If you visit Bangkok then there is no better relaxation than to get a Thai Massage to undo those stiff and tense muscles after hours of travelling.
On the upper level of the Paseo Mall there is a reputable Thai Massage shop where they provide a range of treatments at an affordable price. 
The name สุขชีวาสม transliterates to Suk Chi Va Som Massage.
Hours: 10:00 - 23:00
Phone: 02 346 4174
Registered by Ministry of Health
Is Thai Massage Expensive?
Thai massage is not expensive and the costs for different massage treatments will surprise you:
Body Massage 1hr/2hr 300/500 baht
Foot Massage 1hr 300 baht
Neck and Shoulder Massage 1hr/2hr 350/650 baht
Oil and Aroma 1.5hr 700 baht
Salt Scrub Steam 2hr 950 baht
Herb Scrub Steam 2hr 1050 baht
Confirm the price by phone or when you arrive.
Thai Massage Process
If you have never had a Thai Massage before then let me outline the process for you.
Outside the shop is a large board indicating prices and the different types of massage available.
It is normal to choose a massage of one or two hours in length.
Firstly you need to leave your shoes outside the door of the shop before you enter.
If the shop is not busy there may be space on the shoe rack, or if not then just leave your shoes with the others. 
Don't worry, they will still be there when you come out.
Suk Chi Va Som
Once you enter you can tell the lady at the desk, your massage choice and length.
She will probably understand English, but you can practice your Thai if you are confident.
Ao nuat Thai neung cheur mung ka/krap
(Want massage Thai one hour)
For foot massage or for a neck and shoulder massage you will get your treatment in a reclining chair.
For a Thai massage they will lead you to the curtained booths at the back.
On the bed will be a pair of pyjamas, take off your gear and put them on and hopefully you can do it before the massage lady comes back.
Hang your clothes on the hanger or otherwise fold them and place them near to the head of the bed.
The person assign to provide the massage will come with some warm water to wash your feet.
Sit near the edge of the bed and have your feet cleaned, often this is with granular salt.
Once dried your massage then commences, but you can direct the hardness or softness of the massage to get it to your liking.
After the completion of the massage, change back into your clothes and head to the front of the shop where you will be served some warm herbal tea. Most often it is ginger tea.
Finally, pay for your massage as per the board price and don't forget to tip the masseuse as she will be standing there to farewell you as you go out the door.
Your shoes may be brought to you, but if not, then collect them off the rack.
Visit the Paseo Mall Night Market Near Bangkok Airport
Travellers who are in transit through Bangkok and have chosen to stay in some local accommodation, such as The Ivory Suvarnabhumi or the Regent Suvarnabhumi Hotels will find the Paseo Shopping Mall within a short walking distance.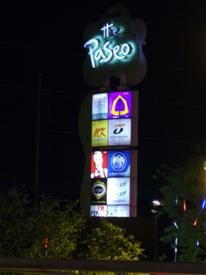 When staying near to Bangkok Suvarnabhumi Airport then these Agoda links to the nearby:
Ivory Suvarnabhumi Hotel or the Regent Suvarnabhumi Hotel offer some really great prices.

If you have some time to kill during your Bangkok layover, then why not come and visit this modern, but authentic Thai night market, it is just a short walk away from these two Bangkok Airport hotels.
Don't expect a massive shopping mall as this is a small up-market shopping centre and restaurant complex specialising mostly in ladies fashion.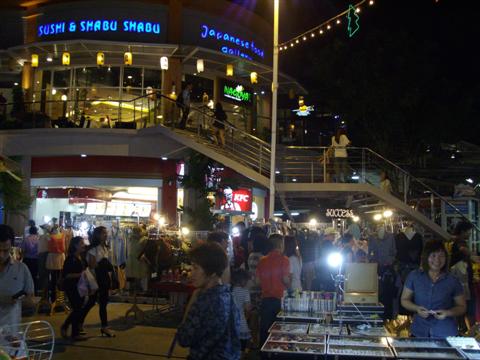 As well as having indoor shops there is also an outdoor night market that is well worth a visit.

Currency Exchange at Paseo Mall
There is a Yenjit currency exchange booth on the grounds of Paseo Mall and their exchange rates are very competitive.
Because of the impact of Covid, it may be best to give them a call to confirm opening hours, before making a special trip to change your money.
Phone: +66 2 346 4364
Villa Market at Paseo Mall
There is a comprehensive Villa Market as well.
So if you are looking for some imported items then it carries the usual selection of your favourite foods and all at reasonable prices.
Paseo Night Market
The shopping mall is open from around 10:00 am to late and the night market is open daily, starting at about 4:00 pm.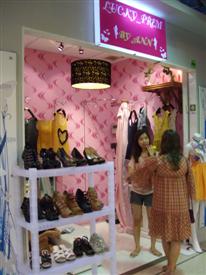 In the late afternoon stallholders come to set up for the night market, unloading all their wares from the back of pickup trucks and small cars and reassembling their market stalls.

On a balmy Bangkok night there is nothing better than wandering amongst the shops and stalls and looking for that last minute present, or even just having a wander around, taking your time to browse the items on each stall.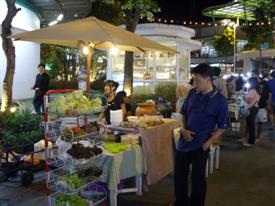 The stallholders at the Paseo Shopping Mall are extremely friendly, although being this far from the tourist areas you will find that not all of them speak English.
But then that is part of the fun isn't it?
Negotiating with someone in a foreign language will give your trip that added dimension as you bargain for that little special item or piece of fashion.
Primarily the Paseo Shopping Mall caters to Thai locals, but you will notice lots of foreigners there also. 
So the stalls are not selling cushion covers or Buddha images, but more likely, shoes, ladies trousers and fashion items, watches and some fresh vegetables.
This variety all adds to the Bangkok shopping experience.
Paseo Fashion Mall
Instyle By Net
For all your ladies fashion need you can check out Instyle by Net, located inside the Paseo Mall.
New styles are coming all the time, so join the Facebook group for early notification of the new season's fashion item.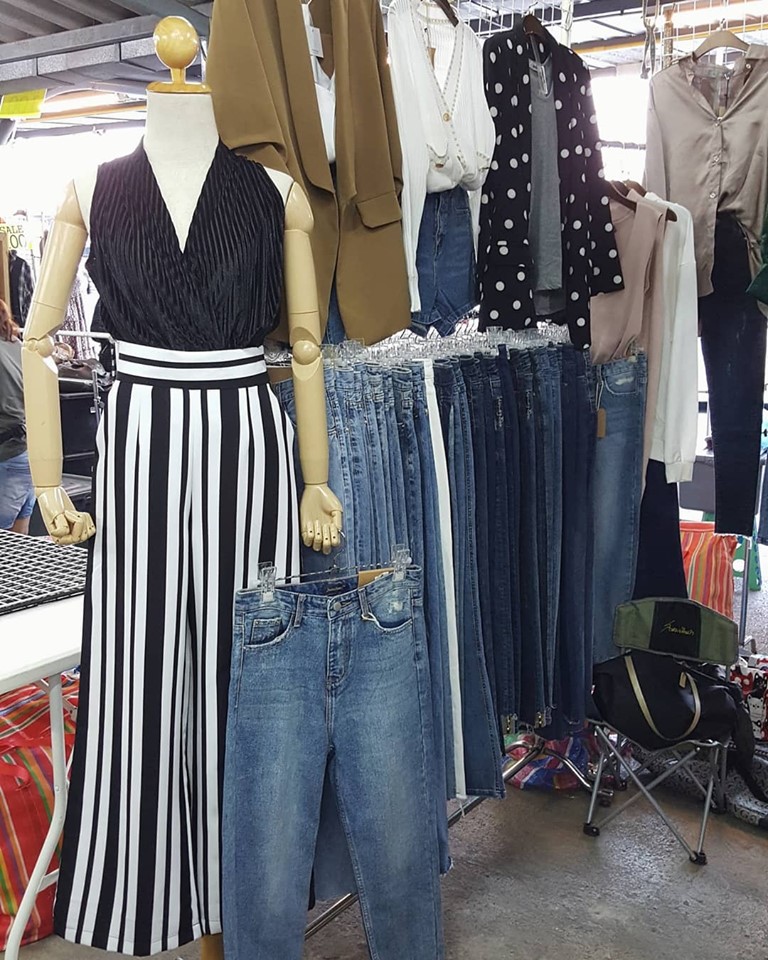 If visiting in person the address is:
The Paseo Mall 318/5 ถนนอ่อนนุช-ลาดกระบัง ซอยลาดกระบัง 20/4 แขวงลาดกระบัง
10520 Bangkok, Thailand
Ladies fashion wear for work or just the casual look are available now at the Paseo shopping mall.
You can see more fashion styles available at the Paseo Mall by clicking here and the fashion style changes all the time.
Paseo Shopping Mall Dining
MK Restaurants, McDonald's, Chesters Grill and KFC are all represented if you want some fast food.
But there are quite a number of other more traditional Thai restaurants located in the complex and you will be more than welcome if you invite a few of the stallholders for some dinner after they shut up shop.
A group dinner with some of the market vendors at the upstairs Thai restaurant.
You can read all about my 6 hour layover at Bangkok Airport and how I escaped for lunch and went to this restaurant for Valentines day, when I was in transit at Bangkok Airport.