What is the Best Area to Stay in Bangkok for 2 Nights?
What is the Best Area to Stay in Bangkok?
The best area to stay in Bangkok is:
Sukhumvit
China Town
Silom / Sathorn
Pratunam
Suvarnabhumi Airport
Riverside
Siam
Khao San Road
because each of these areas are:
close to attractions
nearby to nightlife
easy access to public transport
Even though this is a frequent question for first time Bangkok travellers and if you have never been to the capital of Thailand before, the choice of hotels can be daunting.
So what are you to do?

There are literally thousands of affordable Bangkok hotels and it pays to spend a little time understanding the different areas before you book accommodation.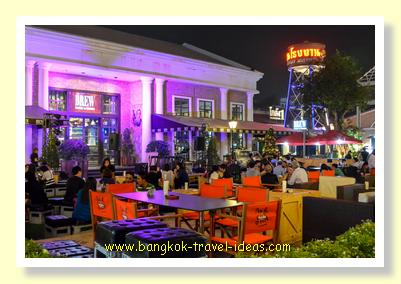 So where should you start?

One thing to realise, is that there is no real "centre of Bangkok", so it is important to select the correct Bangkok district to stay in.
As a starting point, it is best to identify your interests first-off and then based upon what you wish to do during your vacation, look for a hotel in that area of Bangkok.
Whatever area you choose to stay in Bangkok, there will be a hotel that matches your needs.
Here are my eight best areas to stay in Bangkok, when you are thinking about booking a Bangkok hotel.
Hopefully this overview might help you narrow down your search.
China Town


What is the Best Area to Stay in Bangkok?
Read the brief descriptions below of each of the Bangkok areas to find the one that aligns with your visit plans.
If you already know where you wish to stay, then use the Agoda Search box to find an hotel in your preferred Bangkok district.
If you are still not sure where to stay then go to the Google Map of Bangkok at the bottom of this page, select your preferred Bangkok location and Agoda will present you with a selection of hotels in that area.
Let's get started and cover the eight best areas to stay in Bangkok.
1. Sukhumvit
If you want to stay in Bangkok, then the Sukhumvit area is popular with European and Japanese tourists wanting easy access to both nightlife and shopping.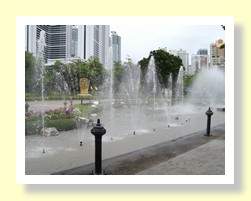 Located directly on the BTS Skytrain line with easy access to the city it is a great choice for people coming to Bangkok for the first time.

See this map of the BTS routes and fares. 
If you are not familiar with the BTs route then E5 is the BTS station in the Sukhumvit area.
Around Sukhumvit there are many bars, English style pubs and Japanese clubs in this part of town and there is a lot of varied night life between Sukhumvit Sois 6 and 12.
The large Asoke intersection is home to the red light district of Soi Cowboy; here you can go and have beer, take time for a chat or see some pole dancing. 
If you want to stay in Bangkok with family and are specifically looking for two and three bedroom suites in Sukhumvit then I have compiled a range of available hotel and serviced apartment options on this linked page.
Condos or hotel apartments in Bangkok can work out both cheaper and more convenient for larger family groups and three bedroom suites are readily available, but need to be booked well in advance as supply is limited.
So, if you are looking where to stay in Bangkok for couples and exciting nightlife then maybe Sukhumvit could be for you.
From Sukhumvit, there is easy access to the Bangkok MRT, that will get you quickly to:
2. China Town
The Chinatown area is right at the heart of the historic city of Bangkok.
It is one of the oldest and most historic parts of the city, with lots of interesting history.
In Chinatown you will find old shop houses, narrow streets and all sorts of markets and temples.
The Chinese have long been known for their appreciation of gold and in this area there are gold shops a plenty.

Chinese parades and lion dancing are to be found around the Chinese New Year period; a celebration and spectacle that is not to be missed if you stay in Bangkok at this time.
The proximity to the Chao Phraya river and many major temples makes this part of Bangkok a firm favourite with tourists seeking something different.
For those of you who love photography, then the Chinatown area is full of colourful photographic opportunities, whether that be the ornate shopfronts, the little alleys or the decorations left over from the last Chinese New Year celebration.
You can use your imagination and are sure to get some great street shots.
If you book a Chinatown hotel, your stay in Bangkok will have a unique cultural richness that will give you memories to treasure for years to come.
Check out prices and the range of Chinatown Hotels at Agoda now.
3. Silom / Sathorn
Silom is mostly a business district but for entertainment purposes – it's also home to the legendary Pat Pong night markets.
By day – the streets are bustling with business and you would never suspect what goes on there after dark.
From sunrise to sunset, the streets are filled with people on bicycles, motor scooters, rickshaw taxis and people in business suits rushing by with mobile phones glued to their ears as they conduct important business.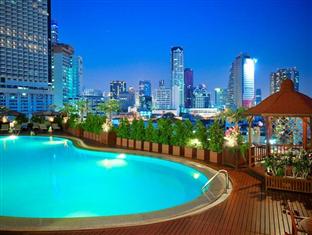 But at night – the side streets around Pat Pong are instantly transformed, flanked by theme bars, karaoke night clubs and a healthy "red light" range of sex shows for those travellers who are curious. 

If you've never been to this district at night, there are expensive dangers you might want to avoid.
Like going upstairs to "private sex shows," where you'll get pegged for thousands of baht (the local Thai currency).
If you do travel the streets in this district after hours, we suggest checking out this page, for more things to do in Silom and suggested friendly up-market Bangkok hotels.
4. Pratunam
Considered by the locals as the "place to go," for shopping for clothes or electronic gadgets and computer hardware – this is the place you must come if you plan on doing any shopping in Bangkok.

Home to Bangkok's clothing wholesale markets, the streets of Pratunam District are filled with colorful fabrics and clothing ranging from hats, scarves, shirts, dresses, pants and everything else you could ever want or imagine. 

There is so much going on in this Bangkok district that I have compiled a special post to provide more information about Pratunam and a guide to some good hotels that put you in the thick of the action. 
Pratunam is a great area to be located in Bangkok and there is good street food in the evening.
5. Suvarnabhumi Airport
Obviously this area around Suvarnabhumi Airport is for those in transit and who don't have time to stay in Bangkok, or just want to leave the airport to freshen up.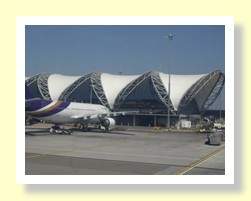 There is a range of 5-Star and cheaper budget hotels around the Bangkok Airport that are ideally suited for the short-stay traveller.

Some of these budget Bangkok airport hotels are only a few minutes away by car and offer a free one way or round trip transfer included in the room rate.
If you are staying in and around Suvarnabhumi Airport then take time to check out my recommendations for Bangkok Airport hotels.
If you are an international transit passenger and don't want to leave Suvarnabhumi Airport then check out the Agoda pricing and information on Miracle day rooms in Bangkok Airport.
6. Bangkok Riverside
The Bangkok Riverside area is exactly that.
What better place to stay in Bangkok than along the working river that divides the city into old and new.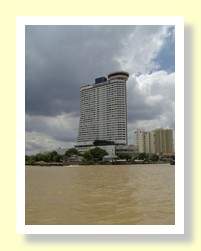 Located on the banks of the Chao Phraya River are some of Bangkok's finest hotels, most with fabulous views of the river and its surroundings.
This part of Bangkok is around one hour from Bangkok's Suvarnabhumi Airport, depending upon the time of arrival.
It  gives easy access to many of the historic buildings that Bangkok is known for; including, the Grand Palace, Wat Arun, Wat Pho and many river tours along the Chao Phraya River.
If you do choose an hotel on the West Bank of the river, then the hotel will usually have some sort of shuttle boat to take you to the other side.
These ferry rides only take a few minutes and run at frequent intervals, often taking you to places up or down the river also. Being on the river adds another dimension to your stay in Bangkok.
When located on the banks of the Chao Phraya River you are located closer to Kanchanaburi and the Bridge over the River Kwai, than other city locations and being on the river gives so many additional transport options.

In fact you can also easily take a day cruise along the river, to see the historic temples in Ayutthaya and then return by coach.
Lunch is usually included in these sorts of tours.
The Bangkok Riverside is a great area to spend a few days if you interested in the historic side of Bangkok, such as the many palaces and Buddhist Temples.
Lone travellers or couples can view this area in more detail along with a range of Riverside hotels.
Larger groups or families travelling together may be interested in a selection of Bangkok Riverside two bedroom suites.
When I am choosing where to stay in Bangkok, then alongside the Chao Phraya River is one area that is a particular favourite with me as there is just so much to do.
Another advantage is the breeze that comes off the river in the evening, so it can be a little bit cooler.
7. Siam
The choice of where to stay in Bangkok for couples has never been more difficult, but Siam has easy access to:
Ocean World; the largest aquarium in the Southern Hemisphere,
the Central World shopping centre
Gaysorn Plaza along with the
Mahboonkrong shopping centre (MBK)
Take your choice from designer brand clothes and accessories, through to the inevitable fakes and copies sold on the street stalls.

It is not legal to sell counterfeit goods and there are frequent raids on shops and stalls doing so.
Siam is the major upmarket shopping area of Bangkok and additionally the hotels in this location have easy access to the BTS Skytrain.
If you like shopping and modernity then spend a few days in the Siam area of Bangkok.
Check out this area in more detail and further suggestions for Bangkok hotels near to Siam.
If you feel like being pampered in the Royal Suite of the Siam Kempinski Hotel Bangkok then you should discover this upmarket Bangkok hotel offering the ultimate in luxury for the important person in your life.
Agoda even has competitive pricing for those that enjoy luxury in life.
If you are looking for somewhere to stay in Bangkok for New Years Eve, then you will be in the thick of the action in the Siam district.
The overhead walkways are all decked out in festive decorations and you can view all the shop decorations from up high as you walk along.
8. Khaosan Road / Grand Palace
Maybe you are looking to stay in Bangkok backpacker accommodation or somewhere more affordable where lots of young travellers hang out?
Then the Khaosan Road area is where you want to be.
Backpackers from all over the world come and stay here to have a good time and enjoy the Asia experience.

You will find cheap accommodation and lots of opportunity to hook up with new like minded companions to continue your travels with.
Check out the range of Khaosan Road Hotels at Agoda now.

Small coffee shops, internet cafes and boutique establishments have sprung up, so much so that you may have trouble realising that you are in Thailand and not your home country.
Located adjacent to the Banglamphu markets and the Chao Phraya River make visiting any of these Bangkok's tourist attractions very convenient.
There is no BTS Skytrain access to this part of town, but there are plenty of taxis and tuk tuks to navigate the traffic.
So whether you are travelling for pleasure or business, make Agoda Bangkok your preferred hotel booking partner.
Bangkok Google Map
No brief overview could ever do justice to the diversity and variety that each area of Bangkok exhibits, but a few words of description of the key features around town, may help you make a decision about where to stay in Bangkok.
To assist in finding all the good stuff, Bangkok Travel Ideas have created a unique Bangkok Google Map that will open in its own window.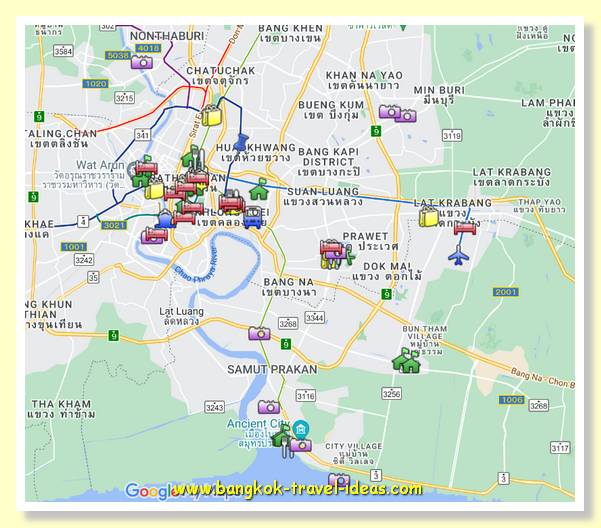 Bangkok Travel Ideas Google Map of Bangkok
The BTI map opens with Bangkok as a centre, but expands to cover all regions of Thailand that are covered in this website.
There are links to places of interest and recommended hotels in that area.
When planning your next Thailand trip, explore each of the regions and select from one of these many areas to stay as shown described in my Bangkok Google Map.