Stay in Pratunam
Many people opt to stay in Pratunam as this part of the city is where the prime wholesale clothing market is located, serving many of the retail outlets across Bangkok.
The small lane ways located between the Amari Atrium Hotel and the Baiyoke Sky Tower are literally filled with little market stalls selling everything imaginable.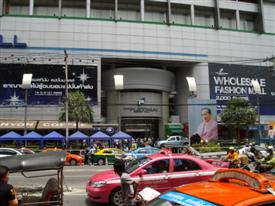 Laser pointers, Chinese throwing stars, LED torches and countless other products and gadgets are here. 
You could literally spend weeks walking the Pratunam markets and not see it all. 
Spending the entire day or an entire weekend here will be a journey to remember for a lifetime and you may pick up a bargain along the way.
From the bargain shopping around the Pratunam area, to the sizzling cooked foods prepared fresh for you to indulge yourself with and these are just the highlights. 
Because the district is so popular, taxi congestion is common, so if you have a pair of sneakers – we recommend you wear them, because walking these streets of Pratunam will often be much faster than sitting in a cab.
The Pratunam area is very popular, so it is recommended if you want to book a hotel in this district, you should do so well in advance of your arrival so you don't miss out.
There are deals to be had, but you need to act quickly.
There is so much to see and do in Pratunam, that it makes a great location to base yourself.
Stay in Pratunam Hotels
---
Amari Watergate Hotel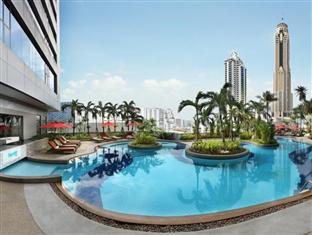 The Amari Watergate Hotel promises a relaxing and wonderful visit.
The hotel's peaceful atmosphere extends to its recreational facilities which include garden, spa, Jacuzzi, massage, fitness center. Amari Watergate Hotel combines warm hospitality with a lovely ambiance to make your stay in Bangkok unforgettable.
From USD $115  
---
The Berkeley Hotel Pratunam
The Berkeley Hotel Pratunam
If you want to stay in Pratunam then The Berkeley Hotel Pratunam enjoys a prime position in the shopping and restaurants hub of Bangkok.
No need to take a taxi back to the airport. The airport can be conveniently reached within 30 minutes on the Airport Express train, direct to Suvarnabhumi Airport.
From USD $103  
---
Indra Regent Hotel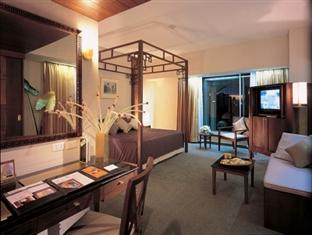 Indra Regent Hotel
Stop at Indra Regent Hotel to discover the wonders of the amazing Bangkok cloth markets in the Pratunam district.
Guestrooms are fitted with all the amenities you need for a good night's sleep, including complimentary bottled water, air conditioning, balcony/terrace, coffee/tea maker, television LCD/plasma screen.
From USD $87  
---
Novotel Bangkok Platinum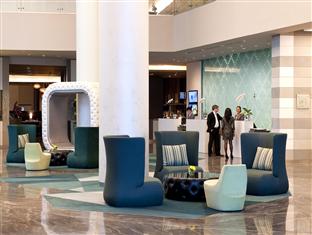 Novotel Bangkok Platinum
Ideally located in the prime tourist area of Pratunam, Novotel Bangkok Platinum Hotel promises a relaxing and wonderful visit and you will be amongst the buzz of Bangkok with the cloth markets being right on the doorstep.
No matter what your reasons are to stay near Pratunam, Novotel Bangkok Platinum Hotel will make you feel instantly at home,
From USD $126  
Still want to stay in Pratunam but don't see what you like?
Check out the full range of Pratunam Hotels at Agoda now.