Platinum Fashion Mall
Platinum Fashion Mall, Bangkok is located on Phetchaburi Road just before you reach Pantip Plaza and it is really one for the ladies.
Shopping at Platinum Fashion Mall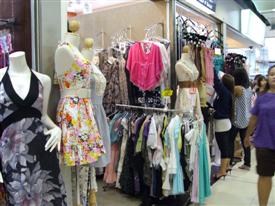 In the map below you can see the shopping mall marked.
The large rectangle above it is a maze of small sois that you can explore later on the same day if you have the energy.
They have everything, foods, clothes, hairdressing accessories, you name it and I think you will find it here.
But if you are looking for somewhere to shop in air conditioned comfort whilst your partner browses the Men's toys in Pantip Plaza and you just can't understand what is so interesting about hard drives and memory sticks, then Platinum Mall is probably just what you are looking for.
There are five floors hosting 1600 small shops selling fashion, shoes and accessories.
Predominantly it is ladies fashion, although they do have some things for men; but not much.
The pricing is very reasonable and you can bargain for a discount if you buy multiple items.
Usually three items or more will get you a discount. A single item quoted at 220 Baht might come down to 140 Baht if you buy three of them.
You must check the quality of what you are buying here, look for poor stitching, hold the garment up to the light and look for missing threads, runs or pulls.
Ask if you can try on the item to make sure it hangs properly, most places will let you.
Bangkok Shopping
It is easy to find your way to Platinum Mall and now there is also Platinum Mall II to double your shopping experience.
Like most places in Bangkok, Platinum Mall is busy most days, so you are going to find yourself jostled and squeezed unless you are in at the opening time.
But then that is half the fun isn't it.
If you get hungry during your Bangkok shopping expedition then make your way to the sixth floor, where you will find the food court.
Buy 100 bahts worth of tickets per person and go and choose from a range of "cooked before your very eyes" Thai food.
At the end of the day return to the ground floor and meet your partner in Swensens Ice Cream parlour or one of the little coffe shops.
They make a great place to meet up and somewhere you can rest your tired feet and compare who got the better bargain.
This photograph was taken in Platinum Fashion Mall and not at Swensens but it reminded me of the Jerry Seinfeld episode about the fat free yogurt and how you could get slimmer by eating it.
Maybe this ice cream slims you as well.
If you see the sign when you are on your shopping expedition, then why don't you give it a try and see what it is like.

If you were interested in this you may also like: