Shopping Mall Near Bangkok Airport
The closest shopping mall near Bangkok Airport is the Paseo Mall for sure.
But altogether there are five Shopping malls near to Bangkok Airport that you can visit if you have a Bangkok layover or if you are in the Bang Na or Prawet areas of Bangkok.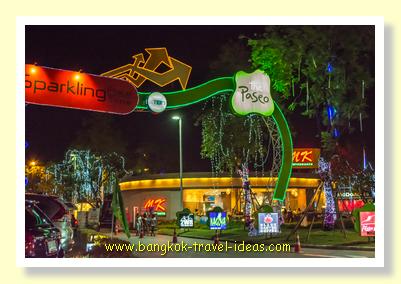 Shopping Mall Near Bangkok Airport
Paseo Shopping Mall and Night Market
The Paseo Shopping Mall is only about 10 minutes by taxi from Bangkok airport and has recently been extended with additional shops and restaurants for you to explore.
A layover in Bangkok Airport of 6 hours or more gives plenty of time to come visit the Paseo Shopping Mall.
The short ride in a taxi is only going to cost around $4 because this really is the closest shopping mall near Bangkok Airport.
There are numerous brand name restaurants where you can dine if you want to be conservative, or there is a selection of local food on offer.
Fast food offering of McDonalds or KFC will tempt the pallette of the wary.
You may also want to consider the Vietnamese Restaurant or Japanese food at Nagoya or traditional Korean at Shabu Shabu.
Prices are geared to the local environment and reflect that you are not in a tourist area.
In the new extension to the market there is now a dedicated place for a stage that hosts local events.
These shows vary from singing talent to traditional Thai dance shows or talent contests.
Just turn up and you never know your luck as to what will be on. Sometimes the performance can be quite interesting or  sometimes there might be nothing on at all.
This young entertainer was pulling quite a crowd. I have no idea who he was but he was certainly popular with the girls in the audience.
Thai Massage at Paseo Mall
On the upper level of the Paseo Mall there are a couple of Thai Massage shops.
For about 350-400 Baht you can get yourself a very relaxing 2-hour Thai Massage.
Having a Thai massage is a great option if you have just got off an International flight, it helps to increase the blood circulation and you will feel invigorated afterwards. 
Further around on the same level and just above the stage and Vietnamese Restaurant there is a new Thai Handicrafts shop.
When I visited it looked like they had just opened, as things were still being unpacked and there were more staff than customers.
Still, they had handicrafts from all over Thailand and at very reasonable prices. Many of the items for sale seemed to be from the North, up around Chiang Mai.
I don't know how long this shop will last as it seems more geared to tourists than locals.
One thing is for sure, you will get a good price on Thai handicrafts.
Paseo Mall Night Market
When you come to this shopping mall near Bangkok Airport you can see the outside areas are set up with market stalls from 5:00pm to around 10:00pm every day, except Tuesday and Wednesday.
This shopping mall near Bangkok Airport makes a great place to go scouring for that last minute gift or just to stretch your legs.
The stalls range from one selling Chiang Mai pineapple, which is the sweetest you will ever taste, another selling a choice of local cooked foods and there is of course a wide range of Ladies fashion.
Expect the clothing sizing generally to be on the small size.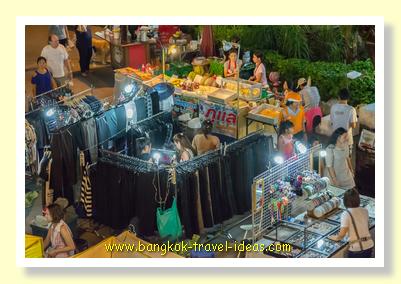 It is easy enough to get a taxi back to the airport as there are always plenty of taxis around.
You can comfortably visit the Paseo Mall if there is at least 6 hours between your arriving and connecting flight.
Travelling time from Bangkok Suvarnabhumi Airport is approximately 10 minutes.
If you are looking for a hotel nearby the airport, for your layover in Bangkok then choose from the Cottage Suvarnabhumi Airport Hotel or the Regent Suvarnabhumi Airport Hotel.
Both places cater to passengers needing transfers to the airport and are within walking distance of the Paseo Mall.
Mega Bang Na
Mega Bang Na is the newest of the suburban shopping malls and was opened in May 2012 to service the Samut Prakarn area of Bangkok.
It is located on only two levels and is a full on shopping mall.
It pitches itself as "the mall for the many".
To make navigation easier the mall is divided into 9 zones: Mega Food, Mega Fashion, Mega Kids, Mega Tech, Mega Home, Mega Wellness, Mega Sports , Mega Banking and Mega Lifestyle.
Here you will find Home Pro, Robinsons, Ikea and a number of large supermarkets as well as a range of fashion outlets.
The outdoor canal walk area has been chosen to host a range of fine restaurants. With seating inside or out you get the choice to be warm or cool.
For those interested in photography, then there are a couple of good camera shops on the first floor.(that is the one above the ground floor).
Travelling time from Bangkok Suvarnabhumi Airport is approximately 45 minutes.
Central Bang Na
Part of the Central group this mall is also known as Central City and has just been totally refurbished and is looking just magnificent.
This mall is easily reached on the BTS and is just a short taxi ride away from the 4-star Novotel Bang Na Hotel.
Full of all the usual fashion stores and brand names you love this mall has suburban pricing, being well out of the city.
Photographers should check out the Nikon shop on the fourth floor for all your photographic needs.
They have about 5 floors of shops in this cavernous mall and it is easy not to get lost. Just look over the balcony to the ground floor, to regain your bearings.
Parking can be a bit tricky at this place and it can be slow getting out if you are in your own car, especially at peak times, but a taxi will not have any problem with pick up and drop off.
If staying at the Novotel Bang Na then is shopping mall is the closest to your hotel.
Because both Mega Bang Na and Central Bang Na are further from the airport, are also in high traffic areas and there is also a lot more to see and do.
I would definitely recommend that you have at least an 8 hour layover before visiting these two shopping malls near Bangkok Airport.
Travelling time from Bangkok Suvarnabhumi Airport is approximately 45 minutes.
Seacon Square and Paradise Park
Seacon Square Shopping mall is close to Bangkok Airport being approximately 30 minutes by taxi.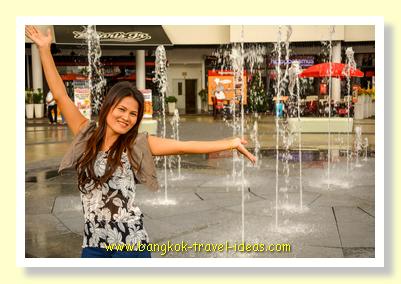 It has the added benefit of being located next to the Dusit Princess Srinakarin Hotel. It is extremely busy on Saturdays and even busier on Sundays.
Worth a look if you are in the area.
Just down the road is the recently revamped Paradise Park Shopping Mall.
It is not as large as Seacon Square but boasts many brand name outlets and caters to those in Bangkok that are moving up and want to only be seen in the best places.
The ground floor has an extensive food hall.
Travelling time from Bangkok Suvarnabhumi Airport is approximately 30 minutes.
If you are looking for a shopping mall near Bangkok Airport then these two certainly fit the bill.
Return from Shopping Mall Near Bangkok Airport to Bangkok Shopping
Return from Shopping Mall Near Bangkok Airport to Home
---
---