Shopping Mall Near Bangkok Airport
The closest shopping mall near Bangkok Airport is the Paseo Mall for sure and it may just fit your needs.
Suvarnabhumi Airport is about 25 km east of Bangkok and as well as the Paseo, there are four other shopping malls located in the vicinity of the airport that you can visit during your Bangkok layover or after your arrival in Bangkok.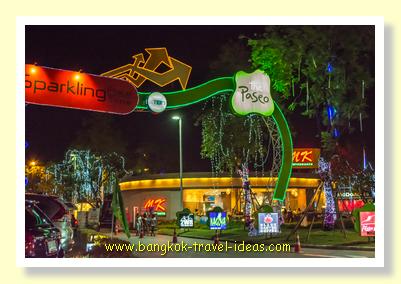 On this page I describe some of the features of:
Paseo Mall Lad Krabang
Mega Bang Na
Central Bang Na
Seacon Square
Paradise Park
Shopping Mall Near Bangkok Airport
Paseo Shopping Mall and Night Market
The Paseo Shopping Mall is only about 10 minutes by taxi from Bangkok airport and has recently been extended with additional shops and restaurants for you to explore.
If you have a 6 hour layover in Bangkok Airport or more, then that gives plenty of time to come visit the Paseo Shopping Mall.
The short ride in a taxi is only going to cost around $5, because this really is the closest shopping mall near Bangkok Airport.
There are numerous brand name restaurants where you can dine if you want to be conservative, or there is a selection of local food on offer.
The fast food offering of McDonalds or KFC will tempt the palate of the wary for those that don't like to be adventurous.
You may also want to consider the Vietnamese Restaurant or Japanese food at Nagoya or even partake of traditional Korean at Shabu Shabu.
Prices are geared to the local environment and reflect that you are not in a tourist area, although you will see many Bangkok Airport tourists mingling amongst the crowds and foreign faces are relatively common.
In the new extension to the Paseo Mall there is now a dedicated place for a stage that hosts local events.
These are shows are put on from time to time and vary from singing talent, to traditional Thai dance shows or talent contests.
Most frequently they seem to be in the school holiday periods, but just turn up and you never know your luck as to what will be on.
Sometimes the performance can be quite interesting or sometimes there might be nothing on at all.
At one of my impromptu visits this young entertainer was pulling quite a crowd. I have no idea who he was but he was certainly popular with the girls in the audience.
Thai Massage at Paseo Mall
If looking for a shopping mall near Bangkok Airport that has Thai massage facilities, then on the upper level of the Paseo Mall there are a couple of Thai Massage shops.

For about 350-400 baht you can get yourself a very relaxing 2-hour Thai Massage.

Having a Thai massage is a great option if you have just got off an International flight, it helps to increase the blood circulation and you will feel invigorated and refreshed afterwards. 
If you do enjoy a Thai Massage then consider visiting Massage Street in the On Nut area of Bangkok.
Here you will find the cheapest Thai massage in Thailand and be spoiled for choice for your preferred massage treatement.
Further around on the same level and just above the stage and Vietnamese Restaurant there is a new Thai Handicrafts shop.
These shops change all the time, so by the time you get there they could have been replaced by alternative businesses.
When I visited the handicrafts store it looked like they had just opened, as things were still being unpacked and there were more staff than customers.
Still, they had handicrafts from all over Thailand and at very reasonable prices. Many of the items for sale seemed to be from the North, up around the Chiang Mai region of Thailand.
I don't know how long this shop will last as it seems more geared to tourists than locals.
One thing is for sure, you will get a good price on Thai handicrafts.
Paseo Mall Night Market
When you come to this shopping mall near Bangkok Airport you will see the outside areas are set up with market stalls from 5:00 pm to around 10:00 pm every day, except Tuesday and Wednesday.
This small shopping mall near Bangkok Airport makes a great place to go scouring for that last minute gift if you are on an outbound flight or just to stretch your legs if you are in transit and have some time to kill before continuing your onward journey.
There are all kinds of local foods on sale and the stalls range from one selling Chiang Mai pineapple, which is the sweetest you will ever taste, another selling a choice of local cooked foods and there is of course a wide range of Ladies fashion.
Expect the clothing sizing generally to be on the small size, but you never know what bargains await.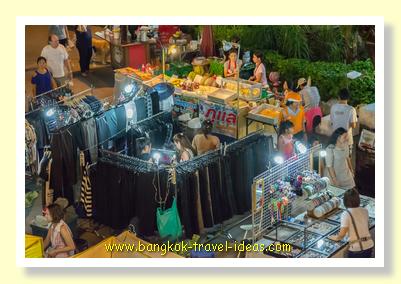 From the Paseo Mall is easy enough to get back to Suvarnabhumi Airport as there are always plenty of taxis around.
Just walk out to the main road and cross to the other side, so you are facing the direction of the Airport.
You can comfortably visit the Paseo Mall if there are at least 6 hours between your arriving and connecting flight. Any shorter time frame than than that and things become more risky.
The Paseo Mall is just a short distance away and the travelling time from Bangkok Suvarnabhumi Airport is approximately 10 minutes and taxis are plentifully available.
Perhaps you have more time on your hands and are looking for a hotel nearby the airport, for your layover in Bangkok.
There are three hotels within walking distance of the Paseo Mall so you could choose from these Agoda links to the: 
Courtyard by Marriot Suvarnabhumi
Both places cater to passengers needing transfers to the airport and are within easy walking distance of the Paseo Mall.
The Cottage Suvarnabhumi Airport Hotel is a proper small hotel and has the added benefit of a swimming pool but costs a little more than the Regent.
The Regent is for the more budget conscious traveller.
Hotel transfer from the airport may be included in the room rate.
Mega Bang Na
Mega Bang Na is the newest suburban shopping centre near Bangkok Airport and was opened in May 2012 to service the Samut Prakarn area of Bangkok.
It is located on only two levels and is a full on shopping mall.
It pitches itself as "the mall for the many".
To make navigation easier the mall is divided into 9 zones:
Mega Food
Mega Fashion
Mega Kids
Mega Tech
Mega Home
Mega Wellness
Mega Sports
Mega Banking
Mega Lifestyle
Here you will find Home Pro, Robinsons, Ikea and a number of large supermarkets as well as a range of fashion outlets.
The outdoor canal walk area has been chosen to host a range of fine restaurants and with seating inside or out you get the choice to be warm or cool.
For those interested in photography, then there are a couple of good camera shops on the first floor (that is the one above the ground floor).
I have purchased a number of photography items from these shops and they carry all the popular camera brands.
Even though Nikon has a manufacturing site in Thailand, the lenses don't seem to be any cheaper.
I can understand lenses being dearer if they were imported, due to the high import duties, but if they are made locally the prices should be much lower.
Travelling time from Bangkok Suvarnabhumi Airport to Mega Bang Na is approximately 45 minutes.
Central Bang Na
The next shopping mall near Bangkok Airport is Central Bang Na, which is part of the Central group.
This mall is also known as Central City and has been totally refurbished and is looking just magnificent.
This shopping mall near Bangkok Airport is easily reached on the BTS if you are coming out of the city and is just a short taxi ride away from the 4-star Novotel Bang Na Hotel.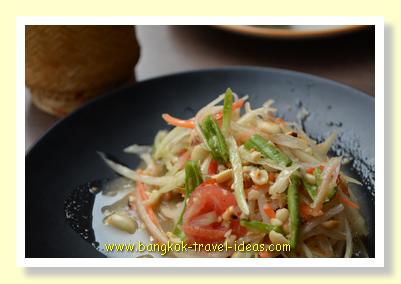 Full of all the usual fashion stores and brand names you love this mall has suburban pricing, being well out of the city.
Dedicated photographers should check out the Nikon shop on the fourth floor for all your Nikon photographic needs.
Central Bang Na has about 5 floors of shops in this cavernous mall and it is easy not to get lost.
If that happens then just look over the balcony to the ground floor, to regain your bearings.
Parking can be a bit tricky at this place and it can be slow getting out if you are in your own car, especially at peak times, but a taxi will not have any problem, with pick up and drop off being outside the main door.
If staying at the Novotel Bang Na then this is the shopping mall that is the closest to your hotel, although you will need to catch a taxi there, as it is just a little too far to walk in the heat.
Both Mega Bang Na and Central Bang Na are further from the airport than the Paseo Mall and as they are in high traffic areas with lots to see and do they are worth considering.
I would definitely recommend that you have at least an 8 hour layover before visiting these two shopping malls near Bangkok Airport.
Travelling time from Bangkok Suvarnabhumi Airport to Central Bang Na is approximately 45 minutes, although Friday night during the rush hour and it could easily take you two hours and you still might not be there. (Been there, done that)
Seacon Square and Paradise Park
Another shopping mall near Bangkok Airport is Seacon Square.
This mall is approximately 30 minutes by taxi, straight down Lat Krabang Road which runs parallel to the Route 7 Airport motorway.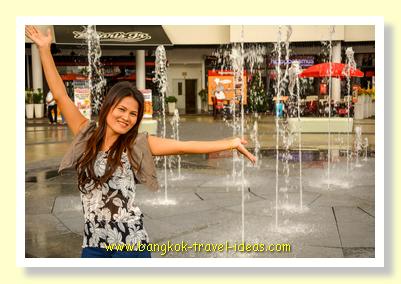 Seacon Square has the added benefit of being located next to the Dusit Princess Srinakarin Hotel and the shopping mall is extremely busy on Saturdays and even busier on Sundays.
Seacon Square is worth a look if you are in the area, as this is a big shopping mall near Bangkok Airport.
Just down the road is the recently revamped Paradise Park Shopping Mall.
Paradise Park Shopping Mall is not as large as Seacon Square but boasts many brand name outlets and caters to those in Bangkok that are moving up and want to only be seen in the best places.
For those guys that like to look for hardware, then Paradise Park has its own version of HomePro; the ultimate spanner shop for men.
The ground floor has an extensive, but cheap food hall and there are many brand name shops if you are on the lookout for branded goods. eg handbags, etc
Travelling time to Seacon Square or Paradise Park from Bangkok Suvarnabhumi Airport is approximately 30 minutes by car.
If you are looking for a shopping mall near Bangkok Airport, then these two certainly fit the bill and they have the added benefit of being next to a first rate hotel.
I have stayed many times in this location and would highly recommend the Dusit Princess Srinakarin Hotel, this link will take you over to Agoda to check prices and availability.
So there you have the ultimate selection of shopping near Bangkok Airport, but if you are after designer items then there are many brand name shops in Suvarnabhumi Airport itself.
Ensure to keep all your receipts as you shop, in case you wish to claim back the VAT at Suvaranbhumi Airport.
Read the above link for the tax claim process.
Bangkok Airport Shopping Mall Summary
This page describes various shopping options conveniently located near Bangkok Airport, catering to travelers and locals alike and it offers a comprehensive overview of the shopping experience available in this area.
The article highlights several nearby shopping malls, including
Paseo Mall
Mega Bangna
Central Plaza Bangna
Seacon Square
Paradise Park
It provides details about each mall's location, facilities, and the types of shops and entertainment options available and it emphasizes that these malls are easily accessible from Suvarnabhumi Airport, making them convenient for travellers with layovers or those seeking some retail therapy before or after their flights.
Additionally, the page offers information on transportation options to reach the shopping malls from Suvarnabhumi Airport, such as taxi services and public transportation.
It also mentions the availability of airport shuttle services provided by some malls and provides insights into the diverse shopping experiences visitors can expect, ranging from well-known international brands to local Thai products.
It mentions the variety of dining options, including international cuisine and traditional Thai dishes, adding to the overall appeal of these shopping destinations.
In conclusion, the information provided about shopping mall near Bangkok Airport serves as a valuable resource for individuals interested in shopping nearby.
Travelers can make informed decisions and plan their shopping experiences conveniently before or after their flights.
Revised 26-July-2023