Massage in Bangkok Airport
Would you like to relax with the best Thai massage in Bangkok Airport before your next flight?
It is good to know that there are a different types of massage at Suvarnabhumi Airport, where you can get those muscles loosened and the knots removed before continuing your flight.

Thai Massage in Bangkok Airport
A BKK Airport massage is one of the treats of visiting Bangkok and even if you just visit for a short period the ready availability of Thai massages is a pleasure that you must experience at least once.
But even if you can't get out of Suvarnabhumi Airport into the city on a Bangkok layover, or if you just get stuck at Bangkok Airport with some time to kill, then there are still a few options available to help you relax before you take your onward flight, and having a relaxing BKK Airport massage is one of them.
Check out the following locations for a Thai massage next time you go to Bangkok Airport.

International Air-side Departure
Express Spa Body and Foot Massage
The Express Spa Body and Foot Massage formerly known as  Chang Massage and Spa Bangkok Airport is the most well-known and best Thai massage franchise.
If you require a massage in Bangkok Airport then this is the place I suggest.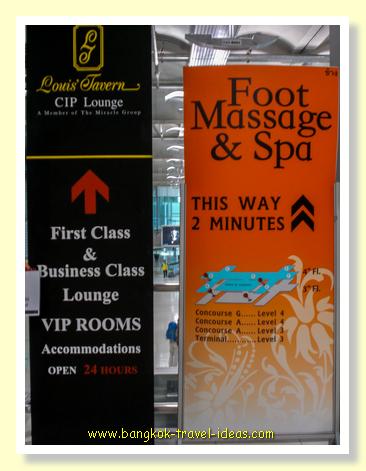 Express Spa Body and Foot Massage has a range of different massage treatments as well as standard pedicure and manicure options that can be used to while away some time, between or before flights and JCB Credit Card holders are entitled to 10% off regular prices.

Choose from:
Foot Back and Shoulder Massage - 1000 baht reduced from 1300 baht
Shoulder Massage - 1000 baht
Hand Massage - 900 baht
Thai Massage - 900 baht
Aromatherapy - 1700 baht
Manicure and Pedicure - 1000 baht
Location: 
Concourse A, Level Four, 
Concourse G, Level Four
Concourse A, Level Three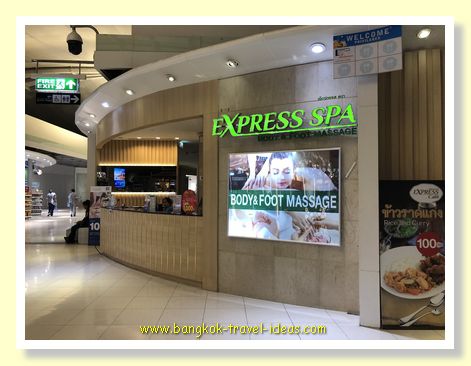 Express Spa Body and Foot Massage
Why not pamper yourself with an aromatherapy session at Express Spa Body and Foot Massage, whilst the husband looks after the children.
You can even get a manicure and hand massage.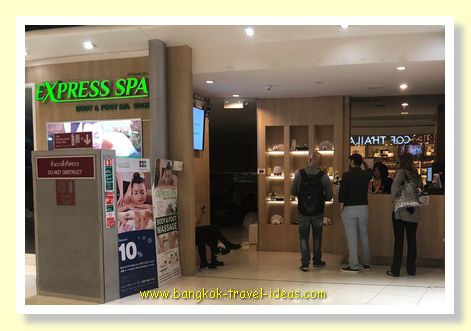 Express Spa Body and Foot Massage
pricing can vary
7 Minute Mindfulness
Travelling by air can be very stressful; what with making sure you have all your documents in order and worrying about whether your flight will be on time.
There is just no end to the stresses you encounter when travelling by air.
Whilst a Thai massage in Bangkok Airport is great for relaxation, not everyone likes to have a stranger pressing on their body and yet what are you to do in a limited amount of time.
Did you know that mindfulness exercises are ways of paying attention to being, rather than doing and they make you pay attention to the present time.
If you are suffering from:
Restless sleep
A racing mind
Low energy
Feeling irritable
Getting angry easier
Panic attacks
Constant panic
Headaches, body aches, migraines
Jaw pain from clenching teeth
Tight shoulders and back pain
Then there are mental exercises that can help you relax by using techniques similar to those of meditation, deep breathing and yoga.
These 7 Minute Mindfulness techniques are not hard to learn and they can be used anywhere to gain a sense of relaxation at those stressful times.
In as little as 7 minutes you can complete a mental exercise that relaxes and invigorates you and be ready for the next challenge of your journey.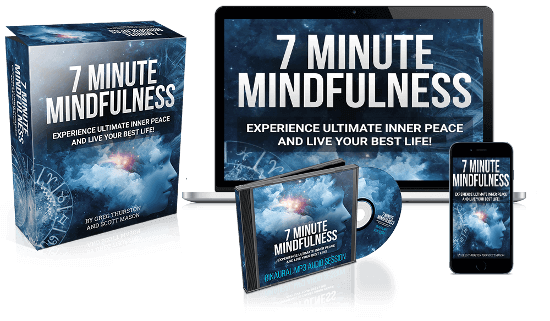 Mindfulness training helps people become more aware of their thoughts, feelings, and body sensations so that instead of being overwhelmed by them, they're better able to manage them.
If you are not sure that a massage in Bangkok Airport is going to provide the stress relief you require and you want to learn more about these simple techniques, then click this link to check out the downloadable options included in this 7 Minute Mindfulness course.
I think you will be surprised how these simple techniques can improve your outlook.

Thai Airways Royal Silk Massage and Spa
If you are travelling Royal Silk Class on Thai Airways then you can experience a choice of complimentary:

Neck and shoulder
Foot massage
in the Royal Orchid Spa, which is located just across from the Thai Airways Business and First Class lounges in Concourse D on the Third Floor.
SILK CLASS ZONE FACILITY:
8 Neck & Shoulder or Relaxing Foot Massage Corners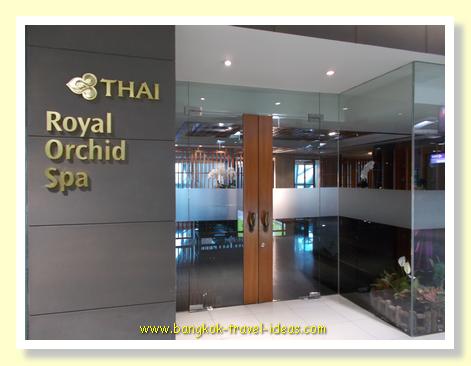 For those lucky enough to be travelling First Class, then you also have the option of the luxurious full body massage and Thai Airways Spa treatment in the same location.
There are two choices available:
Touch of Silk - Full body oil massage - 60 minutes
Royal Thai Massage - Full body massage - 60 minutes
Although Thai Airways do not accept advance reservations for any of the treatments.
In my experience once you present at the First Class lounge with your boarding pass, just let the staff know that you would like to have the Thai  neck and shoulder massage, the Thai foot massage or the full body massage.

The Thai Airways staff will be able to book your time slot.
Just ask about this service when you present your boarding pass at entry to the Thai Airways lounge and they will phone ahead to make your reservation and they will come and get you at the appointed time.
For those of you that are Thai Airways Platinum Card holders and entitled to the use of the First Class lounge, then you can also use the above guidance.
FIRST CLASS ZONE FACILITIES:
3 Touch Of Silk Suites (Full Body Massage)
6 Neck & Shoulder or Relaxing Foot Massage Corners
2 Steam Rooms
2 Sauna Rooms
4 Shower Rooms
Toilets
Bangkok Airport Body Massage
No matter whether you are travelling Royal Silk Class or First Class, the service will be impeccable.
Once you arrive at the Royal Orchid Spa, you will be seated and given a welcome drink and a refreshing cold towel.
First Class passengers won't have long to wait, particularly if you organised the phone ahead option.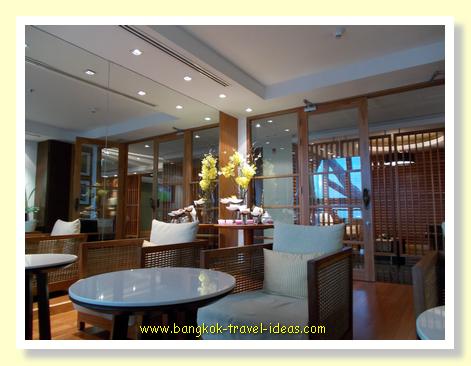 Take your turn to experience pure relaxation pleasure, depending upon your choice of service; either neck and shoulder or foot massage.

The neck and shoulder massage is my personal favourite, but everyone is different.
Afterwards you will be offered a choice of teas and snacks and be seated in the lounge room soothed by relaxing music and visual content.
Ginger tea is my favourite, although they have a wide range of options.
Stay in the Royal Orchid Spa lounge as long as you need.
Whether you opt for the simple massage or the full on Spa treatment you are sure to be relaxed for the next leg of your journey.
Best of all, use of the Royal Orchid Spa is complimentary for passengers flying Thai Airways in Royal First and Royal Silk Class.
Location:
Royal Orchid Spa at Concourse D, opposite the Thai Airways First Class Lounge (near Gate D1)
Opening Hours: 06:00 am. - 11:30 pm.

Massage in Bangkok Airport - Landside
You might think that an airport as large as Suvarnabhumi Airport would cater for people who need some relaxation after a long flight and you would not be wrong.
For those passengers that have to  pass through Immigration and connect to a Domestic flight, then a good way to relax in the meantime is with a remedial Thai massage in Bangkok Airport in one of two locations. 
If having a relaxing Thai massage in Bangkok Airport interests you, then there are two locations to choose from on the Airport property, so take your pick.
Bangkok Airport Massage and Spa
The Bangkok Airport massage price in the Express Massage and Spa located on the land-side area of Suvarnabhumi Airport are a little less than those air-side and the sessions are generally 30-120 minutes for each treatment.
Truth be told these massage prices are no longer the bargain they once were, so decide for yourself if the service makes it worthwhile.
If you have arrived at the airport early to collect your visitors or maybe you are just too early for your check-in, then take the opportunity to have a massage in Bangkok Airport to kill some time.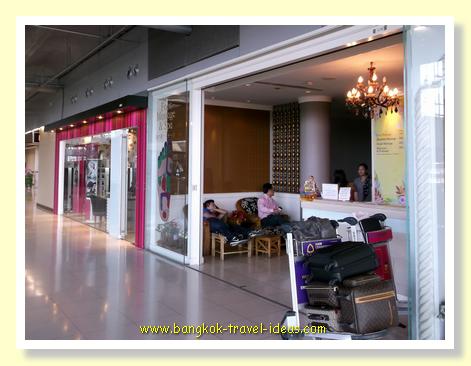 This Bangkok Suvarnabhumi Airport massage is easy to locate and it means that you can have a Thai massage in Bangkok Airport whilst waiting to meet an arriving friend or before you set off on your flight.
Location:
The Express Spa and Thai massage service is located on Level 3 near to the Miracle Lounge and next to the Hair Salon.
Choose a 30 minute massage from:

Foot Massage 650 -1600 baht
Back and Shoulder Massage 650 -1600 baht
Thai Massage 800 -1700 baht
Prices subject to change.
Photo courtesy of Joanne, whose feet were aching from exploring Bangkok.
There is a choice of Thai massage services and treatment times available, that cater for all preferences, so you won't be disappointed.
They say that the Suvarnabhumi Airport massage is the best in Bangkok, let me know what you think.

Welcome Massage
If you are waiting to meet an incoming passenger and have some time to spare, consider taking a massage in Bangkok Airport to pass the time.
The Welcome Massage offers Thai massage services to Bangkok Airport visitors, pricing is only indicative and can vary.
Choose from:
Thai massage  400 baht
Head and Neck Massage 400 baht
Foot Massage 400 baht
Oil Massage 600 baht
Remedial Massage ? Baht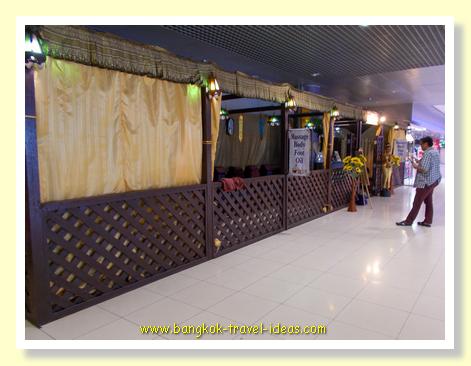 Location:

Welcome Massage is down in the lower level of Suvarnabhumi Airport and is located just adjacent to the escalator and on the same level as the Airport Rail Link Train service.
Go to the level with the Taxi ranks and then go down one more level. You can either use the lift or the escalator.
Usually the escalator is quicker as the lifts can be quite congested from the passengers on the higher level floors.
If you need to change some dollars to Thai Baht then you can do that also in this area of the airport.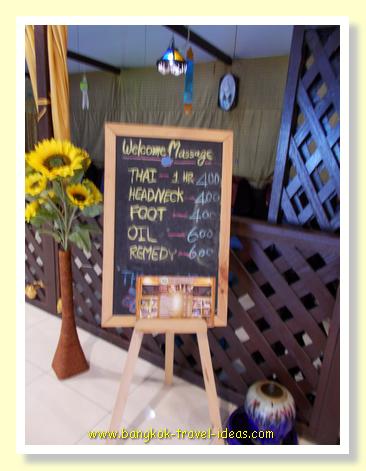 Novotel Suvarnabhumi Airport Hotel Thai Massage
If you have some extra time to spare and would like a Thai Massage near Bangkok International Airport, then you can shoot on over to the Novotel Suvarnabhumi Airport hotel.
You can walk there in about 7 minutes using the lower level Suvarnabhumi International Airport underground walkway.
Ask the Novotel Hotel check-in desk about the use of the sauna and massage facilities.
The fee will depend upon the service you require. 
The Novotel Suvarnabhumi Airport has a gym, swimming pool and shower facilities, so this is one of the places that you can come and get a Bangkok Airport shower if you really need to freshen up before an onward flight.
Next time you travel to Bangkok, make sure you leave time to have a Thai massage in Bangkok Airport.
Full Service Massage
Unfortunately for those searching for full service massage, there is no full service available in Bangkok Suvarnabhumi Airport.
If you desire  a more complete massage then you should check out massage facilities outside the airport complex.
Page revised November 2019

Onward Hotel Booking
Now that you know about the massage facilities available in Bangkok Suvarnabhumi Airport, take the opportunity to book your next destination hotel with Agoda.
Whatever your destination Agoda has a hotel for you.
Check availability and pricing anywhere in the world with Agoda.
---
If you are interested in a massage in Bangkok Airport then you might also be interested in:
---