Massage in Bangkok Airport
Would you like to relax with a Thai massage in Bangkok Airport before your next flight?
It is good to know that there are a range of massage services at Suvarnabhumi Airport, where you can get those muscles loosened and the knots removed.

Massage in Bangkok Airport
One of the treats of visiting Bangkok is the ready availability of Thai massages and you can't visit Thailand without having this experience at least once.
But even if you can't get into the city on your Bangkok layover, or if you just get stuck at Bangkok Airport with some time to kill, then there are still a few options available to help you relax.
Herbal Massage Compress Ball Body Spa Thai Face Aroma Essential Oil Pain Relax Natural Healing Big Size 200g (7.05 Oz)
Check out the following locations for a Thai massage next time you go to Bangkok.

International Air-side Departure
Chang Foot Massage and Spa
The Chang Foot Massage and Spa is the most well-known Thai massage franchise in Bangkok Airport and they have have a range of different massage treatments as well as pedicures and manicures.
Choose from:
Foot Massage - 700 Baht
Shoulder Massage - 700 Baht
Hand Massage - 700 Baht
Thai Massage - 700 Baht
Aromatherapy - 1500 Baht
Manicure and Pedicure - 800 Baht
Location: 
Concourse A, Level Four, 
Concourse G, Level Four
Concourse A, Level Three
Why not pamper yourself with an aromatherapy session at Chang Foot Massage and Spa, whilst the husband looks after the children.

Thai Airways Royal Silk Massage and Spa
If you are travelling Business Class on Thai Airways then you can experience a choice of:

Neck and shoulder or foot massage in the Royal Orchid Spa.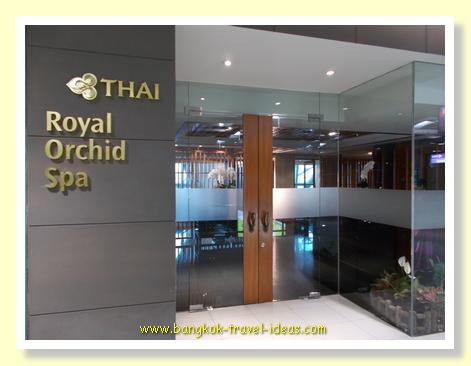 For those lucky enough to be travelling First Class, then you also have the option of the luxurious Thai Airways Spa treatment.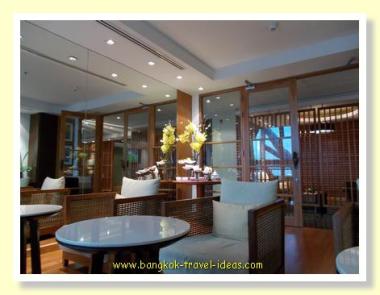 Once you arrive at the Royal Orchid Spa, you will be seated and given a welcome drink and a refreshing cold towel.  First Class passengers won't have long to wait.
Take your turn to experience 20-minutes of pure relaxation pleasure, depending upon your choice of service; either neck and shoulder or foot massage.
Afterwards you will be offered a choice of teas and snacks and be seated in the lounge room soothed by relaxing music and visual content.
Ginger tea is my favourite.
Stay here as long as you need.
Whether you opt for the simple massage or the full on Spa service you are sure to be relaxed for the next leg of your journey.
Best of all, use of the Royal Orchid Spa is complimentary for passengers flying Thai Airways in Royal First and Royal Silk Class.
Location:
Concourse D, opposite the Thai Airways First Class Lounge (near Gate D1)
Bangkok Airport Massage Landside
For those passengers that have to connect to a Domestic flight and pass through Immigration, then a good way to relax is with a remedial massage in Bangkok Airport in one of two locations. 
There are two locations to choose from on the Airport property, so take your pick.
Foot Massage and Spa
The prices in the Foot Massage and Spa located on the land-side area of Suvarnabhumi Airport are about half of those air-side and the sessions are generally one hour instead of 45 minutes, so you win on both counts.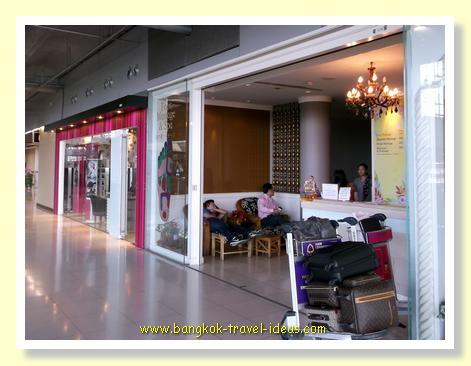 It is easy to locate and it means that you can have a Thai massage in Bangkok Airport whilst waiting to meet an arriving friend or before you set off on your flight.
Location:
The Foot Massage and Spa service is located on Level 3 near to the Miracle Lounge and next to the Hair Salon.
Choose from:

Foot Massage 300 baht
Shoulder Massage 300 baht
Hand Massage 300 baht
Manicure and Pedicure 300 baht
There is a choice of Thai massage services available, that cater for all preferences, so you won't be disappointed.

---
Welcome Massage
Welcome Massage offers Thai massage services to visitors to Bangkok Airport.
Choose from:
Thai massage (1 hour) 400 baht
Head and Neck Massage 400 baht
Foot Massage 400 baht
Oil Massage 600 baht
Remedial Massage b00 Baht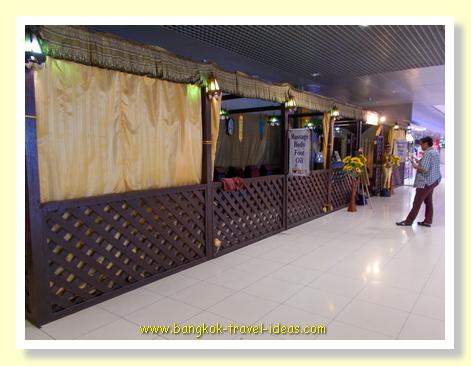 Location:

Welcome Massage is located in the lower level of Suvarnabhumi Airport and is located just adjacent to the escalator.
Go down to the level with the Taxi ranks and then go down one more level and if you need to change some dollars to Thai Baht then you can do that also.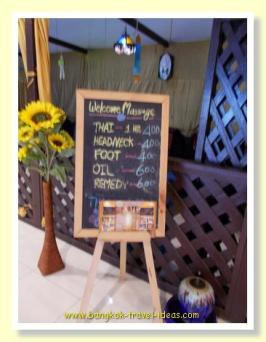 Next time you travel to Bangkok make sure you leave time to have a Thai massage in Bangkok Airport.
Page revised December 2018
---
You might also be interested in:
Return from Massage in Bangkok to Where to Stay in Bangkok

Return from Massage in Bangkok to Home Page

---
---