Massage in Bangkok Airport
Massage in Bangkok Airport
Would you like to relax with the best Thai massage in Bangkok Airport before your connecting flight?
Not booked flights yet?
Well make sure to check out our article on how to get cheap flights to Bangkok.
It is pleasing to know that there are a different types of Thai massage at Suvarnabhumi Airport, where you can get those muscles loosened and the knots removed before continuing your flight.

Thai Massage in Bangkok Airport
A BKK Airport massage is one of the treats of visiting Bangkok and even if you just visit for a short period the ready availability of Thai massages is a pleasure that you must experience at least once.
Suvarnabhumi Airport has Thai massage facilities in both landside and airside locations.
So whether you are arriving, departing or just meeting someone, there is a range of venues that can provide a relaxing massage in Bangkok Airport.
Continue reading to find the best location for your visit.
Thai massage services in Bangkok Airport
But even if you can't get out of Suvarnabhumi Airport into the city on a Bangkok layover, or if you just get stuck at Bangkok Airport with some time to kill, then there are still a few options available to help you relax before you take your onward flight, and having a relaxing BKK Airport massage is one of them.

Why not get into the massage mood before you come to Bangkok?
Explore the Amazon links below.
Check out the following locations for a Thai massage next time you go to Bangkok Airport.

International Air-side Departure
Sensib Thai Massage
Sensib Thai Massage@Suvarnabhumi Airport formerly known as The eXpress Spa Body and Foot Massage and before that known as Chang Massage and Spa Bangkok Airport is the most well-known and best Thai massage franchise and is frequented by travellers from around the world. (under new Management again)
If you require a massage in Bangkok Airport then this is the place I suggest.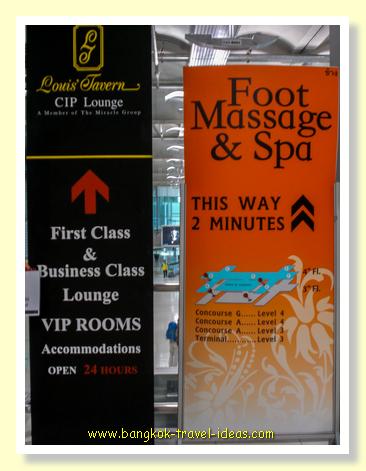 Sensib Thai Massage in Bangkok Airport has a range of different Thai massage treatments, as well as standard pedicure and manicure options, that can be used to while away some time, between or before flights.
Treatment sessions are progressive in the range 30 - 120 mins.
Location: (T1EW4-06,4-07)
Phone: +66 64 301 0901
Choose from: 
Foot Massage
Back and Shoulder Massage
Hand Massage
Thai Massage
Thai Massage + Balm
Aromatherapy Oil Massage
Manicure and Pedicure 
Add-ons
Hand Massage 
Back and Shoulder 
Foot Massage
Herbal Compress
Location: 
Concourse A, Level Four, 

Concourse G, Level Four

Concourse A, Level Three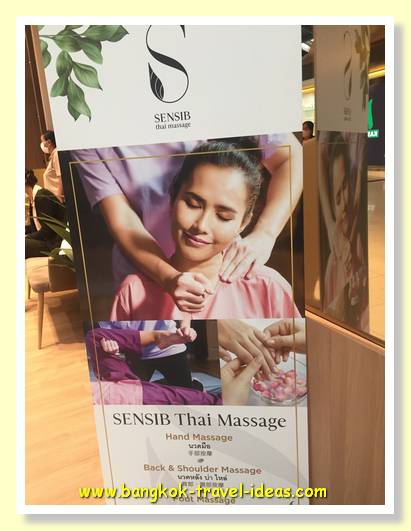 Sensib Thai Massage at Bangkok Airport
Why not pamper yourself with an aromatherapy session at Sensib Thai Massage, whilst the husband looks after the children.
If you are looking for an alternative to a body massage in Bangkok Airport, you can even get a manicure and hand massage instead.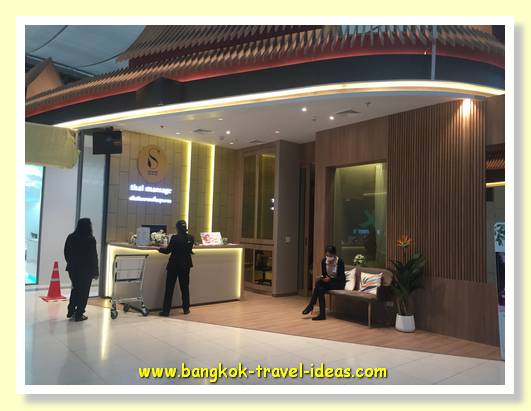 Sensib Thai Massage@Suvarnabhumi Airport
Foot Massage at Home
Experiencing a Thai foot massage in Suvarnabhumi Airport is a pleasure you deserve... but what about back home?
Check out the Nekteck Foot Massager with heat, over at Amazon.
This Shiatsu heated electric kneading Foot Massager Machine for Plantar Fasciitis with a built-in infrared heat function and power cord, could be just what you need to get that welcome relief.
---
Bangkok Airport Services
Whether arriving or departing from Suvarnabhumi Airport, additional paid guest services are available and can be pre-booked to make your arrival and departure go smoothly.
Suvarnabhumi Airport: 3-Hour Miracle Lounge Access
If transitting or getting ready to make your next flight connection, having access to a full-service airport lounge can make all the difference to your comfort.
Paid access to the friendly Miracle Lounge is available from GetYourGuide.
Enjoy 3 hour lounge access while waiting to take-off
Enjoy a choice of hot and cold dishes from The Miracle Group Hotel chef, served 24/7
Choose from several lounges throughout the International Departures terminal
Access the shower room, prayer room, and other facilities
Make your selection below to find out more.
Read all about the Bangkok Airport lounges here.
Here are listed free and paid access areas, explaining all the facilities and lounge locations in Suvarnabhumi Airport.
Private Transfer to Suvarnabhumi Airport

Whether you are just departing Thailand for a short trip or going on a longer vacation, then arranging an Airport transfer could make things go more smoothly.
Paid access to Bangkok Airport paid transfers is available from GetYourGuide.

Choose from sedan or van depending upon the number of passengers.
VIP Meet and Greet Service

After landing, be met at the airbridge with a dedicated concierge to assist you through the immigration formalities.
Skip the line.
Paid access to the VIP Meet and Greet Service in Bangkok Suvarnabhumi Airport is available from GetYourGuide.

---
Bangkok Airport Lounge Prices
I created a separate page for Bangkok Airport lounge prices and airport locations, that can all be found at this link.
When you are not sure whether your airline provides a free lounge or you need to book a paid airport lounge, then read more in the separate page.
Thai Airways Royal Silk Massage and Spa
Exclusively for THAI's premium class travelers and elite Platinum status members, the Royal Orchid Spa at Suvarnabhumi Airport in Bangkok is consistently voted by Skytrax as theWorld's Best Airline Spa Facility.

If you are travelling Royal Silk Class on Thai Airways then you can experience a choice of complimentary:

Neck and shoulder
Foot massage
in the Royal Orchid Spa, which is located just across from the Thai Airways Business and First Class lounges in Concourse D on the Third Floor.
SILK CLASS ZONE FACILITY:
8 Neck & Shoulder or Relaxing Foot Massage Corners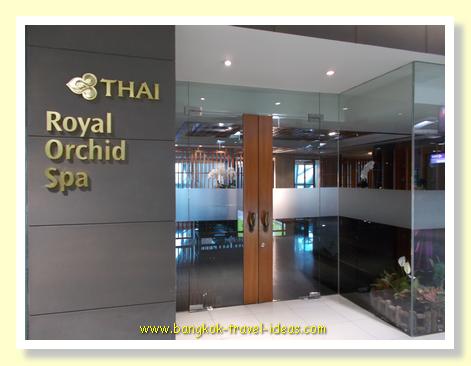 For those lucky enough to be travelling First Class, then you also have the option of the luxurious full body massage and Thai Airways Spa treatment in the same location.
There are two choices available:
Touch of Silk - Full body oil massage - 60 minutes
Royal Thai Massage - Full body massage - 60 minutes
Although Thai Airways do not accept advance reservations for any of the treatments, in my experience once you present at the First Class lounge with your boarding pass, just let the staff know that you would like to have the Thai neck and shoulder massage, the Thai foot massage or the full body massage.
The Thai Airways staff will be able to reserve your time slot.
Just ask about this service when you present your boarding pass at entry to the Thai Airways lounge and they will phone ahead to make your reservation and they will come and get you at the appointed time.
For those of you that are Thai Airways Platinum Card holders and entitled to the use of the First Class lounge, then you can also use the above guidance.
FIRST CLASS ZONE FACILITIES:
3 Touch Of Silk Suites (Full Body Massage)
6 Neck & Shoulder or Relaxing Foot Massage Corners
2 Steam Rooms
2 Sauna Rooms
4 Shower Rooms
Toilets
Bangkok Airport Body Massage
No matter whether you are travelling Thai Airways Royal Silk Class or Thai Airways First Class, the service will be impeccable.
Once you arrive at the Royal Orchid Spa, just present your boarding pass and complete the service form.
You will be seated and given a welcome drink and a refreshing cold towel and can relax in the luxurious waiting area.
First Class passengers won't have long to wait, particularly if you organised the phone ahead option.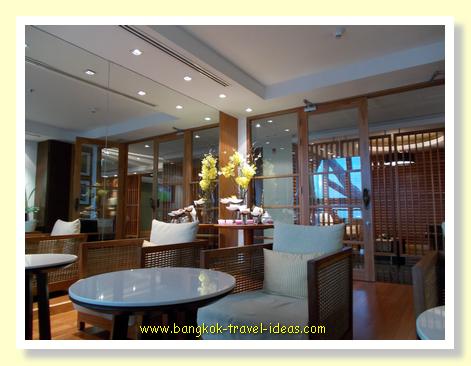 Take your turn to experience pure relaxation pleasure, depending upon your choice of service; either neck and shoulder or foot massage.

The neck and shoulder massage is my personal favourite, but everyone is different and 20 minutes just seems about the right length of time to have a soothing body massage.
Afterwards you will be offered a choice of teas and snacks and be seated in the lounge room soothed by relaxing music and visual content.
Ginger tea is my favourite, although they have a wide range of options.
Spend a few moments completing the survey form and provide feedback on your experience.

Stay in the Royal Orchid Spa lounge as long as you need, before heading down to your boarding gate or returning to the Thai Airways lounge.
Whether you opt for the simple massage or the full on Bangkok Airport Spa treatment you are sure to be relaxed for the next leg of your journey.
Best of all, use of the Royal Orchid Spa is complimentary for passengers flying Thai Airways in Royal First and Royal Silk Class.
Location:
Royal Orchid Spa at Concourse D (near Gate D1)

Opening Hours: 06:00 am. - 11:30 pm.



---
Don't forget about these paid services from GetYourGuide that can be pre-booked to make your arrival and departure go smoothly.
Make your selection to find out more.
Massage in Bangkok Airport - Landside
You might think that an airport as large as Suvarnabhumi Airport would cater for people who need some relaxation after a long flight and you would not be wrong.
For those passengers that have to pass through Immigration and connect to a Domestic flight, then a good way to relax in the meantime is with a remedial Thai massage in Bangkok Airport in one of two places. 
If having a relaxing Thai massage in Bangkok Airport interests you, then there are two locations to choose from on the Airport property, so take your pick.
Bangkok Airport Massage and Spa
The Bangkok Airport massage price in the eXpress Massage and Spa located on the land-side area of Suvarnabhumi Airport, are more affordable than those air-side and the sessions are generally 30-120 minutes for each treatment.
Truth be told, with exchange rates these days and overall price inflation then these massage prices are no longer the bargain they once were, so decide for yourself if the service makes it worthwhile.
If you have arrived at the airport early to collect your visitors or maybe you are just too early for your own check-in, then take the opportunity to have a massage in Bangkok Airport to pass the time.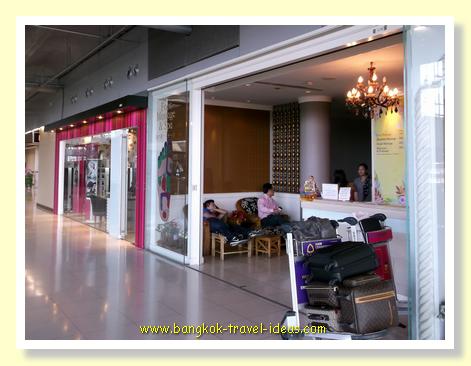 This Bangkok Suvarnabhumi Airport massage is easy to locate and it means that you can have a Thai massage in Bangkok Airport whilst waiting to meet an arriving friend or before you set off on your flight.
Location:
The eXpress Spa and Thai massage service is located on Level 3 near to the Miracle Lounge and next to the Hair Salon.
Choose a 30 minute massage from:

Foot Massage 650 -1600 baht

Back and Shoulder Massage 650 -1600 baht

Thai Massage 800 -1700 baht
Prices subject to change.
Photo courtesy of Joanne, whose feet were aching from exploring Bangkok.
Even if you have tired feet, there is a choice of Thai massage services and treatment times available, that cater for all preferences, so you won't be disappointed.
They say that the Suvarnabhumi Airport massage is the best in Bangkok, let me know what you think.

Baan Ruanrak Massage
It seems that the Welcome Massage stalls have been replaced by Ban Ruan Rak Massage.
They have actually spread their footprint and so you can find them more or less opposite the entrance to the ARL in the Bangkok Airport basement level.
Ban Ruan Rak Health Massage in Suvarnabhumi Airport
If you are waiting to meet an incoming passenger and have some time to spare, consider taking a massage in Bangkok Airport to pass the time.
Ban Ruan Rak Massage offers Thai massage services to Bangkok Airport visitors, pricing is only indicative and can vary.
Choose from:
Thai massage  400 baht
Head and Neck Massage 400 baht
Foot Massage 400 baht
Oil Massage 600 baht
Remedial Massage ? baht
Various massage booths in Bangkok Airport at Ban Ruan Rak massage
Location:

Ban Ruan Rak Massage is down in the lower level of Suvarnabhumi Airport and is located just adjacent to the escalator and on the same level as the Airport Rail Link Train service.
Go to the level with the Taxi ranks and then go down one more level.
You can either use the lift or the escalator.
Usually the escalator is quicker as the lifts can be quite congested from the passengers on the higher level floors.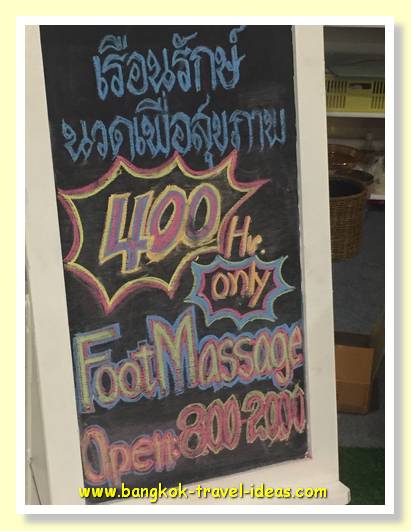 Ban Ruan Rak Massage in Bangkok Airport
Enjoy your Thai Massage.
Suvarnabhumi Airport Money Exchange
If you need to change some dollars to Thai Baht then you can do that also in this area of the airport and you will get the best exchange rate on the property. 
Because the exchange rate booths are located on the Airport Link property and not on the Airport property, then rents are lower.
Makes sense, right?
Kasikorn currency exchange in Bangkok Airport
---
Novotel Suvarnabhumi Airport Hotel Thai Massage
When you have extra time to spare and would like a Thai Massage near Bangkok Airport, then you can shoot on over to the Novotel Suvarnabhumi Airport Hotel.
Ask the Novotel Hotel check-in desk about the use of the sauna and massage facilities, whilst there.

The fee will depend upon the service you require.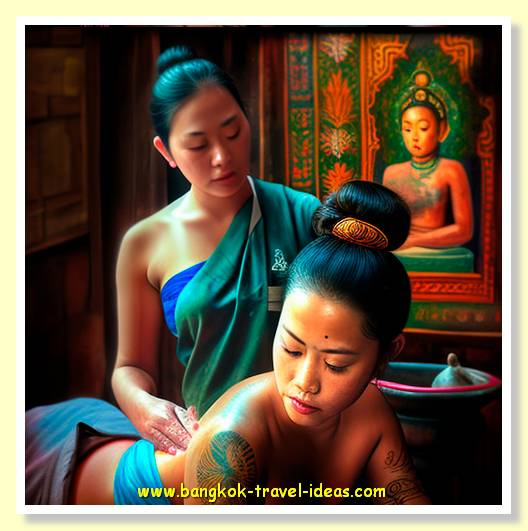 Relax with a Thai massage
Vous Spa is ready to serve the best massage experience every day from 10.00 am to 08.00 pm and is located on level 2 of Novotel Bangkok Suvarnabhumi Airport, a seven-minute walk from Suvarnabhumi Airport.

You can easily walk there using the lower level Suvarnabhumi International Airport underground walkway.

Price: THB 3,900 for 120 minutes
If you're looking for a spa near Suvarnabhumi Airport, Vous Spa is the best choice.
For more information, please call +662 131 1111.
The Novotel Suvarnabhumi Airport Hotel has a gym, swimming pool and shower facilities, so this is one of the places that you can come and get a Bangkok Airport shower, if you really need to freshen up before an onward flight.
There is no need to be a guest of the hotel to make use of this service, but if you want to book then use this Agoda link to the Novotel Suvarnabhumi Airport Hotel and check out their rates.
Relax with a Thai massage in BKK Airport
Next time you travel to Bangkok, make sure you arrive a little earlier and leave time to have a Thai massage in Bangkok Airport.
Full Service Massage in Bangkok Airport
Unfortunately those searching for full service massage, Nuru massage or boom boom massage are going to be disappointed.
There is no full service massage option available in Bangkok Suvarnabhumi Airport, just regular Thai Massage.
If you desire  a more complete massage then you should check out massage facilities outside the airport complex.
The Official Bangkok Airport website may have additional details.
Wat Pho Massage in Bangkok
Partake in an experience listed as a UNESCO Intangible Cultural Heritage with this Thai massage in Bangkok provided by GetYourGuide.
Have your authentic Wat Pho massage therapist come to your hotel room for a healing massage. 
Start your experience by meeting your massage therapist in your hotel lobby.
As the session begins, relax as your massage therapist helps replenish your body, energy, and structure to treat illnesses believed to be caused by the obstruction of energy flow. 
Feel your therapist rebalance the energy flow in your body and open up blocked routes with a combination of manipulations using their hands, elbows, knees, and feet, along with herbal hot compresses.
Learn more about this Wat Pho Thai massage in your hotel room or enter the details below to take the next step.
Digital Marketing Services
If you need assistance with marketing exposure and would like more calls for your home services business, then check out the link below to get help.
Plumbing
Carpet Cleaning
HVAC
Bricklaying
Pest Control etc.
All home service businesses need a constant stream of interested clients, so shout out on the link below, if you need more qualified leads and management of your Google Business Profile.
Mention Bangkok Travel Ideas for a special bonus.
Osaki Best Massage Chair
There is no need to wait to have a body massage in Bangkok Airport, in fact modern technological advances means that the pleasure of a massage can be experience right in your own home, with the development of the electronic massage chair. 
The New York Times evaluated the Osaki OS-Champ as the best massage chair from 16 models of top brands that were tested for:
reclining feature
heating feature
intensity settings
kneading feature
The article concluded that the Osaki OS-Champ
warmed the body better than the other massage chairs,
massage chair fully reclined to the supine position
had a generous 3-year warranty
outperforms more expensive massage chairs in the areas of heating and kneading
The Osaki OS-Champ is available through Amazon and you can experience a full body massage in the comfort of your home and as frequently as you desire.
Other Osaki Massage Chairs
Onward Hotel Booking
Now that you know a little about Thai massage in Bangkok Airport, take the opportunity to book your next destination hotel with Agoda.
Whatever your destination Agoda has a hotel for you.
Check availability and pricing anywhere in the world with Agoda.
Massage in Bangkok Airport Summary
This article provides information about massage services at Bangkok Airport and serves as a guide for travellers, offering insights into the availability of massage facilities, types of massages offered, and the overall spa experience at Suvarnabhumi Airport.

The article begins by highlighting the popularity of Thai massage and its cultural significance in Thailand and it emphasizes that Bangkok Airport provides opportunities for travellers to indulge in rejuvenating massages, even during their layovers or waiting times.
It also provides details about the massage services available, both airside and landside at Bangkok Airport and mentions the presence of dedicated massage centers and spas within the airport premises, offering a variety of traditional Thai massages, foot massages, and other therapeutic treatments.
The author highlights the professional training of the massage therapists and the relaxing ambience of the spa facilities and furthermore, it offers insights into the benefits of receiving a massage at the airport and why you need one.
It specifically mentions that massages can help alleviate travel-related stress, improve circulation, and provide relaxation before or after a long journey and also suggests that travellers should take advantage of these services to enhance their overall well-being during their time at the airport.
Additionally, the page provides information on the availability of massage appointments and the duration of each session and advises travelers to inquire about the services and make reservations in advance, particularly during peak travel seasons, to ensure availability and avoid waiting times.
By utilizing the information provided on the webpage, travelers can relax, rejuvenate, and enjoy a soothing spa experience during their time at Bangkok Airport.
People also ask:
Sensib Thai Massage is located at the intersection of Concourse E and Concourse C in Suvarnabhumi Airport in the International Departures area.

After passing through Immigration, turn left and continue walking until at Concourse C. Sensib Thai Massage is to your left.
Suvarnabhumi Thai Massage is provided in Bangkok Airport in both airside and landside locations.

Choose from:

Sensib Thai Massage in International Departures
Vous Spa in Novotel Suvarnabhumi Airport Hotel
Baan Ruan Rak near the ARL entrance

So if you need a massage in Bangkok Airport, there are plenty of choices.
Revised 13-August-2023
If you are interested in a massage in Bangkok Airport then you might also be interested in: