Bangkok Shopping Guide
Want to go Bangkok shopping?
Everybody does.
So let's look at my Bangkok shopping guide and get a real feel for what awaits you when you venture out into the streets of Bangkok.

---
Use the Power of Agoda to find Great Deals on Bangkok Airport Hotels
Whether you are arriving or departing from Suvarnabhumi Airport you are bound to need an Airport Hotel.
Use the powerful search function to identify the best choice and make a booking TODAY.
---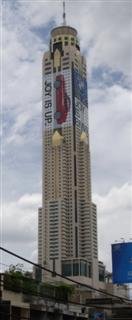 It is a sort of primal instinct to go out and bring back the very best bargain of the day and Bangkok is absolutely full of shopping bargains.
You can go shopping in Bangkok alone or in a group and it almost becomes a social occasion and a get together with friends.
Bangkok is a fabulous place to shop and there is something here for everyone, whether it be designer clothing or that charming handmade item that reflects the culture of the East.
Whether it be in the majestic shopping mall or the small alleys of the cloth market at Pratunam, you will find shopping in Bangkok to be an incredible experience and you could literally spend days just checking out the various street markets and stalls.
One of the common questions that is asked is, "Should I haggle over the price".
Well, if you are looking to do some Bangkok shopping, then generally speaking you pay the ticketed price in large department stores.
At small stall holders or independent retailers like camera shops you should be able to haggle over the price, or get an accessory thrown in.
Certainly in the Bangkok street markets or night markets, where things are not priced, you should haggle over the price to get the best bargain and most stalls will give a discount if you buy more than one item.
Most shops in Bangkok have a no returns policy, so make sure you check the item properly before purchasing.

Check clothing for faults and staining; things have a habit of getting wet and the colour can run from one garment to another, so this is something to look for.
Not everywhere will allow you to try the garment, particularly the wholesale markets, but some of the stores will have a cape that you wear to allow you to try things on.
Street vendors often buy seconds, so have a good look for faults in the material, poor stitching, wrong sizing etc as often the Quality control is somewhat lacking.
For brand name electronic items, such as cameras, ensure that you have an international warranty that is valid in your home country.
Other than this advice, you are pretty much on your own, as you have little in the way of consumer rights in Thailand.
The rule when shopping in Bangkok is buyer beware.
This Bangkok shopping guide covers the following large stores and shopping centres and if you are keen on shopping in Bangkok you will want to visit these places often, sometimes just to window shop and experience the atmosphere, other times you will be looking for that unique holiday gift to take back home with you.
Here is a list of some other Bangkok shopping malls well worth a visit:
Pantip Plaza
MBK (MahBoonKrong)
Esplanade
Bangkok Shopping Guide
Platinum Fashion Mall
Want to bypass the brand names and jump straight to bargain ladies fashion?
Well, at this indoor market you are bound to find a style that suits you, it has literally hundreds of small shops to browse through.
So let's get you started on your shopping adventure and first cab off the rank in this Bangkok Shopping guide is the Platinum Fashion Mall in Pratunam close to the Baiyoke Tower and just across the road from the Amari Watergate Hotel.

If you would like to stay in this area, you can check guest reviews and availability on the Agoda website for the Amari Watergate Hotel.
---
Pratunam Market
Read about my Bangkok Shirt Shopping expedition and how to find good quality inexpensive business shirts in the Pratunam area of Bangkok.
---
Shopping in Sampeng Market
---
Pantip Plaza
If you are interested in electronics then the Bangkok shopping guide recommends Pantip Plaza as the place to come and shop in Bangkok.
It has 5 floors of wall to wall computers, sound systems, cameras, memory sticks, hard drives, mother boards etc.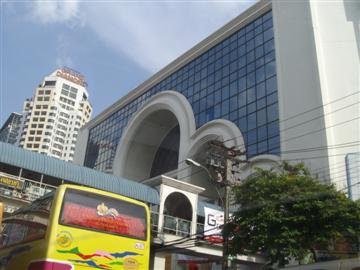 You can spend the whole day here roaming looking for that special bargain.
It is not the only place in Bangkok to get cheap electronics but if you are located in the city then it is the nearest.

Later the Bangkok shopping guide will cover alternatives like Paradise Park that rivals anything in the Emporium Tower for brand name goods.
How to go to Pantip Plaza
Pantip Plaza is located on Petchburi Road.
You can take a taxi from your hotel but risk getting gridlocked, particularly on the weekend as you approach the intersection near the Bayoke Tower.
It is an extremely busy part of the city, with tuk tuk's and motorbikes being the best way to get around.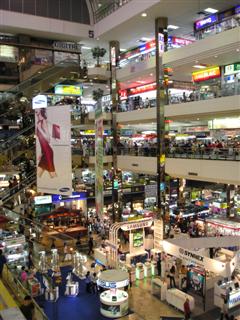 Pantip Plaza can also be reached if you get off the Skytrain at Chit Lom, walk past the Intercontinental Hotel on your right, then turn right at the first intersection.
On your right hand side you will see Gaysorn Plaza and Narai Phand shopping centre.
Don't sit down on the little wall next to the small pond, otherwise the security guard will come out and move you on.
Go across the road using one of the pedestrian bridges and continue with Central World Plaza on your left.
Walk further on and cross the small bridge that goes over Klong Saen Sap (the canal) and turn left at the next intersection.
Pass the new Platinum Mall 2 and the older Platinum Shopping Mall on your left and keep on for about 250 metres. Pantip Plaza will also be on your left and you can't miss it.
According to our mates at Google Maps it is about 1.1 km total distance and you will certainly be able to walk there faster than a taxi can drive you.
MBK (MahBoonKrong)
MBK is located in the shopping centre of Bangkok so just follow the instructions from your Bangkok shopping guide.
There are multiple floors of clothes, shoes, jewelry, cameras, mobile phones, electronics, luggage, food hall and a cinema complex with English language films.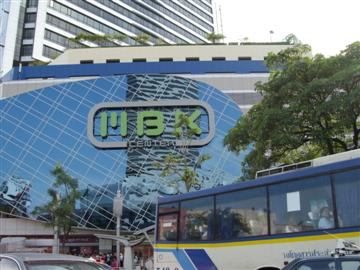 If you like printed t-shirts then there are plenty of styles to choose from here.
Of course if you punt for the 120 baht t-shirt don't be surprised if it doesn't fit so well after the first wash. You have been warned.
Choose t-shirts with seams down the sides and shrinkage should not be a problem. Those that are made out of a tube of material seem to experience a much higher level of shrinkage.
You should expect to be quoted about 250 baht at the small stalls, but if you buy five or more you may get the price closer to 180 Baht each.
It is always worth asking what the price is if you take more than one item.
Mostly the quality is good and they will last for quite a while. As always, inspect for poor stitching, faults and staining.
Brand name shops like Body Glove will have t-shirts for around the 400-600 baht range although they often have promotions if you buy more than one item.
Keep your eyes open for the stalls on the ground floor as they often have brand name goods at very low prices.
As you go up the escalator just look down to the ground below and you will see if they are there or not. I have found Domon belts and casual shirts to be of good quality.
How to go to MBK
Take the Skytrain to National Stadium station (you will need to change trains at Central Station, just walk across the platform actually).
Make sure you pay the full fare to National Stadium station or the turnstile will not let you out and you have to go to the ticket booth and pay the difference.
I have made this mistake twice so double check when you select your ticket choice at the vending machine.
I have lots more to add to this Bangkok shopping guide so please return to see the updates.
Paradise Park
Paradise Park has now opened and is waiting to be explored on your next shopping trip.
This shopping mall has more brand name shops than the nearby Seacon Square, so if you are after something fancy, then this is a good place to start.
Seacon Square
The Bangkok shopping guide wants to tell you what is available at Seacon Square shopping centre when you go shopping in Bangkok.
the basement has beauty, Thai massage, mobile phones
the ground floor has a food hall, fashion, Tesco Lotus, Robinsons department store, IT and computer sections.
the first floor has various shops
the second floor has fast food
the third floor has furniture, Yoyo Land

, E

nglish language schools, restaurants and the ice skating rink.
the fourth floor has restaurants
the fifth floor has a movie theatre, fitness gym and various beauty shops.
The Bangkok shopping guide has summarised what you can find at Seacon Square.
If you want to experience Bangkok shopping along with mainstream Thai people then this is an experience not to miss.
It opens at 10:00 am and closes by 9:00 pm although some businesses do open earlier and close a little earlier depending upon their customer focus.
Sunday is by far the busiest shopping day, when all the family goes on a big shopping expedition.
Go To Seacon Square
Seacon Square is located in the East of Bangkok in the Prawet district, but just follow the instructions in your Bangkok shopping guide on how to get there.
The easiest way to visit is to take a hotel car and get them to collect you when you have finished your Bangkok shopping expedition.
If you want a bit more of an experience then you should go on the skytrain.

Take the BTS to On Nut Station turn back to face the city, go down the stairs on the left hand side and take a Bangkok taxi to Seacon Square. Practice your Thai on the Bangkok taxi driver by saying "Bpai Seacon krab".
Depending upon the traffic, it may take 25 minutes or longer and cost about 100 baht.
The Bangkok taxi driver should drop you outside the front of the main entrance next to McDonalds and from there you can start your Bangkok shopping experience.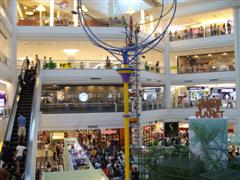 If you wish to return in the same manner then take a taxi from this point and again practice your Thai on the driver saying, "Bpai BTS On Nut krab".
Of course if you are loaded down by shopping bags and had enough of a Bangkok shopping experience for one day you may wish to go direct to your hotel.
Check with the driver before you get in the taxi that he is prepared to take you as far as your hotel.
Depending upon the time of day, traffic conditions and distance to you hotel he may decline to go, so just try the next taxi. If you are still inclined to practice your Thai, then saying "Bpai rong ram "hotel name" "district" should do the trick.
For example you can say, "Bpai rong ram "Emporium Saweeeet", Sookhumwit krab".
If the driver's face glazes over then just show him the hotel check-in card that you are carrying just for these types of emergencies.
It is all part of your Bangkok shopping experience and all part of Bangkok life.
Of course, it this all sounds too difficult, you could always stay at the Dusit Princess Hotel located right next door and simply walk home.
The Bangkok Shopping Guide will have a separate section in the future on how to deal with Bangkoi taxis, as it is useful skill for most people in many different situations.
Ultimately you are going to have to take a taxi somewhere, so you may as well know what to do.
Hopefully you have learned where to go and how to get to some of the major Bangkok shopping centres by reading the Bangkok shopping guide presented here. 
Shopping Bangkok Riverside
Asiatique the Riverfront nightmarket is a special kind of outdoor shopping experience on the Chao Phraya River.
Shopping Malls Near Bangkok Airport
Outside of the main city complex and out near to the main Bangkok Airport there is a selection of shopping malls close to the airport to be an option for Bangkok transit passengers.
Bangkok Airport Shopping
After enjoying your time in Bangkok and when it comes time to go home, there is still the opportunity to do some final shopping in Suvarnabhumi Airport at duty free prices.
The Suvarnabhumi Airport shops have some the best brand name items on display and there is sure to be that special item waiting for you as a reminder of your trip to Thailand.
---