Bangkok Airport Shopping
Treat yourself to some Bangkok Airport shopping on your next trip via Bangkok Suvarnabhumi Airport.
Bangkok Airport Shopping Tips
Browsing through brand name collections is a great way to pass the time whilst on a short Bangkok layover.
Pick up that amazing brand name gift for your special partner from the fabulous boutique stores located in the well-proportioned shopping complex of Bangkok Airport.
With personalised service guaranteed, any purchase will provide memories of this trip and the gift will provide good service for years to come. 
Longchamp
It is not that long ago that Bangkok Airport was first commissioned and in the early days the place was a spartan shell of an airport.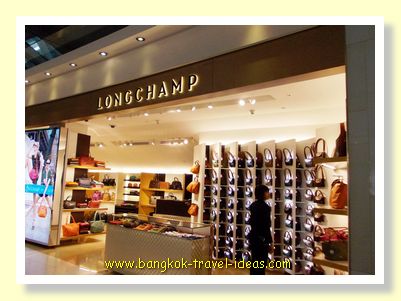 Now things have changed remarkably, with its aim to become the foremost airport in the Asian region.

Competing with the likes of Changi Airport in Singapore and new Hong Kong Airport has encouraged the development of an amazing retail shopping space, set to delight even the most discerning shopper.
Gucci
Visitors to Bangkok Airport are now confronted with all the very best of the world's brand name goods.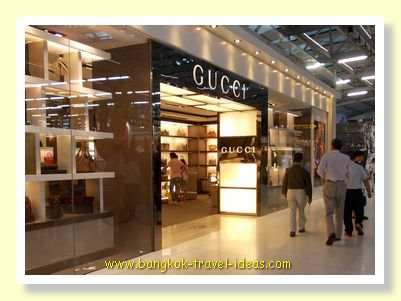 Not only is Bangkok Airport shopping a great way to pass the time when you have to change planes in Bangkok but it is also great for those travellers that are departing from Bangkok itself.
At your leisure, browse the range of stores that carry all kinds of modern and traditional Thai goods, knowing that you are only minutes away from your boarding gate.

One store that should be on your shopping list is the OTOP shop. Products marketed under the OTOP branding are always popular gifts.
As the OTOP brand (One Tambon One Product) is synonymous with traditional Thai handicrafts and products crafted in the ways of old.
Cartier
The OTOP program was developed and pioneered by the Thai Royal Family to provide skills education and home based business opportunities for rural Thai citizens.

The intention is to encourage the retention of traditional skills inherent in the Thai community and provide local work opportunities.

Your purchase is helping in more ways than one, and whatever you purchase from this OTOP outlet is going to support rural Thai communities and their families.
You will find the OTOP shop located towards Concourse C, opposite Gin Ramen Restaurant.

Emporio Armani

If you didn't manage to get to the famous Jim Thompson shop in Bangkok, then don't despair because there is a retail outlet located right here in Bangkok Airport.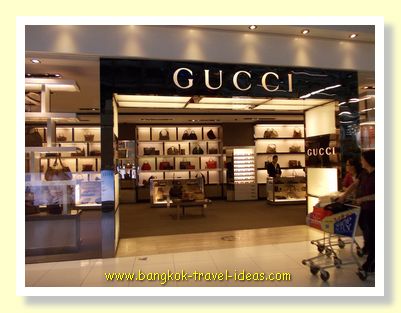 Here you can browse amongst the silk scarves and ties, before selecting one for the man in your life, or perhaps you could purchase a silk shawl for that very special lady waiting back home.
Knowing that it is from Jim Thompson, she will appreciate the gift all the more.
Fendi
OTOP and Jim Thompson are just two of the many highly respected Brand Name retail stores in Bangkok Suvarnabhumi Airport.
You can purchase all goods duty free and really make the most of your remaining time in Thailand to do some quick Bangkok Airport shopping. 
If your Bangkok Airport shopping trip has been delayed, then browse through the online collection and treat yourself.
You may also be interested in...
Jan 14, 22 02:18 AM

Koh Samui | Explore The Best Beaches in Thailand and discover this famous Thailand Island. Relax on Chaweng Beach

Jan 08, 22 02:48 AM

Two bedroom suites in Siam Bangkok near to MBK. Royal Suite in Siam Kempinski

Jan 08, 22 02:29 AM

Two bedroom suites in Bangkok | Two bedroom hotels and serviced apartments in Bangkok are listed in Bangkok Travel Ideas executive suites package
---
---