Bangkok Airport Shopping
Bangkok Airport shopping offers an amazing selection of Duty Free products from the sublime to the luxurious and some of these are unique to Thailand.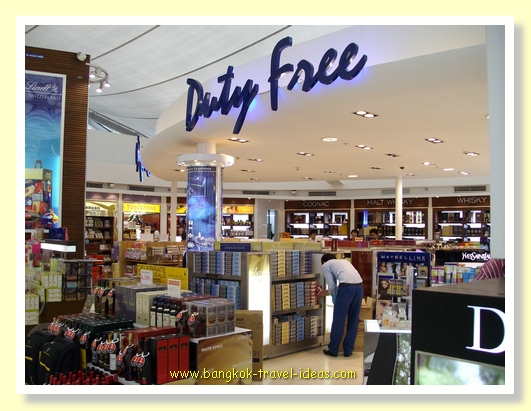 King Power Suvarnabhumi Airport Duty Free shopping
6 Bangkok Airport Shopping Ideas
What to buy at Bangkok Airport?
As you kill time waiting for your outbound flight then here are some more ideas for grabbing a last minute memento of your trip to Thailand and some suggestions for what to buy in Bangkok Airport.
Liquor
Perfume
Designer goods
Tobacco
Cameras
Thai crafts
Browsing through brand name collections is a great way to pass the time whilst on a short Bangkok layover, so why not treat yourself to some Bangkok Airport duty free shopping on your next trip via Bangkok Suvarnabhumi Airport.

If you are wondering what to buy in the Thailand Suvarnabhumi Airport Duty Free complex, then read on.
Bangkok Suvarnabhumi Airport duty free shopping
Pick up that amazing brand name gift for your special partner from the fabulous boutique stores located in the well-proportioned shopping mall in Bangkok Airport.
With personalised service guaranteed, any purchase will provide memories of this trip and the gift will provide good service for years to come.
Duty free Bangkok Airport items available for purchase, include liquor, tobacco and perfume and they are all available from King Power and other franchise stores.
Cigarettes are still freely available, but before purchasing, make sure to check the duty free allowance at your destination airport.
King Power Suvarnabhumi Airport liquor shop is open 24 hours, so you can make final purchases all day and all night.
But, if you need that special luxury item then the shopping mall on the the 4th level of Suvarnabhumi Airport allows easy browsing and comparisons of leather goods, jewellery and fashion items. 

This selection of Suvarnabhumi Airport shops host some of the world's most recognised brands in close proximity to each other.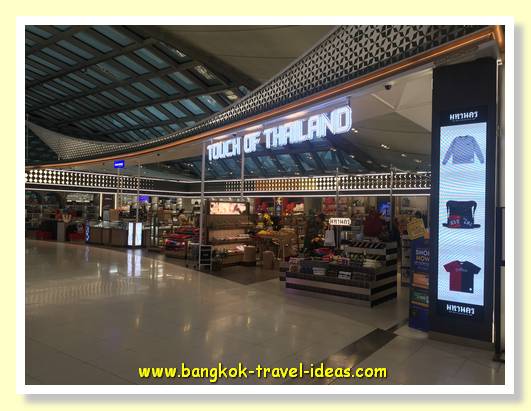 Touch of Thailand Suvarnabhumi Airport
But bear in mind, many shops in Suvarnabhumi Airport may not be open 24 hours.

For the brand name outlets mentioned below, the Bangkok Airport shops opening hours are included, as well as some product details of suggested items to buy in Bangkok Airport.
Australian Flight Restrictions
Those passengers departing to Australia, should note that there remains a restriction on the amount of liquids and powders that can be taken on the airplane in unchecked baggage.
Prior to the boarding gate there are individual bag inspections for excess liquids.
The reason that large containers are not allowed on the aircraft is because the Duty Free retailer does not provide a departure gate delivery service. (although there could be a bit more to it than that)
Read more here on the Australian Government website.
Bear in mind that this restriction on the amount of liquids and powders, also applies to those that are transiting through Suvarnabhumi Airport and might have purchased Duty Free items at the point of origin.
My simple advice for passengers to Australia, is to purchase duty free liquor and perfumes in Australia on arrival.
Liquids, Aerosols and Gels Summary
The pre-boarding security inspection will open each item of carry on luggage and check the following:
Liquid, aerosol or gel items must be in containers of 100 millilitres (volume), 100 grams (weight) or less.
Containers must fit into one transparent and re-sealable plastic bag like a snap-lock sandwich bag.
Items over the limits will be confiscated and put into a special bin for destruction.
Lounges at Bangkok Airport
If you are planning to do any shopping in Bangkok Airport then book into a Miracle Lounge to rest your tired feet after making your purchases.
Admire your gifts in peace and comfort, before continuing on the next leg of your travels.
BKK Airport lounge bookings are available from GetYourGuide, so check availability and pricing at the link now.
Package includes:
2.5 hour lounge access while waiting to take-off
Hot and cold dishes from The Miracle Group Hotel chef served 24/7
Choice of several lounges throughout the International Departures terminal
Access to shower room, prayer room, and other facilities

---
Duty Free Shopping at Bangkok Airport
For those interested in luxury goods shopping, I curated a list of the most well known brands that could be of most interest to travellers.
By no means is this list complete and so if you would like your franchise listed, then please reach out on the Feedback page.
Longchamp
It is not that long ago that Bangkok Airport was first commissioned and in the early days the place was a spartan shell of an airport.

Longchamps Bangkok Airport shopping complex
Now things have changed remarkably, with its aim to become the foremost airport in the Asian region.

Competing with the likes of Changi Airport in Singapore and new Hong Kong Airport has encouraged the development of an amazing retail shopping space, set to delight even the most discerning shopper.
Longchamp is a French company, founded in Paris in 1948. It specializes in making leather bags and accessories.
The company was founded by Jean Cassegrain who was the son of Ernest Cassegrain who was the founder of another French luxury brand called Hermès.
Longchamp is one of the most popular brands when it comes to handbags and leather goods.
The company also has a wide range of products which include travel bags, backpacks, wallets, purses and totes and they have now made a presence in this upmarket location.
Longchamp Bangkok Airport is most well known for their innovative "Le Pliage" women's foldable handbag, which is also available from Amazon.
LongChamp Women's Le Pliage Cuir Top Handle Leather Logo Tote Handbag Medium
The LongChamp Women's Le Pliage Cuir Tote Bag is a great bag for both work and casual wear. It's made of durable leather, has a roomy interior that can fit all of your essentials, and comes in many different colors.
LongChamp Women's Le Pliage Grey Leather Top Handle Leather Tote Handbag Medium
The Longchamp Women's Le Pliage Grey Leather Top Handle tote is a versatile bag that can be carried by hand or on the shoulder.
It features an adjustable strap and a top zip closure with a protective leather flap. This bag comes in grey, and has dimensions of 12 x 11 x 7 inches.
LongChamp Women's Le Pliage Sienna Red Leather Top Handle Leather Tote Handbag XS
The LongChamp Women's Le Pliage Sienna Red Leather Top Handle Leather Tote Handbag has enough space to hold all your necessities, but it is not too bulky or heavy.
The bag can be carried by hand or worn on the shoulder with its integrated strap. The red color makes this bag stand out and it will match any outfit you wear!
Do some Bangkok Airport duty free shopping today and walk out in style.

Gucci
Visitors to Bangkok Airport are now confronted with all the very best of the world's brand name goods.
Gucci is a brand name that every woman about town would like to own.
Handbags, clutch bags and even small purses are all on offer in this duty free location. 
Take some time to browse what is on offer and make a cheeky selection to pamper yourself.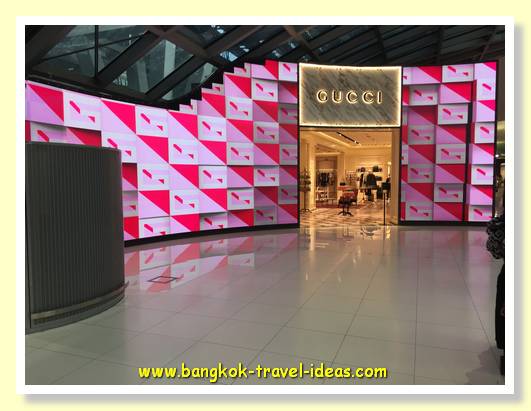 Bangkok Suvarnabhumi Airport Duty Free Gucci
Gucci were founded in Florence, Tuscany in 1921 by Guccio Gucci and now have a prime location in this Bangkok Airport shopping mall.
Initially, the brand started out as a luggage manufacturer, producing luxury travel goods for Italy's wealthy upper-classes, but nowadays luxury eyewear, watches and jewellery have been added to the collection.
During the second world war, the label introduced its distinctive "Double-G" monogram, as well as the now iconic Gucci stripe, consisting of two green stripes interrupted by a single red bar.
Do a little Bangkok Airport shopping today, walk out and be noticed for your fine taste in accessories.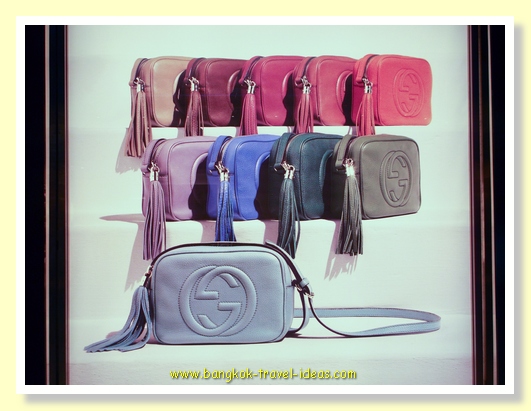 Double G monogram of the Gucci brand
Not only is Bangkok Airport shopping a great way to pass the time when you have to change planes in Bangkok but it is also great for those travellers that are departing internationally from Bangkok itself.
Wander the store and enjoy the experience and listen to the helpful advice from the attentive staff.
Gucci Suvarnabhumi Airport is certainly one of the best shops in the location and they have everything to please the discerning shopper.
The Gucci Dionysus range of handbags can be seen at Amazon.
Gucci Dionysus Medium Chain Bag Brown Leather Red Flower Italy Handbag
The Gucci Dionysus Chain Bag is a fashion handbag that is made from high-quality leather. It comes in embroidered brown leather with an iconic web stripe, which makes it a versatile bag for any occasion.
The bag has a sliding chain strap for carrying by hand or across the shoulder and has dimensions 11.75 x 3.5 x 8.5 inches.
Gucci Soho Large Leather Chain Shoulder Handbag Black
Gucci "Britt" handbag (satchel-size purse)
This Gucci Duty Free Bangkok Suvarnabhumi Airport shopping complex never closes.
Open 24 hours

Salvatore Ferragamo
At your leisure, browse the range of stores that carry all kinds of modern and traditional Thai goods, knowing that you are only minutes away from your boarding gate.

Salvatore Ferragamo at Bangkok Suvarnabhumi Airport
Salvatore Ferragamo initially started the Hollywood Boot Shop in 1923 and supplied shoes to many great Hollywood stars.
After returning to Florence, the current shoemaking company was started in 1928 and now is part of a prime retail location in this Bangkok Airport shopping zone.
If you ever get a chance to visit Florence, then Palazzo Spini Feroni, one of the great palaces of Florence, houses the company's flagship store and a museum dedicated to Ferragamo's life and work.

Initially, the brand started out as a boot and shoe manufacturer, producing luxury travel goods for movie stars such as Joan Crawford and Gloria Swanson, but nowadays has been complemented by eyewear, perfume, belts, scarves, bags, watches and a ready to wear clothing line.
Th Salvator Ferragamo Bangkok Airport range of shoes is available at Amazon.
Open 24 hours

Cartier
Louis-François Cartier was trained as a jeweller and initially started the business in 1847 after taking over the workshop from his master, Adolphe Picard.
In 1874 the business was passed to his son Alfred Cartier.
Cartier BKK Airport
Then in 1899, Alfred handed the business over to his three sons, who were then instrumental in expanding the company internationally and making the brand well known amongst European royalty.

To this day, the brand still focusses on its primary products of jewellry and watches and the Cartier Bangkok Airport shop continues to uphold the family tradition of fine watches.
This range of Cartier watches can be seen at Amazon.
Open 24 hours

OTOP 
One store that should be on your shopping list is the OTOP shop. Products marketed under the OTOP branding are always popular gifts.
As the OTOP brand (One Tambon One Product) is synonymous with traditional Thai handicrafts and products crafted in the ways of old.
The OTOP program was developed and pioneered by the Thai Royal Family to provide skills education and home based business opportunities for rural Thai citizens.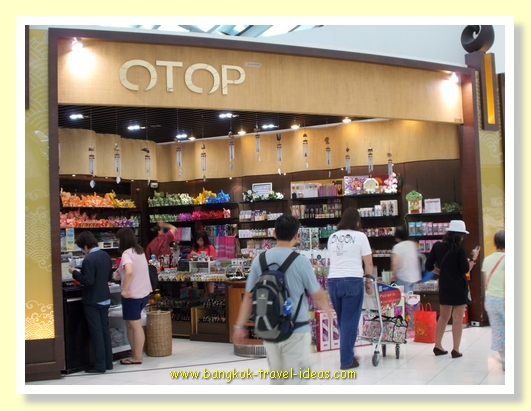 OTOP BKK Airport Shop
The intention is to encourage the retention of traditional skills inherent in the Thai community and provide local work opportunities.

Your purchase is helping in more ways than one, and whatever you purchase from this OTOP outlet is going to support rural Thai communities and their families.
You will find the OTOP shop located towards Concourse C, opposite Gin Ramen Restaurant and if you need to do some shopping at Bangkok Airport then OTOP should be on your list of shops to visit.

Emporio Armani

The brand of Emporio Armani was founded as recently as 1975 by Giorgio Armani.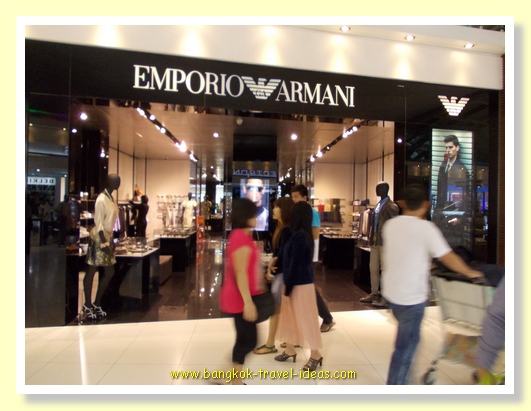 Emporio Armani Suvarnabhumi Airport
The Armani brand has many sub brands and is a prime Italian luxury fashion house and Italy's second-biggest fashion brand, behind Prada.
If you are looking for some fine Italian brand gifts, then stop by the Emporio Armani Bangkok Airport store and see what is on offer.
This select range of Emporio Armani watches is also available at Amazon.
Closes 10:00 pm
Jim Thompson
If you didn't manage to get to the famous Jim Thompson shop in Bangkok, then don't despair because there is a retail outlet located right here in Bangkok Airport.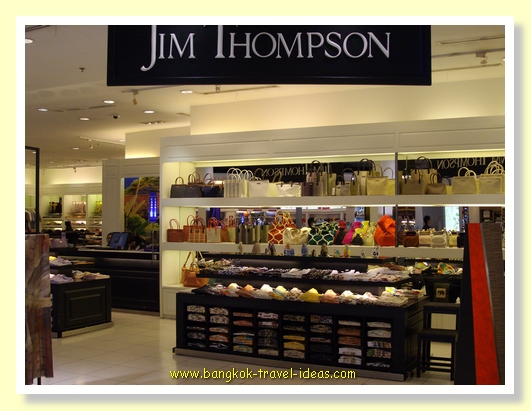 Jim Thompson Suvarnabhumi Airport
Inside the Jim Thompson Bangkok Airport store, browse amongst the array of silk scarves and ties, before selecting one for the man in your life, or perhaps you could purchase a silk shawl for that very special lady waiting back home.
Knowing that it is from Jim Thompson, she will appreciate the gift all the more.
This Duty Free Bangkok Suvarnabhumi Airport complex never closes.
Open 24 hours

Fendi
The house of Fendi was created in 1925 by Adele and Edoardo Fendi. The first shop was in Via del Plebiscito in Rome and the brand originally focussed on fur and leather goods; something it is still know for today. 
Until 1999 Fendi was a family-owned business until Prada and LVMH, one of the world's biggest luxury goods groups, took a controlling stake.
Fendi Bangkok Suvarnabhumi Airport
OTOP, Gucci and Jim Thompson shops are some of the many highly respected Brand Name retail stores in Bangkok Suvarnabhumi Airport.
Make a mental note to do some Duty free shopping at Fendi Bangkok Airport before departure and really make the most of your remaining time in Thailand. 
This range of Fendi watches is available at Amazon.
If your Bangkok Airport shopping trip has been delayed, then browse through the Amazon online collection and treat yourself from the comfort of your home.
Mont Blanc
The Mont Blanc origin started in 1906 when designer Albert Epstein teamed up a banker called Alfred Nehemias to create a German manufacturing company of luxury goods.
Between the two of them they created a range of simple to use fountain pens that included a built-in ink well, which were revolutionary for that era.
The business was subsequently taken over by Wilhelm Dziambor, Christian Lausen and Claus Johannes Voss, who set it on the road to becoming a worldwide leader in the luxury accessory market.
The staff in this Mont Blanc Bangkok Airport shopping outlet are pleased to advise you, when selecting a gift.
Mont Blanc Bangkok Suvarnabhumi Airport
Nowadays, the Montblanc brand, which was adopted for the company in 1934, is on other goods besides pens, including watches, jewellery, fragrances, leather goods, and eyewear.
If you have ever held a Montblanc pen, then you will appreciate how heavy and sturdy they feel; indeed a testament to that original German engineering focussing on the production of a quality accessory.
There is no better time to do that last minute Bangkok Airport shopping, than just before you make your way to the Departure gate and say farewell to Thailand.
This range of Montblanc watches and pens is currently available at Amazon.
Open 24 hours
So that's is a brief summary of the high-end Bangkok Airport stores, but if you already did some shopping in Bangkok, then you may be eligible to claim back the VAT that was paid on those goods.
Read below to see how you can claim back the VAT from your retail purchases.
The claim system is the same, whether you depart from Phuket Airport, Don Meuang Airport, but specifically I mention VAT Refund for tourists from Suvarnabhumi Airport in the description.
Bangkok Airport VAT Refund for Tourists
Can tourists claim back VAT at Bangkok Airport?
Eligible tourists are able to claim back VAT from purchases made during their stay in Bangkok.
Eligibility requirements to claim back VAT are:
Those who are not of Thai nationality.
Those who are not a permanent resident of Thailand.
Those who are not a crew member of an airline departing from Thailand.
Those who are departing from Thailand from an international airport.
Those who purchased goods from stores displaying VAT sign.
Those who purchased goods of at least 2,000 baht (VAT included) from each store per day.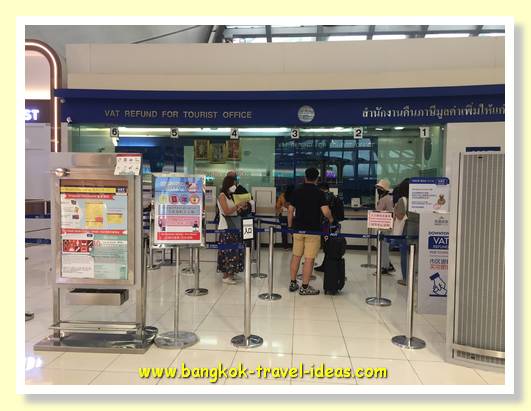 Vat refund office in Suvarnabhumi Airport
How to Claim Back VAT
How do I claim my VAT refund in Suvaranbhumi Airport?
Complete a VAT Refund application form P.P.10.
Take the goods, receipts and completed P.P.10. to the Customs office for checking and stamping.
Check-in and pass through Passport Control
Proceed to the VAT Refund for Tourists Office
Refer to the map below for the locations.
Further detailed eligibility and payment methods are outlined in the Thai Revenue Dept. website.
Claiming Vat Refund in Suvarnabhumi Airport
Suvarnabhumi Airport Shopping Summary
So there you have a summary of Bangkok Airport duty free shopping that covers:
a curated list of Duty Free shops in Bangkok Airport
a summary of brand name designer goods stores
a warning about excess liquids on route to Australia
how to claim a VAT refund in Suvarnabhumi Airport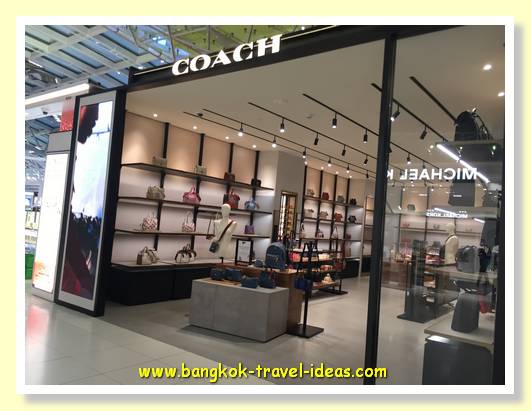 Shopping in Bangkok Airport at Coach
More Questions about Duty Free Shopping in Bangkok Airport
Here are 10 questions about duty-free shopping at Bangkok's Suvarnabhumi Airport:
What Duty free shops are in Bangkok Airport?

The full list of Suvarnabhumi Airport Duty shops is listed below:

Armani
Burberry
Bvlgari
Cartier
Chanel
Dior
Gucci
Hermes
Jo Malone
Kiehl's
M·A·C
Omega
Prada
Rolex
Saint Laurent
Salvatore Ferragamo
Swatch
Tod'sTudor
Tumi
Valentino
World Wide Watches


What types of products are available at the duty-free shops in the airport?
Designer clothes and accessories, alcohol and tobacco, electronic goods such as cameras and watches.


Can I purchase duty-free items with a foreign currency?
You should pay with Thai baht or card.


Do I need to show my passport or any other identification to make a duty-free purchase?
You will need to show your boarding pass and passport at the check-out.


Are the prices at the duty-free shops in the airport cheaper than in regular stores?
Stores are free to set their own prices, but generally most alcohol / tobacco and electronics will be cheaper than storefront retail. Some items may be cheaper in the supermarket or at discount outlets.


Can I pre-order duty-free items online before my trip?
Some duty-free items can be ordered beforehand and collected at the airport. The individual arrangements depend upon the retailer.


Are there any restrictions on the quantity or type of items I can purchase duty-free?
There are no restrictions on what you can purchase, however be advised that passengers to Australia have restrictions on the amount of liquids that can be carried on-board the flight. In addition, purchases in excess of the duty-free importation limit at the destination country will attract the relevant rate of tax, so be especially aware when purchasing tobacco products.


Can I use a credit card or do I need to pay in cash for my duty-free purchases?
Transactions can be completed with cash or card.


Is there a limit on how much I can spend on duty-free items?
There are no restrictions on what value you can purchase however, purchases in excess of the duty-free importation limit at the destination country will attract the relevant rate of tax.


Are the duty-free shops in the airport open 24 hours a day? 
Not all of the duty-free shops are open 24 hours, so check with the individual store, particulary if you are departing in the night time.
If your designer shop has not been mentioned, then please reach out using the Feedback Form so we can get you included.


You may also be interested in...