Bangkok Airport Arrival -
Day 1
My Bangkok airport arrival was on schedule and the Thai Airways plane landed just after 6:00 am without incident.
Normally flights that are early have to circle overhead until the air bridge is vacated by the previous aircraft.
Many times I have been told by the pilot or air steward that a flight is ahead of time. 
But it is almost guaranteed that if the takeoff was on time then the landing will be on time. 
It will never be early.
Fortunately on this occasion the air bridge was right opposite the Immigration counters and so for my Bangkok Airport arrival it was just a short walk over to the immigration counters, to get my passport checked.

As usual the Bangkok Suvarnabhumi Airport corridors were awash with amazing orchid displays.
Some of the Thai Orchids are amonst the most colourful I have ever seen.
Bangkok Airport Arrival Procedure
The Bangkok Airport arrival procedure is routine and nothing special for the frequent traveller.
The Express Lane for First and Business Class passengers is a little to the left and is almost hidden from sight. 
If you did not know it was there you could easily miss the sign.
Sometimes they have an attendant on duty, checking that passengers have a valid boarding pass or a pre-paid Priority Pass at the lane entrance.
Don't bother trying to sneak into this lane, as the Immigration Officer will check and send you away, if you do not have the correct boarding pass.
Sometimes the Express lane has more people queuing at the Immigration desk than the regular lanes.
As luck would have it there was no big queue of people waiting to have their passports checked and consequently I passed through Immigration Control very quickly.
Lost Phone in Bangkok Airport
Once in the baggage hall I checked the baggage carousel board to confirm where my bag was going to be delivered and went to collect my bag from the luggage carousel.
The baggage carousels are numbered from 7 on the right hand side to 24 on the left hand side.
The baggage carousels 1-6 are for the Domestic Terminal on the other side of the wall.
The off loaded bags had not started to arrive yet and I reached for my mobile phone to make a call, only to find that my phone had gone from my belt.
My heart sank.
I had checked the mobile phone was there before leaving my seat on the plane, just after the flight attendant had said, "and remember to take all your personal belongings and travel documents with you", but it wasn't there now.
I couldn't believe this had happened again.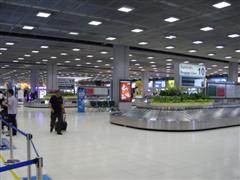 I was still racking my brain about how I could have lost my mobile phone, as I am usually so careful.

I am pretty sure that as I reached up to the overhead locker to get my carry on bag was the point that the mobile phone dislodged and fell to the floor. 
What was more annoying was that the plane was literally 60 metres away, but on the other side of the Immigration Control point.
I could not just walk back and get the phone, even though it was so close.
My Bangkok airport arrival did not get off to a good start.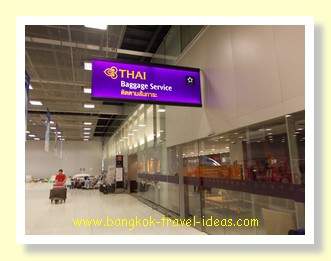 Not two weeks before, my mobile phone had dislodged from my belt, as I got out of my car in the car park at work and dropped besides my car.
Fortunately on that occasion I had found it by retracing my steps.
As panic began to set in, I realised that there was a Thai Airways official standing nearby.
I told her about my loss and she directed me to the Thai Airways baggage office that was about 15 metres away.
By this time the carousel had started whirring and bags were beginning to appear, so I waited a couple more minutes and collected my suitcase from the baggage carousel.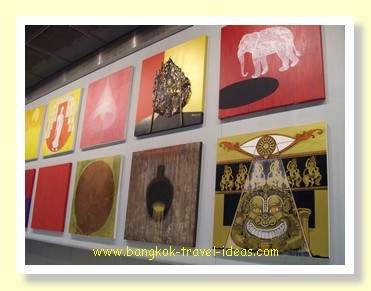 Have you ever lost your baggage at Bangkok Airport or left your valuables on the plane?
Continue reading to see how my Bangkok Airport arrival ends up and to find out what happened when I visited the Bangkok lost baggage office. 
Then continue to read about my visit to Pattaya, Thailand by following the links below to learn what to do and what not to do. 
Bangkok Airport to Pattaya - Day 1
How to get the best price for a taxi from Bangkok Airport to Pattaya. Learn some bargaining skills when getting a taxi to Pattaya.

Centara Grand Mirage Beach Resort - Day 1
Need a great Pattaya Hotel? Read my review of this 5 star hotel in Wongamat Beach, North Pattaya
Swim in the pool, scare yourself silly on the waterslides or just float on a raft along the moving watercourse. It is family friendly and is a great place to stay.

Pattaya Nightlife - Day 1
See my not so exciting look at Pattaya nightlife if you are thinking of coming here with the family.
Things to do and places to see around Pattaya.

Pattaya Floating Market - Day 2
Visit the Floating Market in Pattaya on Sukhumvit Road just outside Pattaya and have a real Thai day out.

Sanctuary of Truth (Prasat Sut Ja-Tum) - Day 3
My experience of visiting the Sanctuary of Truth is incomplete, but here you can find directions to this wonder of the world and a brief overview of a special Thailand folly, for the next time you visit Pattaya.

Rim Talay Restaurant on the Pattaya Beachfront - Day 3
To the North of Pattaya is Wong Amat beach and here you can go dine on Thai food at Rim Talay restaurant, overlooking the ocean.
Lunch time or evening time under the stars; take your pick.

Pattaya to Bangkok Airport - Day 4
My Bangkok vacation has come to an end and it is now time to travel back from Pattaya to Bangkok Airport and take the return flight home.
How to get from Pattaya to Suvarnabhumi Airport.