Bangkok Lost Baggage - Day 1
Bangkok lost baggage can be a problem and if you fly frequently it will eventually happen to you.
(If you have come to this page because you experienced lost baggage in Bangkok Airport then you will want to know how to recover your lost baggage in Suvarnabhumi Airport and not about my experience of leaving my phone on the aeroplane).
Let's get started.
Before going in the Bangkok Lost Baggage Office and knowing that I hadn't walked far, I set about retracing my steps.
First I went to the toilets and then back to the Bangkok Immigration counters, but my mobile phone was nowhere to be seen and of course I couldn't go beyond the Immigration counters.
Bangkok Airport Lost Baggage
Baggage Claim hall in Suvarnabhumi Airport
So after the quick look around I went into the Bangkok Lost Baggage office that is run by Thai Airways and made a report of a lost mobile phone.
The office had a lot of staff and not many customers when I arrived.
I told the service agent the Thai Airways flight and my seat number and the lady immediately phoned to the cleaning crew on the airplane to let them know.
After a few moments a phone call came back to say that they had located my mobile phone on the aeroplane near my seat. I was so relieved that it had been found.
Anyway the service agent was very helpful and said that it would be about 20 minutes before the phone could be returned, as they needed to finish cleaning the plane first.
I was asked to go and take a seat on the comfortable sofa at the end of the office, which I did.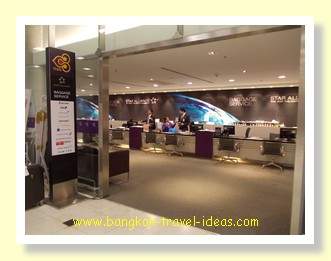 It is not like me to lose things and I could only think that the mobile phone became dislodged from my belt as I reached to get my bag out of the overhead locker.

Bangkok Lost Baggage Office
Whilst I was sitting waiting in the Bangkok Lost Baggage Office I noticed there was a constant stream of people coming in, who had all left things on their aeroplane.

One guy had changed seats on his plane and so his boarding pass had a different seat number to where he actually sat and he didn't know the seat number where he had move to.
He had lost his wallet, but they didn't know where to go and look. I thought to myself, "Always take note of your seat number if you change seats for any reason".
Luckily I have a seat map of each aircraft that I keep with my tickets. I use it at check in when I need to select a better seat, but I guess it would be equally useful if I ever moved seats and lost something.
This wasn't the first time that I had been in the Bangkok Lost Baggage office. I had been in one time before when my suitcase had been lost when travelling between Bangkok and Beijing.
On that occasion I had asked to look around the lost baggage storage facility to see if my suitcase was by chance sitting on a shelf.
Unfortunately it wasn't.
Anyway after about 20 minutes of waiting on the sofa a young man came in with his hands full of lost items from my flight; he had cardigans and pullovers, papers and a couple of phones.
I was beckoned over and was asked to sign some paperwork, which I dutifully did and they took a photocopy of my passport before handing over my mobile phone.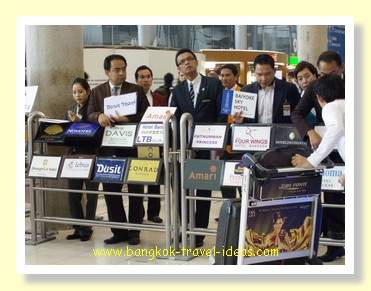 If ever you leave something behind on the aeroplane or your baggage does not come off the baggage carousel then you need to go straight to the Thai Airways Baggage Office located next to carousel number 8.
The staff are extremely helpful and will do their best to return your property to you.
This day the staff in the Bangkok Lost Baggage office had really saved me from having a big problem.
Feeling like a weight had been lifted from my shoulders I walked towards the Customs area and quickly slipped out.
Not that I had anything to hide, but it was still pretty early and it all looked fairly sleepy at that time in the morning.
Outside of the Thai Customs inspection area were the same familiar faces of the hotel greeters. These guys and girls seem be meeting hotel guests from early morning to late evening.
No matter what time my plane lands at Suvarnabhumi Airport the same people seem to be representing the various 5-star Bangkok hotels.
It must be a very long day for them.
Bangkok Lost Baggage Summary
This web page provides information about lost baggage in Bangkok Airport and what to do and serves as a guide for individuals who have experienced lost or mishandled baggage during their travels to or from Bangkok, offering insights and practical advice on how to handle such situations.
In conclusion, the first-hand experience quoted serves as a helpful resource for individuals who have experienced lost baggage in Bangkok Suvarnabhumi Airport.
By following the provided information, travelers can navigate the process effectively and seek resolution for their lost baggage concerns.
Revised 26-July-2023
---
Continue reading my Thailand Travel Diary to find out how I went from Bangkok Airport to Pattaya or just continue reading about my visit to Pattaya, Thailand by following the links below.
Learn what to do and what not to do.

Centara Grand Mirage Beach Resort - Day 1
Thinking of booking a Pattaya Hotel? Read my review of this 5 star hotel in Wongamat Beach, North Pattaya. Swim in the pool, scare yourself silly on the waterslides or just float on a raft along the moving watercourse.

Pattaya Nightlife - Day 1
If you are heading to Pattaya then read a not so exciting look at Pattaya nightlife, through the eyes of my good self.

Pattaya Floating Market - Day 2
Visit the Pattaya Floating Market on Sukhumvit Road just outside Pattaya and have a real Thai day out.

Sanctuary of Truth (Prasat Sut Ja-Tum) - Day 3
My experience of visiting the Sanctuary of Truth is incomplete, but here you can find directions to this wonder of the world and a brief over view of a special Thailand folly, for the next time you visit Pattaya.

Pattaya Beachfront Restaurant Rim Talay - Day 3
Wong Amat beach is located to the North of Pattaya and here you can go dine on Thai food at Rim Talay restaurant, overlooking the ocean. Lunch time or evening time under the stars; take your pick.

Pattaya to Bangkok Airport - Day 4
My Bangkok vacation has come to an end and it is now time to travel back from Pattaya to Bangkok Airport and take the return flight home.