Lost Baggage
Ever experienced lost baggage? You checked your bag in with the airline and you hope that it will there to collect at your destination.
Losing a suitcase is something that many travellers dread, but are often not prepared for and if you travel frequently then it is probably likely to happen to you.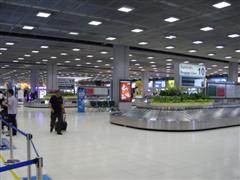 What can you do if it happens to you and how can you minimise the risk of losing your bags?
There are two types of lost baggage, temporarily lost or permanently lost.
Let's work throught the scenarios of what can happen to your baggage so you can be prepared for that event.
After you disembark the airplane and pass through immigration the the next step is to collect your bags from the carousel.
Nowadays most baggage carousels have an electronic sign that tells you what flight the bags are from and indicates the first and last bag from the flight.
Try to stand in a position where you can see all the bags entering the carousel and wait for your baggage. If after all the bags have come off and yours didn't appear and the sign indicates "Last Bag" then head over the the lost baggage room to report your missing suitcase.
Just one tip; if there is a bag remaining on the carousel that looks very similar to yours, then tell the staff in the Lost Baggage office as it may be that a fellow traveller has taken your bag by mistake.
Lost Baggage Claim
You will need to file a lost baggage claim and written complaint by completing a Property Irregularity Report. The staff will attach a copy of:
Flight coupon/ticket
Baggage tag
Passport
The staff should be able to check on line in the WorldTracer System as to the current location of your bag and advise you of its location. This is where you get to find out the extent of the problem.
If your baggage just missed a connecting flight then usually they can deliver it to you within 24 hours. Which is fine if you are staying a few days, but more difficult if you are moving on somewhere else.
You will need to provide them with an address to send the bag to, and if necessary appropriate dates that you will be in that location. All of this information is entered into the computer.
Make sure that you get both the phone number of the Lost Baggage office, so you can call them about your bags location and also the phone number of your airline so you can discuss the situation with them and what can they do to help out.
One very useful tool is the internet tracking service that is available to your travel agent. You can request that the lost baggage office give you the website link to World Tracer or their equivalent, so that you can track your own problem report.
Access to this service is extremely useful as you can update your contact details and location as well as being able to see whether your bag has been located or not.
Station offices are responsible for tracking your baggage for the first five days, if after that your bag has not been located then you need to contact the airline baggage tracing department.
They only consider a bag lost if it has not been located after a month, however if your bag has not been located after seven days then you should get them to send the claim forms out to you, so you can start filling them in.
The claim form requires you to attach copies of:
Flight coupon/ticket
Baggage tag
Passport
Declaration form of lost items and prices
After one month you will be made an offer in accordance with International Regulations. Currently payments are made at the rate of USD $20 per kilogram, although you may be offered more if you are a frequent flier. For example, if your flight class allowed you to take 30 kg of baggage then you may be offered upto USD $600.
Typically the contents of your suitcase will be worth $75 per kilo or more. You can see that this amount is not going to be enough to cover the replacement cost of your suitcase and its contents. This is where travel insurance comes in to make up the difference.
After you have accepted the airline offer you then should make a claim on your travel insurance policy for the balance, plus any additional items such as temporary clothing and toiletries.
This whole process is going to take about 3 months.
Damaged Pilfered Baggage Claim
If your baggage is damaged or pilfered you should report this immediately to a member of the airline staff and file a written complaint.
In the case of noticeable damage such as where a wheel or handle is broken, the surface material is torn, or there are missing items within, then you should include;
Flight coupon/ticket
Baggage tag
Passport
The airline is not going to replace your suitcase in the case of minor damage. In each city they have a list of approved baggage repair agents. You will need to take your bag to one of these sites to get repaired.
In the case of pilfered items you need to file a police report as well. The reporting for damage or pilfered items has to be done within 7 days of completing the journey.
World Tracer Link
Once you have been given a reference number for your lost baggage then just go to this lost baggage link to update your address details and track your bag. Hopefully it will be returned to you safe and sound.
Summary
Label your luggage inside and out
Make your bag distinctive
Don't put valuables in your luggage or declare them at check in
Don't put important papers in your luggage
Take out insurance to cover loss of baggage
If you do happen to lose your baggage then you can download a lost luggage spreadsheet to help you make your claim. You can attach it to the Declaration of Lost Items and Prices as part of your claim submission.
If you fill out the lost luggage spreadsheet before you go, then you will know exactly what is inside your bag, when you come to make a claim.
If you are a resident of Australia you can take out travel insurance that covers the uninsured portion from this link.
---
Return from Lost Baggage to Bangkok Travel Ideas
---
---