Transfer from Bangkok Airport to Bangkok Hotels
Do you want to know how to transfer from Bangkok Airport to Bangkok Hotels?
Want to organise a Bangkok Airport transfer or just find out what choices there are when you arrive at Suvarnabhumi Airport?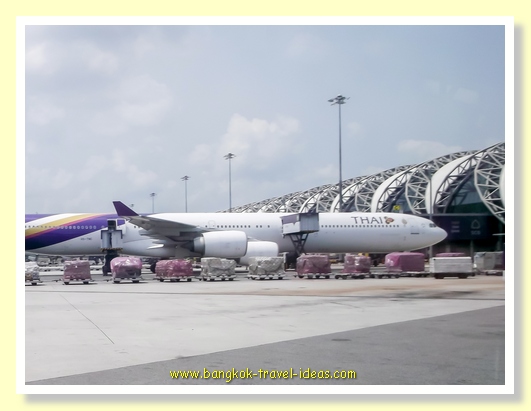 Bangkok Suvarnabhumi Airport
Over the years I have collected my experiences from taking taxis to Bangkok hotels, limousines to Bangkok and hotel cars to Bangkok and documented my findings from more than 100 transfers from Suvarnabhumi Airport to Bangkok.
7 Ways to Transfer from Bangkok Airport to Bangkok
This guide is directed to people visiting Bangkok on business or vacation and assumes that you are relatively unfamiliar with the layout of the city and that you cannot speak Thai.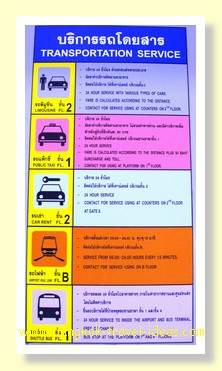 At the end of a long flight the first thing you want to do is transfer to that Bangkok hotel fast.
If you have just spent nine hours flying from Australia, 13 hours from the UK and up to 30 hours from the US to travel to Bangkok, then you are going to be tired and ready for a shower at the very least.
Many passengers get off an aeroplane with that, "Don't mess with me look". 
Struggling with suitcases in the heat and humidity of Bangkok is not an option for you and you don't want to mess around.
But like everything else in life compromises are needed.
Nightime at Suvarnabhumi Airport
Some people only have limited funds and anything not spent on the transfer from Bangkok Airport to Bangkok means more to spend on something else; more drinking money, more sightseeing money, more shopping money.

Whatever it might be.
There is no one perfect solution to travel from Bangkok Suvarnabhumi Airport to Bangkok that will satisfy every Bangkok traveller.
It will depend on some or all of the following personal views:
I want to travel in style and comfort from Bangkok Airport to Bangkok, regardless of cost.
I consider cost more important than style and I would like to travel as cheaply as possible even if it means spending more time to do so.
There are multiple people in my group transferring from Bangkok Airport to Bangkok, so there is more than just me to consider.
I don't mind spending a bit more money, if it reduces the stress of travelling.
Read through the 7 ways to transfer from Bangkok Airport to Bangkok Hotels and then make your choice.
A bit of preparation before you travel can save a lot of frustration later on.
If you don't have time to read through this guide then you can jump straight to my preferred and recommended option, which is a balance between cost, safety and efficiency.
This will get you from Suvarnabhumi Airport to Bangkok with the least amount of fuss and will suit 90% of travellers without blowing the budget.
I am very busy so take me to the recommended option to transfer from Bangkok Airport.

If you are still with me then after reading about the ways to transfer from Bangkok Airport to your hotel in Bangkok, come back and read about the various Bangkok districts and where to stay in Bangkok.
In terms of saving time, it is important to choose a hotel that is in a central location for the sights you plan to see, to avoid excess travelling during your stay.
Transfer from Bangkok Airport to Bangkok
Bangkok Airport Limousine Transfer
Taking a limousine from Bangkok Airport is not as expensive as you think.
Arrive in style and comfort at your Bangkok Hotel and get help with your luggage. 
A Bangkok Airport limousine transfer from Suvarnabhumi Airport is my all-time preferred option to get from the airport in Bangkok to my hotel.

Bus from Bangkok Airport
Public transport is a cheap and economical way to transfer from Bangkok Airport.
Catching the bus from Bangkok Airport is not difficult and depending upon the location of your hotel, it could be a viable option if you have time to spare.

Train from Bangkok Airport
Opened in 2011 the Suvarnabhumi Airport Link (ARL) provides comfortable and quick transport from Bangkok International Airport.
If your hotel is near to the station, or you are light with luggage, it is a good choice.
Find out more details about taking the train from Bangkok Airport.

Car Hire Bangkok Airport
Hiring a self-drive car can get you to your apartment quickly. Read about what you need to know about self-drive car hire in Bangkok?

Bangkok Taxi from Airport
The vast majority of arrivals at Bangkok Airport simply take a taxi into Bangkok.
Taxi scams are well documented, but how likely is it you will be targeted?
Hundreds of people every day use the taxis without problem, but you need to know what to look out for.
Read up, on taking a Bangkok taxi from the airport and be prepared.

Hotel Car from Bangkok Airport
Book your hotel car at the same time as booking your Bangkok hotel.
Let the hotel arrange to pick you up in a fancy hotel car, when you arrive at Bangkok Airport. What could be easier?
Find out what can go wrong.
Read more about booking a hotel car from Bangkok Airport.