Bus from Bangkok Airport
Public Bus from Bangkok Airport
Taking the bus from Bangkok Airport is one of the cheapest alternatives to get to your destination.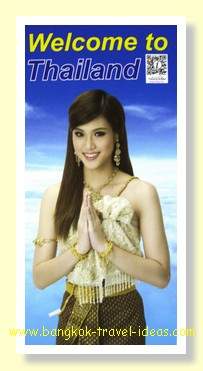 Convenience: For first time business or vacation travellers visiting Bangkok, taking the bus from Bangkok Airport will probably not be a convenient option.
Cost: This, though, is by far the cheapest option and you could easily get to On Nut BTS station for less than 40 baht and then travel on the Skytrain to most other parts of Bangkok for between an additional 20 to 45 baht.
Pitfalls: Most Skytrain stations have only limited escalators, so you may need to carry your suitcases up or down flights of stairs.
Great if you are young and fit, but not so good if you have a wife and children to look after.
Taking the bus from Bangkok airport is probably the slowest way of transferring from Suvarnabhumi Airport to Bangkok.
Directions: Catch a free shuttle bus from the Ground Floor at Suvarnabhumi Airport to the Transport Centre and from there you have a choice of buses that will take you where you want to go.
Just ask for directions, if you are not sure.
Bus 552: Suvarnabhumi Airport to On Nuch 04:00 – 23:00
---
Airport Express Shuttle Bus
This service used to take passengers from Suvarnabhumi Airport to the main hotels in Bangkok for 150 aht, but was discontinued in June 2011 when the train service commenced.
---
Express Bus to Pattaya
If you want to take the bus to Pattaya, Koh Chang, Trad or Hua Hin then these leave from Gate 8 on Level 1 of Suvarnabhumi Airport.
The ticket desk is located just outside the Magic Food Point.
Express Bus to Hua Hin
If you want to take the bus to Hua Hin, then these buses leave from Gate 8 on Level 1 of Suvarnabhumi Airport.
The ticket desk is located just outside the Magic Food Point.
Transfer from Bangkok Airport to Bangkok
Bangkok Airport to Bangkok
Return to the overview covering arrivals at Bangkok Airport, or go learn more about the various Bangkok Districts and check out where to stay.

Bangkok Airport Limousine Transfer
Taking a limousine from Bangkok Airport is not as expensive as you think. Arrive in style and comfort at your Bangkok Hotel and get help with your luggage.
A Bangkok Airport limousine transfer from Suvarnabhumi Airport is my all-time preferred option to get from the airport in Bangkok to the hotel.
Train from Bangkok Airport
Opened in 2011, the Suvarnabhumi Airport Link (ARL) provides comfortable and quick transport from Bangkok International Airport.
If your hotel is near to one of the stations, or you are light with luggage, it is a good choice.
Find out more details about taking the train from Bangkok Airport.
Car Hire Bangkok Airport
Hiring a self-drive car can get you to your apartment quickly. Read about what you need to know about self-drive car hire in Bangkok?

Bangkok Taxi from Airport
The vast majority of arrivals at Bangkok Airport simply take a taxi into Bangkok.
Taxi scams are well documented, but how likely is it you will be targeted?
Read up, on taking a Bangkok taxi from the airport and be prepared.

Hotel Car from Bangkok Airport
Book a hotel car at the same time as booking your Bangkok hotel. Let the hotel arrange to pick you up in a fancy hotel car, when you arrive at Bangkok Airport.
What could be easier?
Read more about booking a hotel car from Bangkok Airport and what can go awry.