Bus to Pattaya from Suvarnabhumi Airport
In this post learn about taking the bus to Pattaya from Suvarnabhumi Airport and:
two different bus services going to Pattaya
where to purchase bus tickets to Pattaya
where to check the Bangkok Suvarnabhumi Airport to Pattaya bus service timetable
where to book bus tickets online
about taxi transfers to Pattaya
about car transfer from Suvarnabhumi Airport to Pattaya
where to stay in Pattaya
what to do in Pattaya
Bangkok Airport Pattaya bus ticket desk
Bangkok Airport Bus to Pattaya Guide
Before you arrive, ensure you understand how to go from Suvarnabhumi to Pattaya as there are basically two main options how to get to Pattaya from Bangkok Airport.

Take the bus to Pattaya from Suvarnabhumi Airport
Take a taxi / car / van to Pattaya from Suvarnabhumi Airport
If we are talking about the cheapest and safest way to get to Pattaya from Bangkok Airport, then it would be by bus, but this may not be that convenient for your hotel location.
Taking the Bangkok Airport to Pattaya bus is a cheaper alternative to using a taxi for the solo traveller, and in many ways can be a lot safer.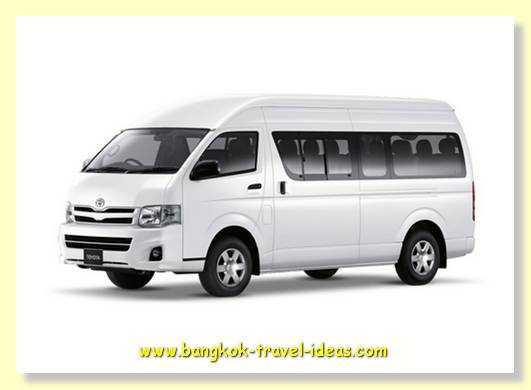 Suvarnabhumi Airport to Pattaya van service
However, there are some downsides to consider when using the bus service and so it is necessary to balance the cost and benefits, based upon your own personal circumstances. 

the Pattaya bus seats are quite small as they are designed for Thai passengers. People that are tall, or big-framed should consider the other options.
not every Pattaya bus transfer is going to drop directly at your hotel. Whilst the choice of travelling by bus may be convenient for a fit young person, it may not be so convenient for a travelling family or those that cannot manage heavy baggage without assistance.
when travelling in a group of three or more people, then the bus may not be the cheaper option.
All the options for transferring from Bangkok Suvarnabhumi Airport to Pattaya will be covered here in more detail for consideration and to allow making an informed choice.
Fancy a van instead?
Enter details below and get instant pricing.
Taxi from Bangkok Airport to Pattaya for larger group
389 Suvarnabhumi Airport Bus to Pattaya
If you are on a budget, then you can travel by bus to Pattaya from Bangkok International Airport very cheaply. 
The two bus companies operating this route out of Suvarnabhumi Airport are:
Roong Reuang Coach Company Ltd. (RRC)
Bell Travel Services. (Bell)
There are different pricing options and timetables based upon different arrival points and direct transfer to hotel or not.
walk-in and online price is 143 baht (USD $4)
pre-booked seat / door-to-door price is 300 baht
From what I can see now, the pre-booked seat price is also available for 143 baht, however unlike the other option you cannot select your own seat. (or maybe you can, as it seems to change almost daily)
For pre-bookings, ensure your bus departure time is at least 1.5 hours after your ETA at Suvarnabhumi Airport, to allow for Immigration clearance and baggage collection.
If you have to go through the Visa on Arrival process, then leave yourself additional time.
Have a read through this page for the various transport options on offer to go from:
Suvarnabhumi Airport to Pattaya
Suvarnabhumi Airport to Hua Hin
and see which suits your itinerary and budget.
If you are already in Bangkok and want to go to Pattaya from Ekkamai Bus Station, you can read my other page describing how to take the bus to Pattaya from Bangkok.

Bangkok Airport Bus to Pattaya Travel Time
The total travel time on the bus from Bangkok Airport to Pattaya is just around two hours.
Most of the journey from Suvarnabhumi Airport is by motorway and so unless there is some problem, the total travel time to Pattaya is likely to remain unaffected.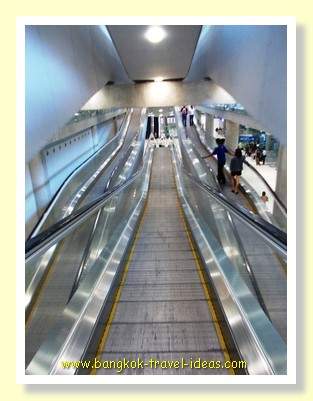 Suvarnabhumi Airport bus to Jomtien
There are two main bus options to choose from and both depart from Level 1 in Suvarnabhumi Airport and this is how to get there.
After Immigration clearance, collect your baggage and exit via the Customs area on Level 2 and then take the moving walkway or the lift down to Level 1 and look for Gate No. 8 which is located near to the Magic Food Point food hall.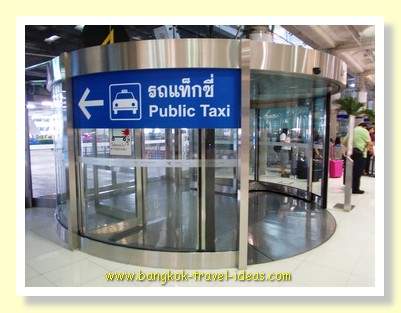 If you are familiar with where the taxi stand is, then Gate No. 8 is at the far end of that level, closest to the foodhall.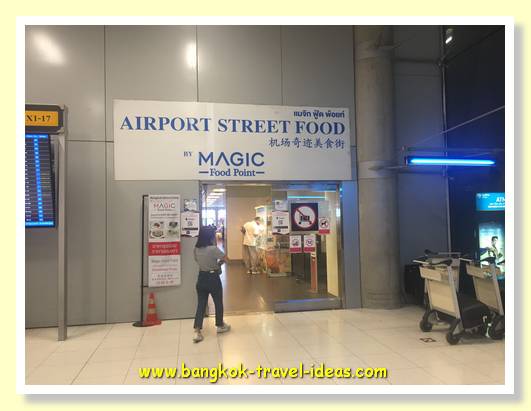 Magic Food Court in Suvarnabhumi Airport near to the bus to Pattaya ticket counter
Bangkok Suvarnabhumi Airport to Pattaya Bus Service Timetable
Roong Reuang 389 Airport Pattaya Bus
The Suvarnabhumi Airport Bus to Pattaya operates 7 days a week and normally the bus leaves the Suvarnabhumi Airport terminal every hour from 7:00 am to 10:00 pm, but these times can vary depending upon the day of the week and of course, the demand.
If you need to know the Suvarnabhumi Airport to Pattaya bus timings, then the full details of the Bangkok Airport to Pattaya bus timetable are below and they are spread throughout the day at regular intervals.
Further down the page there is the link to the online booking form for the 389 Airport bus and which will provide the exact timetable and price for your particular travel date, once you enter your details.
The Suvarnabhumi Airport to Pattaya bus fare is 143 baht per seat. (from 1st October 2022)
The current Suvarnabhumi Airport to Pattaya bus service timetable is:
07:00 08:00 09:00 10:00 11:00 12:00 13:00 14:00
15:00 16:00 17:00 18:00 19:00 20:00 21:00
The bus schedule is aligned to the demand; so as tourist numbers increase, then earlier and later buses will be added back to the Pattaya bus service timetable.
Even now I am seeing more bus times being added and it is nearly back to pre-pandemic levels.
As an alternative to purchasing online, tickets can be purchased in-person at the Pattaya bus ticket counter at Gate No. 8 on the First Level of the Airport and the bus from Suvarnabhumi Airport to Pattaya takes approximately two hours.
Ticket desk for the bus to Pattaya
Bags upto 20 kg and one hand baggage is included in the bus ticket price, excess baggage incurs an additional charge.

All the usual price restrictions apply to small children and elderly people, so check out the Terms and Conditions if this affects you.
This bus service is operated by the Roong Reuang Coach Company Ltd and there is an option to make a booking online as linked.
(Due to increases in passenger numbers in 2023, it is recommended to book online, or you may find that the next two buses have already been sold out by the time you arrive)
If you make an online booking, then do print out the confirmation email or ticketing information and don't rely upon the data held on your phone etc.
Every bus to Pattaya will arrive at the Jomtien bus station and from there you will be able to take a Songthaew to your hotel for a small cost.
Tel. Suvarnabhumi: 086 324 2391
Tel. Pattaya: 086 324 2389
Limousine bus from Bangkok Airport
389 Bus Pattaya to Suvarnabhumi Airport
For the return journey, taking the bus from Pattaya to Bangkok Airport is just as easy.

The Jomtien airport bus from Pattaya to Suvarnabhumi Airport  usually runs from 7:00 am to 9:00 pm and can be taken from Jomtien bus station on Thapphraya Road.
Currently the Jomtien to Suvarnabhumi Airport bus timetable is as follows:
07:00 08:00 09:00 10:00 11:00 12:00
13:00 14:00 15:00 16:00 17:00 18:00
19:00 20:00 21:00
Tickets can be purchased in advance, or on the day of travel at the office.
If the ticket is purchased in advance, then ensure you board the bus 15 minutes prior to departure time or your seat may be reallocated.
The bus from Jomtien to Bangkok Airport will drop you off at the Bangkok Airport Departure Terminal Level 4.
The Pattaya to Suvarnabhumi Airport bus fare is 143 baht per seat.
More details can be obtained directly from the official website of the Roong Reuang Coach Company.
Jomtien Suvarnabhumi Airport Bus Station
Where is the Jomtien Suvarnabhumi Airport bus station?
Take the Suvarnabhumi Airport bus from the Jomtien bus station as marked on the map.
Pattaya Bus Station to Suvarnabhumi airport tickets can also be conveniently purchased at the 389 Bus Station on Thappraya Road or online.
If you purchase bus tickets from Jomtien to Suvarnabhumi Airport online, then take a printed copy with you.
Bell Travel Service Bus to Pattaya
Suvarnabhumi Airport Bus to Pattaya
Bell Travel Service provides a Bangkok Airport bus to Pattaya online booking option to pre-book your bus journey to Pattaya and offers a door to door service in both directions.
The bus to Pattaya operates 7 days a week and in peak periods, leave the Suvarnabhumi Airport terminal every two hours from 8:00 am to 6:00 pm.
Bangkok Airport to Pattaya bus
Tickets for the Bangkok Airport bus to Pattaya are only available by pre-booking on their website, preferably 3 days before departure.
All buses will drop off at the Pattaya Bus Station and then you will be transported directly to your hotel in a van.
The travel time estimation is two hours, depending upon the traffic and then add on the hotel transfer time on top.
Note: Current bus timetable is limited and does vary by day of the week and also the bus from Suvarnabhumi Airport will be replaced by a van if there are not enough customers:
Bangkok Airport to Pattaya Coach/Van schedule:
08:30 10:30 14:30 16:30 18:00
Pattaya to Suvarnabhumi Airport Bus
The return journey on the bus from Pattaya to Bangkok Airport also runs every two hours from 6:00 am to 7:00 pm and can also include a van pick up from your hotel in Pattaya, or alternatively just catch the bus directly from the North Pattaya bus station on Thappraya Road.
North Pattaya to Bangkok Airport Coach schedule:
06:00 09:00 13:00 15:00 17:00 19:00
The fare in both directions is posted as 300 baht if booked on the Bell Travel website. 
This seems to be made up of 190 baht for the bus, 25 baht online service charge and 110 baht for the hotel transfer or 325 baht in total.
As I said, the offers are confusing and contradictory in many ways, but I am sure you get the general idea of pricing and booking.
According to Bell, they are the official website and sole provider of advance bookings for Roong Reuang Coach (RRC) Co., Ltd. which seems no longer correct, as bookings can be made directly with RRC online.
So you can see that there are slight differences in the two services and prices provided for the bus to Pattaya from Suvarnabhumi Airport.
If you need to call and check prices or times, then phone:
Bell Travel Service  084-427-4606.
It is quite confusing to know exactly what service is being offered, but it seems that you can pay 143 baht with Roong Reuang and take the chance that there are no seats on the bus when you arrive at the booking desk, or you can pay 325 baht with Bell Travel Service and pre-book your seat on-line and get a hotel transfer included.
It is recommended to check with Bell Travel Service if you need further details, as the offer and timings is constantly changing, due to variations in passenger numbers.
I would expect once the tourist numbers settled down to the pre-covid levels then all these short-term adjustments that had to be made will resolve themselves to a more consistent pattern.
Also bear in mind that the two bus services have quite different timetables and you may not want to wait around for several hours after a long flight, for the next Bell Travel Service bus.
For those arriving on late flights to Suvarnabhumi Airport with limited funds, then have a look at this page that shows some good places to sleep in Suvarnabhumi Airport, whilst you wait for the bus to Pattaya booking desk to open in the early morning.
Taxi From Suvarnabhumi Airport to Pattaya

Taking a taxi directly from Suvarnabhumi Airport to Pattaya is certainly an option and the taxi rank is outside of Gate 8 and you will see it if you walk along.
Just to add a note of caution here.
Some Bangkok taxi drivers don't actually drive to Pattaya, but they drive you to some sort of consolidation point, where you have to change vehicles.
The changed vehicle then drives you to Pattaya.
This seems fine, but if you arrive late at night and the taxi driver starts taking you down back alleys to a consolidation point, it becomes a little unnerving to go through the experience, as you have no idea where you are being taken.
In my opinion, first-time travellers to Thailand are much better off selecting a reputable company to drive them to Pattaya from Bangkok Airport.
Sedan car or van transfers are available from GetYourGuide.
The service includes:
Travel between the Suvarnabhumi Airport or Don Mueang Airport or your hotel in Bangkok to other nearby cities. Enjoy a private transfer in a comfortable van or car. 
Journey from the airport or your Bangkok hotel to major vacation destinations such as Pattaya, Hua Hin, Ayutthaya, Kanchanaburi, Koh Samet, Koh Chang or Laem Chabang. 
Avoid the inconvenience of navigating public transit with heavy bags. Instead, travel in the comfort of an air-conditioned vehicle straight to your desired destination. 
Once you arrive at the airport you'll be greeted by a professional driver who will help you with your luggage. This service includes expressway fees, insurance, and free on-board bottled water.
Enter details below for instant pricing and availability.
Bangkok Airport Bus to Hua Hin Timetable
The same service desk that sells the bus tickets to Pattaya, also sells tickets for the Hua Hin bus.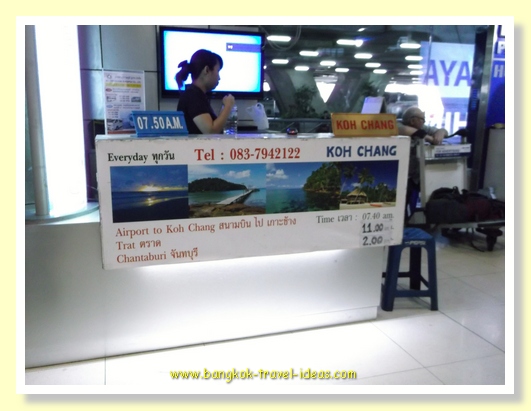 In the current period of reduced travel activity the bus to Hua Hin departs according to the following bus timetable:
07:30 09:30 12:00
14:30 16:00 18:00
and it costs 325 baht and the drop-off point is:
Bus stop in front of Bangkok Bank at Cha-am Intersection
Hua Hin bus station in front of Hua Hin airport
Due to roadworks the trip time to Hua Hin is 4 - 5 hours, although it could take longer on weekends or Thai public holidays when traffic may be particularly heavy.
This situation is likely to continue until the roadworks are completed sometime in 2023.
Bangkok Airport Bus to Koh Chang and Hua Hin
Koh Chang bus tickets at Suvarnabhumi Airport
Seeing as you have found your way this far on the page, then you should also know that tickets can also be purchased for the bus to Koh Chang and Trat, as well as to Hua Hin from this same desk.
The bus to Koh Chang departs at 06:00 am
Koh Chang bus times from Suvarnabhumi Airport
The bus to Trat departs at 11:00 am
The bus to Chantaburi departs at 2:00 pm
I don't have a recent Koh Chang bus price, so if you need to call and confirm times and prices you can phone the travel desk on 083-794-2122.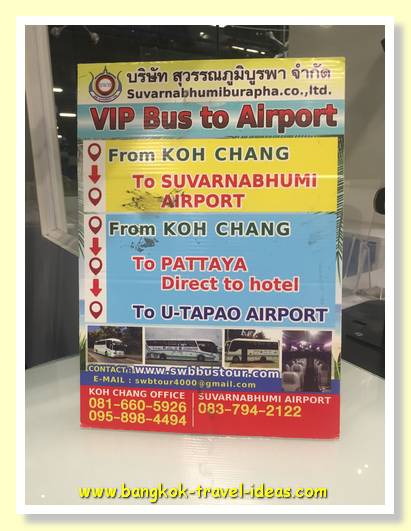 VIP bus to Suvarnabhumi Airport
See this new page on about taking the Suvarnabhumi Airport to Hua bus if you need the full information.
But if you follow the link to the Roong Reuang website then you will get all the options of getting to your Hua Hin hotel by bus and you can book your bus ticket online that will take you directly to the new Hua Hin bus station.
So when you are budgeting your trip, then bear in mind that there will be an additional fee for the transport to your Hua Hin hotel.
The infographic below gives some idea of the additional hotel tranfer costs.
How to travel from Bangkok Airport to Pattaya by bus
Roong Reuang Bus Routes
There is some more information on the transfers from Bangkok International Airport to Hua Hin and Hua Hin to Pattaya at the below link to the Roong Reuang Bus Company.

Here is a diagrammatic overview of the Roong Reuang bus transfers out of Bangkok and the departure bus terminals.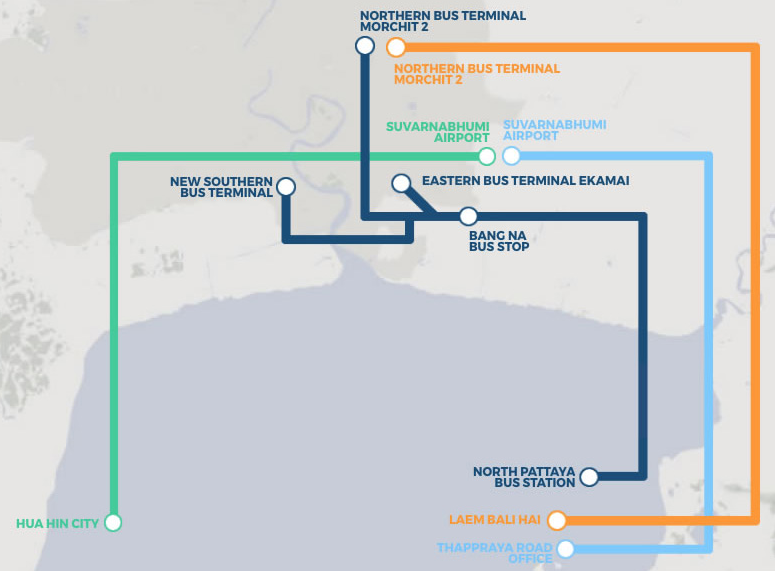 How to travel from Bangkok Airport to Pattaya by bus
If you follow the link to the Roong Reuang website then the bus options in the graphic are explained.
8 Tips for a Comfortable Bus Ride From Bangkok Airport to Pattaya
All the transport options have now been explained, but let's just conclude with eight tips for a comfortable and safe bus ride from Bangkok Airport to Pattaya:
Choose a reputable bus company: The two main bus companies have been identified as Roong Reuang and Bell Travel so read reviews before choosing one for your journey. This can help ensure that you have a safe and reliable ride.


Book tickets in advance: The online website has been linked and you may get a better deal by booking tickets in advance, rather than purchasing them at the airport or bus station. The online booking can also help ensure that you get a seat on the bus you prefer.


Check the departure location: Make sure you know where the bus departs from at the airport, and allow plenty of time to get there.


Pack light: Bus luggage restrictions can be strict, so try to pack light and only bring what you need for the trip. If needed there is the option to pay for additional baggage over the weight limit.


Stay hydrated: Bring a bottle of water with you on the bus to stay hydrated during the journey. Usually Thai coach services supply a small bottle of water, but you may need more.


Protect yourself from the sun: Try to select a seat that does not get full sun. In any event there will be curtains that can be drawn to provide protection, but the shady side of the bus is often more comfortable.


Use the restroom before boarding: There is a toilet on board but it's a good idea to use the restroom before boarding the bus.


Keep valuables with you: Keep your valuables, such as passports and tickets, with you at all times to ensure their safety.
How to Get to Pattaya from Bangkok Airport by Van
For larger groups wanting to go to Pattaya, there is also the option of hiring a 10-seater van for 2500 baht on the Roong Reuang booking site, although it looks like it may have to be formalised via e-mail as the drop-down boxes have gone.

How to get to Pattaya from Bangkok Airport
It comes with a driver and without the dent.
Transfer to Pattaya or Hua Hin
Booking a transfer to either Pattaya or Hua Hin is now even easier and whilst taking the bus may seem like a cheap option, it is not going to very comfortable for the person with a larger frame.
Thai bus seats seem to have less room than an aircraft economy or coach seat and if the person in front reclines their seat, then you will be eating their hair.
Sedan or Van transfers from GetYourGuide may be the solution, if you need a little more comfort or have a larger group.
There are various options for the vehicle, including:
van for 2-9 persons
sedan for 1-2 persons
Transfer between either Suvarnabhumi Airport or Don Mueang Airport to:
Pattaya
Hua Hin
Ayutthaya
Kanchanaburi
Koh Samet
Koh Chang
Laem Chabang
Enter your details below for pricing and availability.
Pattaya Full Day City Tours
Visiting Pattaya for the first time can overwhelm you with the choice of attractions to visit. 
Without your own vehicle, a great option for a full-day tour of the local Pattaya attractions accompanied by your own private guide, makes sense.
Private guided tours are available for groups upto 9 persons and you can build your own itinerary of three or four locations to create your very special day.
There is even the option to purchase this package as a gift, say for a Honeymooning couple visiting Pattaya.
The Pattaya full day city tour is brought to you by GetYourGuide and the information page contains additional details about the attractions.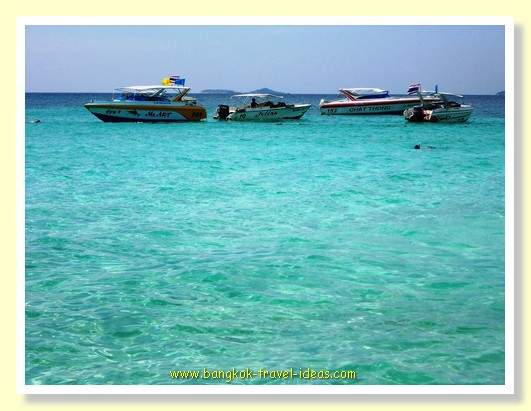 Crystal clear water in Pattaya
However, if you prefer water based activities then make a trip to Sak Island and Coral Island and see how crystal clear the waters are.
Enter your details below for pricing and availability and let GetYourGuide give you a memorable experience.
Where To Stay In Pattaya
Whether you take the bus to Pattaya or go by car, often trips are planned at short notice and you may not have chosen your final location to stay.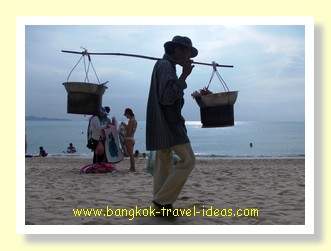 Beach vendor in Pattaya beach
One option is to book a cheap hotel in Pattaya to cover the first few days of your trip whilst you scout around for something more permanent.

Explore this link to Pattaya Hotels on Agoda  and choose your dates.
Filter your search using the options for:
Star Ratings (top)
Location (left hand side)
If you sort on the Star Ratings tab and then select the Guest Rating greater than 7.5.
As a general guide to get a reasonable standard, look for places with at least 200 reviews and a score of at least 7.5 or higher and then sort by Most Recent and read the most recent reviews.
If you fail to sort them, you will be looking at reviews several years old, that may no longer be relevant.
Beach Road Pattaya
There are many guest friendly hotels in Pattaya for less than 600 baht per night although some may charge a joiners fee for additional guests.
Pattaya has no shortage of up-market hotels, that cater for those than can afford to spend a little more.
If you really want to treat yourself, then my personal favourite is located at the other end of the Pattaya Bay and is very suitable for those people with young families.
If you are thinking of taking the bus to Pattaya from Bangkok Airport and want something a bit more upmarket, then this Agoda link to The Dusit Thani Hotel will show availability and pricing.
The Dusit Thani Hotel has a swimming pool, private beach and Kids Club and all other amenities that a large hotel brings.
Nearby are plenty of places for breakfast.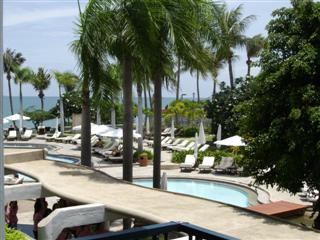 I have stayed at the Dusit Thani Hotel in Pattaya several times and find it really convenient, being located right by the Dolphin Roundabout with direct access to Beach Road.
Dolphin Roundabout is at the interconnection of Beach Road and Second Road, which makes it the main circuit for the Songthaews that operate in Pattaya, which makes the hotel really easy to get to.
What to Do in Pattaya
If you haven't been to Pattaya before then maybe you are interested in other things to do in Pattaya, so please check out my experience when I went on a trip from Koh Chang to Pattaya.
In three days I visited Walking Street a couple of times, went to Koh Lan on the Ferry and also visited the Nong Nooch gardens.
If you want a different perspective, then check out my visit report on the Centara Grand Mirage Beach Resort at Naklua.
Naklua is located at the Northern end of Pattaya, where we visited Pattaya Floating Market and some other important places that eludes me for the moment.
The Naklua end of town is quieter if you are taking the family and the Centara Grand Mirage Beach Resort is great to book if you have small children.
I wouldn't classify it as a cheap hotel though, but it has a massive water theme park and its own beach, that provides enough fun for all the family.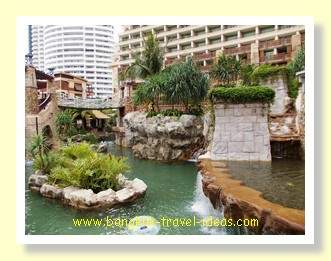 Centara Grand Mirage Beach Resort Pattaya
There are also plenty of nearby cheap places to eat for breakfast and dinner.
People also ask:
The most convenient options direct from the airport are:

Airport Bus
Taxi
Van
Private car transfer
Don't expect regular Bangkok Airport taxis to be fitted with child seats. If you are travelling in a family group, then making an advance private transfer booking and selecting the child seat requirement is preferable.

Van transfers to Pattaya from GetYourGuide.
Taking the train to Pattaya from Suvarnabhumi Airport is not a practical option.

Catching the train from Bangkok to Pattaya is feasible but it is a slow journey and vans and buses are almost always quicker.
If you don't need to return to Bangkok Airport, then the Pattaya bus to Bangkok operated by The Roong Reuang Coach Company has several bus departures a day from Pattaya Bus Terminal.

The service is very cheap and takes under 3 hours to reach Bangkok.

Buses go to Bang Na, Eastern (Ekkamai) and Northern (Morchit) bus terminals.

Before arriving Ekkamai, passengers can get off only at the following Bangkok bus stops.

Inform the driver before departing, as baggage placement has to be adjusted:

HomePro (Bang Plee)
Pedestrian Flyover opposite Central Plaza Bangna
Udomsuk BTS
Onnuch BTS
Pattaya has the Utapao airport, but it is of no use to you, unless taking your private helicopter from Suvarnabhumi Airport. For International arrivals at Bangkok Airport, then bus or car is going to be the preferred way to travel to Pattaya or Jomtien.
The Jomtien bus station is about 175 Km or two hours by bus and should take around 90 minutes in a car or van.
The BKK bus to Pattaya costs 143 baht and takes about 2 hours to reach the Jomtien bus terminal. If you wish inclusive transfer to your Pattaya hotel, then the cost is 325 baht.
The taxi to Pattaya from Bangkok Airport will cost 1200 - 1500 baht inclusive of tolls. The vehicle can also be pre-booked with GetYourGuide.
Bus to Pattaya Summary
This article provides detailed information about travelling by bus to Pattaya from Bangkok Airport and serves as a comprehensive guide for individuals looking to embark on this popular route to the famous seaside resort town.
It also provides insights into bus options, schedules, ticket prices, and practical tips for a smooth journey upon arrival at Suvarnabhumi Airport.
Initially the article begins by emphasizing the convenience and affordability of traveling by bus from Bangkok to Pattaya and compares the popularity of this mode of transportation among both tourists and locals due to its ease of access and cost-effectiveness.
The page provides comprehensive information about bus services available for the Bangkok-Pattaya route and it mentions different bus operators and describes the types of buses offered, including standard buses and VIP buses with added comfort features.
The article also offers other travel options such as limousine transfer, taxi transfer or even vans, for larger groups of travellers and also has information on the return journey options from Pattaya to Bangkok Suvarnabhumi Airport.
This comprehensive information enables travellers to choose the option that best suits their preferences and budget.
As well, the webpage offers details about bus schedules, departure points, and travel durations and it provides information on the approximate travel time, allowing travellers to plan their itineraries accordingly.
The provided information also mentions that buses operate frequently throughout the day, providing flexibility for individuals to choose a departure time that aligns with their schedule.
Also, the article provides insights into ticket prices and booking options and it specifically mentions that tickets can be purchased online in advance or directly at the bus terminals.
The page also advises people going to Pattaya to arrive early at the bus terminals to secure their seats, especially during peak travel seasons, otherwise they may wait several hours to travel on this popular service.
It also offers practical tips for a smooth bus journey and it gives advice on ensuring personal safety, securing belongings, and staying hydrated during the trip to Pattaya.
In conclusion, the well-written content serves as a valuable resource for individuals planning to travel by bus to Pattaya from from Bangkok Airport.
Revised 09-August-2023