Go to Pattaya From Bangkok
Bus to Pattaya from Bangkok Eastern Bus Terminal (Ekkamai)
To go to Pattaya from Bangkok, take the BTS Skytrain to the Ekkamai station and walk down stairs to the bus station.

To make sure you exit on the correct side of Sukhumvit Road as the Eastern Bus Terminal, just look over the balcony first for the traffic lights.
You should see the buses coming out of the bus station on the left hand side.
Go to Pattaya by Bus
Approximately, every forty minutes air conditioned buses depart to Pattaya main bus station.
The buses run from 5:30 am to 9.00 pm.
For detailed information tel: +66 (0) 2391 9829.
A single ticket will cost approximately 135 baht for the slow bus and 178 baht for the Express bus.
After arriving at the Pattaya bus terminal you will be herded into songthaew's and taken to your hotel.
The cost is 40 baht, or at least it was when I went.
Considering that the regular songthaew around Pattaya still only costs 10 baht, I reckon I overpaid.
If you are not departing from Bangkok and need the Bangkok Airport bus to Pattaya then click the link.
Bus to Bangkok Eastern Bus Terminal from Pattaya
First take a songthaew to the Pattaya bus terminal.

Approximately every hour air-conditioned buses depart to Ekkamai Eastern Bus Terminal in Bangkok
A single ticket will cost approximately 178 baht.
The Pattaya bus terminal is usually very busy and you may have to wait more than an hour as the next bus back to Bangkok could be already be sold out by the time you get there.
If this is the case, then after purchasing your ticket exit the bus terminal and turn right to go get something to eat.
There is a large noodle shop next door to the bus station, where you can sit in relative comfort under a fan and sip on a coke as you wait for your bus to arrive.
Hotel Car To Pattaya / Bangkok
Expect to pay upwards of 3500 baht and the same for the return journey.

This should include tolls.
Car To Pattaya From Bangkok
Expect to pay 2500-3000 baht, but you should enquire as to whether this includes tolls or not.

Car To Bangkok From Pattaya
There are plenty of kiosks in Pattaya offering return travel to Bangkok. Expect to pay 1200 baht, plus your tolls.

If you negotiate too hard you will find that the driver will not use the expressway, it will be a bumpy and long drive as you potter along on the road down beneath the expressway.
Van From Bangkok To Pattaya
A really inexpensive and convenient option is to take a mini van from Bangkok to Pattaya.

The vans are really easy to find at the Mochit bus station, but the first time can be a bit daunting.
There are dozens of vans like this one, so you will need to ask someone to make sure you get the right van. Then just pay your money and the van will leave when full, which usually isn't long at all.
The Thai price to go Pattaya is 250 baht, but you may have to pay a little more if non-Thai, but if you get asked for more than 400 Baht you should put your bargaining hat on.
The van will be quicker than the bus and is a good mid-priced option if you only have carry on luggage.
If you have a big suitcase then it may depend on what the other passengers are taking as to whether there is sufficient room.
Either way it will be a short wait for the next van, so no real problem.
Whether you take the van to Pattaya or decide to go on the bus, you are sure to have a great time, as there are lots of places to visit and experience once you get to Pattaya.
There is more to Pattaya than the Beach and Walking Street.
Read more about things to do in Pattaya in my Thailand Travel Diary.
Go to Pattaya From Bangkok Airport
To go to Pattaya take a van or bus to Pattaya from Suvarnabhumi Airport. 
The return bus arrives and leaves from Jomtien bus station.

Driving Directions To Pattaya
Do you need driving directions to go to Pattaya?
Use the map below by clicking on the link and changing your starting point.
Bangkok Google Map
No brief overview could ever do justice to the diversity and variety that each area of Bangkok exhibits, but a few words of description of the key features around town, may help you make a decision about where to stay in Bangkok.
To assist in finding all the good stuff, Bangkok Travel Ideas have created a unique Bangkok Google Map that will open in its own window.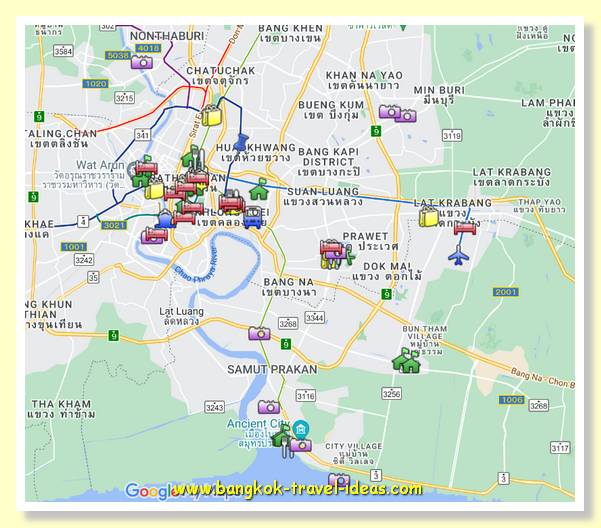 Bangkok Travel Ideas Google Map of Bangkok
The BTI map opens with Bangkok as a centre, but expands to cover all regions of Thailand that are covered in this website.
There are links to places of interest and recommended hotels in that area.
When planning your next Thailand trip, explore each of the regions and select from one of these many areas to stay as shown described in my Bangkok Google Map.

Bangkok Bus Terminals
Altogether there are three bus terminals in Bangkok.
Choose the correct one depending upon your destination.
Bangkok Eastern Bus Terminal (Ekkamai)
Bangkok Northern Bus Terminal (Morchit)
Bangkok Southern Bus Terminal (Sai Tai Mai)
Bangkok Eastern Bus Terminal (Ekkamai)
From the Bangkok Eastern Bus Terminal (Ekkamai) buses depart to the destinations in:
Eastern Thailand (Pattaya, Jomtien, Chantaburi, Trat)
Bangkok Northern Bus Terminal (Morchit)

From Bangkok Northern Bus Terminal (Mo Chit) buses and minivans depart to the destinations in:
Northern Thailand (Isaan, Chiang Mai, Sukhothai, Chiang Rai)
Northeast Thailand and few other central and eastern destinations such as Ayutthaya, Lopburi, Chonburi (including Pattaya), Trat (including Koh Chang), etc.

Bangkok Southern Bus Terminal (Sai Tai Mai)

From Bangkok Southern Bus Terminal (Sai Tai Mai) buses and minivans depart to the destinations in:
Southern Thailand (Phuket, Krabi, Hua Hin, Surat Thani) and Central Thailand (Kanchanaburi, Samut Songkhram).