Beaches in Thailand
There are many great beaches in Thailand that are only a few hours from Bangkok that rival those in and around Phuket.
If you have never been to Thailand before then you may only have heard of Phuket, but this is not the only destination for intrepid travellers, there are alternative and sometimes cheaper options available.
Beach 4-5 Hours from Bangkok
If you only have limited time to explore beaches near Bangkok then I make some suggestions of the best beaches in Thailand.

Guide to Beaches in Thailand
During my travels around Thailand I have visited all of these beaches, so if I am writing about it on Bangkok Travel Ideas, then it is my own personal experience on the date that I visited.
All of the photographs were taken by me on my visit.

Of course there are no actual Bangkok beaches as Bangkok is a capital city located inland on the banks of the Chao Phraya River.
If you take a short car or bus ride you can visit some beautiful Bangkok beaches and islands near Bangkok. 
There are many great beach resorts near Bangkok that have a  typical Thai style and make them ideal for a few days break.
Koh Samet  Special - limited availability
Sai Kaew Beach Resort Premier Room with Breakfast, all taxes included. 
 from THB 5472 / night
If you are thinking of a short stopover in Bangkok then consider these Bangkok beaches in Thailand for a 3-4 day spell of recreation and relaxation. 
By departing early morning you can be on most of these Thailand beaches by lunch time.
| | | |
| --- | --- | --- |
| Bangkok Beach | Distance (Km) | By Road (hours) |
| Bang Saen Beach | 102 | 1.25 |
| Pattaya Beach | 130 | 1.75 |
| Jomtien | 133 | 1.9 |
| Koh Samet | 193 | 2.5 |
| Koh Chang | 332 | 5.5 |
| Cha-Am | 175 | 2.75 |
| Hua Hin | 210 | 3.0 |
Every destination on this list is suitable for a weekend away from Bangkok, but as the island of Koh Chang is a little further away, so you should add one days travel at either end of your desired stay length to fully make the most of your trip.
If you would like to stay in Koh Chang for 3 days then this is really a 5 day trip.
Day 1 travel, spend three full days exploring Koh Chang and then Day 5 return to Bangkok.
Koh Chang really does have that extra special feel and it is one of the areas that has great Bangkok beaches for you to relax on.
June and July are quiet months and usually there is not too much rain in this period.
October is usually the month to avoid because of the increased chance of heavy rains at the end of the rainy season.
Enjoy Beaches in Thailand
Bangkok Google Map
No brief overview could ever do justice to the diversity and variety that each area of Bangkok exhibits, but a few words of description of the key features around town, may help you make a decision about where to stay in Bangkok.
To assist in finding all the good stuff, Bangkok Travel Ideas have created a unique Bangkok Google Map that will open in its own window.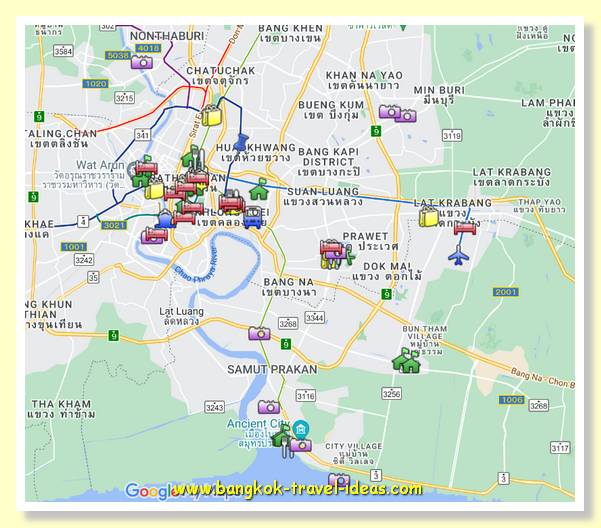 Bangkok Travel Ideas Google Map of Bangkok
The BTI map opens with Bangkok as a centre, but expands to cover all regions of Thailand that are covered in this website.
There are links to places of interest and recommended hotels in that area.
When planning your next Thailand trip, explore each of the regions and select from one of these many areas to stay as shown described in my Bangkok Google Map.

Koh Samet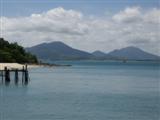 If you want one of the really top beaches in Thailand then you need to travel to Koh Samet. 
Koh Samet is a bit further than Pattaya or Jomtien, but it is well worth the effort to get here. Koh Samet is a small island located a 20 minute boat ride off the coast of Rayong Province.
Koh Samet is a National Park and consequently development is limited so there are no high rise hotels here, but there is still plenty of suitable accommodation to choose from.
The beaches on Koh Samet are really magnificent and the sand squeaks beneath your feet as you walk on it. The water is crystal clear and ideal for snorkeling.
Because of its proximity to Bangkok, Koh Samet is really one of my favourite places to come for a few days relaxation and Sai Kaew beach is one of the top beaches in Thailand in my opinion.
Koh Samet derives its name from koh which in Thai means island and from the cajeput tree, which in Thai is samet.
The cajeput tree is a member of the melaleuca family that grows all over the island and is the source of cajeput oil that is widely used in aromatherapy.
Hotels near Koh Samet can be booked at Agoda Travel
You can read more about other islands near Bangkok here.
How to go to Koh Samet
The journey by road to Ban Phe from Bangkok Eastern Bus Terminal takes approximately 3 hours, depending on how many people want to get off along the way and perhaps 2.5 hours in the car.
If you want to go to Koh Samet read more
Bang Saen Beach
If you don't have much time available to visit the beaches near Bangkok, you can at least visit the beach at Bang Saen.
It is very close to Bangkok and you can easily drive there and back in one day.
Bang Saen is a small seaside resort mainly used by Thai people at the weekend and there are not many foreigners around this place.
The foreshore is set out with hundreds of Bangkok beach chairs and umbrellas and you can sit yourself down and order some delicious seafood and just watch the world go by.
This is a great place to relax and have some food and take the kids to play in the sand. 
As far as beaches in Thailand go the sand is quite coarse but the atmosphere is still very relaxed and it is so close to Bangkok that it is worth a visit.
The water is not crystal clear, but you will still have a great time munching on some fabulous seafood.
On the way out of Bangkok, stop off at the Service Station on the Tollway and load up with ice, beer and snacks as there are not to many shops at the front of Bang Saen Beach.
Bang Saen Beach is one of the great Bangkok Beaches and worth a visit and it will be especially quiet mid-week.
How to go to Bang Saen Beach
Pattaya Beach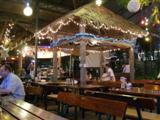 When exploring beaches in Thailand it wouldn't be complete without discussing the seaside town of Pattaya.
Pattaya is located within easy driving distance of Bangkok, you can come direct from Suvarnabhumi Airport or from your Bangkok hotel.
There is plenty of competition in Pattaya and consequently hotel rates are amongst the cheapest you will find anywhere and restaurants are plentiful and inexpensive.
If you are a Pattaya tourist and interested in visiting this interesting town then you can get more information on Pattaya beaches here.
Pattaya Beach is not one of the best beaches near Bangkok as the water is not that clear, but there are a lot of tourist attractions in Pattaya to visit.
How to go to Pattaya
The journey by road to Pattaya takes approximately two hours on the bus and perhaps 90 minutes in the car.
I have heard of it being done in 1 hour during the quiet of the night and as cars easily do 160 Km/h on the tollways, I guess it is possible.
If you want to go to Pattaya and read more
---
Jomtien Beach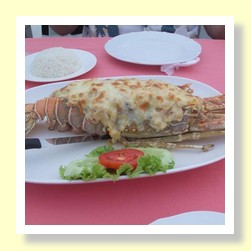 Jomtien beach is located just over the hill from South Pattaya and is away from the hustle and bustle of mainstream Pattaya. I think that it is one of the beaches near Bangkok that it is more suited to families with children.
There are many hotels located just across the road from Jomtien beach, but let me tell you about a great hotel that won't break the bank.
The Jomtien Palm Beach hotel caters primarily to package coach tours.
You may not realise the advantage of this but in practice it means that although the hotel may be fully booked, most of the guests are out on the coach from early morning to late afternoon and this leaves the hotel pool more or less completely free.
The Jomtien Palm Beach hotel has a multi level swimming pool that is just magnificent.
So with the coach tours heading off early in the morning there is no need to get up at 6:00 am and mark out your pool chair for the day with your towel, like you have to do in some hotels.
You will almost have the pool to yourself.
You can spend the morning lazing by the pool and if you want to walk over to the beach for some lunch then you just cross the road and you are there.
The security guard will even let you take the hotel towels with you.
What more can you ask?
Because the hotel caters to coach parties they tend to all have breakfast together so it is a good idea to ask what time they eat and go at a different time to avoid the rush.
Hotels near Jomtien can be booked at Agoda Travel.

How to get to Jomtien
The journey by road to Jomtien takes approximately two hours on the bus and perhaps 90 minutes in the car.
If you want to go to Jomtien then read more here
Koh Chang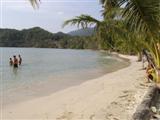 Koh Chang is the second largest island in Thailand and one of 47 islands off the coast of Trat province.
If you are interested in visiting beaches in Thailand then Koh Chang has some of the best to choose from.
I can't really call it a Bangkok beach, but the list of best Bangkok beaches would not be complete without including Koh Chang.
Koh Chang is classified as a National Park and the centre of the island is lush forest and mountainous.
The National Park status means that development is controlled. So again no high rise apartment blocks or hotels here.
Hotels near Koh Chang can be booked at Agoda.
How to Go to Koh Chang
If you want to go to Koh Chang read more
How To Go To Cha-Am
Cha-Am has some of the nicest beaches in Thailand and you can get there by following the directions to Hua Hin, as it is immediately before you get to Hua Hin when travelling from Bangkok. 
Hua Hin Beach
As far as beaches in Thailand go then Hua Hin is one of the most popular with Thais.
Hua Hin is a favourite Bangkok beach resort and it is located about 200 kms from Bangkok.
In fact close it is enough to go for the weekend and still get back home in time for work on Monday.
Hua Hin has long white sandy beaches with large rocks at the waters edge. The rocks are quite advantageous as they stop the use of jet skis and other noisy watercraft from coming close to the beach area.
Regardless of the rocks Hua Hin beach is certainly one of the top beaches in Thailand.
The grounds of a number of the larger hotels such as the Centara Grand Resort and Villas and the Hilton Hotel go right onto the beach.
This means you can walk out of your room across the manicured grounds and be directly on the beach within minutes.
Hua Hin stands out amongst Thailand beaches, as they have horses on the beach that you can either ride, or for a small fee have your photograph taken holding onto the horse.
Not something that appeals to me, but lots of people like to go for a ride along the beach.
Other than Blackpool in the UK I don't recall any other beaches with horses (although they do have camel rides on the beach at Port Macquarie, Australia).
Hotels near Hua Hin can be booked at Agoda.
How to go to Hua Hin
If you want to go to Hua Hin from Bangkok then read more here, but if your trip is starting at Suvarnabhumi Airport, then I have all the prices and instructions of how to catch the Hua Hin bus from Bangkok Airport.
Phuket
Phuket is certainly very popular with tourists that visit Thailand and many international flights land in Bangkok first.

If you do arrive in Bangkok before taking an onward flight to Phuket, then check out my page on cheap Bangkok Airport hotels, where you can rest between flights, before continuing your journey.
Agoda Hotels in Phuket
Phuket has many beaches and the most popular are Kata Beach, Karon Beach, Patong Beach and Rawaii Beach, each of which ranks alongside the top beaches in Thailand.
Browse a selection of the best hotels from Agoda.
If you are looking for some Phuket Travel Secrets and some great travel tips, or maybe both, let me refer you to Phuket Travel Secrets, Thailand where you will find everything you need to know about travelling in Phuket from a travellers perspective and not that of a travel agent.
So there you have it; a snapshot of some of the great beaches in Thailand that you might include in your travel plans.