Koh Samui
Koh Samui is one of my favourite holiday places after Bangkok and if you like the idea of a Thailand island retreat and visiting some of the best beaches in Thailand, then I think you will like it too.
Are you are thinking of staying here for a few days to unwind and relax but you haven't decided yet.
Well let me tell you Koh Samui is more commercial than Koh Chang but not as commercial as Phuket.
There are lots of things to do and it has some of the best beaches in Thailand and is also close enough to Bangkok to be able to go for a few days. However it is quite expensive to fly into the airport as there is no competition, so just be aware of this.
If you are on a budget then there are budget airlines operating out of Don Muang airport that fly to an airport on the mainland. You then have to take a van and a ferry to get across to Koh Samui.
Whilst this way may be cheaper it will take the best part of a day. Going from Suvarnabhumi airport is certainly the quickest and most convenient option.
If you arrive in Suvarnabhumi Airport directly from Europe, USA or Australia and have a short layover before getting your connecting flight to Koh Samui then you should check out these cheap hotels near to Bangkok Suvarnabhumi Airport where you can rest overnight and be back at the airport in the early morning. Most hotels have a free return shuttle service.
I have detailed my most recent trip to Koh Samui for you below, along with some photographs to give you a feel of what the place is like.
Koh Samui is the third largest of Thailand's Islands, after Phuket and Koh Chang, so this is quite a big island, with the smaller Koh Phangan located a little to the North.
Koh Phangan is known for its full moon beach parties. I didn't get a chance to visit there but I will do in the future and then I will give you an update.
Getting to Suvarnabhumi Airport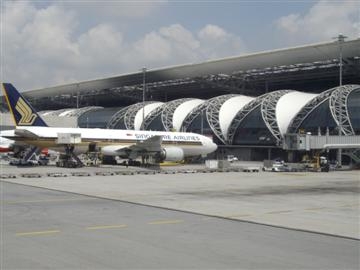 To get to Koh Samui you need to get yourself to Suvarnabhumi Airport first.
From the centre of Bangkok this is going to cost you 300-350 Baht by taxi or you can even take the Airport Link if your hotel is located close by.
If you go by a hotel limousine, then maybe it will cost 1800-2700 Baht depending on which Bangkok hotel you stay at. If you choose one of the hotels close to the airport then you can save this cost.
On my most recent visit, I got up early and got a taxi to the airport and arrived there about 7:00am. I wanted to be early because I don't like to be in a mad rush.
Some people like to have a stressful life, but it is not for me.
After going through passport control we had to dump all the liquids in my friend's carry on bag. No more than 200 mL in a single container is allowed and all the bottles have to fit into that little plastic bag.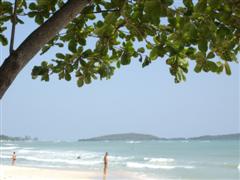 If you don't travel much, then read up on what you are allowed to take on board the aircraft in carry-on luggage, otherwise you will end up tossing it out.
On this occasion we were just going away for three days, so we had no check in bags and I had my Coni Cocci back pack with me filled with my clothes.
I have never been to this island before, so I had no idea what to expect. I have heard so much of Koh Samui and its nearest neighbour Koh Phangan, famous for its full moon parties, but never had the chance to go.
After taking off at Suvarnabhumi Airport, the plane ride is pretty short. No sooner have you taken off and eaten your muffin and you are coming in to land.
Out of the window I could see Koh Phangan, I thought that this was Koh Samui at first until I checked the map afterwards.
Even as small as it is, it was a lot larger than I was expecting.
Arriving at Koh Samui Airport
Landing at the airport I could see that it had been raining, but luckily it had stopped by the time the little open air shuttle bus was ready to go to the baggage area.
The bus ride across the tarmac was pretty short and as we had no checked bags we headed straight for the taxis parked outside.
The taxi fares are fairly well fixed in Koh Samui and not really negotiable, so just tell the driver where you wish to go and they will take you.
In this case we headed for the Centara Grand Beach Hotel on Chaweng Beach courtesy of Agoda hotel points.
Chaweng beach is one of the longest and nicest beaches on the island and is the area with the most restaurants, shops and nightlife.
The Centara Grand Beach resort is actually a very similar layout and design to the one at Hua Hin. It is nice and spacious and the rooms are well proportioned and most have good views of the ocean.
If you book the room option with access to the Club lounge, you get a range of additional extras that are great value for money. These are well worth checking out.
Visit the Agoda website to read more visitor reviews and find out more about staying at the Centara Grand Samui.
Chaweng Beach is one of the best beaches on Koh Samui and is just a short walk from your room.
Here you can laze under the shade of the beach side trees and relax to your hearts content.
Below is a short video of the one of the best beaches in Thailand taken directly in front of the Centara Grand Beach hotel.
The ocean is a little rougher than usual and that was due to a large storm cell passing by out to sea as we visited just after the end of the rainy season.
What did we do at Koh Samui?
Well to be honest we hung around the hotel, sat on the beach, swam in the pool, visited the Club Lounge every night for Happy Hour and just chilled out.

It is a very very relaxing place.
This place would be just so great if you are planning a honeymoon or that special time with your girlfriend.
One night we went into the town to see what was going on but honestly right after the GFC it was really quiet and restaurants meant for hundreds of people just had 5 or 6 patrons.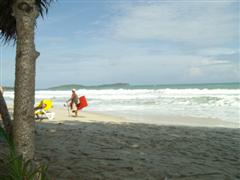 As we walked around town there were seafood restaurants and bars to relax in.
In one area they had the Coyote Dancing supported by a Filipino Band.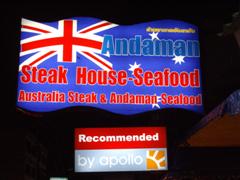 Just over from the hotel, on the opposite side of the street, one enterprising guy had set up his Combi van to serve all sorts of cocktails.
With a range of 89 Baht cocktails, how can you go wrong. It is a great start to the evening to try out all your favourite concoctions and all the while listening to some good music.
Just don't have too many cocktails at the Koh Samui cocktail bar.
---
Do you need driving directions from Bangkok to Suvarnabumhi Airport?
Use the map below to guide you and just change your starting point.
View Larger Map
Return from Koh Samui to Thailand Travel Diary
Return from Koh Samui to Bangkok Travel Ideas
---