Coni Cocci Laptop Backpack
The Coni Cocci Laptop back pack is my carry on luggage of choice when travelling in Asia as it is the ideal size for one or two nights away.
I recently had to purchase another Coni Cocci bag as the previous one had worn out.

Actually after 3 years of every day use the stitching on the straps had started to fray. The bag itself was still in good condition and the zips were still working properly.

It had originally cost 800 baht from a bag shop near to Nana BTS, so I think that I got my money's worth from it, as I was literally using it every day.
Coni Cocci Laptop Bag
The replacement bag was purchased from Pantip Plaza, the IT Mall near Pratunam.

Go in the front door of Pantip Plaza, go up the escalator that is on your left, to the first floor and then the shop is just there to the right as you get off the escalator.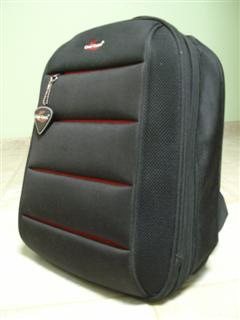 Laptop backpack from Coni Cocci
I was quoted 1000 baht for the bigger bag that holds a 17 inch laptop. This was accepted without haggling over the price as I knew that it was a reasonable price.
The ticketed price was labelled at 2290 baht, so make sure you don't pay this much as you can surely get it much cheaper.

The smaller 15 inch laptop backpack was quoted at 900 baht, but that wasn't going to be large enough for my computer.
Not only is this Coni Cocci backpack great value for money, but it is the only bag that has multiple pockets and compartments which makes it extremely convenient for business use.

I have not seen anything that can rival it.
The closest competitor that I am aware of is one that I saw in Singapore airport.

It was a Swissgear Laptop backpack but it was 3 to 4 times the price at about SG $140 and it did not have anywhere near the number of pockets and compartments that you need when you are travelling.
The Coni Cocci bag comes with a 2 year warranty, I don't know how valuable a warranty is from Bangkok but unless something went seriously wrong with the bag I wouldn't bother; just buy a new one, because for 1000 baht you can't really go wrong.
When I am not travelling my backpack is used to take my laptop to and from the office everyday and I would be lost without it.
If you can't get to Pantip Plaza in Bangkok then you can purchase this Swissgear laptop backpack from Amazon.
It is a bit more expensive, but it should last you for a few years.
These are the closest laptop bags to the Coni Cocci style I used.
SwissGear ScanSmart Laptop Backpack, Fits Most 16" Notebook Computers
Travel Backpack, Extra Large 50L Laptop Backpack
Extra Large 50L Travel Laptop Backpack, College School Computer Backpacks with USB Charging Port Fits 17 Inch Laptops
When selecting a laptop backpack, make sure that the laptop is stored in its own compartment of the bag, because when you go through the x-ray machine in the airport you need to quickly remove the laptop to put it through the scanner.
It is not much use if the laptop is at the back of the main compartment underneath your underwear and socks.