Hua Hin Beach
Hua Hin is an excellent beach to visit for a long weekend and is one of the many nice beaches in Thailand.

If you like sitting on the beach eating seafood, having something different to do in the evening and somewhere that is not over commercialised then I think you will like it too.
This small town is a traditional Thai seaside resort steeped in history.
It is a place to go with children and a place to go with family.
With a few days spare when you visit Bangkok then this could be the place for you.
Why not drive down to Prachuap Khiri Kan and stop at the Amphawa Floating markets on the way down.
Perhaps you are thinking of staying here for a few days to unwind and relax but you haven't decided yet.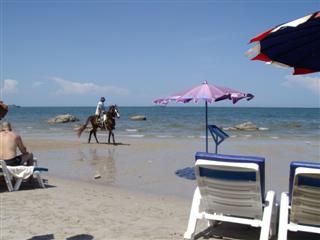 Well let me tell you there are plenty of things to do here to keep you entertained.
Take a look at some photos of my last trip to this amazing Bangkok beach and see what you think.
Hua Hin is just a few kilometres past another seaside resort called Cha-am.
Cha-am is considered the quieter sister and there is less to do in terms of nightlife, but it has exceptional beaches, some fine Thai and International restaurants and is not over commercialised.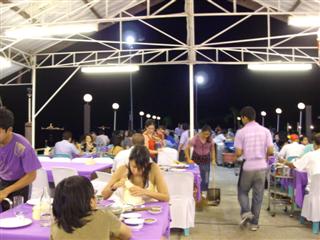 About five kilometres to the South of the town is a place called Khao Takieb and Takieb Beach.
On the top of Khao Takieb is a Buddhist temple that you can go and visit and wander around for an hour or so.
It is home to some of the local Thai monkeys which you will see wandering around the place or sleeping in the shade.
The top of the hill gives great panoramic views looking back toward the Hilton Hotel and the sweeping bay area on the North side and on the South side you can see over Takieb beach itself.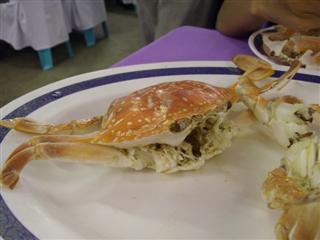 There is a lot of development taking place in the Khao Takieb area and what was once a small fishing village is now being taken over by condominiums.
If you like things on the quiet side, the area around Khao Takieb is somewhere to consider going for a holiday. 
It really is better to have your own transport if you stay this far out of town.
If you are on a budget then cheaper places can be found on the outskirts of the town.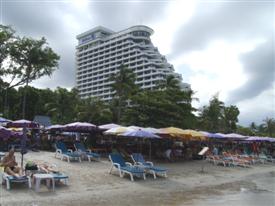 Check the Agoda website for details of the nearby Hua Hin Blue Wave Beach hotel that offers a free shuttle into town.
This is a basic, but clean hotel and is quite popular with European tour groups and it is located quite close to the popular Cicada Night Market and is is an extremely convenient location if you come for the annual Jazz Festival.
If instead you do decide to stay in the town of Hua Hin, then in the evening you can walk out of your hotel and choose from many seafood restaurants along the sea front.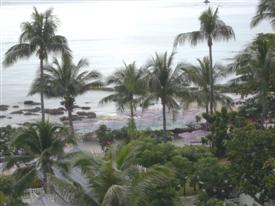 You will notice that some of the restaurants are absolutely packed out and others only half full.
Perhaps like me you would tend to select the one that has a lot of people already. The locals must know something.
Wherever you choose to eat, you will get to sample the delights of fresh seafood recently caught and cooked, as you look out over the water.
In the distance you can see the flickering lights of ships as they fish for prawns off the coast.
Centara Grand Hotel
If Hua Hin sounds like the place for you then I suggest reading the Agoda reviews of the Centara Grand Hotel as it is located right on the beach in the centre of town.
Wherever you want to walk to in the town can be reached quite easily.
How to Get to Hua Hin
Do you need driving directions from Bangkok?
If so, then use the Bangkok to Hua Hin map below and just change your point of departure or take the bus to Hua Hin from Suvarnabhumi Airport.
It is going to take you just a little over 3 hours,depending upon the traffic getting out of Bangkok.