Hua Hin Cicada Market -
Day 2
In the evening we took a trip to the Hua Hin Cicada market that we noticed in the guidebook.

Hua Hin Cicada Market by Tuk Tuk
At the front desk the hotel staff told us that the tuk-tuk price was 120 baht to the market but the driver outside the hotel wanted 160 aht and she said that the hotel didn't know the price.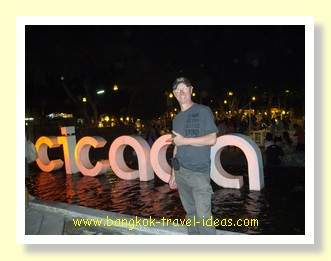 Anyway we got in rather than waste time looking around for someone else with a different price. Obviously there is a price for locals and a price for tourists.
The driver set off south along the main road towards the Hua Hin Cicada night market.
As she drove along it gave us a good chance to scout out other places that were in walking distance from the hotel and see the location of some of the other hotels.
It is always difficult to gauge distances from a tourist map.
Hua Hin Grand Market
Within half a kilometre we passed the Hua Hin Grand Market shopping mall. This is the major shopping centre that just opened in the last few years and puts on a great display for the Christmas/New Year period.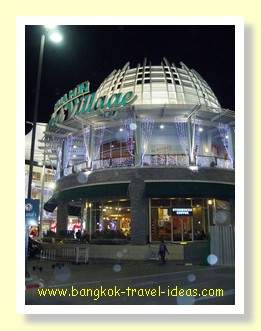 Here they have Tesco Lotus, HomePro and a range of specialty shops.
The facade was all decked out in Christmas light and judging by the amount of traffic going into the car park it was packed.
After a short drive we arrived at the Hua Hin Cicada market, paid the tuk-tuk driver and walked in through the entrance.
Off the main road in its own grounds the Hua Hin Cicada night market is a collection of stall holders primarily selling artworks, leather goods, pottery and general good quality gift items.
At one side was a food hall arrangement where you purchase tickets and then go and select your meal and in the middle was an amphitheatre that has different shows on.
Hua Hin Cicada Market
We walked around for a short while, browsing the different stalls. There were lots of original gifts on offer that would make great presents for the folks back home.
After a reasonable length of time we wandered over to where the show was due to be held and took a seat.
The crowd was already warmed up with a stand up comedy duo.
They had the crowd clapping when told and were managing to make fun of the only German guy who could not speak English, who was clapping at the wrong time.
Anyway he took it all in good part and now knows not to sit on the front row.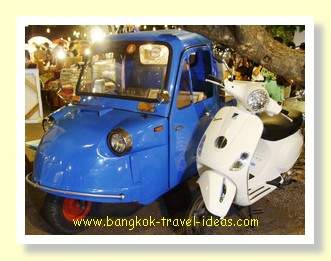 The Hua Hin Cicada market has nightly shows and tonight's spectacular was some guy playing Christmas carols using innovative ideas for creating sound.
First he started off with his magic fingers circumnavigating wine glasses filled with water, he then moved onto PVC piping cut to different lengths that he hit with some sort of modified drumstick and lastly he had small bells that he tapped.
He seemed pretty enthusiastic about his accomplishments and if like me you know nothing about music then it all seemed rather interesting.
Even though the show had not completely finished, it felt like time to go and have something to eat at the nearby food area, so we slipped out.
The food area worked on the ticket system which we got from little counter. 200 Baht is usually enough for two people I find, although if you are a big pair of eaters you may be better going for 300 Baht of tickets.
Whatever you don't use you can reclaim when you finish, so you won't be wasting your money if you spend more.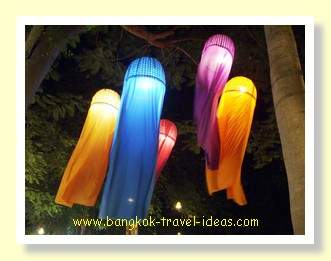 There were lots of different types of Thai food on offer but we selected the Pad Thai.
This is fried noodle with egg, bean sprouts and peanuts.
It is not spicy, but we were given sachets of chilli and sugar to add to taste. Coconut milk ice cream and a bottle of water used up all of 170 Baht.
I find that night markets are great places to take photographs and the Hua Hin Cicada market was no exception.
The ambient night lighting captured the atmosphere of the market and after taking a few photos around the place we headed home, back to the Hilton Hotel.
Luckily a tuk-tuk had just dropped a fare and we were able to get a lift back to the hotel; surprise, surprise the price was 160 Baht.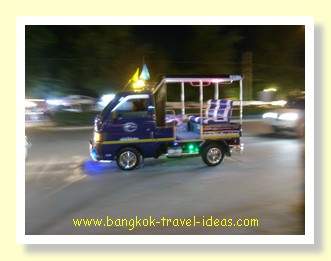 Even though it wasn't late, we called it a day.
It is quite common in Thailand to experience dual pricing and so the lady in the hotel was probably right when she quoted 120 Baht as that would be the local's price and 160 Baht would be the tourist price.
Most likely Thai tourists and foreign tourists would both pay 160 Baht.
I always think that one of the interesting things about going somewhere new is that you get exposed to all sorts of different experiences.
If you just stay within the confines of your hotel you never get to see these little things that add together and make your holiday so memorable.
The Hua Hin Cicada market was certainly an enjoyable little trip out.
Daily Expenditure
Fuel/Transport 320 Baht
Food and Drink 400 Baht
---
If you are interested in staying at Hua Hin or Cha-Am you can review this link to Hua Hin and Cha-Am Hotels or you can read more of my Hua Hin holiday blog below.

Hua Hin Floating Markets - Day 3
Thailand is famous for its floating markets and no more so than the two re-creations just outside Hua Hin. Visit Hua Hin Floating Market and Sam Phan Nam Floating Markets to see life as it was in days gone by.

Wat Huay Mongkol - Day 4
The largest statue of Luang Phor Thuad is located at the back of Hua Hin just 40 minutes from town.
---