Koh Chang
Koh Chang is a half day drive towards the Cambodian border and is a quickly becoming a great destination to visit as the word gets out.
It is a very easy drive from Bangkok and is one of my favourite holiday places ever.
This large Thailand island is relatively near to Bangkok and if you like the idea of a desert island retreat then I think you will like it too.
The island of Koh Chang has some of the best Bangkok beaches you could wish to laze on and for the most part it remains undiscovered by the majority of tourists visiting Bangkok.

Perhaps you are thinking of staying here for a few days to unwind and relax but you haven't decided yet.
Well let me tell you Koh Chang is not commercial and noisy like Pattaya but there are still plenty of things to do and it is close enough to Bangkok to be able to go for a few days rest and relaxation.
I detailed my last trip for you below, along with some photographs to give you a feel of what the place is like.
This is not some tiny island like Koh Samet, this is a big island with some seriously steep hills.
You won't be walking between the different beaches, so you need to do some serious planning before you come to Koh Chang and make a decision about which beach you want to stay at.
You can rent a motorbike quite easily for around 300 baht, but any travel insurance claim will only be honoured if you have a valid motorcycle licence so ensure you have the appropriate travel insurance.
Koh Chang Travel Diary

To get to the second largest of Thailand's islands, I went by car from Bangkok just by using a print out of a Google map.
This gave me the general direction to go in and it was good enough to find my way without any problem.
If you don't have a car then there are a number of other transport options that are explained in more detail.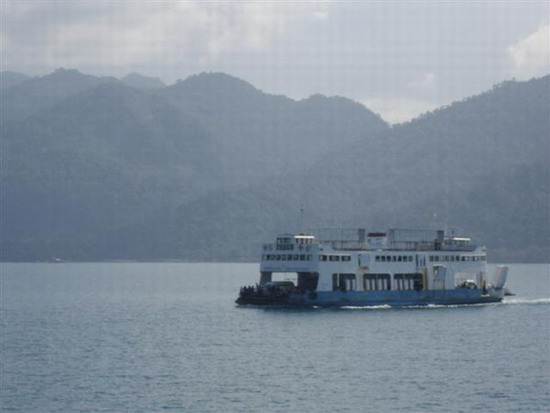 Overall it is a very straight forward trip to Koh Chang and the only mistake I made was coming off the motorway one junction too early, but I easily found the main road again, but it added about 20 minutes to the trip.
Basically you just follow the one road and then take a right before Trat and follow the road down to the ferry.
I paid for a return journey at the ferry kiosk and took the car down to the ferry ramp. (Update: you can only buy a one-way ticket)
I am not exactly sure of the timetable but the ferry seems to run every 30 minutes so there was not much of a wait.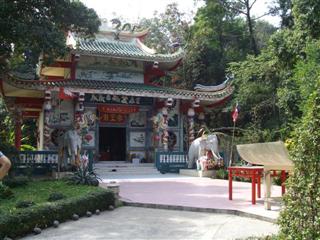 Once on the ferry you can leave your vehicle and wander around the ship or just sit down and watch the mountains of Koh Chang become larger and larger.
The trip in a car should take about 5 hours from Bangkok and the ferry ride about 20 minutes in total.
Then you may have 30 minutes to travel to your hotel once you get to the island, depending which Koh Chang beach location you have selected.
As you come off the ferry it can be a bit chaotic depending on how many vehicles are trying to leave the island.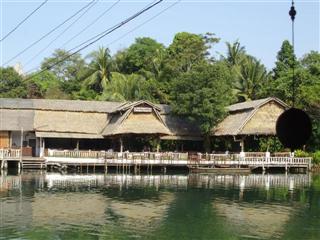 Just bear in mind that if you are heading for the West side of the island (Whitesand Beach, Bangbao etc) then you need to turn right as you leave the ferry terminal and reach the main road.
If you do turn to the left then you are heading to the less developed side of Koh Chang.
For people who like nature rather than development then this is somewhere that is more in keeping with the traditional Thai fishing lifestyle.
The beaches on the East side of the island also tend to be of red coarse sand, whereas the beaches on the other side are fine yellow sand, more in keeping with your expectation of a desert island theme.
Koh Chang Elephant Camp
There are a couple of elephant camps on the island that organise brief tours.
Always fancied being up close to one of these majestic animals? Then Klong Prao or Klong Son both have camps.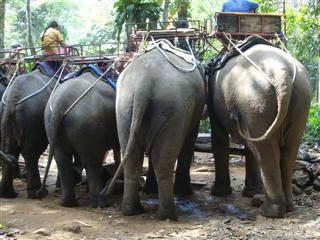 Located on the Klong Prao estuary is the interesting Baan Rim Nahm accommodation.
Take a boat across the estuary to dine under the stars or just chill out with a good book on the deck and watch the goings on. Read more here.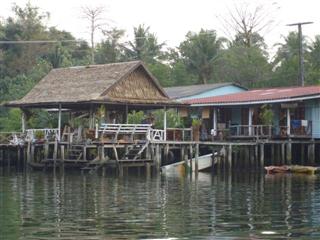 If you have been thinking about visiting Koh Chang and have always fancied a Thailand island holiday along with some serious lazing around on the very best Bangkok beaches then take a look at some more photographs to whet your appetite.
There are some really great hotels around White Sand beach and you can make a Hotel Reservation in Koh Chang and find some great Bangkok hotel deals as well as discover lots more information about this special island at the Agoda website.