Wat Huay M
ongkol - Day 4
Today the plan was to go to Wat Huay Mongkol and see the largest statue of Luang Phor Thuad in Thailand.
Wat Huay Mongkol Visit from Hua Hin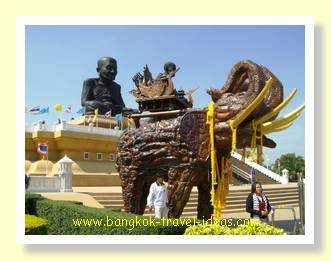 We had previously visited a large statue of this monk near Amphawa, but by all accounts this statue was supposed to be even bigger.
Luang Phor Thuad was first a monk and then an abbot in Thailand and it is claimed he lived until the age of 120 years.
By all accounts he lived an amazing life and now after his death he is attributed with exercising his power to help people in danger and accidents.
Many of the amulets worn by Thais are made in his image to provide protection to the wearer.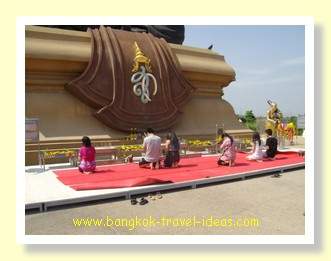 To get to Huay Mongkol temple we had to go past the two floating markets that we had visited previously.
It was a bit of a drive on the country roads and it wasn't all that well signposted, but we found it in the end; though more by good luck than good management.
After arriving at Wat Huay Mongkol we parked the car and walked to the end of the commanding driveway.
From there we could see a large carved wooden elephant set at the front of the statue of Luang Phor Thuad.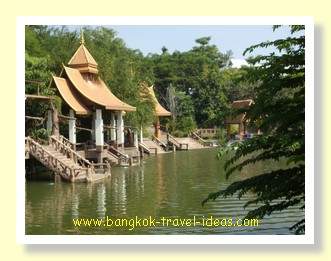 By tradition you have to walk around and under the elephant three times for good luck.
Lots of other visitors to Wat Huay Mongkol were doing the same and there were couples taking photos of each other
The statue of Luang Phor Thuad was indeed very large and to the rear of the statue was the river and some nice water features.
If you do go to Wat Huay Mongkol make sure you leave enough time to explore the grounds at the rear of the temple.
Do take the time to walk down the back and alongside the river as it is quite nice and it isn't at all obvious that these parts to the grounds exist.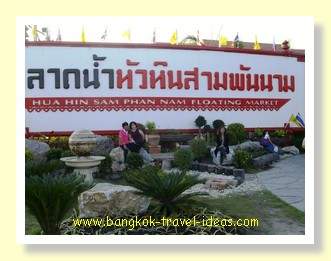 We walked out to the back of the large statue and on the other side of the river we could see more temple buildings and people busy working in the fields.
We were really out in the country here and it gave a little insight into Thai country life.
After walking through the grounds of Wat Huay Mongkol and around the building, past the small school where they were practising Buddhist teachings, we needed something to eat and drink.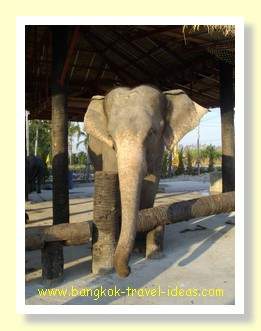 Surprisingly there was nowhere in the temple grounds to buy any food or drink, which seemed a little unusual considering all the tourists that were visiting this place.
So hunger got the better of us and so we left Wat Huay Mongkol and headed back to the Sam Phan Nam floating market as we had noticed that they had a good eating place in the centre of the floating market.
It was only a short drive to the floating market and lunch consisted of Noodles and Hoy Tod (seafood omelette) and some mango and sticky rice.
The food hall is set out on an island in the middle of the complex; it just has low tables where you sit cross-legged to eat.
Being a Monday and the middle of the day there were very few people around. I guess most of the weekend tourists were back at work.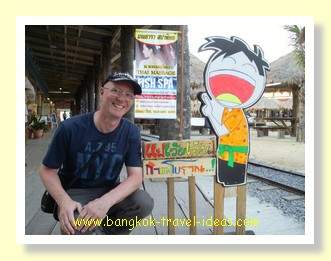 As we walked back from the restaurant area we passed some small puppies.
Luckily we are not animal lovers and didn't go to pat them as their mother came running over from the other side of the bridge, barking and snarling at us until we went away.
It was pretty scary for a few moments as I had visions of us being attacked by a rabid dog and having to spend the afternoon down at the hospital getting fixed up.
Anyway we sidled past the dog and got well out of the way and spent a little time exploring some more of the stalls.
Most of the small shops are covered by an awning over the walkway so even if the weather is hot you are protected from the sun. 
We left the market and drove back to the Hilton Hotel and just relaxed on the balcony.
---
Hua Hin Grand Market
In the evening we walked up to the Hua Hin Grand Market.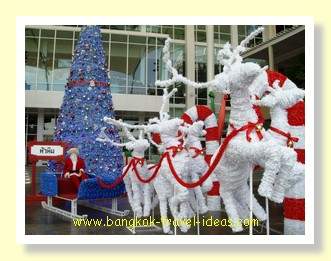 I can tell you that there is nothing grand about it and I didn't bother taking any photos, but as we had a DVD player in the hotel room I picked up a copy of Hangover II for 80 Baht for my trouble.
We didn't spend too much time at this market and moved very quickly onto the Hua Hin Market Village a few hundred metres further along.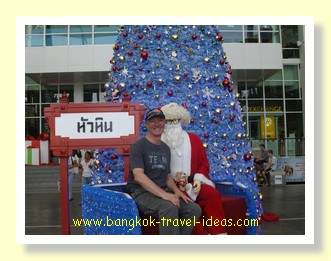 I was looking for the Christmas lighting display and any good photo opportunities that might be present.
We didn't go inside but took a few photos outside of the Christmas scenes.
There were lots of other people all doing the same and using the Christmas decorations as photo props.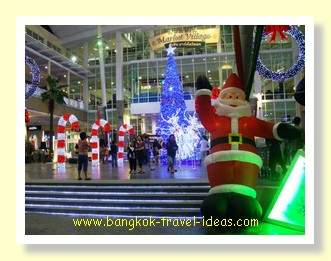 Daily Expenditure
Fuel/Transport 0 Baht
Food and Drink 1000 Baht
---
If you are interested in staying at Hua Hin or Cha Am you can review this link to Hua Hin Hotels or you can read more of my Hua Hin holiday blog below.


Hua Hin Floating Markets - Day 3
Thailand is famous for its floating markets and no more so than the two re-creations just outside Hua Hin. Visit Hua Hin Floating Market and Sam Pan Nam Floating Markets to see life as it was in days gone by.

Hua Hin Market Village and Nightlife - Day 5
Need to do some grocery or gift shopping? Then head on over to Hua Hin Market Village where they have all your needs. In the evening check out the range of beer bars just at the back of the Hilton Hotel for a quick game of pool and some casual eating.

Hua Hin Relaxation - Day 6 and 7
A holiday is meant for relaxing and it is good to have some timeout and take it easy.

Leave Hua Hin - Day 8
Everything comes to an end and ultimately it means returning to Bangkok.

Bangkok Seacon Square - Day 9
Catch up with an old friend and go for a seafood dinner in Bangkok near to Seacon Square and tell him about the visit to Wat Huay Mongkol and Hua Hin.

Christmas Day in Bangkok - Day 10 Is Christmas Day in Bangkok any different to your Christmas Day?

Nakhon Ratchasima - Day 11 to 14
Travel to the central town of Nakhon Ratchasima and visit the close by attractions of Phimai and Khao Yai National Park; wander the narrow streets or take a ride in an old style sarm-lor.
---