Christmas Day in Bangkok - Day 10
Christmas Day in Bangkok has some limited significance to Thais because Thailand is predominantly a Buddhist country, with about 4.6% Muslim and only 0.7% Christians.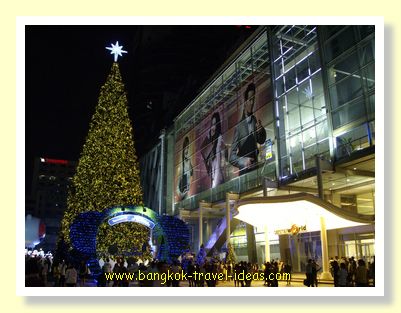 Even though the majority of Thais do not celebrate Christmas you will see traditional Christmas decorations around the commercial areas of Bangkok and belonging to those that celebrate this time of year.  
The shops around Central World in the centre of Bangkok really do make a special effort to decorate their stores and it is a great time to visit the city and just wander around looking at all the different decorations.
What makes Christmas Day in Bangkok that little bit quieter, is that many people start their end of year holidays and go back to see their families for a few days.
All the major department stores and markets will be open over the Christmas period, but some small businesses usually close over this period and they will have sign indicating when they will return.  
I have noticed that even places like Superrich Thailand will also close around the New Year period, so if you have any important transactions to perform, check out their website beforehand.
You can read more about the traditions of the Thai New Year here.
Eating on Christmas Day In Bangkok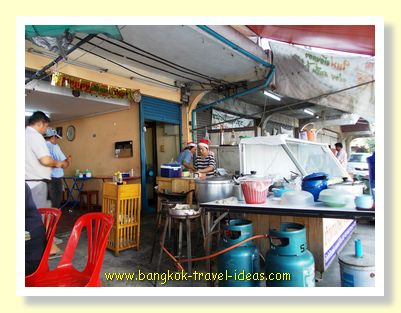 After all the rushing around in Hua Hin, today was one to relax.
Apart from going out to the noodle shop a couple of times to eat I stayed home.
In the morning I messed around on the computer and downloaded my Hua Hin photos off the camera and then watched the DVD I had bought earlier.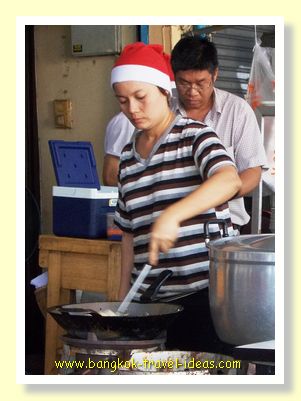 I like nothing better than to be able to saunter out at lunch time and just go and get a plate of noodles or some other delicious Thai food.
My favourite noodle shop seems to close between Christmas and New Year. So it is a case having a look around at what is open and maybe discovering somewhere that I haven't tried before.
Not far from my place is a small noodle shop that opens on Christmas Day, so we drove down there to check it out (it was just a bit too far to saunter to).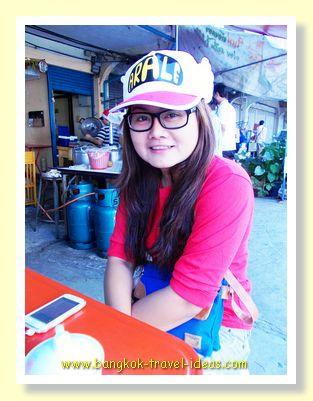 In Bangkok the traffic is much less around the end of the year and it was okay to park the car on the road because it was lunchtime.
The place wasn't busy as we arrived.
A plate of raw prawns and sour melon
In fact it seemed we were the first. A quick scan of the menu and we chose Khao Pat Bpoo (stir fried rice with crab), Somtam Thai, Larb Moo, Raw Prawns with bitter Melon and some water and soft drinks.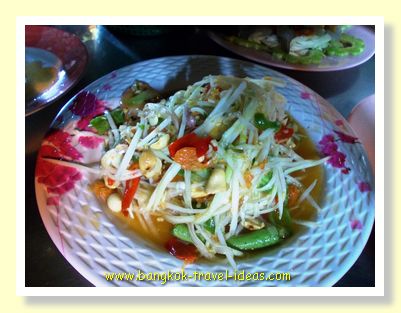 A nice dish of somtam Thai prik har met, or if you like Papaya salad with 5 chillies.
Somewhere there is a little raffia basket with sticky rice in it to eat as an accompaniment.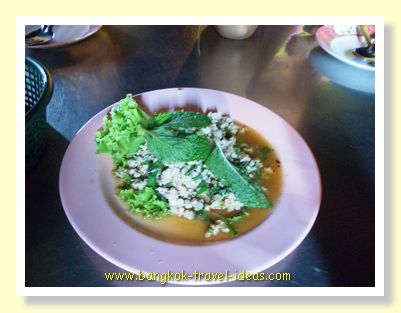 A favourite Isaan dish is Larb Moo; minced pork with lime juice and chillies, garnished with mint leaves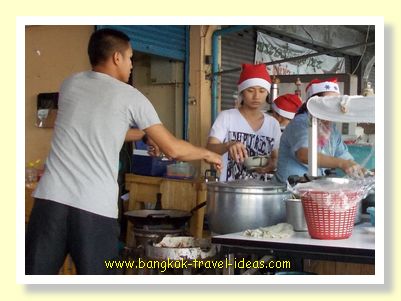 We sat outside and turned on the fan to make the heat a bit more bearable whilst we wait for our food to arrive. Luckily we are in some shade as even though it is the cool season was quite hot in the direct sun.
The food was being cooked right in front of us and there was no long wait like we had experienced at Kai Bae, which was just as well as I was feeling really hungry. The advantage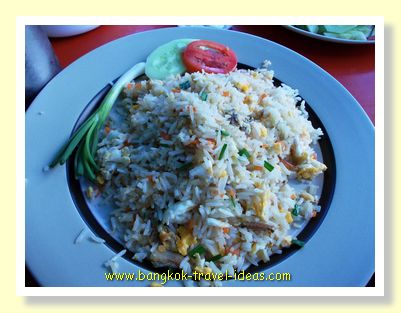 Khao Pat Bpoo
Swimming on Christmas Day in Bangkok
My place has a nice large swimming pool set between the two buildings and what better way to finish off Christmas Day in Bangkok than with a quick swim.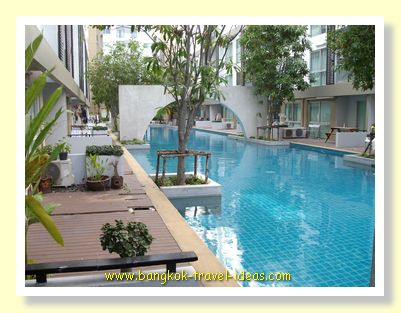 To be honest my swim did not last long at all as the water was so cold.
On the previous occasions that I have spent Christmas in Bangkok the water has been cooler, but quite pleasant.
For whatever reason the water was really cold this year, perhaps there have been more cloudy days.
It wasn't quite as cold as the Hilton Hua Hin swimming pool but it wasn't far off.  
I still managed to do a few laps of the pool and once I got used to the temperature it wasn't so bad, but I did notice that I was the only one swimming that day.
Christmas Day in Bangkok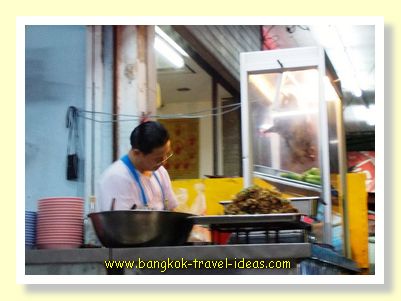 It was still Christmas Day in Bangkok but we needed to eat again, so in the evening we walked outside to our favourite noodle shop had opened his doors.
We purchased some satay skewers from the stall on the street and went in and ordered somethings off the menu.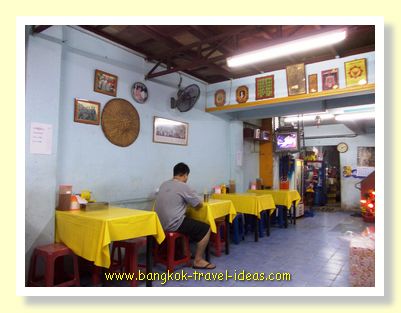 The shop is set out in the typical style of a Thai noodle shop, built in the ground floor of a shop-house.  
Tables will seat 4 and have chopsticks, forks and spoons as well as a tray of condiments, consisting of chilli powder, sugar, vinegar with chillies and fish sauce.
This covers the four Thai flavours required for a good meal, being spicy, sweet, sour and salty.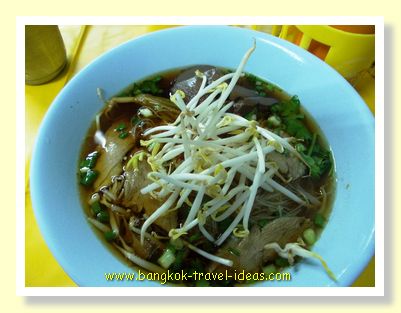 Noodles and pork, with beansprouts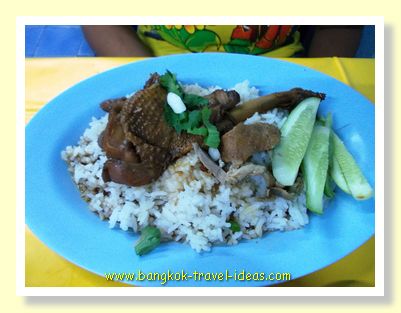 Duck, rice and cucumber slices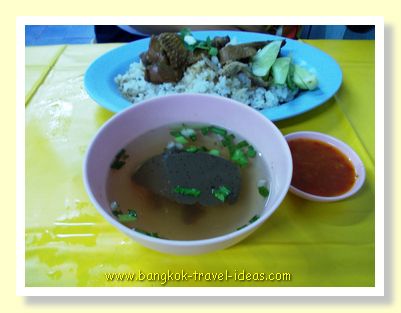 Liver in a soup, with the spicy sauce for the duck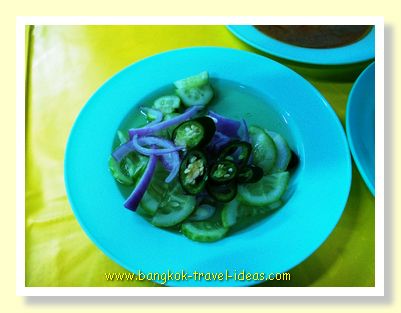 Chillies and cucumber to be used with the Satay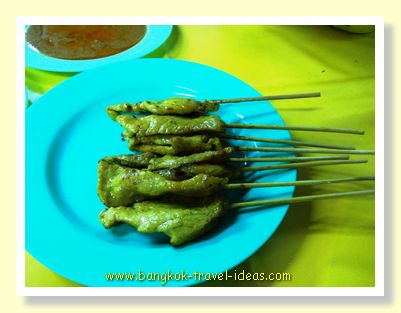 Satay chicken on skewers with a peanut sauce
This Christmas Day in Bangkok was most enjoyable and relaxing and the best thing of all is that it didn't cost a lot of money.
Fuel/Transport 0 baht
Food and Drink - Lunch 4 people 280 baht
Food and Drink - Dinner 3 people 240 baht
---
If you are interested in staying at Hua Hin or Cha Am you can review this link to Hua Hin Hotels or you can re-read more of my Hua Hin holiday blog below.
Go to Hua Hin - Day 1
Go to Hua Hin and experience the closest Bangkok Beaches and surrounding locations. Explore seafood restaurants, night markets and more.
Hua Hin Night Market - Day 1
Explore the Night Market in Hua Hin. Dine at the Railway Cafe and eat barbecued seafood. You can even try a freshly mixed cocktail whilst siting listening to the sound of modern music.
Hua Hin Railway Station and Wat Hua Hin - Day 2
Hua Hin Railway station is a popular tourist stop for photographs. 
Hua Hin Cicada Market - Day 2
The weekend Cicada Night market is well worth a visit and has some interesting local art and gifts for sale.
Hua Hin Floating Markets - Day 3
Thailand is famous for its floating markets and no more so than the two re-creations just outside Hua Hin. Visit Hua Hin Floating Market and Sam Pan Nam Floating Markets.
Wat Huay Mongkol - Day 4
The largest statue of Luang Phor Thuad is located at the back of Hua Hin just 40 minutes from town. Enjoy the ride out into the Thailand countryside; watch out for the bullocks ploughing the fields alongside the river.
Hua Hin Market Village and Nightlife - Day 5
Need to do some grocery or gift shopping? Check out Hua Hin Market Village where they have all your needs. In the evening check out the range of beer bars  in the maze of streets adjoining the Hilton Hotel. Play  a game of pool or just enjoy some casual dining.
Hua Hin Relaxation - Day 6 and 7
Run out things to do... well so have I, learn to relax in Hua Hin.
Leave Hua Hin - Day 8
Today is the day to return to Bangkok. Learn why you should check out early to make this trip, especially on a Friday.
Seacon Square- Day 9 and 10
A seafood dinner with an old friend at Klang Beuang Restaurant near to Seacon Square.
Nakhon Ratchasima - Day 11 to 14
Travel to the central town of Korat and visit the close by attractions of Phimai and Khao Yai National Park; walk around the old market, explore the temples or take a ride in an old style sarm-lor.